Food Banks
of Valley East
The Society of St. Vincent de Paul
St. Kevin's Conference
E-mail address:

ssvp.valcaron@bellnet.ca
Good Neighbours

Monday to Wednesday 9:30 a.m. to 4:00 p.m.

Thursday & Friday 9:30 a.m. to 5:30 p.m.

CLOSED SATURDAYS & Holidays
For Thrift Store Only

Open the last two Wednesdays of every month

from 10 a.m. to 2 p.m
.
For Food Bank Only
No Clothing is available at this location

Located at 2506 Hwy. 69 North
Val Caron , ON P3N 1K6

Located on Lafontaine Street in Hanmer.
Enter the street off Hwy 69N
Provides services to residents living in the 897- exchange
Provides services to residents living in the 969- exchange
Phone Number
705-897-1212 Fax: 897-3338
Phone Number
705-897-4775

St. Kevin's C.W.L. Holds Christmas Money Draw To Help Food Banks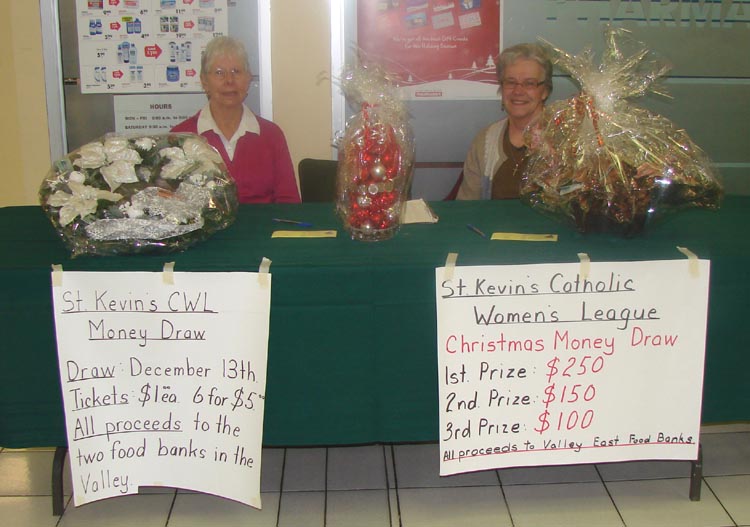 When the members of the St. Kevin's Parish Catholic Women's League, including Noella Cheaney on the left and Rolande Michaud on the right, were choosing a local charity as beneficiary of the proceeds of their annual Christmas Money Draw, there was very little need for lengthy discussion. The Valley East Food Banks were the first to come to mind and indeed will receive all of the money raised from ticket sales this year.



The poor economic conditions that have affected the entire world were bad enough to increase the demands being placed upon the two local food banks, but now that the region is in the throngs of the Vale Inco work stoppage, with numerous layoffs and reductions in hours of employment elsewhere, the Good Neighbours and the St. Vincent de Paul Food Banks are finding it even more difficult to handle the excess calls for help.



Organizations like the St. Kevin's C.W.L., through their kindness and generosity are definitely making a difference with their donations. The ladies will be selling tickets for only $1 each between now and the draw date on December 13, 2009. You can get your tickets every weekend at the Hanmer Valley Shopping Centre. Besides helping with a good cause, you may win one of three prizes. First prize is a huge centre piece plus $250 in cash. Second prize is a wreath plus $150 in cash. And, third place is a vase plus $100 in cash.



We congratulate the ladies of St. Kevin's for their kindness and consideration. If anyone in the community would also like to drop off food for the Good Neighbours Food Bank, just stop by the Food Bank Depot that is located at the main entrance of the Hanmer Valley Shopping Centre.
Food Bank Depot Will Remain Up For Donations Into The New Year As The Need Increases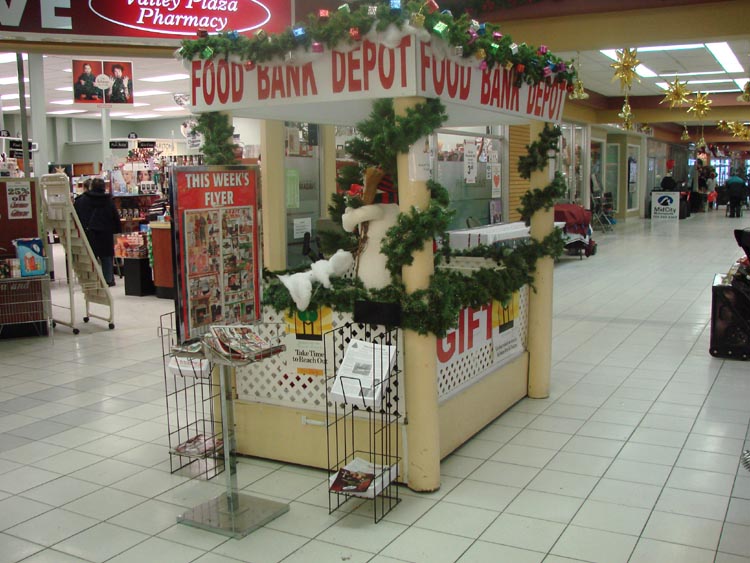 The Good Neighbours Food Bank in Hanmer, run by Anne Unwin and her hard-working group of volunteers, have had a challenging time during the latter part of 2009 keeping up with the demand for food from needy families. Where they usually fed approximately 50 families per month, they are now seeing up to 90. In order to provide a convenient place for local residents to donate food and supplies, the Hanmer Valley Shopping Centre will be leaving the Food Bank Depot in place after the New Year. Normally the depot is removed after Christmas, but this coming year promises to be very difficult for some local families, so the owners of the mall, Val and Violet Mazzuca have decided to leave it up until the demand eases up. Anyone who would like to donate money can leave it in an envelope at the Valley Plaza Pharmasave.
CERCLE MISSIONNAIRE de la VALLEE Holds Successful Fund-Raising Event At the Mall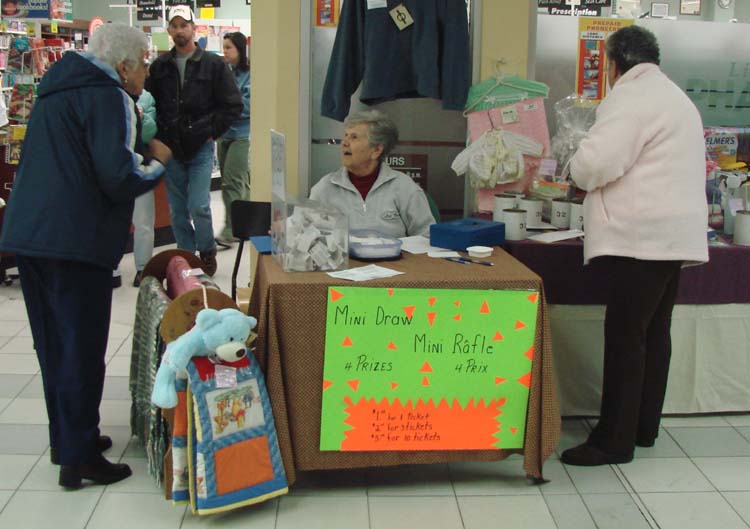 Giselle Charette wanted to do something different this spring to help raise money for Circle Missionnaire de la Vallee. So she discussed an idea with several of her co-volunteers at Circle Missionnaire and before long she found herself in charge of a penny table, raffle and silent auction on the weekend of April 12, 13 and 14.

"The entire weekend was just amazing," Giselle commented when everything was over. "We had so many gifts donated and the volunteers were just so cooperative. This has been one of our most successful events of this kind we've ever had. And we met so many people at the mall during the weekend. It was fabulous!"
Indeed, the group has already booked their spot for 2009 and will return the weekend after Easter, April 17 to 19, 2009 .

CERCLE MISSIONNAIRE de la VALLEE is an organization that was created in the early 1990's to provide assistance to Sister Therese Lamoreux m.c.r. of the order of the Missionary of Christ the King. Sister Therese was originally from Chelmsford . When Sister Therese set up a mission at Sigueneau , Haiti , she discovered a tremendous degree of poverty and hopelessness among the people. Thus, Georgette Bergeron, President, and a number of volunteers from St. Margeurite d'Youville Parish set out to do what they could to help out.

Today, CERCLE MISSIONNAIRE de la VALLEE collects over 60 tons of goods and medical supplies from local donors and ships the lot twice a year to Sister Therese. Besides providing assistance to Haiti , CERCLE MISSIONNAIRE also sends material to Moosonee and has a working relationship with the other two food banks in Valley East , Good Neighbours and St. Vincent de Paul.

When donations come in, the volunteers check them out thoroughly to make sure that any repairs are completed before packing them in boxes, ready for shipping. With the permission of donors, some of the items are put up for sale in the impressive flea market section of the building. This is to raise money which is then used to purchase medical supplies and help pay the expenses of the building operation.

Georgette tries to get into schools as often as she can to create awareness of the poverty in Haiti . She also speaks to CWL, Confirmation Groups and other community minded organizations. Most of the donations come to the group via word of mouth. Georgette will also accept cash donations and indicated that all donations of $20 or more will be given a tax receipt.

CERCLE MISSIONNAIRE de la VALLEE originally ran out of the old Our Lady of Fatima school building on Percy Street in Blezard Valley . In January 2004, the organization moved to their new, much larger location at the former public works building on Desmarais Road in Val Therese. The space is much larger and enables the volunteers to have enough space to display items for their weekly flea market and do their packing for the next shipment to Haiti .

Every Wednesday, from 12 noon to 4 p.m. CERCLE MISSIONNAIRE de la VALLEE opens up their building for one of the largest a flea markets you can find in the entire district to help raise money to purchase supplies for the next shipment to Haiti.

If you have any items to donate or would like to make a financial donation, just drop in to their new home in the old Public Works building on Desmarais road any Wednesday afternoon from 12 noon to 4 p.m. or call 969-2192 for more information.

In the photo below, Georgette Bergeron is shown on the left, with Jacqueline Cormier, selling tickets to the penny table.