PAM'S DELI MAKES
ANNUAL VISIT TO
ECOLE STE. THERESE
St. Therese Students Treated To Annual Visit From John Hopley of Pam's Deli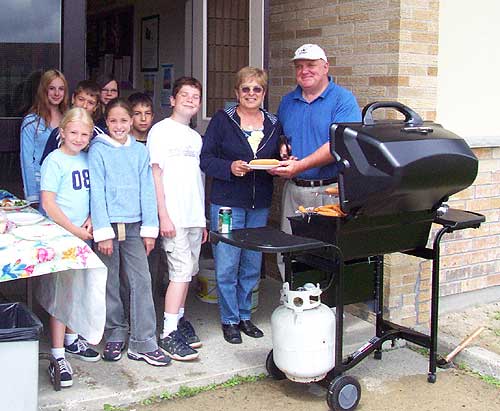 The photo above shows Chef John Hopley, owner of Pam's Bakery & Deli in the Hanmer Valley Shopping Centre, during one day in June 2004 spending a few wonderful hours at St. Therese School in Val Therese. The purpose of his return to school was to provide a BBQ lunch for the more than 200 students and staff. Hopley, shown providing Madam Hess, Acting Principal with one of his delicious hot dogs, throughly enjoyed the experience.
"It was a fantastic time. We served over 200 meals in no time at all and the kids simply loved it," he commented.
The meal consisted of hot dogs, caesar salad and a pop. Madam Hess' Grade 6 Class was responsible for preparing the salads and helping distribute the food. Everything was donated by a group of merchants from the Hanmer Valley Shopping Centre, including: Pam's Bakery & Deli; The Gallery & Brew Shop; Billie Jean's; The Hanmer Bargain Outlet; Desjardins' Food Basics, and; Val Mazzuca, owner of the mall. On top of the food, the group also donated the BBQ to the school to be used as they see fit.
FRUIT-KABOBS WERE THE ORDER OF THE DAY IN 2005 WHEN JOHN CAME VISITING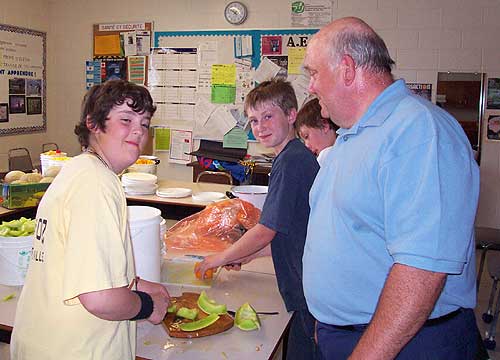 John Hopley, owner of Pam's Deli, is shown in 2005 helping students prepare delicious fruit-kabobs for recess the next day. The treats were prepared by Madam Louella Hess' Grade 6 class.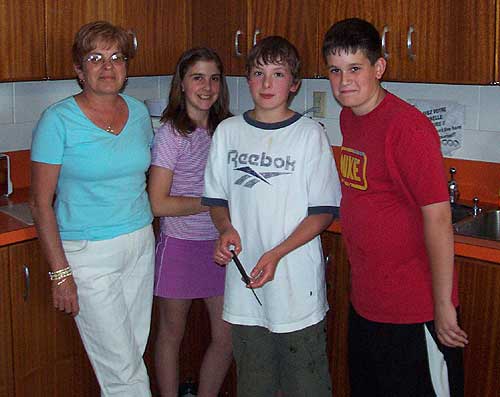 Madam Hess is shown with several of her students cleaning utensils at the sink.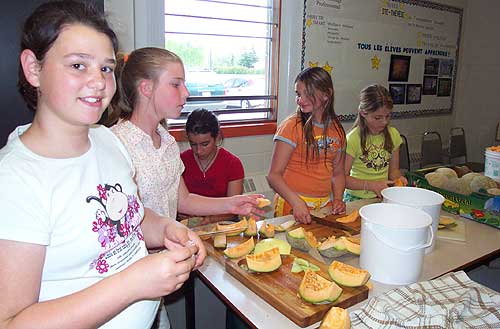 All of the students had their particular jobs and were very intent on "doing it right" in order to receive the approval of Chef John.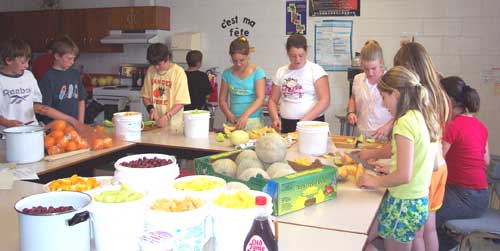 The containers in the front of the photo above contain all of the cut up pieces of fruit that will be put on skewers for the entire student population the next morning at recess.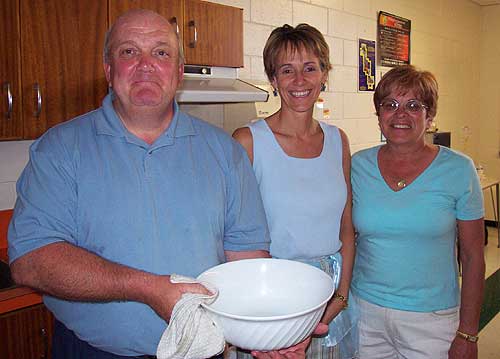 John Hopley, Principal, Lucie Hurtubise, and Madam Louella Hess enjoy a quiet moment to reflect on the experience being provided to the children. For Louella, it was a bitter sweet moment since this is her final year of a 36 year career. She will be retiring at the end of June 2005. It was also quite a moment for Lucie, since she would be saying good bye to her former teacher; Madam Hess taught Lucie in Grade 2. For John, he was already looking forward to 2006 when he would return again to continue the tradition.