When You Visit Fantastic Floors You Become An Expert In Flooring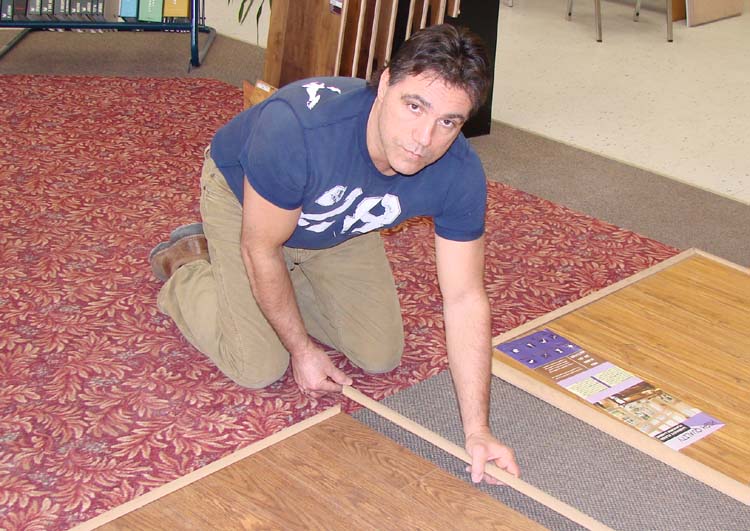 Ron Pedneault, owner of Fantastic Floors, located in the Valley Bingo Plaza in Val Caron, is shown giving one of his customers a lesson in how to apply molding to the edge of a new laminate floor display that he is preparing for his showroom.

Since opening his door Ron hasn't looked back, "It has been a fantastic experience at FANTASTIC FLOORS. In fact it has been everything we had hoped for and more."
Ron, with his vast experience in flooring is able to help everyone from homeowners to homebuilders in the selection of the kind of flooring that is suited to both their needs and their lifestyle. People have found that FANTASTIC FLOORS has everything you would want in terms of flooring options.
But perhaps the biggest reason for the success of FANTASTIC FLOORS is the fact that Ron goes that "extra step" to make sure that everyone who comes into his store is properly educated with respect to the options that are not only available, but more importantly the options that are suitable for their particular needs.
One thing Ron has clearly demonstrated is that he intends to be in this business for a long, long time. "I am not going to sell you something that you will not be happy with in a few years," Ron reiterated. "I would rather lose a sale than sell you flooring that is not suited to your lifestyle or your needs. I've come across too many unhappy people in my life simply because they were allowed to select the wrong type or quality of flooring. When you speak about FANTASTIC FLOORS some time in the future, we want you to speak positively about both the service and product you received."
To that end, Ron will spend as much time as it takes to make sure that you know what you want and need when it comes to installing flooring in your new or existing home. "The flooring is the last designing touch that makes your house look its best, so it is important that you take your time and select the kind of flooring that will match your furniture, your wall colouring and your lifestyle. When you are building a new home it is easy to put up the shell, but the flooring is the dressing that everyone notices the instant they walk through your front doors."
It is not unusual for customers to take as long as six weeks deciding on their flooring when they are building a new house. That is why Ron encourages all residents who are planning on building this summer to stop by during the next couple of months to begin the process. "I know from experience that it will mean many trips back and forth to the store. It will mean taking samples to match with your cupboards and your furniture. It will mean going over all of the various options in terms of styles and cost. It will seem like you've taken a whole mini-course in flooring by the time you are finished. But it is all worth it when I see the look on your faces when you set foot in your new home and you are completely satisfied with your flooring."
New Studies Showing That Carpeting May Actually Help With Air Quality In A Home
A new study by the German Allergy and Asthma Society proves that indoor levels of airborne fine dust are reduced, dramatically in some places, by the use of carpeting. This goes contrary to the popular belief that carpeting is a breeding ground for allergens. Actually, mold and mildew exist only where there is excess moisture and dirt coupled with poor cleaning and maintenance habits. It is not necessarily going to appear in carpets.

Many customers approach Ron Pedneault of Fantastic Floors with concerns about how their carpeting is creating unhealthy conditions in their home. However, Ron reserves judgment until he has had a chance to take a look at the carpets for himself. Recent research shows that carpets can actually improve the air quality in a house by filtering allergens and dust particles.

So before you make any final decisions on whether to replace your existing carpet with laminate, hardwood or vinyl, make sure you come to Ron for some good advice on what will be best for your home.
Young Boy Inspires Father To Enter
Marathon
In
Ireland
For Team Diabetes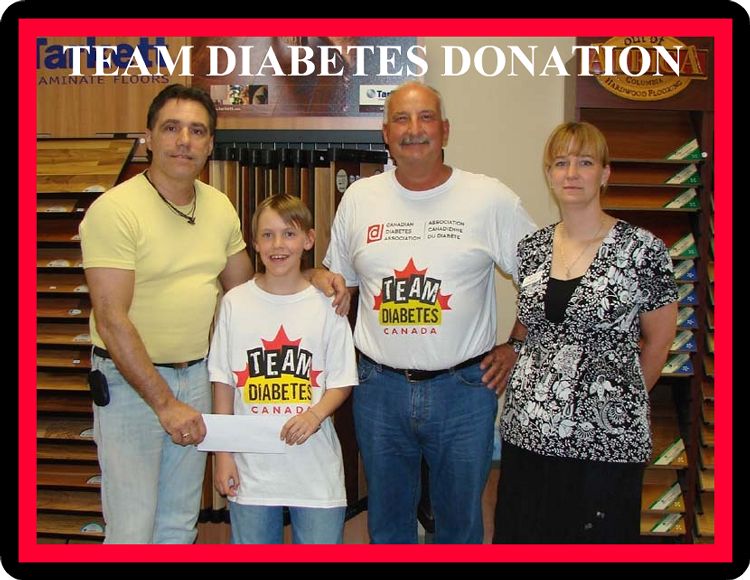 Ron Pedneault, owner of Fantastic Floors in Val Caron, is shown on the far left of the above photo. Beside him is 11 year old Cole Szanto, Andy Szanto and Dawn Brown, Development Coordinator of the Canadian Diabetes Association for North Eastern Ontario.
On October 25, 2008 , Andy Szanto, Northern Ontario Beverage Specialist with Mother Parker's Tea and Coffee, will be on the starting line in Dublin , Ireland , waiting for the signal to begin the grueling 26 mile run as a member of the Canadian Diabetes Association Marathon Team, otherwise known as "Team Diabetes". He will be the only person from Northern Ontario in the race for which he began preparing last October.
Andy's inspiration is none other than his son, Cole, who was diagnosed with Type 1 diabetes at the age of 22 months. Cole has learned to live with the disease while taking up to four needles a day. Today, he is fortunate to have the use of a computerized pump, which has meant an end to needles. The pump feeds insulin automatically into his body as needed. Cole, who served two years as the Northern Ontario Junior Ambassador for the Juvenile Diabetes Research Foundation, has been able to take part in virtually all of the activities of any normal boy, including playing hockey, but he feels as if the pump has given him a whole new world of freedom. "When I was on the needles, I had to take them at the same time every day. That meant that I couldn't sleep in and I always had to make sure I had my supplies with me. Now the pump does all of the work. I can even be sleeping and it feeds me the insulin."
While training for the biggest race of his life, Andy has lost over 62 pounds and feels so good about the experience that he is even considering entering the Canadian Ironman event in Vancouver in 2009. For now, however, Andy and Cole are busy generating the $6100 needed for him to get over to Dublin to take part in one of the major international fund-raising events of the year for the Diabetes Association.
Ron Pednealt was so inspired by the work being done by Andy and Cole that he decided to become a major sponsor by donating $2500 to help out with the expenses. In fact, Ron has even decided to adopt the Canadian Diabetes Association as his company's official charity and will be helping Andy raise the money he needs to attend the Canadian Ironman Competition next year as well.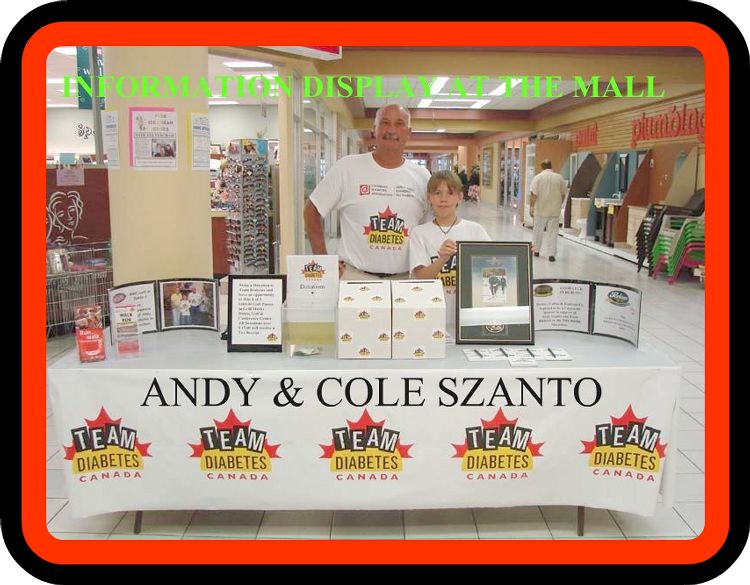 Local residents were able to meet Andy and Cole to find out more information about the Diabetes Association on
Saturday, June 28, 2008
at the Hanmer Valley Shopping Centre where he accepted donations to help him raise the funds needed for the trip to
Dublin
.
Grill Marks Bistro, Golf & Conference Centre, which is located at the former Clearview Golf Club, has donated $300 worth of green fee passes to be given out as gifts to three different people who make a donation. Each will win a pass valued at up to $100 that will entitle them to free golf for up to four people. The names of the winners will be drawn at Fantastic Floors on the same day the Olympic Marathon is being held at Beijing this August.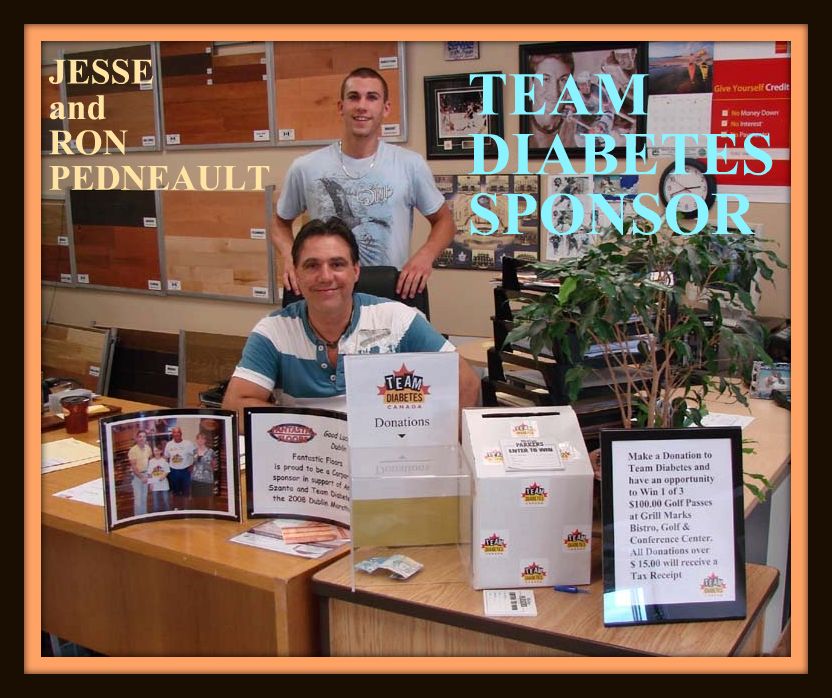 If you didn't have a chance to buy a ticket at the shopping centre, you can always pick one up at FANTASTIC FLOORS, which is open Monday to Wednesday, from
to
; open late until
on Thursdays and Fridays, and; open until
on Saturdays. In the photo above, Ron and his son, Jesse Pedneault will be only too hapy to offer you a chance to donate to the cause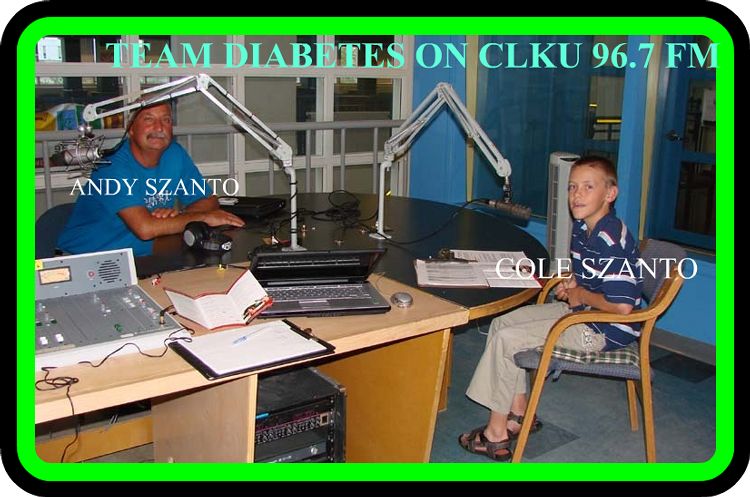 Andy and Cole also appeared on a local Radio Talk Show on CKLU 96.7 FM out of Laurentian University on June 14, 2008. The Learning Clinic is on every Monday Night from 6 to 8 p.m. and is hosted by Robert Kirwan