WELCOME TO
HEATWAVE TANNING SALON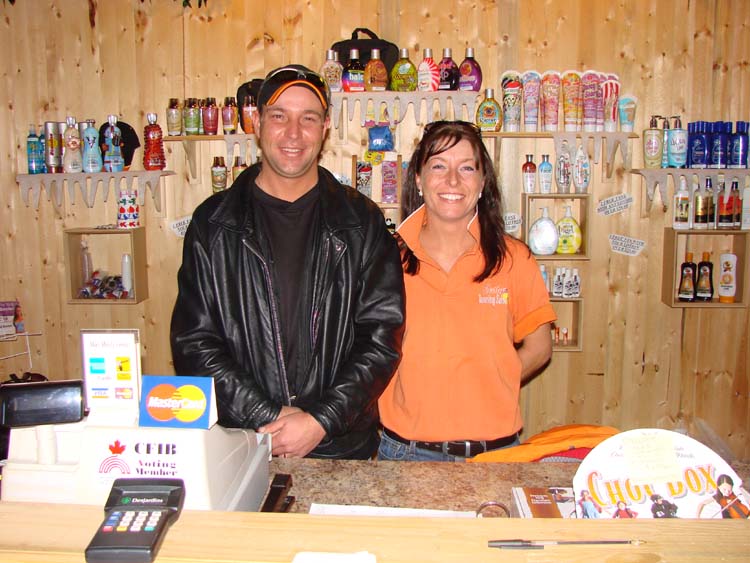 Ron Brunette and Andrea Guinard, co-owners of the Heatwave Tanning Salon Chain are pleased to welcome you to their official web site.

With four (4) locations to serve their clients, Heatwave Tanning Salon is now the largest single chain of tanning salons in the Greater Sudbury Area.

They have a total of 34 different tanning units and a trained staff of 20 people to serve your tanning needs. As of February 1, 2008, all staff members will be Smart Tan Certified in order to be able to serve you even better.

In December 2007, Ron and Andrea doubled their chain with the purchase of the former Arctic Tanning Salon and now provide convenient locations in all corners of the city.

FOUR CONVENIENT LOCATIONS

Val Caron
In Norm's Plaza
897-4006
Falconbridge Road
Falcon/Auger Mall
Sudbury North
893 Notre Dame Avenue
Sudbury South
1893 Regent Street

THE VAL CARON LOCATION IS TYPICAL OF THE EXPERIENCE YOU CAN EXPECT WHEN YOU VISIT HEATWAVE TANNING SALONS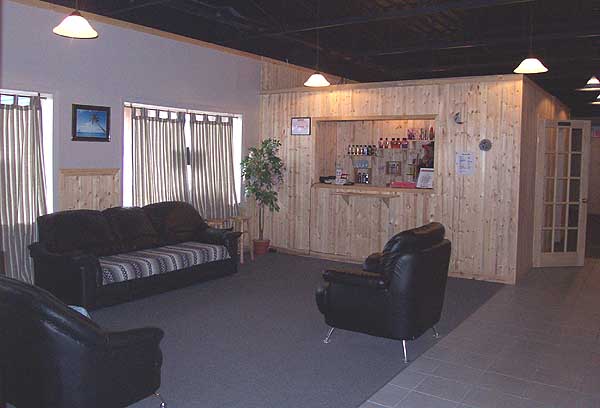 We provide our clients with a comfortable area to wait for tanning beds to open up when it gets busy. This has become a social setting where friends can chat and catch up on what is happening in their lives.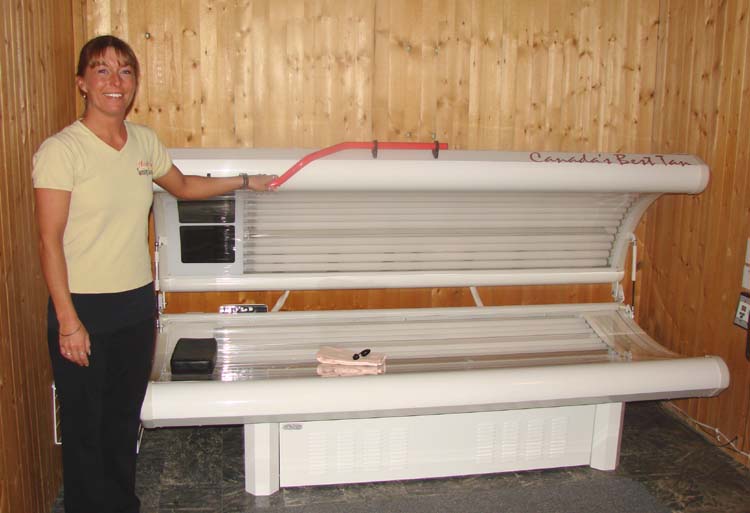 The four lay-down beds are located in oversized, 130 square foot rooms which are well appreciated by clients. There is plenty of room to change and we have a large mirror for your convenience.

A cooling fan has been positioned at the foot of the bed to make the experience more comfortable for those who do not like the heat. The controls are on the wall near your head so that you can get out of the bed and pause the session if you wish. All controls are set in the main office, so there is no chance of overexposure. Music is piped in to each room and you have your own controls in order to ensure that the level is at your own comfort level. The length of exposure is determined by the Salon Operator who judges your skin type and current tan base. People with light skin will not be allowed the maximum exposure and tanning is only allowed every 2nd or 3rd day. All bulbs are checked with UV metres by Ron every 2nd day. Once the bulbs are below 75% of their original power, they are replaced in order to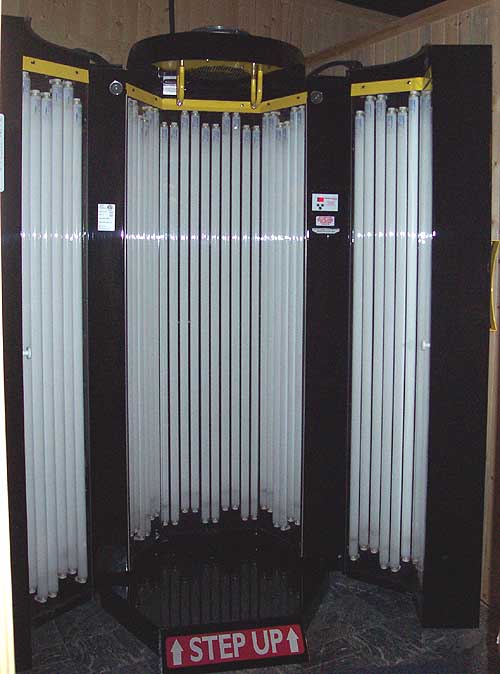 ensure even exposure.
We have four stand-up tanning beds which are located in spacious rooms off the centre court. Stand up units are extremely popular since it only takes half of the time that one would require in a lay-down bed. The maximum tanning session is 11 minutes in a stand up, compared to 20 minutes in a lay-down. The reason for this is that the bulbs are much stronger in a stand up. Another advantage of the stand up unit is that one can get a much better tan under the arms and along the sides.
All of the controls for the stand-up units are conveniently located on the machine so that clients can make the necessary adjustments from the best possible location. As you can see from the photo at the side, the fan and the radio controls are situated at the top of the unit, near where one would place his/her hands.

HEATWAVE
TANNING SALON

OR PHONE....

(705) 897-4006


4th Annual Food Drive Launched By Heatwave Tanning Salon To Make Christmas 2009 Better For Needy Families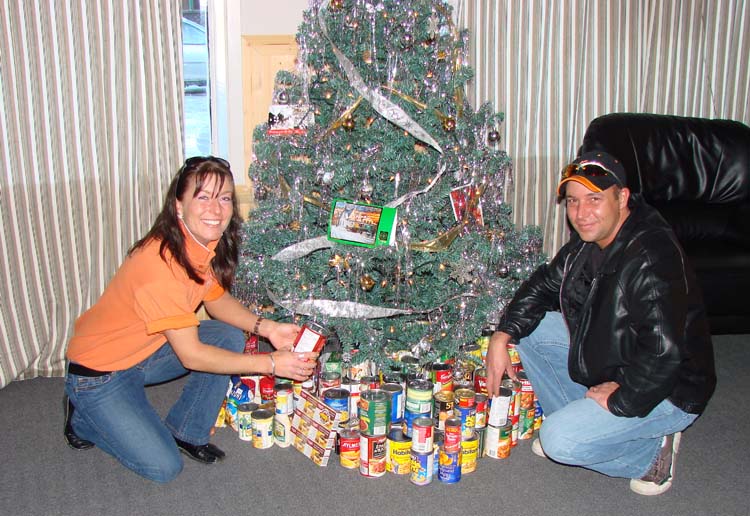 Andrea Guinard and Ron Brunette, Co-owners of the Heatwave Tanning Salon Chain with four (4) locations in the City of Greater Sudbury, are once again appealing to their patrons to come forward with much needed food for the needy during their 4th Annual Christmas Food Drive.

In order to show their appreciation for the donations that are made by clients, Andrea and Ron will be "doubling up" the FREE TAN incentives from now until December 21, 2009.

Anyone who purchases five tans will receive one free tan under the promotion that is now on. However, by bringing in just one canned food item, you can double your incentive and receive TWO free tans. Buy ten tans, bring in two food items, and you will receive FOUR free tans. Buy 15 tans, bring in three food items, and you will receive SIX free tans. Buy 20 tans, bring in four food items, and you will receive EIGHT free tans.

Andrea and Ron want to thank their patrons in advance for helping to brighten up Christmas 2009 for so many needy families.

Heatwave Tanning Salon Customers Donate Thousands of Food Items To Help Those Less Fortunate At Christmas
Andrea Guinard and Ron Brunette, Co-owners of the Heatwave Tanning Salon Chain with four (4) locations in the City of Greater Sudbury, are proud of the way their clients come through every year during their Annual Christmas Food Drive.
Everyone who brought in canned food items were allowed to DOUBLE UP their FREE TANS when they purchased any of the above special packages.
Christmas 2008 was the the 3rd year that Heatwave Tanning Salon has implemented this worthwhile cause at all locations.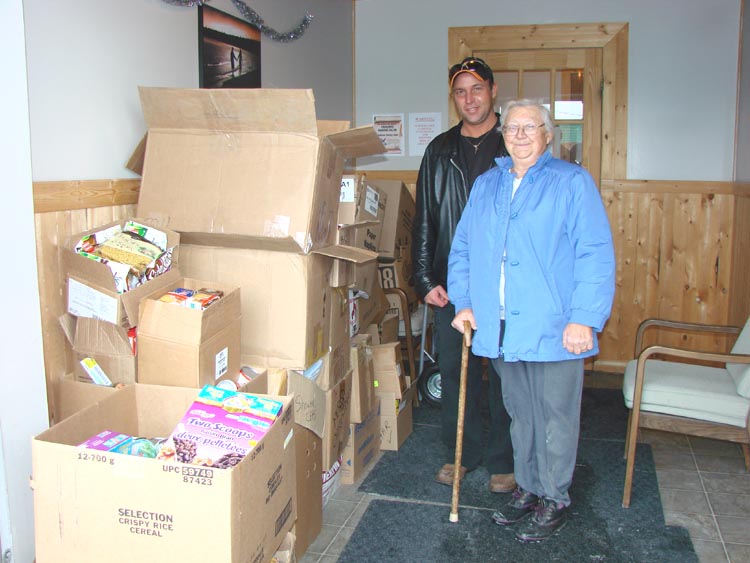 Ron and Ann Unwin, Director of the Good Neighbours Food Bank of Hanmer were shown standing by the boxes of food hat were collected from all four locations.

Below, left, Ron and Pierre Chenier are loading the more than 4000 items into the van. On the lower right, Ron presents Ann Unwin with a cheque which will be used to purchase additional food items. Along with Ron and Ann are Andrea Blais and Andre Beaulieu, volunteers with the Good Neighbours Food Bank.

"We must do more for food banks at times other than Christmas," stated Ron Brunette. "Everyone is very generous around the holidays, but people need food all year long. We are glad to be of help to Anne and her volunteers right now, but we will be trying to find a way to help them out in the months to come as well."

With the negative state of the economy at the end of 2008, there is expected to be even more demand for the services of provided by our local food banks. The support of companies such as Heatwave Tanning will be a long way to helping those less fortunate living in Valley East.

If you have any food or cash that you would like to donate to help, you can call the Good Neighbours Food Bank at 566-1283 or St. Vincent de Paul, at 897-1212.

Extent of Poverty In Greater
Sudbury
Area Places Strain On Food Banks All Year Long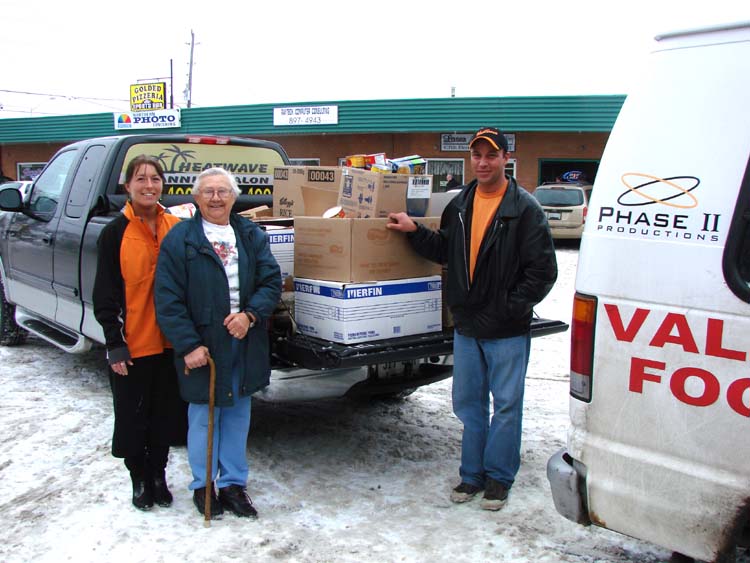 Anne Unwin, Director of the Good Neighbours Food Bank in Hanmer, received a call from Ron Brunette, on the far right, and Andrea Guinard on the far left, Co-owners of Heatwave Tanning Salon, she was asked to come by to pick up a donation of food just before Christmas.
The request was not unusual for this time of year as schools, churches and other community organizations go out of their way to collect non-perishable donations that can fill the shelves of local food banks in order to help out those less fortunate in our area. But even Anne was "blown away" by the volume of food that had been collected from clients of the four Heatwave Tanning Salons in the Greater Sudbury Area. "I was told that there was some food to pick up, but I had no idea it would be this much. This is going to be really well appreciated by the people who use our services."

In addition to the full truck load of food, Ron and Andrea also presented Anne with a cheque in the amount of $500 to be used to "top-up" any shortages that the food bank may have.

Despite the "economic boom" that we keep hearing about in Sudbury , over 30,000 people living in the City of Greater Sudbury are living below the poverty line. It is also estimated that about 60% of the jobs in the area pay less than $10 per hour, making it extremely difficult for many who are earning minimum wage to escape the cycle of poverty. The Good Neighbours Food Bank is part of a network of 40 food banks from across the City of Greater Sudbury providing much needed food supplies to an average of over 10,000 Sudbury residents each month. The Good Neighbours Food Bank and St. Vincent de Paul provide support to hundreds of people living in Valley East .