Andrea and Hollie have discovered that one of the most difficult things about getting started in any career is finding a company that is in need of employees. And most post-secondary school students as well as recent graduates and even young adults, really don't know where to turn to get started.
JOB VACANCIES TO BE POSTED
You can look in the newspapers and check the internet for advertisements, but studies have shown that almost 80% of all job vacancies are never posted. They are filled by referrals or because someone knows someone. It is becoming clear that when it comes to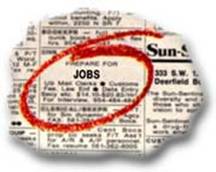 getting your big break in finding a meaningful job, it is more about "who you know" than "what you know".
Therefore, under the supervision of Robert Kirwan, a local Marketing and Public Relations specialist, these two Cambrian College students helped develop a special employment services project that will help people living in Valley East actually have a better chance of finding employment.

Our goal is to list all of the businesses in Valley East and Capreol as part of an ONLINE DIRECTORY of businesses which will be posted as part of the community web site at www.valleyeasttoday.ca.. The businesses will be encouraged to post job vacancies on the site whenever they have vacancies.


This online job posting will allow people from Valley East with a chance to learn about full and part-time jobs that may be available close to home. It will especially be useful as we get into the summer job season for students. Summer jobs are very hard to find for most young people who depend on the earnings during the summer months to help pay for their post-secondary education. Local businesses will be urged to do whatever they can to create openings for local residents.