Roger Chevrier is shown in front of the Centre Court Lounge at the Hanmer Valley Shopping Centre. This is where local residents can expect to find him on the first Saturday of every month, beginning on March 4, 2006 . Roger will be performing a wide variety of songs on his guitar from until about 3 p.m. He will be in the mall on the first Saturday of every month at the same time and is inviting other guitar enthusiasts to join him for an afternoon of "picking".
Chevrier is a life-long resident of Valley East who has a passion for music. He has two radio shows every week on the Laurentian University station, CKLU which can be found by tuning in to 96.7 FM. Every Sunday from until he hosts a show called "Sitting Back Picking". Tuesdays from to he hosts a show called "Finger Style Guitar". Both shows offer listeners some excellent guitar music to relax to.
He was also the Musical Director for the Valley Community Theatre, and coordinated the music for the 'Leader of the Pack'; 'Grease'; and 'Suds'.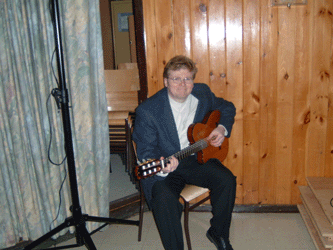 The retired INCO worker is hoping that these monthly sessions at the mall will generate more interest in this kind of music. Roger knows that there are a lot of people who enjoy guitar music, and he is looking forward to some exciting afternoons at the mall. Don't forget to show up on Saturday, March 4, 2006 at for the first afternoon of "Guitar Picking".