John Lancia Retires From Hanmer Valley Shopping Centre After 27 Years In Charge of Maintenance Department
To the casual observer, there wasn't much out of the ordinary at the Hanmer Valley Shopping Centre on Friday, March 31, 2006. Visitors to the mall early in the day saw the familiar site of John Lancia with his broom, shovel and wheelbarrow, cleaning up the parking lot. But this certainly wasn't any normal day. It was John's last day on the job. After almost 27 years in the role of chief custodian of the Hanmer Valley Shopping Centre, John was calling it a day and joining the ranks of the retired.
Now, retiring after 27 years wouldn't usually be anything remarkable, but in the case of John Lancia, remarkable just doesn't seem to justify the achievement.
For John, this was the end of his 3rd career. He began working at the age of 15 for the railway. After spending 15 years on the rails, he went to work in the mines for the next 20. Then, at the age of 50, when most men are thinking of retirement, he accepted an offer from Val Mazzuca to take care of the shopping centre. Now, 27 years later, at the age of 77, and with an impeccable record for attendance and reliability, John decided it was time to go. It was time to enjoy gardening, walking and waiting for his beloved Toronto Maple Leafs to win another cup.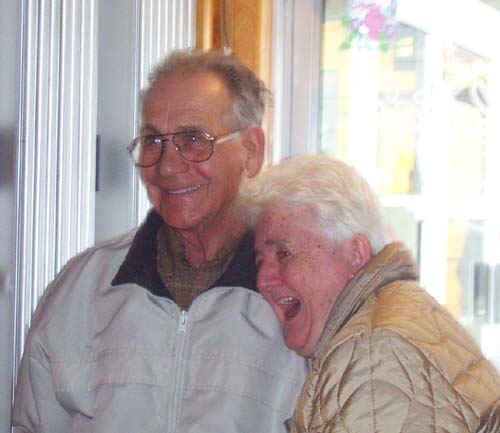 On Sunday, April 2, 2006, over 100 of his family, friends and colleagues gathered for a surprise retirement party for John. In the above photo his wife, Chummy, is breaking up with laughter now that the stress of keeping the news of this party from leaking out to her husband. Johnny's look of surprise said it all.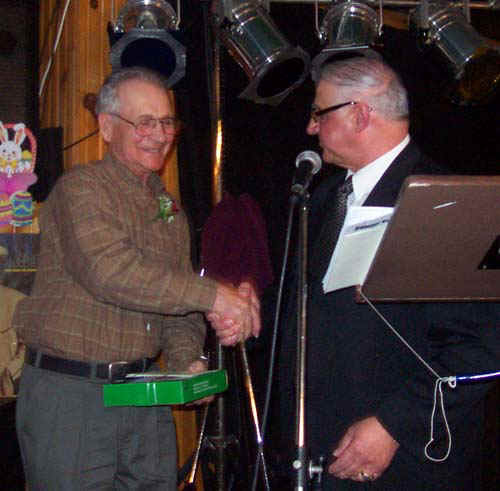 One of the most emotional parts of the evening was when Val Mazzuca, John's employer of 27 years, got up and said a few things about his loyal employee.

"There is no one in this room who will miss Johnny more than I will," Val said to begin his speech. "I can remember the day when John & Chummy came in to my I.G.A. store in Capreol , 27 years ago in July, and I asked John if he would like to work for Mario, Bob and myself at the Hanmer Valley Shopping Centre as security and janitorial, etc., etc. Once I saw how fast he could run, I took away the security part of the job."

Val stated that he would have to buy a new alarm clock because, "for the past 27 years this man "Johnny" called me on the phone at 3, 4 and during every snow storm and always said the same thing - We have to go now."

He told a few stories of how Johnny Lancia took everything that happened in the mall in stride, and how he never got excited about anything. Once there was a fire in the washroom, and all Johnny said was, "I'll get the fire extinguisher." and put the fire out before the trucks arrived. Another time there was a big flood in the mall and all Johnny said was, "I'll get my rubber boots." If the roof was leaking, he would simply say, "I'll get a pail and ladder."

"One thing I can say about Johnny was that he was always faithful, honest and dependable," continued Mazzuca. "Starting time was 7 a.m. and he was always here a half hour before starting time."

Val Mazzuca explained that there were three words that he would miss saying now that John was retiring: "HERE COMES JOHNNY"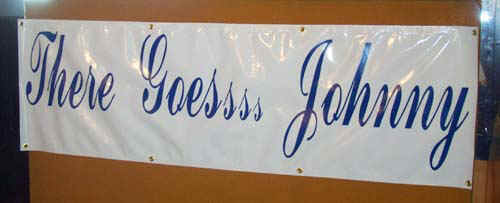 John Lancia made a big difference to the character and personality of the Hanmer Valley Shopping Centre. He was loved by the shoppers and was always willing to take the time to help out a child, or make sure that anything that was spilled was quickly wiped up.

He lived by the motto, "Whatever you get out of life today, you have to earn."

His three sons, Anthony, Brian and Robert were also at the retirement party. Anthony said that this retirement was as much about his "Mom" as it was his Dad. Chummy has stood beside John for over 56 years and is looking forward to a much deserved rest.

One of the highlights of the night was when John was presented with a Montreal Canadians hockey jersey. As was explained by Anthony, "Many of us feel that Dad decided to retire now because Toronto wasn't going to make the playoffs and he didn't think he could come to work and take the kidding from the Montreal fans in the town.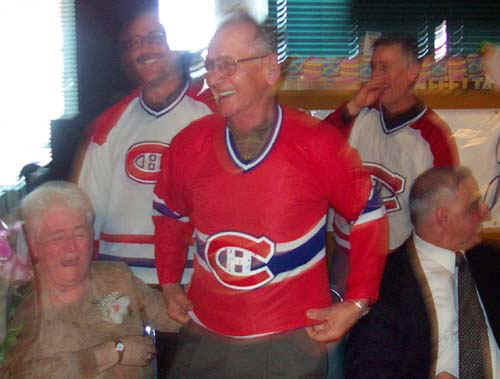 Val Mazzuca and his staff will certainly miss the dependable Johnny Lancia. The place just won't be the same without him, but it is time for John to enjoy some of his own activities with Chummy, his sons and grandchildren. It's been 62 long years of labour. And it is going to be a great retirement.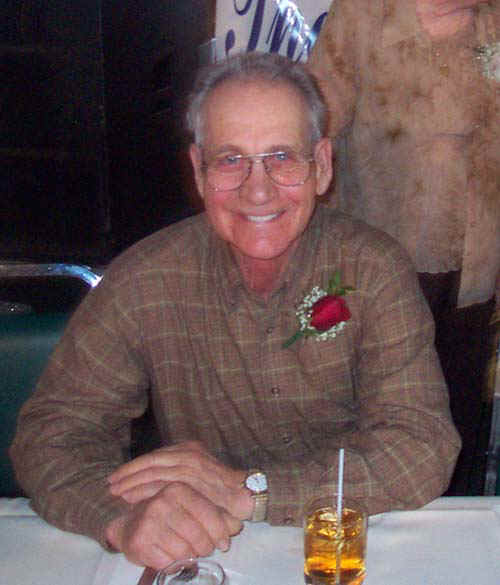 "WE'VE GOTTA GO NOW"
Have A Great Retirement John Lancia!