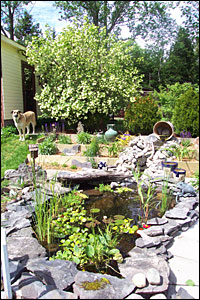 Thousands of gardeners from Valley East work extremely hard during the short summer months bringing life to their yards. When you have a chance to visit these backyard wonderlands you are truly amazed at the creativity and beautiful landscape designs that have been created by your friends and neighbours. These are not magazine layouts. They are real, live gardens, existing right here in our own community.
Now, we finally have a chance to see these secret gardens on the new and exciting Valley East Online Pond & Garden Tour.
Whether you are a gardener yourself, or just a person who loves to look at the wonders of nature, take a few minutes right now to visit the Garden Tour at www.valleyeasttoday.ca . Find out how you can share your best work with fellow gardeners. You are bound to get some new ideas to try out at your own place. One thing is for sure – you will be amazed at the images you see.
The Valley East Online Pond & Garden Tour is expected to be very popular with local gardeners who love to work in the yard developing their own ponds and flower displays. They just never seem to have enough time to visit other yards to share ideas and see what other people have been able to do with their own creativity and hard work.
Our goal is to collect hundreds of photos of ponds and garden settings from homes in Valley East this summer so that enthusiasts can spend many enjoyable hours in front of the computer marveling at the ponds and gardens that have been created locally.
Whether you have only had time to develop one small corner of your own yard, or if you have dozens of special centers, please consider allowing us to come over and take some photos so that we can post them on the tour. If you have taken pictures yourself, we will simply scan the image and return the photo to you.
Valley East is a great community. We have so much of which to be proud. This is a wonderful opportunity to celebrate our 100th anniversary by showing everyone a side of Valley East which is often overlooked. Go outside and look at your own yard. Discover for yourself the peace and solitude of the special places on your property. Then consider sharing those images with the rest of us on the Valley East Online Pond & Garden Tour. For more information, please visit the web site at www.valleyeasttoday.ca or call 969-7215 and ask to speak to Valerie.