Ken Desjardins Arranges To Have The Top Two Stars Of The Sudbury Wolves Visit The Mall For Autograph Session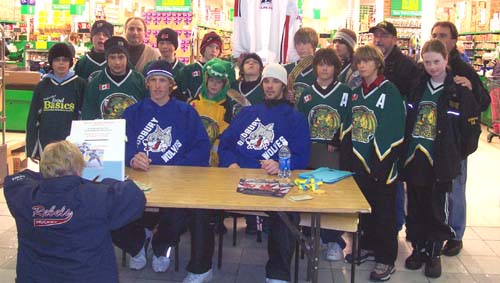 Ken Desjardins is shown in the back row, fourth from the left, with the PeeWee House League Team he sponsors in the Valley East Minor Hockey League. Ken sponsors five teams in the association.

On February 25, 2006, from 2 to 3 p.m., Ken arranged to have the two top stars of the Sudbury Wolves, Marc Staal, on the left and Benoit Pouliot, come to the mall to sign autographs for local fans.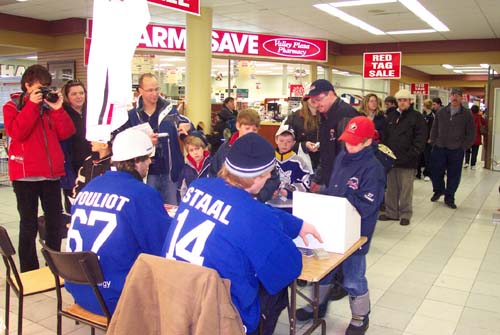 The fans began lining up 40 minutes before the arrival of the hockey stars. Marc Staal and Benoit Pouliot were two members of the Team Canada Juniors who won the Gold Medal during the 2005 World Junior Championships this season and are the two most popular players on this year's version of the local OHL club.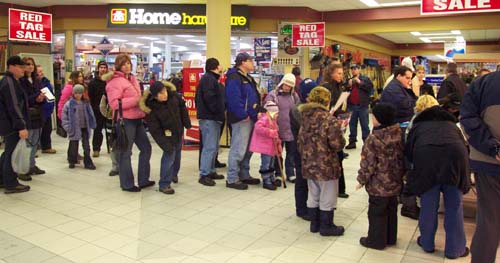 The line-up was steady for the full hour and only began to die down at 3 p.m.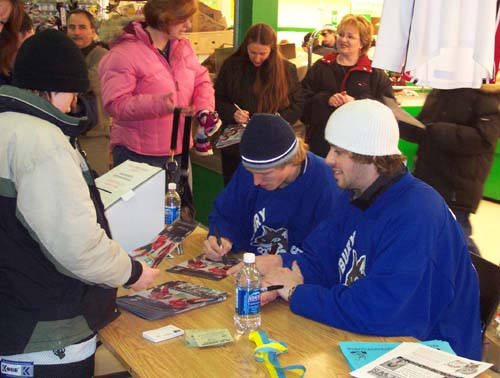 The two young hockey players spent a full hour signing posters and giving out vouchers for upcoming home games.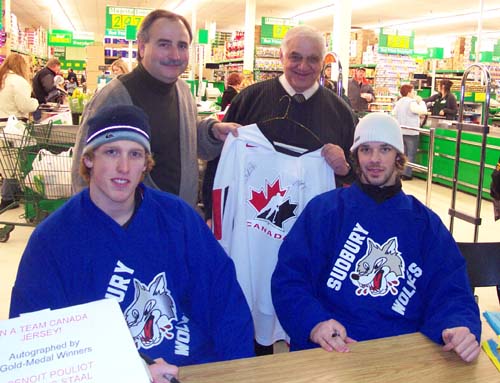 In addition to autographed posters and vouchers, fans were also allowed to fill out a ballot on the Team Canada Jersey which is being held in the background by Ken Desjardins' and Val Mazzuca, owner of the Hanmer Valley Shopping centre,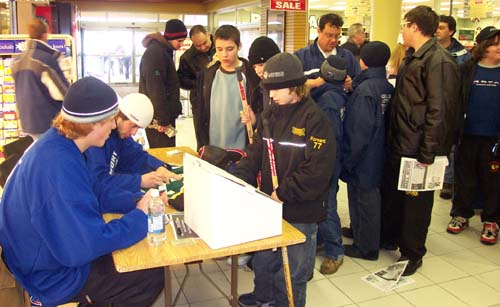 Young hockey players brought in sweaters, helmets and sticks to be signed.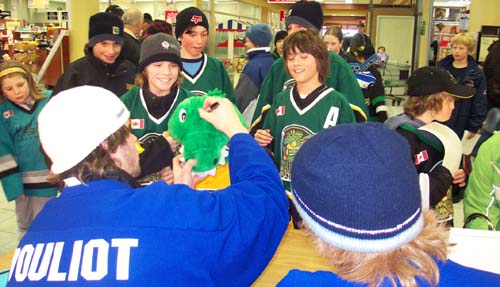 The Desjardins' Mascot also had its head autographed.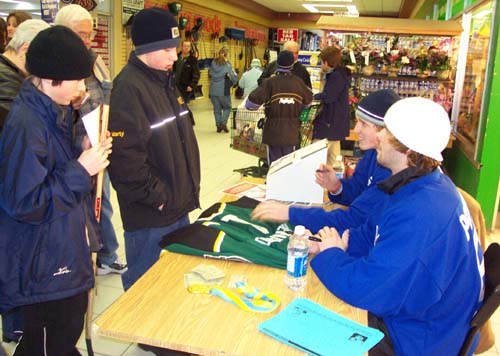 Many of the young fans will never forget the brief words of encouragement given by Staal and Pouliot, who were absolute professionals during their visit to the mall.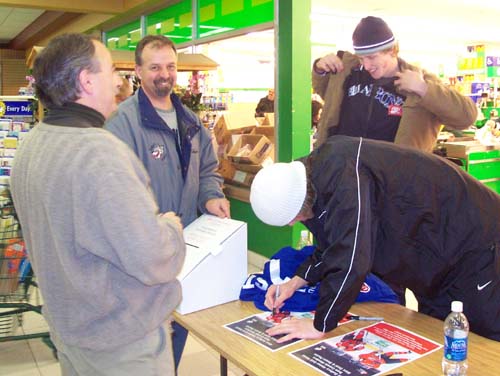 At the end of the hour long visit, Curtis Hall, Marketing & Sales Director for the Sudbury Wolves, shown next to Ken Desjardins, stated that he has been to many autograph sessions with players, but this was the best attended autograph session he has ever seen. It is estimated that the hockey stars, Marc Staal and Benoit Pouliot signed autographs for approximately 300 fans of all ages. As Benoit signed the last poster for Ken Desjardins, Marc is shown standing and stretching after what must have appeared to be an endless line of appreciative fans.

Some day soon, as early as next year, when both Marc and Benoit are playing in the National Hockey League, a lot of local residents will be able to proudly show their friends their autographed poster and declare, "I talked to them at the mall."