Chenier's Marche Richelieu Provides "Old School" Style Grocery Services
Written in The Vision Paper on June 28, 2006
by Robert Kirwan
<![if !vml]>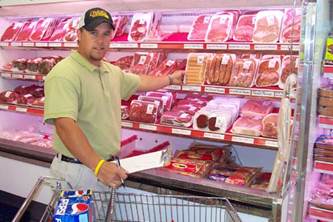 <![endif]> Al Chenier, shown in front of the meat cooler putting together an order for a customer, grew up watching his grandfather, Hormidas Chenier provide the kind of "Old School" service that made Chenier's Marche Richelieu grocery store such an important part of the Hanmer community. So when he had an opportunity to purchase the store in September 2004, Al jumped at the opportunity to return it to the family.

"I love being around the public and helping people with something as fundamental to their day to day living as selecting their food," Chenier explained. "And when you consider some of the basic policies that have always existed at our store, it makes it even more special."
Indeed, one of the things Chenier's Marche Richelieu is known for is its selection of meat. "All of our beef comes to us fresh in ½ or ¼ carcuses. We then cut it up into steak, roasts, hamburger – you name it – but it is always fresh, right off the rack. We never get our beef delivered pre-packaged. If a customer wants thick steak, we cut it to suit their preference. A lot of our customers give us specific orders and we have it ready for pick up when they come in. We even make our own sausages and porketta."

Another service that Al is proud of is the "free home delivery" that customers can receive from Chenier's Marche Richelieu. "You can phone or fax in your grocery order by and we will deliver it right to your home the same day at no extra charge. Many of the people who appreciate this service are seniors or individuals who are unable to get around very well. They call up with their order and we bring it to their doorstep, just like in the "old days."
In fact, Al usually does all of the home deliveries himself, giving him an additional opportunity to get out and express his appreciation for the loyal support shown by his regular customers.

The closing of the Capreol Freshmart in July will undoubtedly mean that the home delivery service will become an attractive alternative to many of the residents of that community. A simple phone call is all that is needed to have your grocery order filled and on your doorstep. Not only will there be no charge for the delivery, but you will find that the prices at Chenier's Marche Richelieu are extremely competitive for your basic grocery needs. You won't have to "pay extra" for any of these conveniences.

Chenier's Marche Richelieu is open seven days a week, including all holidays and Saturdays, from to The staff is fully bilingual and you can pay with debit, VISA or good old-fashioned cash. Customers from Valley East, Capreol, Rayside Balfour, Nickel Centre, and even Sudbury appreciate the convenient hours of operation, the excellent meat department, the complete selection of both brand and no-name products, the great prices, and the "old school" friendly atmosphere that has made Chenier's Marche Richelieu famous for over 50 years.

The next time you are driving by on Cote Blvd in Hanmer, just stop by and have a look. You'll notice the difference the minute you step inside the door.
<![if !vml]>

<![endif]>
CHENIER'S MARCHE RICHELIEU
99 COTE BLVD. HANMER
(705) 969-5301