The second in a series of Support the Troops endeavours by the Valley East Community Action Network is "Straight from the Heart" which features the Berthelot family whose son, Sergeant Raymond Berthelot, will soon be returning from a mission in the vicinity of Kandahar, to visit with his children, Matthieu and Cassandra.
Matthieu, 11, is shown with Alana Evershed of MCTV being interviewed for a special segment on the evening news. The poster behind Matthieu is one that he designed himself for the display.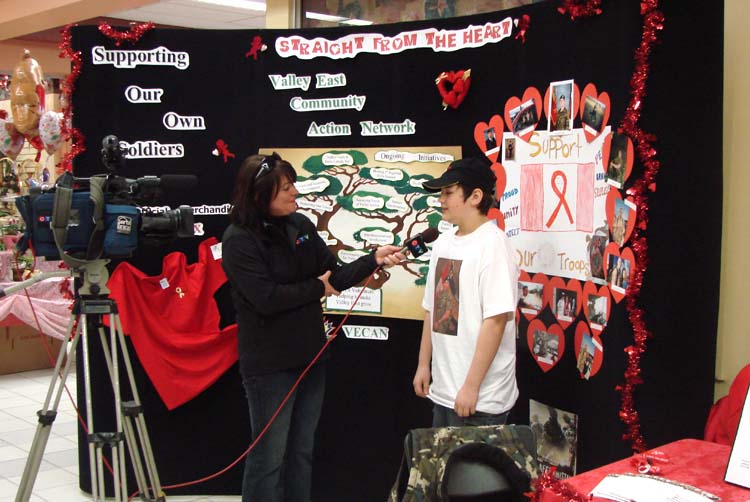 The son of Gaston and Pauline was a Val Caron boy who attended Notre Dame du Rosaire, 9 and 10 at Sacré Coeur, and graduated from l'Héritage. The 36-year-old's love of the military began in 1983 with four years of Army Cadets in Capreol, after which he moved on to the Militia in Sudbury . In October of '88, Raymond joined the Armed Forces, doing his basic training in St. Jean , Que., before being posted with Vindoux (the 22nd regiment) for infantry training in early '89 and spending the next four years in Lahr , Germany . Injuries to his back in Bosnia shortened that '92 tour of duty, after which he was posted in Gagetown, N.B. In '99, he returned to Bosnia for 6 ½ months as a peacekeeper. In 2001, after becoming Master Corporal, Raymond spent 6 ½ months in Africa's Eurethea and Ethiopia on a peacekeeping mission. In 2005, he became Sergeant Raymond Berthelot and was stationed in Kabul .
Raymond has had a variety of experiences with the Canadian Armed Forces. For several weeks during the January ice storms south of Montreal in '98, he brought in food, helped to restore services, was involved in cutting trees and removing debris, and worked to save livestock by removing them from dangerous situations or delivering food to them in isolated areas. The recovery of forensics and debris from Swiss Air's Flight 111 plane crash, seven nautical miles off the coast of Nova Scotia , not far from Peggy's Cove, provided both experience and challenge.
In an interview, Gaston and Pauline shared, "You never get used to the fact that your son or daughter is stationed in a dangerous situation. Each parent deals with the situation in their own way; some need to hear every word about the armed forces on television and radio; others avoid any information but what pertains to their family."
How can we support the family? The family needs to know that members of their community support them in what they are doing. Relatives need to keep in communication with others who are in the same situation, as in a support group. Soldiers returning to their community need to feel that their community supports them.
Straight from the Heart has been organized, not only to showcase the Berthelot Family, but to introduce to the communities of Valley East and Capreol a newly-formed Military Family Support group.
"We get together to connect with other families who share the same concerns and worries as we do," said Volunteer Co-ordinator, Denise Lecuyer, " but, most of all, we provide moral support in very difficult times."
The Military Family Support group will be distributing the Invisible Ribbon, part of a federal project that was launched in November, and which represents an invisible uniform that we wear to support our troops. Denise welcomes calls to 983-0708 for any military family member who requires resources or further information about the next meeting to take place on Feb. 22nd.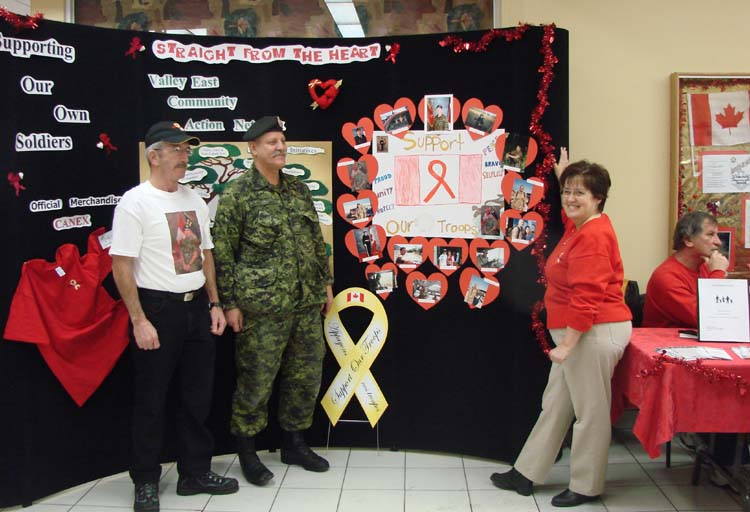 On Saturday, February 10, 2007, VECAN once again sponsored a special day at the Hanmer Valley Shopping Centre where the public was able to talk to some of the family members. In the above photo, Gaston, on the left is shown with Denise Lecuyer, Volunteer Co-ordinator, on the far right, explaining some of the information that is on the display board. Denise also has a daughter in the Canadian navy. In the middle of the photo is Warrant Officer Yvon Godin, a veteran soldier who retired in 2004 after more than 35 years of service in the Canadian military. According to Lecuyer, there are a total of 17 area families with sons or daughters serving in the military.