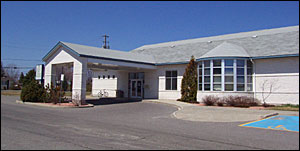 The Valley East Citizen Service Centre and Public Library is a building of which everyone in the community of 25,000 is proud.
When the City of Greater Sudbury was formed in 2001, it was decided to continue to provide service to the outlying areas, such as Valley East, by establishing Citizen Service Centres at the local public library facilities. Therefore, what was once known simply as the "Library" is now a combined "Town Hall/Public Library", where residents have access to virtually all of the services that are offered at the new central Tom Davies Square .
Lynn Imbeau is the Citizen Service Centre Lead, responsible for the Valley East and Capreol sites. She has a staff of four full-time Citizen Service Representatives, as well as four part-time staff and three students (Pages) who assist the public in a wide range of activities.
For a brief description of the various elements of the facility, you are invited to visit each of the following: