| | |
| --- | --- |
| | Canadian Recording Artist Heather Dale Stops In Sudbury For Concert On November 22 |
| | Hanmer's Eric Ouellette Begins The Most Important Race of His Life |
| | An Exciting Life As An International Model Could Be In Store For Valley East's Erin Malinski |
| | Greater Sudbury Public Library Offers A Teen Advisory Group to Local Students |
| | Grade 11 Students Adam Leger and Erica Richard Begin Term as Co-Prime Ministers of the Confederation Secondary School Parliament |
| | It's Official - Evolutionary Holds The Guinness World Record For The Deepest Underground Concert |
Canadian Recording Artist Heather Dale Stops In Sudbury For Concert On November 22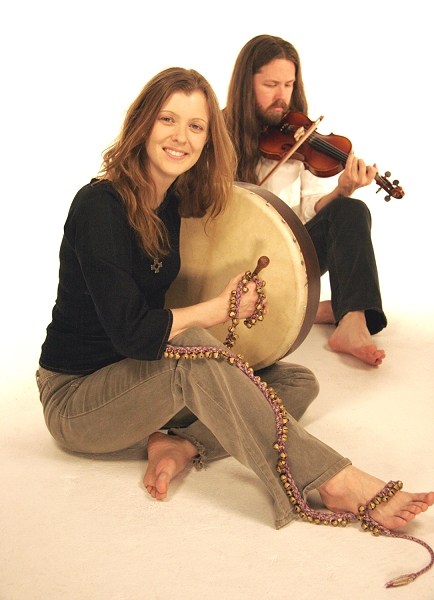 Heather Dale is a Canadian recording artist with Celtic roots, currently on tour to support her Christmas album "This Endris Night". This CD takes a joyful, thoughtful look at traditional holiday songs from the Middle Ages and Renaissance. Heather's voice is clearly influenced by Celtic traditions, along with jazz and folk, and her music is reminiscent of Loreena McKennitt and Steeleye Span. Heather regularly tours in North America and Europe. "Heather Dale soars... an unabashed and uninhibited romantic who has found her voice and her musical wings" (Toronto Star).

Heather Dale will be presenting a series of special holiday concerts this November and December, with performances in Manitoba, Ontario, Quebec, New Brunswick and Nova Scotia. This special 18-date tour will showcase Celtic-flavoured interpretations of traditional Christmas carols, along with a selection of original songs from Heather's six recordings. The concerts are family-friendly, with a good mix of upbeat and softer material. "We have so much fun at these shows, since it's such a joyful time of year," says Heather. "But I also like to focus on the simplicity and beauty of the original Christmas story, as it was told before the Big Box Stores took over the season."

Each concert features over a dozen instruments, all played by Heather Dale and Ben Deschamps. Along with double bass, guitar and piano, Heather and Ben bring out a whole host of smaller folk instruments during their sets: mountain dulcimer, Irish flute, violin, bodhran drum, tin whistles... often played in unusual ways. They also offer surprisingly contemporary twists on old favourites, whether it's putting a 14th century carol into New Orleans ragtime, or evoking a swirling snowscape with double bass and tiny bells. An evening of enchantment and delight -- great for all ages!

Visit www.HeatherDale.com

SELECTED TOUR DATES:

Thu Nov 15 Our Saviour's Lutheran Church (Thunder Bay, ON)
Fri Nov 16 The Bhigg House concert series (Winnipeg, MB)
Sat Nov 17 The Bhigg House concert series (Winnipeg, MB)
Wed Nov 21 Loplops Lounge & Gallery (Sault Ste Marie, ON)
Thu Nov 22 Church of the Epiphany (Sudbury, ON)
Fri Nov 23 Orillia Folk Club (Orillia, ON)
Sat Nov 24 Moonshine Cafe (Oakville, ON)
Sun Nov 25 The Rhino Craft & Music Fair (Toronto, ON)
Tue Nov 27 Grace Presbyterian Church (Scarborough, ON)
Wed Nov 28 Princess Margaret Hospital - Music in the Atrium concert series (Toronto, ON)
Fri Nov 30 Old Town Hall concert series (Waterford, ON)
Sat Dec 1 Waterloo Community Arts Centre (Waterloo, ON)
Fri Dec 7 CFMU concert series - opening for David Francey (Hamilton, ON)
Sat Dec 8 Yellow Door Coffee House (Montreal, QC)
Sun Dec 9 Glebe St. James Church concert series (Ottawa, ON)
Wed Dec 12 All Saints Anglican Church (St. Andrews, NB)
Thu Dec 13 The Blue Olive (Saint John, NB)
Fri Dec 14 St. John's United Church (Halifax, NS)
Tue Dec 18 Charlotte Street Arts Centre (Fredericton, NB)

An Exciting Life As An International Model Could Be In Store For Valley East's Erin Malinski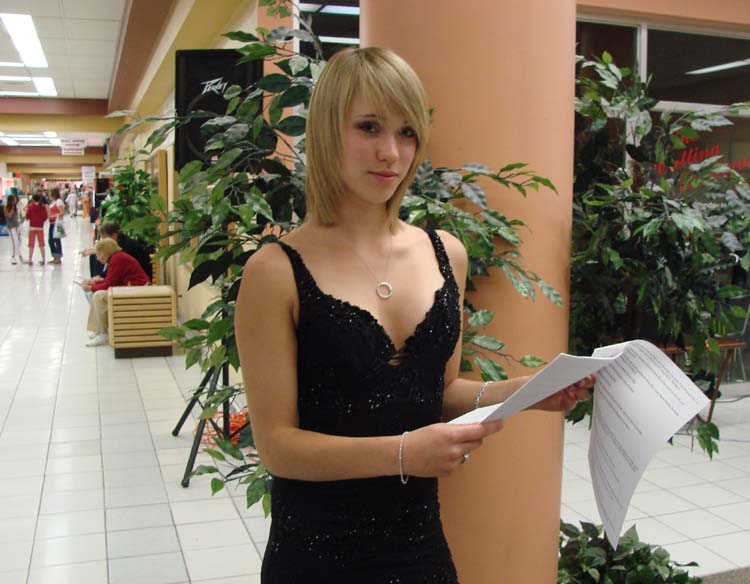 Fifteen year old Erin Malinski (this article was written in September 2007) is shown reading over the program just prior to taking part in the First Annual Hanmer Valley Shopping Centre Fall Fashion Show on September 9, 2007. For Erin, shown below as the lead model, must minutes from opening the show, every opportunity to get experience in front of audiences is an important step in her career development program.

Erin, who attends Grade 10 at College Notre Dame in Sudbury, seems to have been born to be a model. In fact, during a recent interview, Erin herself feels that while most successful models can be coached and trained to refine their talents, "You must have a certain kind of personality to be a high level model. It must be present in everything you do. When people look at you they should see you as a "model" just by the way you act and carry yourself, and I don't mean that in a negative way. I mean that you can just tell someone has what it takes to be a model."

Erin's father, Ed, a retired school teacher agrees, "I think I knew there was something special about Erin right from the day she was born. Even before she began school she was always trying on clothes and always extremely particular about the way she looked. She was our only daughter, so naturally my wife and I dressed her in the finest outfits and enjoyed seeing her in pretty clothes, but she just took to it naturally. She has been interested in her appearance and in clothes all along, and I can say as a proud father that she has done all of this while remaining very down to earth and being just a plain ordinary good person. But there is something special about her and I can say that I think she was born with this gift."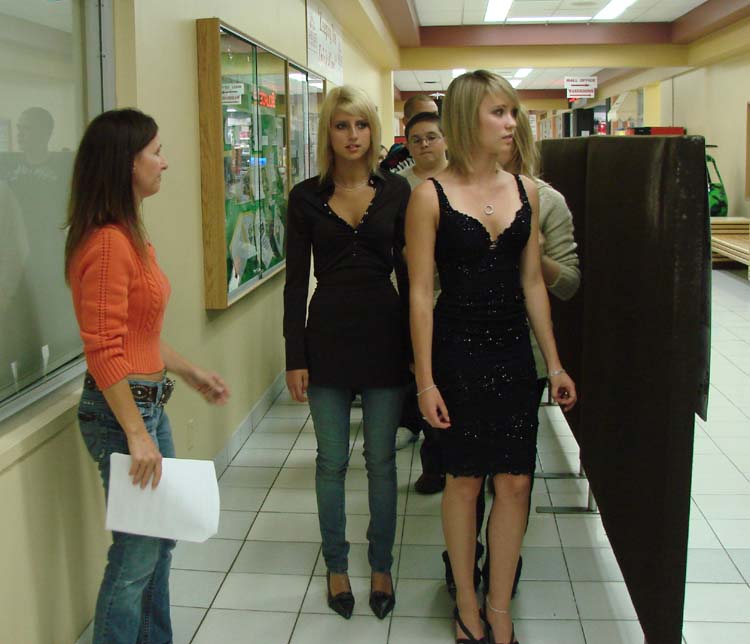 Erin's life as a potential career model moved to a higher level this year while attending the Canadian Modeling Talent Convention. She displayed her talents with 500 other aspiring teen models and was selected (equivalent to the drafting process in hockey) by seven different agencies from Toronto, New York, Taiwan, Paris, London and Los Angeles. These agencies will be watching Erin's development over the next few years until she turns 18 and is eligible to sign a professional modeling contract. She is now in the hands of Mrs. Florence Gauvreau who will continue grooming her for a possible career.

For Erin, it will mean a steady stream of events such as the one at the Hanmer Valley Shopping Centre where she will get as much exposure as possible and sharpen her presentation skills on stage. These practices will give her the experiences she needs in order to mature into a profession which is extremely demanding and short-lived.

"I know it is going to be a tough career," explained Erin. "It is very competitive among the top models in the world and you have to be at the top of your game to be successful. I also know that my career won't last forever on stage, but after you are finished with the "runway" part of your career you can still continue as a model in advertising for catalogues and magazines. I also want to finish my degree in psychology and perhaps open a practice helping young models cope with the emotional side of the business. I have thought about staying in business as an agent as well."

For now, Erin will continue to be a normal 15 year old who is heading towards a career she loves. She will take advantage of every opportunity to get in front of people in order to experience every type of situation and every kind of condition. All of it will serve its purpose in developing the "entire package". Her outgoing personality; her ability to take criticism; her ongoing concern about her appearance; and her unwavering morals and personal standards should take her a long way to a contract when she turns 18.
Hanmer's Eric Ouellette Begins The Most Important Race of His Life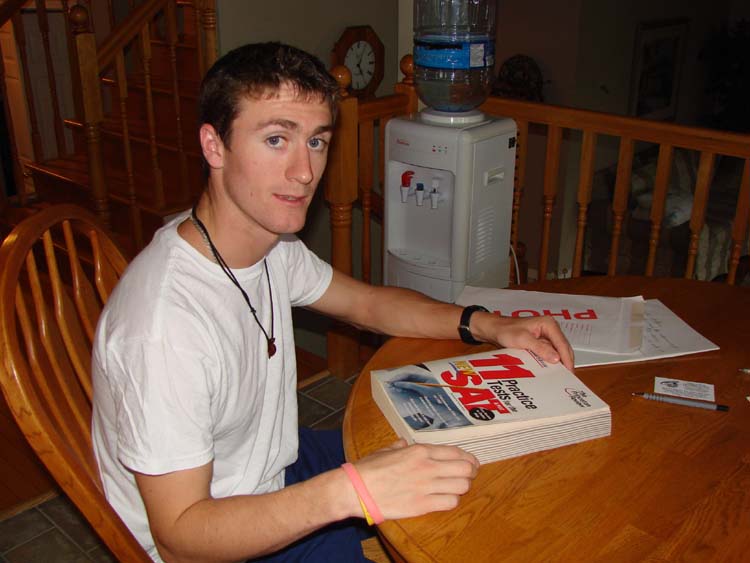 Eric Ouellette's career goal is to become a physiotherapist when he finally finishes his formal education. He plans on beginning his undergraduate degree in Kineisiology at Lake Superior State University in the spring as part of the Lake Superior State University varsity track and cross country teams on a full-scholarship valued at $60,000 over four years, but one little thing stands in his way - the SAT entrance test that must be passed before he is accepted into the university.

In the photo above, Eric is shown going over some of the practice tests in preparation for writing the test in November 2007. He plans on getting some assistance from David DiCarlantonio, a Personal Tutor through The Greater Sudbury Learning Clinic. David and Eric will be spending about four hours a week studying for the test.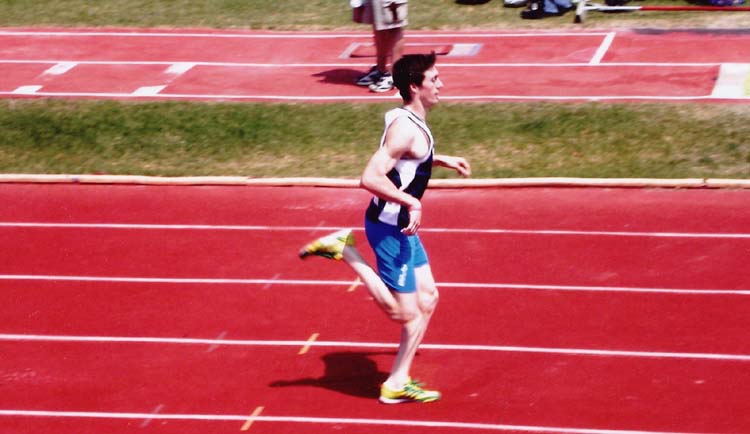 Eric is one of the top mid-distance runners for his age in the country. While attending College Notre Dame in Sudbury, Eric made a name for himself in the 400 and 800 metre races, clearly establishing himself as a National Level runner in the top eight in Canada. He was a member of Team Ontario during the summer of 2007, competing in the Eastern Canadian ESPOIR Meet in St. John/s Newfoundland where he came home with a gold medal in the 4 x 400 relay and 4th place finishes in each of the 400 and 800 m races.

Eric started out his athletic career as a mediocre runner in the 100 and 200 metre sprints. In Grade 8 he moved to the 400 and 800 metre distances and instantly loved it. He has played hockey while at College Notre Dame, but his true love is running. He has developed his skills under the watchful eyes of his personal coach Darren Jermyn as well as other local coaches in town, such as Dick Moss from Laurentian University.

"I like doing things myself and when you are running you are all alone," explained Eric. "You have to push yourself and train hard because when the race begins you can't depend on your teammates. It is you against the clock and against other runners."

The head coach of the track team at Lake Superior State University, Steve Ellis, is a former resident of Sudbury so he pays particular attention to local athletes. He liked what he saw in Eric and hence offered the full scholarship to become a member of the team.

Once he passes the SAT test, Eric will head to the university to begin training for the spring season. If you compare hockey to -the world of running, Eric is considered somewhere between the OHL and N.H.L.. He will therefore spend the next four years developing his skills and competing with some of the top runners on the continent with the dream of one day earning a spot on the Canadian Olympic Team.

We all wish Eric the best of luck as he begins the most important race of his life.
Greater Sudbury Public Library Offers A Teen Advisory Group to Local Students
The Greater Sudbury Public Library is looking for teens in grades 7 to 12.

What do they do...

- Meet monthly

- Suggest items for the library to buy

- Plan and promote teen library programs

- Discuss teen trends and school events

- Talk about favourite books, movies, music, computer games, magazines...

Reasons to consider joining...

1. Look good on college resume

2. Earn Community Service hours

4. Meet new friends

5. There's always food at meetings

6. It's fun!

You have the choice of two groups:

Valley East Public Library Main Public Library

4100 Elmview Drive, Hanmer 74 MacKenzie Street, Sudbury

first Wednesday of the month last Wednesday of the month

4:00 - 5:00 p.m. 4:00 - 5:00 p.m.

If you are interested, please contact Ginette Mallette at 673-1155, extension 205.

New members are always welcome. TAG - Now you're it!

For more information, please contact:


Ginette Mallette, Children and Teens Programmer


Greater Sudbury Public Library, 673-1155, extension 205


ginette.mallette@city.greatersudbury.on.ca
Grade 11 Students Adam Leger and Erica Richard Begin Term as Co-Prime Ministers of the Confederation Secondary School Parliament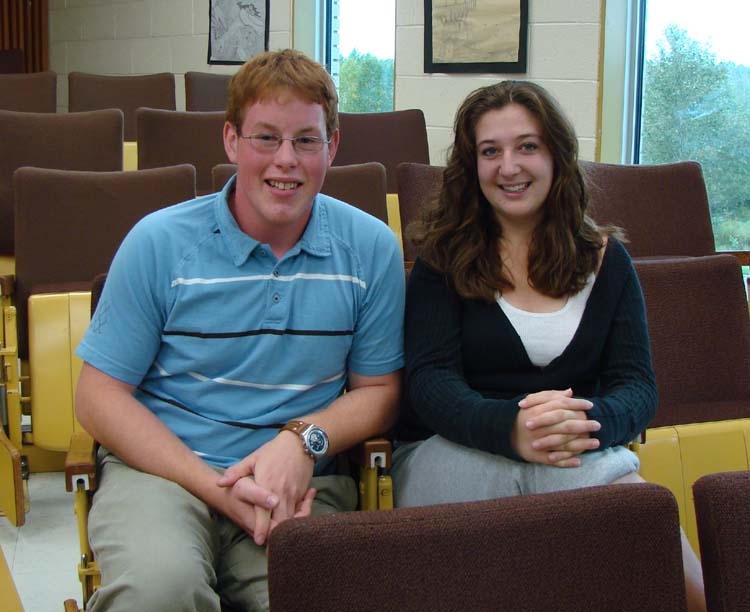 While acknowledging that it is unusual for Grade 11 students to be appointed to the position of Prime Minister of the Confederation Secondary School Student Parliament, both Adam Leger and Erica Richard are confident that as Co-Prime Ministers they will be able to combine their resources and talents to provide effective leadership to the student body this year.

The main goals of the Parliament this year are to improve the overall level of school spirit in all areas and help get the school more involved in the community of Valley East. They both agree that secondary school students must improve the public image of youth in general and this can be done by getting involved in more positive activities outside of the boundaries of the school. They also hope to revive the popular school dances and bring back a winter carnival in January or February.

Both Adam and Erica are graduates of Valley View Public School and are continuing their French Immersion program in high school. Adam hopes one day to be a teacher, although he is entertaining some thoughts about getting into politics. Erica plans on pursuing a career in journalism or photography.
It's Official - Evolutionary Holds The Guinness World Record For The Deepest Underground Concert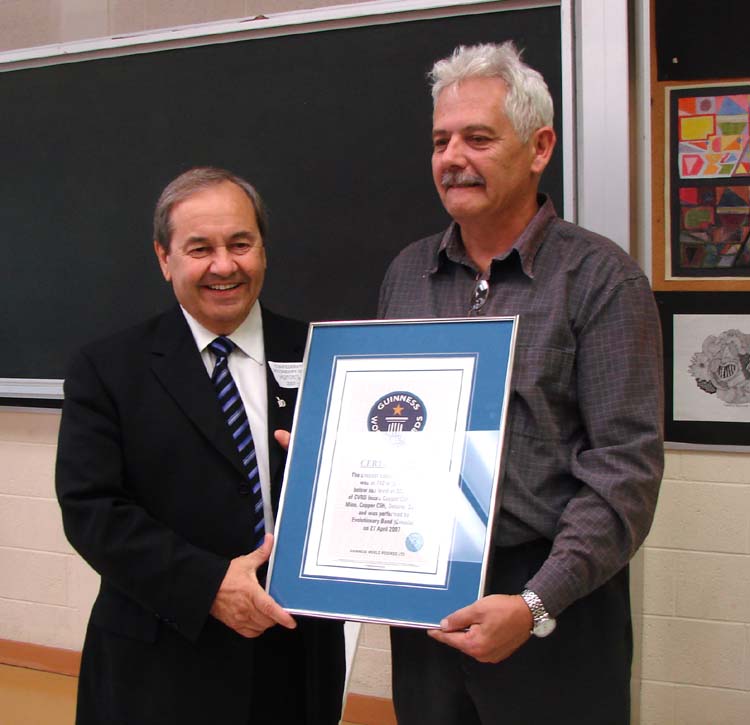 Mayor John Rodriguez was on hand to present the plaque confirming that Confederation Secondary School's Evolutionary Band has been recognized as World Record Holders for their underground concert performed at Copper Cliff's North Mine on April 27, 2007. Accepting the plaque on behalf of the band was music director Norm McIntosh as many members of the band looked on from the seats in the school amphitheatre.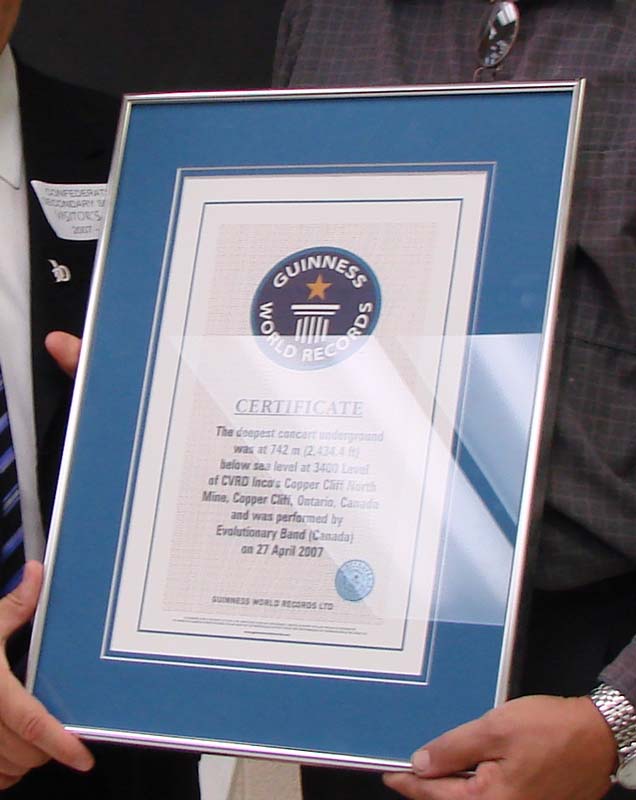 Referring to the moment as a "significant moment in the life of each and every student", Norm McIntosh held up a certificate that was about to be presented to the band members from Shelley Martel's office, and make it very clear that, "I want you to put this certificate in a glass frame and hang it on your bedroom wall. This is something that no one can ever take away from you. You have accomplished something that very few people living on this earth will ever achieve. But there are two other certificates that you must add to the collection. The first is your high school diploma and the second is your university or college diploma. No one can take those away from you either."

The formal certificate, shown above, states:

The deepest concert underground was at 742 m (2,434.4 feet) below sea level at 3,400 Level of CVRD Inco's Copper Cliff North Mine, Copper Cliff, Ontario, Canada and was performed by Evolutionary Band (Canada) on 27 April 2007.

"We commend Evolutionary for, once again, putting Greater Sudbury on the map," said Rainbow District School Board Chair Dena Morrison. "Having an official world record to their credit is an outstanding achievement. We thank our partners at CVRD Inco for giving our students the opportunity of a lifetime."

The world record concert was broadcast live from coast to coast on CTV's Canada AM. In a recent email message to the school, host Jeff Hutcheson said, "I just wanted to say congratulations from all of us here at Canada AM, and thanks so much for allowing us to be a part of this wonderful accomplishment. It was a broadcast I'll never forget, punctuated by the enthusiasm, dedication and talent of all of those connected with the band program at Confederation Secondary School."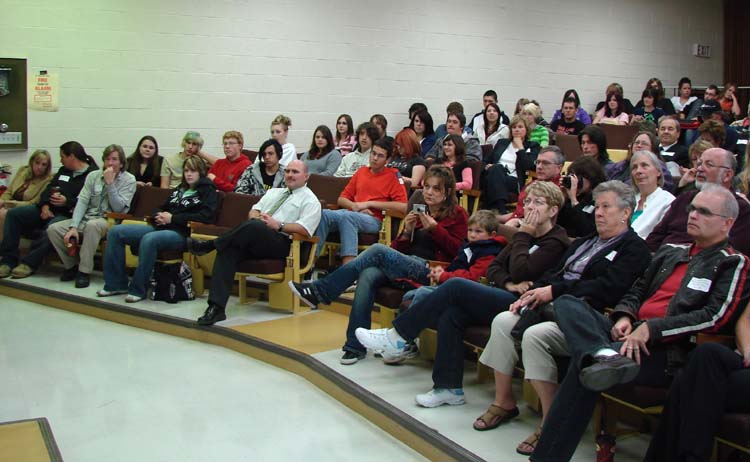 Members of the band can be seen seated in the section of the amphitheatre behind Principal, Mike Mirka, fifth from the left in the front row. The amphitheatre was filled with proud parents and grandparents, brothers and sisters who attended the special press conference to announce the official recognition of the world record. The students spent almost 15 hours underground setting up and playing their hour-long set to establish the record.

Also in attendance, shown 2nd and 3rd from the left, were the producers of a special 70-minute "rock-umentary" on Evolutionary which was to be featured during this year's Cinefest Sudbury International Film Festival. Gregory Tremblay and Woody Hackett own M-Potent Productions and Seat of the Pants Productions of Sudbury. The two local filmmakers spent a year filming performances and behind the scenes activities of the band members in putting together the documentary.

For Norm McIntosh, winner of the inaugural Music Teacher of the Year Award sponsored by the Rolling Stones, this was one of the proudest moments he has ever had in his career, "It's an honour for me to be in the presence of a world record holder. Thank you for believing in me and for coming with me that day."