VAL CARON
523-8080

OPEN SEVEN DAYS A WEEK AT 11:00 A.M.

SUNDAY TO WEDNESDAY
OPEN UNTIL 9:00 P.M.
THURSDAYS
OPEN UNTIL 10:00 P.M.
FRIDAY & SATURDAY
OPEN UNTIL 12 MIDNIGHT

New Orleans Pizza Val Caron is one of SIX locations that are currently operating in the City of Greater Sudbury. Conveniently and centrally located strip mall in the heart of the communities busiest business section, the Val Caron establishment is right on Hwy 69N and right in between the two traffic lights on the five-lane road. Whether you are on your way from work, school or play, or just driving around town, New Orleans Pizza is right on your way which is very handy when you need to pick up dinner or lunch for your hungry family. When you step inside the door you are immediately greeted by the bright decor which includes a quiet sitting area where you can either wait for your take-out order or enjoy a relaxing meal inside. See the photos below.
| | |
| --- | --- |
| | VAL CARON OWNERS GO OUT OF THEIR WAY TO ADD A WARM AND FRIENDLY FAMILY TOUCH TO THEIR FRANCHISE OPERATION |

Vicky Wydra and her brother Mike Villeneuve, shown in the accompanying photos, along with their mother, Joan Villeneuve, are co-owners of both the Val Caron and Lasalle Blvd. locations of New Orleans Pizza. There are a total of six (6) New Orleans Pizza locations in the City of Greater Sudbury which are part of a chain of 75 individually-owned establishments which have evolved to cover most of Ontario since the company was first founded in 1978.

Vicky and her mother, Joan, opened up the Lasalle Blvd. location in 2004. At the time Vicky, who was still in her late 20's was doing what many people her age were doing - trying to find a long-term career that was satisfying and rewarding. Joan, on the other hand, was just beginning retirement from a career in the public service and she, too, was doing what many people in her age group were doing - trying to find a "second career" that they could engage in which would allow them to use the skills and talents they had built up during their previous working life.

When the opportunity to get involved in the ownership of a New Orleans Pizza franchise came along, it was exactly what the two of them were looking for. Eventually, when the Val Caron location came up, Mike was in his mid-twenties searching for a meaningful line of work. He examined the company and liked the potential of New Orleans Pizza. It was a natural fit to become co-owners with Vicky and his mother and the rest is "history". Now with two very successful locations under their wings, the group is looking to an exciting future and in the meantime they are adding their "personal touch" to the service they provide to their loyal supporters.

"We pride ourselves in how clean we keep everything," explained Vicky as she showed how they decided to keep the front open so that customers could see the kitchen and watch staff preparing the food. "We could have put up a wall behind the menu, but we felt that it would make customers feel better if they could see what was going on. It proves that we have nothing to hide and that we are not afraid of letting people see our entire operation. People want to know that their food is prepared in a clean, safe environment."

Besides continuing to improve her day-to-day skills in the kitchen and with the management and operation of two New Orleans Pizza sites, Vicky is also working towards her Bachelor of Commerce degree on a part-time basis at Laurentian University. "I want to learn more about how to run a successful business so that we can continue to grow and evolve in the coming years."

CATERING
SCHOOL TOURS
FACEBOOK SITE
Vicky, Mike and Joan are also going out of their way to add some unique personal touches to their establishments in Val Caron and at the Lasalle locations. If you have a group that is looking for catering services, just contact one of the co-owners and discuss how New Orleans Pizza can help you serve your group with everything from pizza to sub platters. The pricing is extremely reasonable and it may help you make your occasion that much more special, whether it is for a birthday party or just the guys over to watch the big game on tv. School tours are also something that Vicky, Mike and Joan love to provide. All teachers are urged to phone to set up a tour for the class. If you are on Facebook, you can join the Facebook site to keep up to date with what is happening at the Lasalle and Val Caron locations.
| | | |
| --- | --- | --- |
| | New Orleans Pizza Products All Contain Smart Dough Made With White Whole Wheat Flour For Good Nutritional Value | |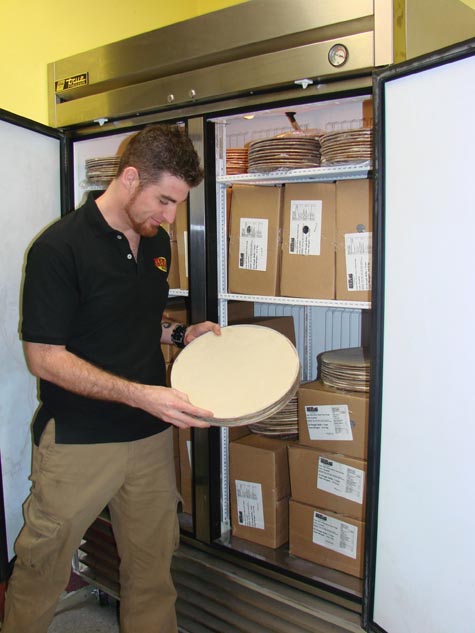 Vicky, Mike and Joan are all very proud to be associated with a company that is extremely conscious about nutrition and providing good healthy foods for their customers. New Orleans Pizza ONLY uses Smart Dough for all its baking.

Smart Dough is made with a premium grade of white whole wheat flour which has 25% more fibre than original dough and contains more vitamins and minerals than dough made with regular flour. New Orleans Pizza dough has also been trans fat free since 1998.

Mike is shown in the photo taking out one of the prepared packages of dough to get ready for the lunch time rush. "The dough looks the same as regular dough when it is cooked and you can't notice any difference in taste. And it costs the same to make as regular dough. The Smart Dough is so much better from a health standpoint so we are very happy that the company switched to this new kind of dough in 2007. It really makes sense with a society that is concerned about nutrition and eating healthy."

PIZZA - A HEALTHY CHOICE

Our pizza contains many ingredients that are not only healthy for growing children, but a necessity. Canada's Food Guide to Healthy Eating reminds us that we need to eat a variety of foods from each food group every day:

Grain Products: can provide protein, carbohydrates, fibre and iron

Vegetables and Fruits: can provide carbohydrates, vitamins C and A, iron and fibre

Milk Products: can provide protein, fat, vitamin D and calcium

Meat and Alternatives: can provide protein, fat, iron and vitamin B12

To be healthy we need all types of food – including proteins, fats and carbohydrates – in balance. Depending on topping choice, pizza can a be a healthy balance of nutrition that both children and adults alike need.

Calcium and Other Key Minerals and Vitamins (Cheese): Canada's Food Guide to Healthy Eating recommends 2-4 servings of milk products a day; a child's adolescent years are a "window of opportunity" to build strong bones to last a lifetime and protect against the risk of osteoporosis. A slice of cheese pizza is a good source of calcium. Cheese is a highly nutritive ingredient rich in proteins and minerals such as calcium, phosphorus, potassium, and A and B complex vitamins. Child nutrition expert, Elizabeth Ward, suggests "Cheese is a solution for getting more calcium in kids' diets." In addition, cheese is also a good source of protein, zinc and vitamin B12.

Protein (Cheese and Meat): Protein is an important building block of bones, muscles, cartilage, skin and blood. Cheese is a good source of protein. Meats too are an excellent source of protein; pepperoni, a favourite topping among pizza eaters, tends to be typically leaner than beef or sausage. Chicken and ham are leaner choice meats available as pizza toppings.

Lycopene (Sauce): Tomatoes are very rich in lycopene; a valuable anti-oxidant. Antioxidants help counteract the harmful effects called free radicals which are thought to contribute to many chronic diseases and age-related processes in the body. Studies have shown that eating a couple of servings a week of tomatoes in any of its edible forms (including pizza) significantly reduces the risk of certain cancers. In addition, various studies have also shown that cooking tomatoes actually increases the amount of lycopene available to the body!

"Pizza can be a nutritional powerhouse" "Eating sensibly doesn't mean giving up some of your favourite foods or avoiding those restaurant and fast foods that we all know and love. Becoming aware of what's in front of you and what options are available to you is your best defense." – Doug Cook, RD MHSc, Clinical Dietitian
What about nuts?
New Orleans Pizza does not use nuts or nut products.
We supply many schools where nuts are an extremely sensitive item and never had an incident.
DELIVERY AVAILABLE "ALL DAY LONG" IN VALLEY EAST

The new "portable debit machine" is worth its weight in gold as far as customer satisfaction is concerned according to Mike. "You wouldn't believe how happy people are when they find out that we have a portable debit machine. They would much rather use debit than a credit card. There are some nights when I wish we had three of them to give out to our drivers."
When it comes to customer satisfaction, Mike has plenty of evidence to prove that New Orleans Pizza lives up to its reputation. He has actual letters that were sent in to the store from children who thanked the driver for their fast, courteous service. Many appreciate the fact that New Orleans Pizza provides delivery service ALL DAY LONG in Valley East.
FROM THE COOLER TO THE COUNTER - PIZZA 101

The process followed by the staff at New Orleans Pizza is very methodical and well organized. All of the ingredients are waiting on the table ready for the next order.
Mike is shown her spreading the sauce on the dough. In this case he is making a "super sized" 19 inch pizza that will make six slices of pizza for the people who want to purchase single slices for lunch.
The cheese must be carefully measured on a scale so that every pizza has exactly the right amount.
Here you can see Mike beginning to place the pepperoni on the six different sections.

In the photos above you will notice the metal dividers which are used by New Orleans Pizza. The one on the upper right is the one that they use when they are making smaller pizzas, especially for schools. Mike places the pepperoni carefully in each piece of the pizza so that no matter which piece you get you will have the same amount of pepperoni and other ingredients. This is something that teachers appreciate during pizza day since all of the pieces are the same size and no one gets any more ingredients than anyone else. It certainly keeps the peace.

Mike demonstrates how precise the process is with New Orleans Pizza. "We have special cups that ensure that we are placing the exact proportion of ingredients on each pizza. We then mix them up in a bowl and spread them around over the sauce, cheese and pepperoni. as shown in the photo on the right above.

Once the pizza is baked to perfection, Mike slices the pieces by following the mark left by the "slice guide" that left imprints in the dough. This means that each slice comes out the same size. The pizza on the left consists of two slices each of "Canadian", "Deluxe" and "Pepperoni". These are destined for the warming display on the front counter for people who wish to come in for single slices. Each slice is the equivalent of 1/3 of a regular "large" pizza. This gives customers a very comfortable size for lunch and is available from 11 a.m. to 2 p.m. every day. To show how economical the slices are, a single slice of pepperoni pizza costs $3.00 while a whole "large pepperoni" pizza costs $9.99 for customers who "walk-in". This special rate is going on indefinitely as a way of showing appreciation to customers who think about New Orleans Pizza for lunch.
Customer Loyalty Is Rewarded With Unique Program

One of the programs that Vicky is extremely proud of is the special

Buy 10 Get 1 Free Program.

Regular customers are given a special card that will be stamped every time they spend more than $10 at New Orleans Pizza. However, what is really convenient about the program is that you can simply bring in your receipts instead of your card to redeem your FREE LARGE ONE TOPPING PIZZA once you have accumulated ten (10) receipts. This is especially appreciated by people who order their pizzas or who have trouble remembering to bring their card along when they make a purchase.

"We can even check back on our computer to see that you have made the purchases if you happen to lose your receipts or your card," explained Vicky. "We are not here to play tricks or games with our customers. If you are going to be a regular customer we want to give you a gift each time you make ten purchases. If you lose your card or receipts you shouldn't be punished."

Gift Cards are such a popular idea for all sorts of occasions, so New Orleans Pizza has gift cards available for customers who wish to give their family, friends and acquaintances something special for birthdays, anniversaries, Easter, graduation, etc.

Just talk to one of the staff and they will be able to get you the denomination you need. It is convenient and it is something that you know everyone will appreciate.
New Orleans Pizza Holds Popular School Fundraising Nights Every Year For Local Schools and Daycares
Over $115,000 Raised During 2010 Event
Our Annual School Fundraising Nights is a program held exclusively for schools and daycares.

New Orleans Pizza is extremely proud to be able to offer this program – all stores proudly participate.

Held in May each year, schools and daycares are invited to participate by sending home Donation Forms with staff and students (Donation Forms help us identify your school).

When a purchase is made at New Orleans Pizza during the campaign and is accompanied by a Donation Form, New Orleans Pizza will donate one half of that sale to the school on the Donation Form.

Yes, 50% of the purchase is donated to your school!

Purchases with Donation Forms may be made on both pick-up and delivery orders.

Be sure to keep an eye out for your school's invitation every spring and make sure your school RSVPs to participate.

There is no cost or obligation to participate: this program is offered to all schools and daycares.

The Lasalle and Val Caron stores will be looking forward to working with all of the schools in their communities to help them earn valuable dollars from this fund-raiser. The whole school can plan on purchasing pizza for dinner during the campaign and raise hundreds of dollars for the school.

This is perhaps one of the easiest fund-raisers any school can engage in and it is just for doing something you have to do anyway - eat dinner!

Call 523-8080 for more information.
Giving Back To The Community Is An Important Part of Each New Orleans Pizza Establishment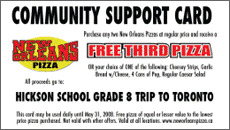 Our Community Support Card is a great fundraising program for schools, sports teams and community groups. They're free, they're easy and everybody loves them! They provide your organization with the money it needs... and gives supporters something of value.

Community Support Cards are customized with your fundraising event and sold in the community for $10 each. All proceeds (the full $10) from the sale of each card is kept by your organization. Purchasers of the card receive a special freebie every time they show the card when purchasing any two pizzas at regular price. Cardholders have their choice of free: Pizza, Cheesey Strips, Garlic Bread with Cheese, 4 Cans of Pop or Caesar Salad! As an added bonus, cards may be saved and used, unlimited times, for 6 months. Everyone wins!

It's easy to arrange participation (yes, it's really this easy):
1. Decide on your fundraiser. Try to include the name of your organization and the fundraiser itself (for example, Central Public School Grade 8 Trip).

2. Decide how many cards you feel your organization can reasonably sell. If you run out and would still like to sell more, you may order additional cards.

3. Decide when your organization will sell the cards. We recommend concentrating sales over a 1 or 2 week period. We need to know when you will be selling the cards so we can determine the appropriate expiry date.

4. Call your the New Orleans Pizza store in Val Caron or Lasalle Blvd. and speak with Vicky, Joan or Mike. Tell them you would like to place an order for Community Support cards. You will need to provide them with the information decided above.

5. Pick up your cards and commence your fundraising. Your Community Support cards will take 2 to 3 weeks to arrive at the New Orleans Pizza store where you placed your order.
This is an excellent way for your group to make money and will actually save money for anyone who buys a card. Everyone wins with this fund-raiser.
Panzerotti

WIDE VARIETY
OF PIZZAS

SUBS

FOR THE FULL MENU AT THE VAL CARON LOCATION

SPECIALS NOW ON SALE AT ALL LOCATIONS

| | |
| --- | --- |
| | TO FIND OUT ABOUT SPECIALS AVAILABLE AT THE VAL CARON LOCATION |

SMART DOUGH JOE

COMING TO SUDBURY THIS SUMMER

WATCH FOR HIM AT THE VAL CARON AND LASALLE LOCATIONS
THE NEW ORLEANS PIZZA COMMUNITY ALBUM

Race, Run or Walk for Diabetes

Sudbury Living Homeshow

Sudbury Living Homeshow

Sudbury Living Homeshow

VALLEY EAST DAYS PARADE

New Orleans Pizza is proud to be a regular sponsor of Valley East Days.

SCHOOL TOURS ARE ALWAYS A LOT OF FUN FOR THE CHILDREN

Tours are available at New Orleans Pizza for local schools, day cares and other youth organizations. The Grade 2 students from Foyer Jeunesse came by bus to enjoy some time finding out what goes on behind the scenes in a pizza restaurant. Students had the opportunity to make their own 8 inch personal pizza and then enjoyed eating their creation along with juice and cookies. The staff shows the students how to prepare the dough and hot they make and cook pizzas during the tour.

A day on the golf course is always a lot of fun. The Lasalle, Val Caron and Garson New Orlean's Pizza outlets are shown below with their booth and Howler during the Make A Wish Golf Tournament which was held at the Colonial Golf Course in Chelmsford. The staff had the golfers do the hula hoop for free pizza.