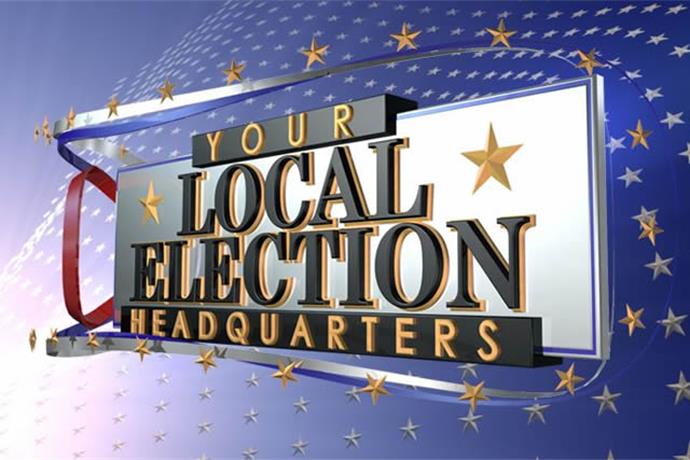 WARD 5 - SUDBURY SECTION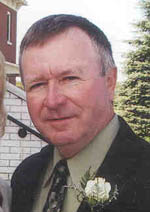 The Sudbury section of Ward 5 contains approximately 2500 registered voters compared to the 6500 registered voters in the Valley East section of Ward 5. During the 2010 election, approximately 1000 people voted from the Sudbury Section while approximately 2500 people voted from the Valley East section.

With so many candidates running for election in 2014, the voters in the Sudbury section of Ward 5 are going to have a tremendous impact on the outcome and as I have spent time talking with residents of the Sudbury section of Ward 5, I am finding that there is a wide range of issues that must be addressed in the next term in order to provide the residents with the same quality of services that other parts of the City of Greater Sudbury enjoy.

My commitment to the Sudbury section of Ward 5 is exactly the same as my commitment to the residents of Valley East. If I am elected to represent the people of Ward 5, it doesn't matter where you happen to reside, I will be your VOICE on Council and will definitely work at addressing the concerns that have been identified.

This web site is designed to highlight some of the main concerns that I have discovered during the time I have spent visiting the different parts of the community and speaking with local residents. If there is anything else that you would like me to consider, please do not hesitate to contact me by phone at 705-969-7215 or by email at ward5@robertkirwan.ca

Robert Kirwan
Candidate for Council for Ward 5
OVERVIEW OF WARD 5 - SUDBURY SECTOR

The first thing to notice about the Sudbury Sector of Ward 5 is that there are four (4) distinct and completely different neighbourhood communities within this section of the Ward. This compounds the extreme difference that exists between the residents of Val Caron, Blezard Valley, McCrea Heights and Guilletville, in the Valley East sector.

It is expected that the 2018 Election will be the first one with a new set of Ward boundaries and Ward 5 will be one of the first to be considered for division. It is just too difficult for residents of the Sudbury sector of Ward 5 to identify with the concerns and issues of the Valley East sector of Ward 5. On top of this, it is too difficult for one Ward Councillor to integrate sufficiently in all sectors in order to completely understand the needs of the constituents.

It is my opinion that it would be in the best interests of the people living in the Sudbury sector of Ward 5 to be divided up and merged with Wards 4 and 12, the two Wards that are adjacent to that part of Ward 5. That would mean that the Valley East sector of Ward 5 would merge with the Val Therese section of Ward 6 and Capreol would be absorbed by Ward 6.

As it stands now, the residents of Ward 5, Sudbury sector, can count on excellent representation if I am elected because I am committed to representing the best interests of all of my constituents. It is not a matter of it being difficult for me to represent Ward 5 and by your voice at City Council. It's just that it would be nice to have some common features that are felt by the entire Wards. This is impossible with the current Ward boundaries.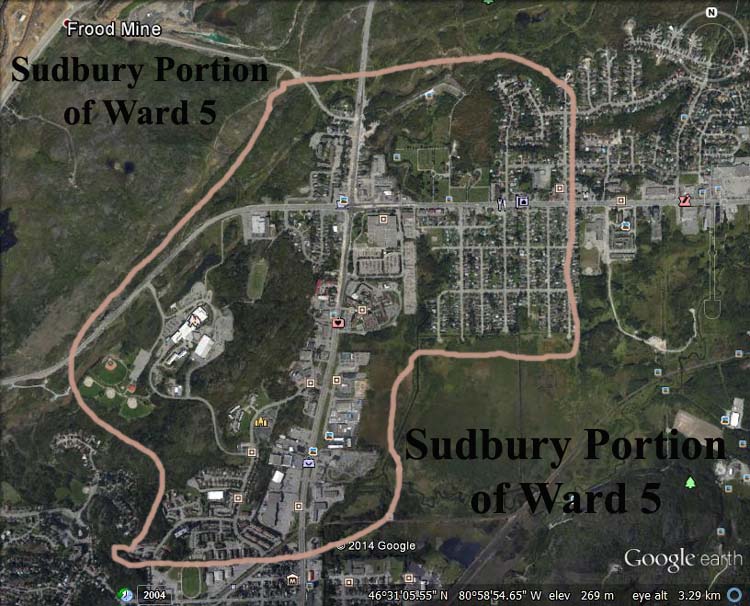 SUDBURY PORTION OF WARD 5

Ward 5 consists of a Valley East section, including
Val Caron, Blezard Valley, Guiettville, and McCrea Heights.

It also consists of a Sudbury section that is shown in the four small map images on this page.

To the immediate right is the section that is know as the Mitchell Street, Kent Court and Crescent Park section.

Below on the left is the Drummond Street, Village Crescent, Rideau Road section just north of Lasalle Blvd.

Below to the right is the Cambrian Heights, Ryan Heights and Bruce Avenue Section, conisting largely of townhouses, coops, and apartment buildings.

At the very bottom is the McLean Park subdivision which is south of Lasalle Blvd. and extends to Madeleine Street.



If you click on each the images you will find photos and information about the issues facing each of those sections of Ward 5.