Building A Strong and Productive Life Is Simple…

Editorial by Robert Kirwan

One thing about life that everyone will surely agree is that regardless of one's age, we are all a "work in progress" which will never be totally finished. Each of us is ever-changing as we encounter new experiences and challenges that help us "discover" who we really are. Therefore, when it comes to building a strong and productive life, we can all take heart in the fact that new "personal construction projects" can begin at any stage of our life. As well, we can also take heart in the fact that no matter how hard we try, because our task will never be complete, we are always able to make amendments to our "life plan" whenever we discover a more satisfying path. We're never "stuck" with what we have. We can always change.

I once read an article written by a man called Steve Goodier. Mr. Goodier pointed out that a habit starts out as a thread. As new threads are added, it becomes a rope we cannot break. This means that we have to be careful about which habits we adopt, because our habits eventually make us who we are. By making strong and productive habits, we build strong and productive lives.

Goodier pointed out a list of habits that top performance people share. If you want to have a successful life, it makes sense to examine what other successful people have done in order to master theirs. You do not have to be a CEO or a Chairman of the Board to benefit from studying successful people. Their habits can be adopted by everybody who wishes to lead a satisfying, productive lifestyle. Goodier felt that anybody who works to develop the following traits will experience almost instantaneous results. I invite you to study the habits and incorporate them into your daily activities.

This is one article that you should keep handy and read often.

1. People who master their lives are people who know what they want and are willing to devote energy toward achieving it. They develop the habit of writing their most important goals and reminding themselves of these goals constantly.

2. People who master their lives create healthy relationships. They get along well with the people with whom they live and work. They give special attention to their families.

3. People who master their lives practice integrity. They habitually do what is right, even when nobody will know. They live by self-imposed principles.

4. People who master their lives are honest about their strengths as well as their weaknesses. They build on their strengths and work daily toward self improvement.

5. People who master their lives take care of their bodies. They exercise regularly and eat sensibly.

6. People who master their lives control their time. They take at least an hour every day for personal time. They spend daily time with close friends or family, and guard against spending too much time in areas that are unimportant.

7. People who master their lives understand their emotions. They don't leave emotional pain untreated. They know that healthy attitudes are as essential as healthy behaviours. They develop a trusting and optimistic outlook on life.

None of the above habits are difficult to apply to our daily living. If we follow them, they will be woven into a rope so strong that it cannot be broken. When you master these habits, you will master your life. And when you master your life you master your future.

Steve Goodier isn't saying anything we haven't all heard before. But perhaps, this time, you and I are more ready than ever to listen to the advice and make a special effort to develop these habits. Read them over again carefully and slowly. Read them every couple of days, especially when you feel the stress of overbearing challenges. Know what you want in life; create healthy relationships; do what is right; build on your strengths; take care of your health; manage your time wisely; and always have a positive outlook on life! This seems to be the key to unlocking your future. Work on it today!

ROBERT KIRWAN'S FOOD FOR THOUGHT
For a complete selection of stories and editorials that will help you to reflect upon life's priorities, inspiring you to take on the daily challenges you face very day...
Free Bus Transportation To Be Provided From Capreol To Desjardins' Food Basics Twice A Month Beginning July 11

Ken Desjardins is pleased to announce that

beginning on July 11, 2006 he will be providing free bus service from Capreol to his store on the 2nd and LAST Tuesdays of each month. With the closing of their grocery store in Capreol, there will be many people who will have difficulty finding transportation to do their shopping, so Ken has decided to extend this free bus service indefinitely. The bus will pick up at the Capreol Curling Club at
From there it will proceed to the C.N. Yard,
Dennie Street
,
Coulson Street
, and then make one stop at
Christa Court
in Hanmer, before arriving at Desjardins' Food Basics at approximately
. The bus will depart from the mall at
, returning to the same stops. This will give people 90 minutes to do their shopping. Once again, this service will begin on July 11 and July 25 and will continue on the SECOND and LAST Tuesdays of every month.
REMINDER TO ALL READERS
CHECK OUT THE VISION PAPER
JULY 5, 2006 FOR DETAILS

Valley East Lions' Charity Days
Want to send you and a guest on an all inclusive
Trip for 2 to CUBA!!!!
(+$500 in spending cash)

The best part is that it doesn't cost you anything to try and win! All you need is the winning combination! Here's how it works:

From now until September 9th, 2006, several Valley East businesses, merchants and organizations will be giving random combination codes to their valued customers. A list of those businesses will be announced in The Valley Vision and will be posted on Valley East Today. There are 5000 codes available.

There are 16 combination locks located in various stores/businesses. If you receive an envelope containing a random combination, please bring it to those locations where locks are located. If your combination opens one of the locks, CONGRATULATIONS! You've made it one step closer...

On September 9th, 2006, all lucky winning combination holders (remember there's only a maximum of 16 people who will make it this far!) will be invited to the Centennial Arena as part of our Valley East Lions' Charity Days festivities. (In the event that nobody opens any of the 16 locks, non-winning combinations, which will be retained by the vendors, will be put into a drum, and a winner will be drawn from there.

At the Valley East Lions' Charity Days, each person will be given another random combination code, one of which will open the treasure chest containing a TRIP FOR TWO TO CUBA!!!

Please support your local businesses and come out to try the combinations. If you have any questions, contact Marcel Servais at 969-5898.

Proceeds from this draw will benefit Palliative Care.
The Name Says It All When It Comes To Harley-Davidson Footwear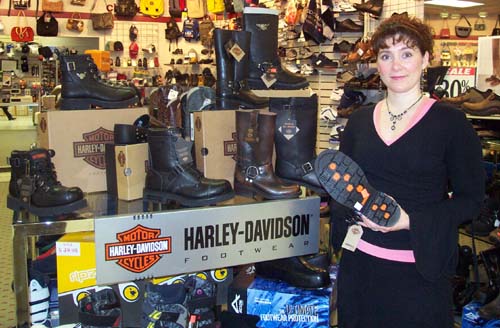 One look at the boots and you get the feeling that this is a superior line of footwear. Then you notice the name and you KNOW that this is a superior line of footwear!
Harley-Davidson is all you need to say when you are talking about quality motorcycles. And now that they have become associated with the likes of Hush-Puppy and Wolverine, their footwear has climbed to the top of the ladder as well.
"They look hot!" exclaimed Laurna-Lynn Mills, Manager of the Sole Mates Family Footwear store at the Hanmer Valley Shopping Centre. "These boots have a nice rugged outsole and are a very high quality with a much thicker leather than most boots. The winterized Harleys have winter treads, are oil resistant and insulated. They also pay attention to detail with their buckles made out of metal and leather instead of plastic."
The Harley-Davidson Footwear line is complete with sandals, shoes, riding boots and C.S.A approved safety boots. And what customers are finding is that the all-season footwear is definitely not just for bike riders.
Sole Mates Family Footwear has taken great steps to ensure that their prices are the lowest you will find anywhere in the Greater Sudbury Area. For example, the boots that Laurna is holding normally retail for $195.99 but they can be purchased from Sole Mates for only $156.98.
The response from the public has been fantastic. The stock is turning over rapidly as Laurna continues to re-order to keep up with the demand.
"The 'Welcome Home Gift Basket' Is Our Way of Saying Thank You For Choosing Valley East As A Place To Live"
say Mike Lemieux and Ken Desjardins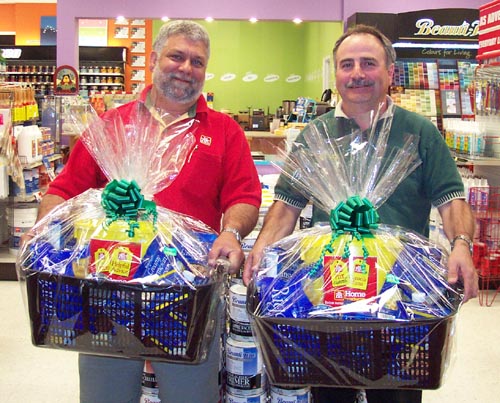 When it comes to people who are new to the community, there are two business owners who tend to meet them all. Of course we are referring to Mike Lemieux, who along with his brother, Mag Lemieux, own Hanmer Home Hardware, and Ken Desjardins, owner of Desjardins' Food Basics.
"Everyone moving in to a new home or apartment has a need for cleaning and repair supplies as well as start-up groceries," explained Mike Lemieux. "So Ken and I decided that we would put together a basket of 'goodies' to give as a gift to all newcomers to Valley East as our way of saying 'Thank You for choosing our town' and to give them a hand with settling in."
Ken Desjardins owns and operates one of the busiest grocery stores in the entire City of Greater Sudbury, so he has definitely noticed the impact of new home owners in the community. "When it comes to stocking up the shelves after moving into a new home, we know it is expensive. We also know that those first few days are days when you are constantly discovering additional items for your shopping list. The Hanmer Valley Shopping Centre is a great place to come to pick up just about everything you need to make your move complete, so we wanted to say thank you for your support."
Anyone who has moved into a new home; purchased an older home; or moved into an apartment in the Towns of Valley East or Capreol since July 1, 2006, is encouraged to drop in to see Mike Lemieux at Hanmer Home Hardware in the Hanmer Valley Shopping Centre. He will answer any questions you may have about the community and make sure you receive your gift basket.
FANTASTIC FLOORS Provides More Than Just Product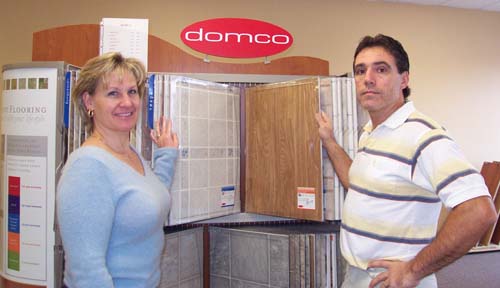 After spending more than 30 years working in the flooring business on everything from installing to sales and management, Ron Pedneault decided it was about time for him to open up his own business.
So, on October 1, 2005, Ron and his wife, Bernie, started a new chapter in their lives with the opening of FANTASTIC FLOORS, conveniently located in Val Caron at the Valley Bingo Plaza .
Ron, with his vast experience in flooring, and Bernie, a professional teacher, plan on combining their personal strengths to help everyone from homeowners to homebuilders in the selection of the kind of flooring that is suited to both their needs and their lifestyle.
FANTASTIC FLOORS will contain everything you would ever want in terms of flooring options. Ron is happy to assist his customers in selecting the best flooring for their needs and will also provide professional installation. What's more, Ron will be available to go that extra step in providing you with free consulting, free estimates and free local delivery if you are one of the many people who would rather have an expert do the job.
One thing Ron and Bernie want to make perfectly clear to everyone is that they intend to be in this business for a long, long time. "I am not going to sell you something that you will not be happy with in a few years," Ron reiterated. "I would rather lose a sale than sell you flooring that is not suited to your lifestyle or your needs. I've come across too many unhappy people in my life simply because they were allowed to select the wrong type or quality of flooring. When you speak about FANTASTIC FLOORS some time in the future, we want you to speak positively about both the service and product you received."
Ron and Bernie are confident that Valley East and Capreol are on the verge of a major economic boom that will see a tremendous increase in both new housing construction as well as existing home renovations. "There are thousands of products on the market today and we realize that most people want to know exactly what they are buying. The type of flooring that a person selects is critical to the image and atmosphere created in a house. That is why it is so important for us to get to know as much as possible about our customers and their lifestyle. This allows us to suggest the best choice from all available options while still remaining within your personal budget goals."
Ron intends to introduce some innovative new products to local residents, including the four-sided bevel laminate flooring from Domco that he and Bernie are examining in the photo. The laminate material looks and feels like hardwood and simply clicks into place without adhesive, making it easy for the do-it-yourselfer.
If you are thinking about new flooring, make sure you drop in and look at the options available at FANTASTIC FLOORS. Even if you decide to buy from someone else, Ron and Bernie want to make sure that you know what you should be looking for, so that your new floor is something you will be proud of for many years.
FANTASTIC FLOORS, is open Monday to Wednesday, from to ; open late until on Thursdays and Fridays, and; open until on Saturdays.

We also invite you to visit our new web site which can be found at www.fantasticfloors.ca to take a virtual look at FANTASTIC FLOORS.
Kin Club of Valley East Thank The Public For Supporting Them By Providing Record Sales Totals On July 1 Weekend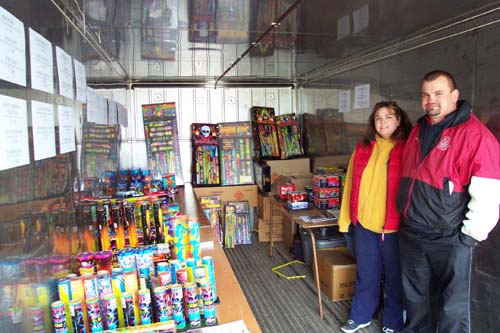 Manon and Scott Bolger stand inside the steel container at the Hanmer Valley Shopping Centre, looking over some of the fireworks that was on sale by the Kin Club of Valley East in advance of the July 1 Canada Day. "We had record sales this year and want to express our appreciation to all people who showed their support for us by purchasing fireworks," explained Scott.

This will definitely help us continue to provide assistance to the local food banks and to several other organizations which depend on us for help.

The Kin Club operates out of the playground building in

Blezard

Valley

where it is open Monday to Wednesday from

to

during the summer months to provide refreshments to the minor baseball players. The club house is also open whenever weekend tournaments are held at the fields. Bob and Mary-Lou Bolger, have been involved in a variety of leadership positions with the local group for over 20 years. "Serving the community's greatest needs" has been the motto for the Kin Club of Valley East, which has been quietly working to improve the quality of life for so many residents for so many years.
Long Distance Calling???
? Interested in Voice Over Internet Technology??? Need Your Computer Repaired???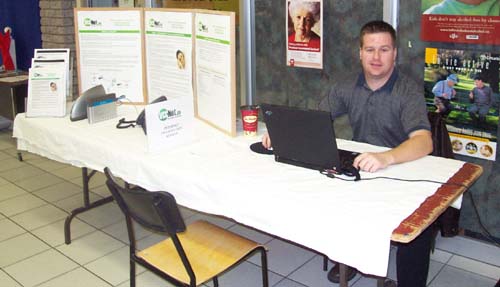 Edgar Lajambe, is a 30-year old life-long resident of Hanmer. His passion for computers and information technology goes back to a high school co-op placement he had in 1994 with a company called the AMS Group. When he graduated from St. Charles College he discovered that there were a lot of people who kept coming to him for computer repairs and consulting, so he formed his own company, Valley Computers & Consulting.

When VoIP (Voice over Internet Technology) was first introduced to Sudbury , Edgar saw this as the future of communication and immediately jumped on board; studying everything there is to know about the technology. As a result, he formed another division of his company, called VCCNet.ca Internet Solutions, which deals with long-distance discount calling and the use of the internet for communication purposes.

Edgar has joined forces with another locally owned firm, Infocom Canada Business Consultants Inc. which operates Valley East Today, a marketing & public relations company which publishes a community web site and weekly online news magazine.

"The cost of long distance calling has always been a detriment to people living in the north," Edgar explained when asked why he feels so strongly about the communication services he now provides to the community. "I know so many of my friends and acquaintances who have children or parents living in other parts of Ontario . They would love the chance to talk to them more often by phone, but long distance charges really cut into the budget; especially for seniors who would love to talk to grandchildren, or parents who have children away at university or college."

"Once people find out how easy it is to switch over to my plan, and they realize that there is absolutely no risk or long-term commitment – that all they get is the freedom to talk on the phone to anyone in Ontario for as long as they want for one low price of $15.95 a month, they are sold," Edgar went on.

Edgar also repairs and programs individual computers for both commercial and residential use. You can drop in and see him at his office in the Hanmer Valley Shopping Centre, or he will come directly to your home or office.

Whatever you are looking for, give Edgar a call at 670-4039 or you can go to his web site at www.vccnet.ca and see how he can meet your needs.