WELCOME TO PAGE FOUR
TUESDAY, SEPTEMBER 5, 2006

FREE AIRPLANE RIDES
Kids between the ages of 8 and 17
"Young Eagles" Flight Rally!
Greater Sudbury Airport
Saturday, September 16, 2006
The Sudbury Flying Club is hosting a "Young Eagles" Flight Rally in association with the Experimental Aircraft Association (EAA) at Greater Sudbury Airport.

Pre-registration is required.

The first 200 registered applicants will be eligible for a free flight. Contact Saul Cartman at 524-6789 or the Greater Sudbury Airport at 693-2514, ext 221 or 222 (9 a.m. - 4:30 p.m. Monday to Friday).

Event details and registration forms are also available at www.greatersudbury.ca .

Area young people ages 8-17 will have the opportunity to take to the skies over Sudbury as the Sudbury Flying Club, in association with the Experimental Aircraft Association (EAA), hosts a Young Eagles Flight Rally at Greater Sudbury Airport.

This rally is part of the E.A.A. Aviation Foundation's Young Eagles Program created to get more young people interested in aviation. This organization has flown more than one million young people to date.

"Free airplane rides are just part of the flight rally", said Saul Cartman, spokesman for the event. "We hope to build one-on-one relationships between pilots and young people, giving the new generation a chance to learn more about the possibilities that exist in the world of aviation."

At the event, pilots will explain more about their airplanes, allowing young people to discover how airplanes work and how pilots ensure safety is the prime concern before every flight.

Following the flight, each young person will receive a personalized Certificate, making them an official "Young Eagle". Their name will be entered into the "WORLD'S LARGEST LOG BOOK" which is on permanent display at the EAA Air Adventure Museum in Oshkosh, WI. The log book is also accessible for viewing on the internet at .

Other activities surrounding this event are static displays and promotions and a General Aviation "Fly-in" in conjunction with the local Chapter of COPA Flight 13 to celebrate aviation in the Greater Sudbury Area.

Young people wishing to go for an airplane ride must first pre-register at any of the following locations between 9:00 a.m. and 4:30 p.m. Monday to Friday. Completed applications will be accepted until Friday, September 8, 2006. Registration forms can be downloaded in airport section at .
McNeice & Smith Inc., 598 Falconbridge Road, Unit 6, Sudbury.

Growth & Development Office at Tom Davies Square

Leisure Services Department at Tom Davies Square

The Price Wise Store at 450 Notre Dame, Sudbury
The Price Wise Store at 140 Regional Rd. 24, Lively
The Price Wise Store at 3482 Errington Ave., Chelmsford
Airport Administration Office at Greater Sudbury Airport (2nd floor)
The first two hundred (200) applications will be chosen to fly. You will be contacted by telephone and given a time to present yourself at the Greater Sudbury Airport for your flight on Saturday, September 16th. This event is scheduled to take place between 9:00 a.m. and 4:00 pm. Late registrations may be accepted provided time and space are available.
For more information, contact Saul Cartman at McNeice & Smith, (705) 524-6789 between 9:00 a.m. and 5:00 p.m. Monday to Friday.
Roy St. Jacques Continues To Collect Pop Cans In Support Of Special Olympics Bowling League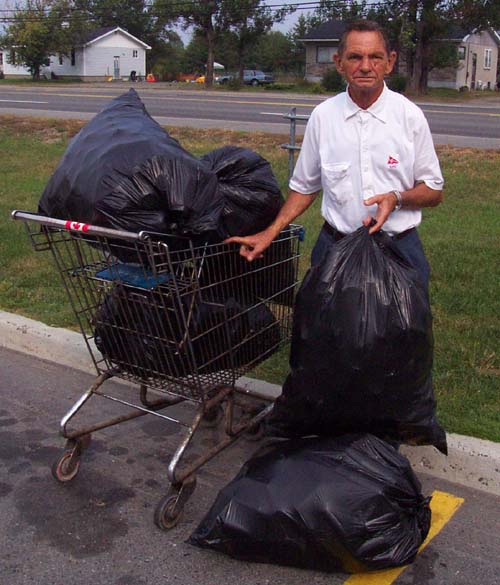 If you live in the community of Val Therese, or if you happen to shop at the Hanmer Valley Shopping Centre, you have seen a man carrying garbage bags full of empty pop cans and beer bottles. You may not have paid much attention to this man. I know I never gave him much thought until last fall when I found out that his name is Roy St. Jacques, and what he is doing with those garbage bags is truly remarkable and he should be an inspiration to all of us.



Roy is a Special Olympics 5 Pin Bowler from the Bonaventure Lanes Challenge League in Val Caron. This is a Tuesday Night League that helps developmentally challenged individuals enjoy the sport of bowling. The collection of aluminum pop and beer cans is the major fund-raiser for the league and is put towards the expenses of the members.

Roy

has going door to door collecting over 25 bags of cans for over a year in the area near the shopping center and around Val Therese. He is very appreciative of the support he has received from residents as he walks his route up and down the streets collecting the cans. The mall has also provided him with the loan of a shopping cart to help with the project.

All year long the bowlers collect pop cans and refundable bottles. The proceeds are used by the league to help pay for the banquet. Roy, who is know in these circles as the "Pop Can Man" was responsible for collecting the largest number of cans. In all, over 400,000 cans, weighing in at over 7 tons were collected.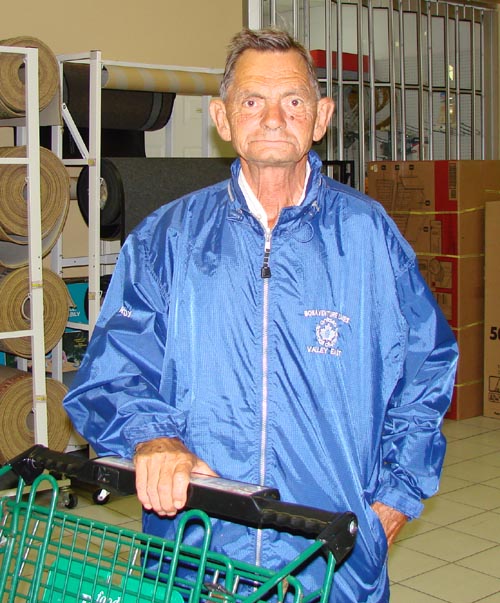 Despite his busy schedule, Roy is never in too much of a hurry to say hello or to stop and talk for a few minutes. He is never too busy to give you a smile or ask you how your day is going. Roy may not be the president of a large multi-national company. He may not drive around in an expensive car or ever run for election. But what he is doing is certainly adding to the character of this fine community and he is definitely making a difference.
Every Tuesday the group gathers at Bonaventure Lanes at 6:30 p.m. The bowl one game and then have a fifteen minute break for snacks and refreshments before bowling the second game. Everything is over by about 8:30 p.m.
This year each of the participants were presented with their own Special Olympics Jacket thanks to the money raised by the pop can collection. Roy is shown on the right proudly wearing his jacket this summer.
The head coach for the Valley East Ontario Special Olympics Team is Claude Poitras.
Anyone interested in registering for the League for the 2006-2007 season can just call Claude for more information at 969-5981. The League starts the first Tuesday after the September long weekend and finishes at the end of April, a total of about 33 weeks.
Suzanne McCarthy Wins Over $1500 In Gift Certificates As Grand Prize Winner For August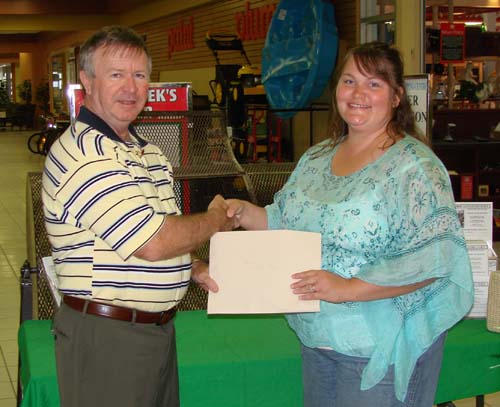 Robert Kirwan, Director of Marketing and Public Relations for the Hanmer Valley Shopping Centre, presents Suzanne McCarthy with her prize package of more than $1500 in gift certificates and merchandise discounts as the grand prize winner of the August Customer Appreciation Draw sponsored by mall merchants.
Suzanne has lived in Hanmer for the past three years and is the past president and Artistic Director of the Valley Community Theatre.
"I really loved my involvement with the Theatre, but with three children at home all under the age of three, it is just too much, so I had to resign my positions. I am spending all of my time being a "mom" and "wife" now and I'm loving it. Perhaps I will return to the Theatre at a later date."
Suzanne's winning entry was a purchase she had made at Desjardins' Food Basics. It was drawn from thousands of entries that were placed in the two big drums that are located in the mall. The September contest is now under way and the next winner will be chosen on September 30, 2006.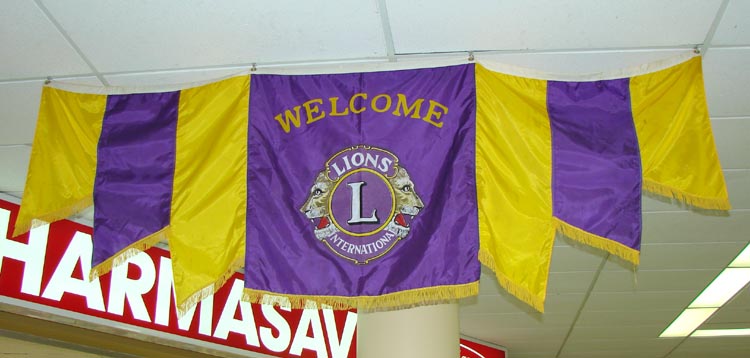 Valley East Lions Club Selling Tickets On 2006 Pontiac Wave To Raise Funds For Local Churches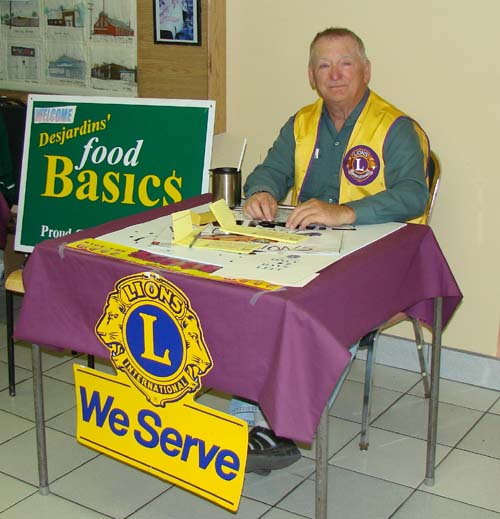 George Stock, on the left, a long-time member of the Valley East Lions Club, took a shift at the ticket table at the Hanmer Valley Shopping Centre as the Lions enter the final week of selling tickets on a brand new 2006 Pontiac Wave automobile.

The draw is being held in conjunction with the Valley East Charity Days Event which will take place on Saturday, September 9, 2006 at the Centennial Arena.

The Lions will be available all week long leading up to the weekend as they make the last of the 1200 tickets available to the general public. The proceeds from the sale of the tickets will be donated to several local parishes in Valley East.

Tickets are selling for $20 each. There will only be 1200 sold in the contest, so the chances of winning are excellent.

This will be a "Reverse Draw" event, which means that at 4:00 p.m. on Saturday, September 9, 2006, they will begin drawing tickets from the big drum. Every 100th ticket will win the lucky owner a price of $50 in cash. The last ticket in the drum will contain the name of the winner of the Pontiac Wave.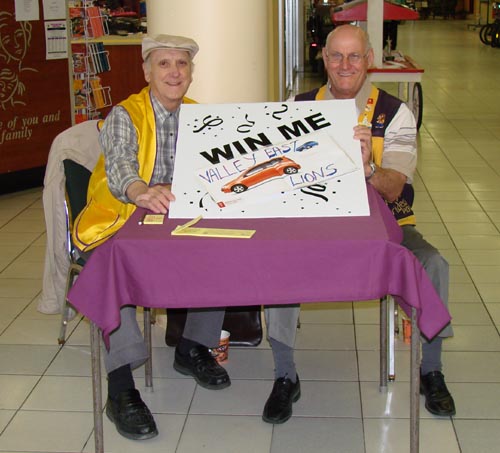 Be sure to look for Rolly Albert, on the left, and Roger Brideau in the mall during the final week as the Lions attempt to sell all of the tickets prior to draw time on Saturday, September 9 at 4 p.m.
The Valley East Lions Appreciate Your Support!

Our Children / Our Future Raising Funds By Selling Tickets To Councillors' Breakfast at Valley East Lions Charity Days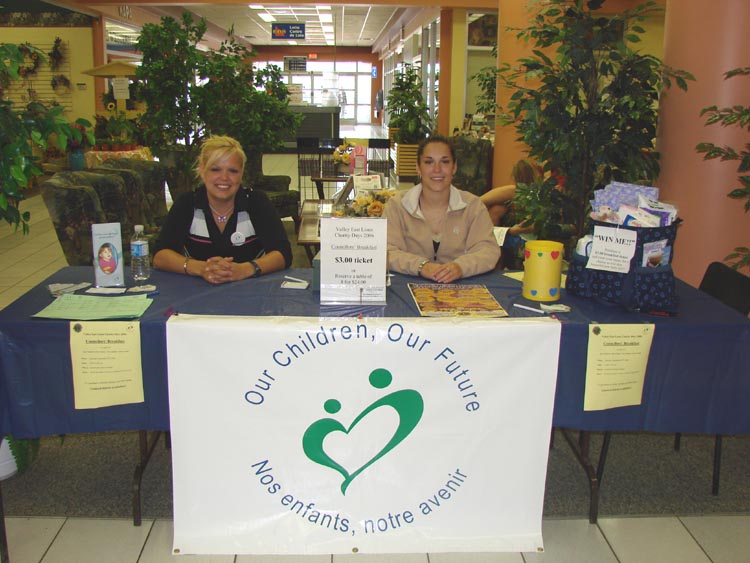 Stephanie Richard, Parent Resource Worker at the Hanmer location of Our Children, Our Future, spent the day at the Hanmer Valley Shopping Centre on August 28 selling tickets to the Councillor's Breakfast which will be held in conjunction with the Valley East Lions Charity Days on September 9, 2006. The tickets were $3 each with all of the proceeds going back to Our Children, Our Future to help defray some of the program costs of the organization.

With Stephanie was Cammie Thibert, a 3rd Year Laurentian University student on a summer placement. Cammie is in the French Teachers' College Program and found the summer experience to be invaluable in helping her understand young children.

Cammie is shown below reading a book to 2 year old Vanessa Girard during playgroup which is held on Tuesdays from 9:30 to 11:30 a.m. at the Hanmer location.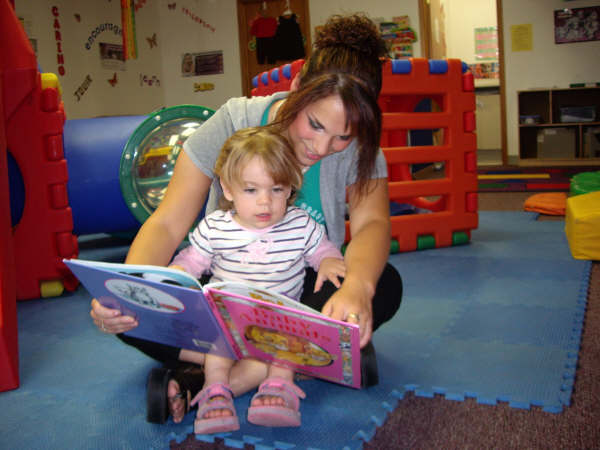 Below, Cammie and Vanessa enjoy working on a special craft project during the same playgroup period.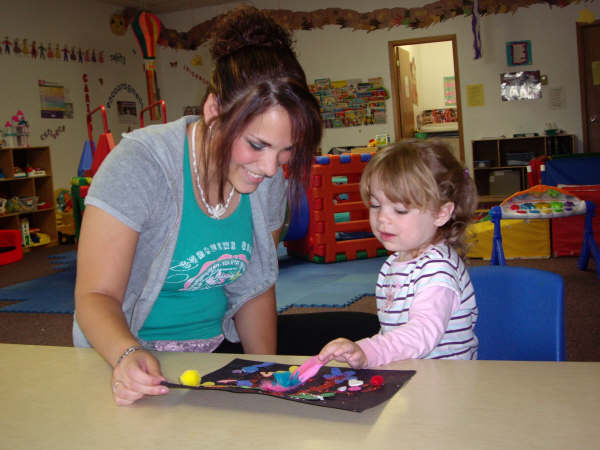 MISSION OF OUR CHILDREN, OUR FUTURE...
Our Children, Our Future works in partnership with individuals, families, groups and organizations, to develop and promote innovative and sustainable community resources that nurture healthy children, healthy families and healthy communities.
GOALS OF OUR CHILDREN, OUR FUTURE....
To help improve parenting skills

To increase a family's access to food and nutrition information

To decrease the incidence of child abuse and neglect
OBJECTIVES OF OUR CHILDREN, OUR FUTURE...
Promote partnerships and collaborative activities at the community level in planning, developing and providing services and programs which improve the health of children and their families.

Promote, within the District of Sudbury, the health and social development of at risk and geographically isolated children and their families by providing support programs and services for these children and families.

Provide services which are sensitive to cultural and linguistic diversity in the District of Sudbury. Programs are available in French and English for parents with children and soon-to-be parents particularly vulnerable families in need of additional support.

Promote community ownership of the parent resource program by facilitating and increasing involvement of the community in all aspects of the programs and services development and delivery.

Increase accessibility to support programs and services, increase access to information regarding prenatal health, lifestyle issues and infant health and provide access to nutritious food and food supplements for "at risk" pregnant women and new mothers in need.

To increase the capacity of parents in designated communities to relate positively to their children.

To provide interactive nutrition education and encourage the development of skills related to food and nutrition in a supportive environment.

To facilitate and support community based activities that increase access to sufficient and nutritious foods.
For more information on Our Children, Our Future, go to the following link >>>>>
Valley East Skating Club Returns For Another Registration Session at The Hanmer Valley Shopping Centre on September 15 and 16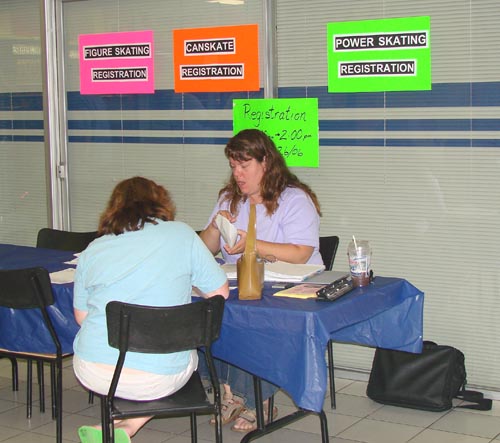 Renee Saya will be returning to the Hanmer Valley Shopping Centre for two more days of registrations for Figure Skating, Canskate and Power Skating.
She will be in the mall on Friday, September 15 from 6:00 to 8:30 p.m. and again on Saturday, September 16 from 10:00 a.m. to 2:00 p.m.
President, Ray Levesque encourages everyone interested in Figure Skating, Canskate or Power Skating to check out the club's web site at www.vesc.ca or phone 969-7017
VALLEY COMMUNITY THEATRE
AUDITIONS FOR UPCOMING CHRISTMAS
MUSICAL COMEDY PERFORMANCE
An open invitation to all interested parties, budding artists, singers, musicians and stage crew members to attend the auditions.
SEPTEMBER 7, 12 AND 13, 2006
HANMER SECONDARY SCHOOL
6:30 P.M. TO 9:00 P.M.
All men, women and children are welcome to attend.
CONTACT MARY AT 564-9331
OPEN INVITATION TO GIRLS NIGHT OUT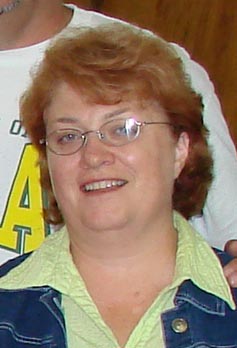 Esther Gudrie of the Valley Pentecostal Church, shown to the left, invites all ladies in Valley East and surrounding communities are invited to an evening just for you!

It will give you a chance to unwind with friends, listen to some good music, savour delightful snacks, and even enjoy a good pampering.

Joanne Goodwin, a highly acclaimed public speaker will be on hand to provide an inspirational message.

Music and comedy will be provided by KELITA.

To top it all off, all ladies attending will receive a FREE GIFT BAG!

The event will be held on Friday, September 29, 2006 beginning at 7:30 p.m.

It will be held at the Valley Pentecostal Church which is located at 231 Martha Street in Hanmer.

There is absolutely no cost for this evening but it is recommended that tickets be reserved by calling Esther at 969-7940. Let all of your friends know about this marvelous evening of entertainment and socializing. It is about time that the girls had a night out on their own!
GREATER SUDBURY PUBLIC LIBRARY
OFFERS STORY TIME FOR CHILDREN
The Greater Sudbury Public Library is pleased to present Family Story Time.
Story Time is a half-hour program for children aged 5 and under accompanied by an adult. It is designed to encourage children to become life-long readers by promoting an appreciation of language, rhythm and imagination. It includes storytelling, puppets, finger plays, songs and rhymes. All our sessions are six weeks in length. The first session begins the week of September 18, 2006.
Register early to avoid disappointment!
For more information, please contact:
Monique Roy - Children's Librarian
Greater Sudbury Public Library, 673-1155, extension 270
GREATER SUDBURY COMPETITIVE


LADIES BASKETBALL LEAGUE
Age limit is from 17 years of age and up

There will be a draft to form the teams

Each team will be allowed one 16 year old player

The league will run from mid November 2006 till early May 2007

All teams will play one game a week on either Sunday afternoon or Sunday evening

If you're interested please send the following information to the email address below:

Send your a] full name

b] Home phone number

c] Cell number if you have one

d] Your email address

e] Experience playing basketball at the secondary level, college level or university level

There will be a meeting in late October or early November for all the particulars: the cost, the sponsorship and insurance.

The list of names will fill up fast therefore send in all your information ASAP

Roger Legendre


Greater Sudbury Ladies Competitive Basketball League


Commissioner/statistician/publicist
REGISTRATION
VALLEY EAST MINOR BASKETBALL LEAGUE
WHY: Learning the basic skills, playing the game and having FUN
WHO: Boys and Girls - 5 to 16 years old
WHERE: Howard Armstrong Recreation Center, Dominion Drive
WHEN: Saturday/Sunday, September 16 & 17 - 10:00 am to 4:00 pm
Saturday/Sunday, September 23 & 24 - 10:00 am to 4:00 pm
NOTE: Birth Certificate & Height Required Upon Registration
**Registrations over the phone not accepted**
DURATION: Mid-October to Mid-April
COST:
Tikes 5 & 6 yrs- $75--- ½ hr. practice & ½ hr. game per week
(limit 20 players).

Mini 7 & 8 yrs- $75--- ½ hr. practice & ½ hr. game per week
(limit 32 players).

Pewee 9,10,11yrs- $100— 1 hr. practice & 1 hr. game per week
(limit 60 players).
Bantam 12,13,14 yrs- $100— 1 hr. practice & 1hr. game per week
(limit 60 players).
Midget 15 & 16 yrs- $100— 1hr. practice & 1 hr. game per week
(limit 60 players).
***Game nights and practice gyms dependant on gym availability
Note: 1st Child = full price; 2nd Child = full price; 3rd child = ½ full price &
additional registrations are free.
VOLUNTEERS NEEDED FOR COACHING & ASSISTANT COACHING
If we don't have the coaches, we don't have a league!!!
(Volunteer Hours provided for high school students wishing to coach/assistant coach)
VOLUNTEERS NEEDED FOR CONVENERS & BOARD MEMBERS
REFEREES & SCORE KEEPERS REQUIRED – PAID POSITIONS
For additional information or to volunteer some time, please call:
Helene Van Dyk - 969-0062, Bruce McFadden - 969-7407
Maureen Beaudry - 969-7712, Mike Bertrand - 897-0031
PRESS RELEASE
by Roger Legendre
Azilda Dog House Sports Bar Relics Lose In Championship Final
Three teams from the Rick McDonald memorial Fastball League took part in the 20th Annual Senior Men's World Fastball Championships being held in North Bay over the Labor Weekend Holiday .All three teams made a very good account of themselves.

The McDowell Athletics lost all four games they were in going 0-3 in round robin action then were forced to face the 2nd seed Soo Tree Experts( their pitcher the legendary Darren Zach) who shut then out 9-0.. The Garson Hounds went 2-1 in round robin action and were `seeded 9th in semi final "AA" championship and defeated Wicky 7-2 to advance to the semis but came up short losing 3-1.

The Azilda Dog House Sports Bar Relics did very well.In round robin action they went 3-0 and then took on Walton in semi final action defeating handily 7-2.The next match was a big one as they took on the powerfull Soo Tree Experts with Darren Zach. In close defensive match led by center fielder Joel Belanger's strong histing and fielding the Relics came out on top defeating the Soo team 3-1 and advanced to the championship game late Sunday afternoon.

In the championship final the Azilda crew were facing the 2005 defending champs the Cold Spring Cats from Cobourg in Southern Ontario.In the end the Cats prevailed for a close 3-1 victory.Our hats are off to the Azilda Dog House who were runners up for the championship 2006 edition. Later this week or at the start of next week these same Dog House boys with some changes will be taking on the winner of the semi final between Whitefish Steelers and Pickerel Cardinals for the Rick McDonald Memorial Fastball finals best of 5 series.

Semi final action continues in the Rick McDonald Fastball league on Tuesday night in Garson at 7 P.M. when the Steelers and the Cardinals face each other in the third game of that series which is tied at 1-1.The fourth game goes Wednesday evening also at 7 P.M. in Whitefish and if a fifth and deciding game is need we will be right back in Garson on Thursday night for the deciding game.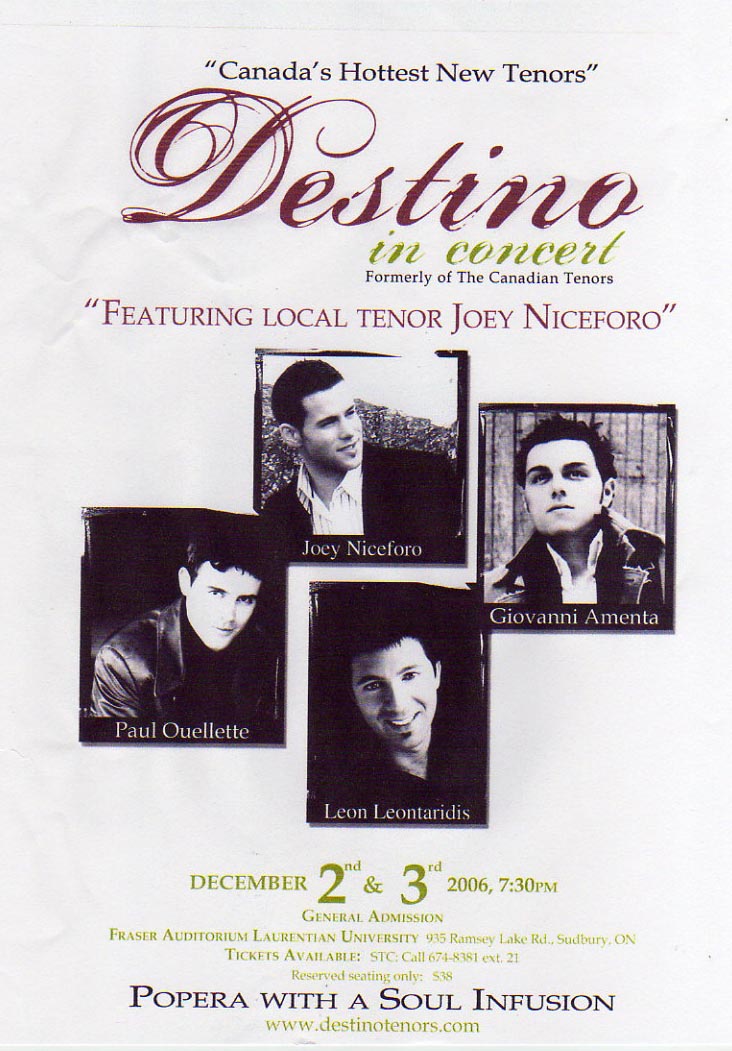 WELCOME TO PAGE FOUR
TUESDAY, SEPTEMBER 5, 2006