ONLINE SURVEY RESULTS
PARTICIPATION SURVEY
The chart below provides the data collected from 500 online surveys completed by Greater Sudbury Households. It is important to note that the average number of members in the households was somewhere in the 3.5 range, which indicates that a lot of people with children still living at home completed the survey. This makes the results even more significant. Consider the following points and remember that this part of the survey asked each person to indicate their participation in selected leisure activities during the past 12 months.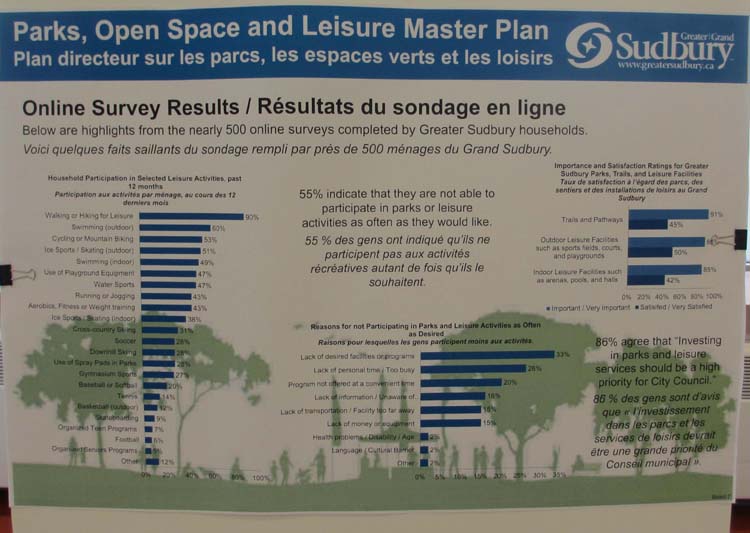 <![if !supportLists]> 1. <![endif]>Notice that 90% of the participants participated in walking or hiking for leisure during the past 12 months. This is significantly higher than the next popular activity which was outdoor swimming, likely at camp or a public beach., but still 60% of the survey participants indicated that they has gone swimming outdoors. The third most popular activity was cycling or mountain biking. All three of the top activities are things that the entire family can participate in at the same time and they are all done outdoors. There is little if any cost to take part in the activity.
<![if !supportLists]> 2. <![endif]>It is interesting to see that ice sports/skating outdoors was participated in by 51% of the people filling out the survey while only 38% participated in the same activity on indoor ice surfaces. Once again the preference seems to be on skating or playing ice sports outside, likely on neighbourhood playground rinks. Again, this is something the entire family can take part in and there is little or no cost.
<![if !supportLists]> 3. <![endif]>When you consider the ranking of the activities, it is clear that most of the people filling out the survey have taken part in many activities that are intended to improve their level of fitness and health and they are also the kinds of activities that they can choose to do whenever they wish and with the entire family. These activities are flexible with respect to schedule and many of them are done outside.
<![if !supportLists]> 4. <![endif]>Over half of the people doing the survey wished that they are not able to participate in activities as often as they would like and the two top reasons for not participating was a lack of desired facilities or programs and a lack of personal time. I would suggest that the main reason was likelky a lack of personal time.
<![if !supportLists]> 5. <![endif]>When it comes to a comparison of the importance and level of satisfaction of several categories, it is interesting to note that with respect to Trails and Pathways, 91% of the people doing the survey felt the Trails and Pathways were important while only 45% were actually satisfied with the trails and pathways. This is something that the City should seriously consider when it comes to improving the trails and pathways in the region. If so many people feel that the trails and pathways are important, while half of them feel that they are not satisfied with the trails and pathways, then something must be done to improve the level of satisfaction.
<![if !supportLists]> 6. <![endif]>Another interesting point is that 88% of the people feel outdoor leisure facilities such as sports fields, courts and playgrounds are important, but there is only a 50% satisfaction level. Again, this is significant because the outdoor fields and playgrounds are easy to access and can be accessed whenever a person has time. This high ranking in importance and low satisfaction level cannot be allowed to continue. Something must be done to increase the satisfaction level since so many people are actually participating in these venues.
<![if !supportLists]> 7. <![endif]>Again, it is important to note that many of the activities are outside, can be adapted to an individual's schedule, are very low cost to take part in, and can involve the entire family. We are a family –focussed, outdoor-focussed society. This signals a need for a shift in priorities with respect to our long term Master Plan. The need for a large, central multi-purpose complex does not seem to fit with the results of the survey. Nor does it fit with the general trends among all demographics.
SUPPORT FOR ADDITIONAL SPENDING
The survey found that 86% of those completing the survey felt that investing in parks and leisure services should be a high priority for Council. They were then asked for which parks and leisure facility types they would support spending additional municipal money. The results her were once again significant.
<![if !supportLists]> 1. <![endif]>Unpaved nature trails came in at number one with 86% of the people selecting this as something for which they would support spending more municipal money. In fact, the top five items selected were all outdoor facilities, with playgrounds and outdoor rinks included. Clearly the priority among residents of Greater Sudbury is in the area of outdoor activities that can be accessed according to an individual's schedule and can be enjoyed by the entire family.
<![if !supportLists]> 2. <![endif]>Spending more money on arenas ranked in the same grouping as youth centres, outdoor children's splash pads, senior centres and ski hills. These are all activities that address the needs of very specific interest groups, but still they fall within the category of activities that people can use according to their own personal schedules on a drop-in basis. We have become a society that have such diverse needs and interests that it getting impossible to get everyone together at the same time in any given activity. People have time to participate, but not at the same time.

<![if !supportLists]> 3. <![endif]>It seems clear that there is more interest in participation rather than being a spectator and certainly more interest in outdoor activities vs indoor activities. Finally, there is definitely more interest in activities that can be performed during one's entire life than on those that are reserved mostly for the young.