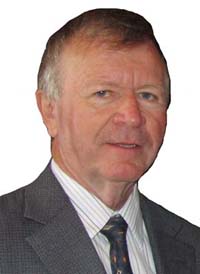 VIDEO INTRODUCTION: CLICK HERE
PERSONAL BACKGROUND
I have lived my entire life in the Greater Sudbury Area. I was born in Coniston in 1950, moved to Lively when I was five years old and remained there until my wife and I were married in 1972. I was the oldest child in the family and have four brothers and sisters all of whom still live in the Greater Sudbury Area. My parents, Tom and Audrey still live in the house in Lively where we were raised. My father worked as a Superintendent at the Iron Ore Recovery Plant in Copper Cliff and I spent my summers during high school and university working at Inco.
I graduated in 1972 from Laurentian University with a Bachelor of Arts Degree in Math and Economics and obtained my Master of Arts Degree in Education Administration from Central Michigan University in 1985.
In 1973 I graduated from North Bay Teachers' College and began a career in Sudbury in the fall of 1973.
My wife, Valerie and I bought our first and only house in Val Therese in the spring of 1974 and still live in the same house where we raised our three sons, Ryan, Warren and Marty. During the 40 years we have been living in the Valley I taught elementary school at St. Anne School for 23 of those years, have operated several consulting businesses, owned a retail sporting goods store for a couple of years, managed the Hanmer Valley Shopping Centre for five years, and was editor of the Vision Paper for almost ten years. I also taught at the former St. Jerome Catholic Elementary School for two years. This school was located in the Sudbury section of Ward 5.
I currently operate a private practice as a Business Development Consultant, providing education-based marketing and training services to businesses, professionals and institutions that provide goods and services to the Towns of Valley East and Capreol. I publish the Valley East Today Consumers' Guide & Business Directory which is found at www.valleyeasttoday.ca and has been developed to provide information to residents living in Wards 5 and 6.
I have also recently become Licensed as a Mortgage Agent (FSCO License #M14001299) and will be working with HQ MORTGAGES INC. to provide residential and commercial mortgage products in the Greater Sudbury Area and also helping that company expand across Ontario.
The Valley East Facebook Group has been created to share stories and information about the community and local businesses with the residents of Valley East and to let people know what they can access through the Consumers' Guide. The Facebook Group has over 2100 members and I have a direct distribution link to over 5000 contacts through three other associated networks. I have a passion for communication, especially education-based communication designed to inform and inspire individuals of all ages and walks of life.
I was elected as Trustee with the Rainbow District School Board in 2010 and represent Area 3 which consistes of Wards 5 and 6. My term ends at the end of this year.
I made the decision to run for City Council in 2014 because I feel that I will be in a better position to make more of a difference to the people living in Ward 5 and the whole of Valley East as a member of Council.
Besides teaching for 28 years as my full-time profession, my home-based marketing and business consulting company has allowed me to become very involved with the businesses and organizations that are in Ward 5. It enabled me to develop many rewarding relationships with the people who make a difference in this community and allowed me to get to know the real needs and priorities of local residents.
Since January 2008 I have hosted a live talk radio at Laurentian University show called The Learning Clinic and I have become even more connected to a broad range of individuals and organizations from across the City of Greater Sudbury.
With all of my experience and background, I feel I have knowledge of the needs of the people in Ward 5; I am connected to the people of Ward 5; I have the ability to communicate with the people of Ward 5; and I have been known as a promoter of this part of the region for the past 40 years. I feel I have the qualifications, the experience and the passion to represent the people living in Ward 5 on City Council and I have the vision to bring a new perspective to the table.
Furthermore, I have the ability to examine and analyse the reports and presentations, as well as the legislation and by-laws so that I have a better grasp of the fundamental issues that we are facing when making decisions at City Council.
That is why I have chosen to run for Council at this time. It is also why I chose to run for the position in Ward 5 which is at the heart of entire City of Greater Sudbury and is one of the most dynamic Wards in the region.
This is not a matter of youth vs. age; making a change of leaders on City Council; attacking and accusing former Councillors; or laying blame on anyone.
This election is about choosing a representative who is knowledgable of the issues and has an understanding of how the system works. It is not enough to say you are going to be more transparent or you are going to bring back an ombudsman, or that you are not going to raise taxes. Those empty promises won't cut it this time.
The person chosen to represent Ward 5
will have to demonstrate that there will be flexibility and the ability to weigh all options and possibilities. Candidates will not be able to pull the wool over anyone's eyes this time around. What you need to do is make sure that you vote for problem solvers who have a practical approach to dealing with the challenges facing this City during the next four years. We don't need people who want your vote because they are younger or trying to convince you that they can make change happen. We need people who want your vote because they are the ones who are most capable of representing your voice at City Council and of advocating on behalf of the constituents of Ward 5.
We also need people who are able to develop a strategic plan which will act in the best interests of all of the constituents of Ward 5. My objective is to act as the "Mayor of Ward 5" and to make sure that each and every decision I make at City Council and each and every argument or debate I am resounds clearly what will be best for Ward 5. If all other Councillors do the same for their Ward, then at the end of each debate we are certain to come up with general policies and decisions that are best for the whole City of Greater Sudbury without any decision being detrimental to any one or two Wards.
And so, I ask for your vote on October 27, 2014 and if I am given the responsibility of representing Ward 5 for the next four years, the only promise I can make is that everyone will know who I represent.