ROBERT KIRWAN - WARD 5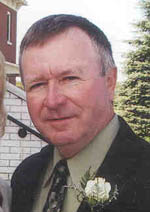 SPEED LIMIT ON REGIONAL ROAD 80

CLICK HERE FOR VIDEO RESPONSE
SPEED LIMIT ALONG HWY 69N
The time has come in Valley East to take a good look at the speed limit along Regional Road 80, or Hwy 69N as most people know it. The speed limit changes so often that it is hard for drivers to know how fast they are supposed to drive at any particular place along the highway and we have so much traffic in the Valley now that we simply must adopt some consistency along our major roadway.
When we enter McCrea Heights the speed limit drops to 60 km/hr until you go through Val Caron and cross the river at Yorkshire Drive. It then goes up to 80 km/h until you reach the Hanmer Valley Shopping Centre where it drops back to 60 km/h. But along that stretch you encounter numerous driveways and subdivisions that come onto the highway, plus two traffic lights and a fire department. Then once you get past the shopping centre the speed limit goes back to 80 until you reach Centennial Drive where it drops to 70 and then to 60 until you get to Radar Road.
A traffic study was done in 2011 that recommended the stretch from Josephine to Dominion be 70 km. The study also recommended that the whole stretch be reduced to 70 in anticipation of the new development, but it was not dependent on the development being completed. The Josephine to Dominion stretch was recommended because of the number of houses with driveways backing on to the highway along the east side of the road.
So if you look at the amount of traffic, the inconsistencies that currently exist, the heavy trucks on the road, the fact that the transit busses stop right on the highway, and so many driveways backing onto the highway, it makes sense from a safety point of view to reduce the speed limit to 60 km/h all along the entire Regional Road 80 as it winds its way through Valley East. People will still drive 75 km/h along the stretch, but that is better than 95.