Since Ron Gladu Photos is one of the very few, if not the only place in Valley East, where a person can get a passport photo taken, he is extremely busy providing this service to local residents who travel out of the country.

"There doesn't seem to be a slow time of year for passport photos," explained Ron. "People are travelling at all times of the year, and countries are getting very particular about their requirements when it comes to passports. We do between 25 and 30 passport photos a week, so there are a lot of people travelling from Valley East and Capreol."

At first glance it would appear that taking a photo for your passport is a relatively simple procedure. However, after speaking to Ron about this, it is obvious why so many people complain about having their passport applications rejected because of improper photos.

"One of the things I am particularly proud of is that we are so sure that our photos will be accepted that we will guarantee our work. If your photo is ever rejected, we will do another one for you free of charge," explained Ron. "We have a special section of our studio all set up for these photos with the required three lights so that there are no shadows. We have a plain white background and we remind our clients that they cannot wear a white top when they take the photo. For individuals who have white hair, we have a special "hair light" (shown in the insert) that separates the subject from the background so that you can tell where the hair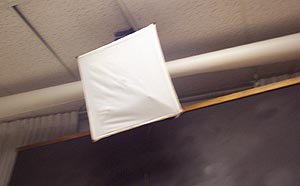 ends and the background begins. It is absolutely critical that you do not smile, or even have any opening between your lips. Your lips must be pressed together. The photo may be taken in black and white or in colour, but we take all of ours in colour. And it must be the right size with a proper stamp on the back."
A photo can be rejected for violations of any of the above criteria, so it is important that everything be done right the first time. "It might take a few weeks for an application to be processed, so it is extremely frustrating for a person to have it rejected because of an improper photo. That means you have to take another picture, get another signature from a guarantor, who sometimes charges you for this service, and then send it off again.
Ron Gladu Photos also take photographs for the F.A.C. Gun registry, citizenship applications and also for work VISA's.
The cost of getting your passport photo taken by Ron Gladu Photos is extremely reasonable at only $16.50 plus tax. Many people are under the impression that getting this service done by a professional photographer such as Ron Gladu is expensive. However, his rates are less than you can get at places which you would expect to get a much lower rate and his service is guaranteed. The last thing you want is a rejection because of your photo, so if you want to make sure this part of the process is done properly, you should call Ron Gladu for an appointment today.
Ron also advises that you should not wait until the last minute.
Call for an appointment
(705) 969-5018