| | |
| --- | --- |
| | GRADUATION PORTRAITS |
Ron Gladu has been doing graduation portraits for over 20 years and is currently the photographer for Confederation Secondary School, Ecole Secondaire L'Horizon, and Ecole Secondaire Hanmer, as well as many of the local elementary schools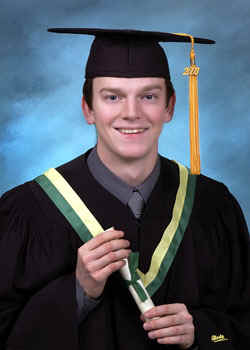 Ron will take photos of graduates at the school in order to make it convenient for all students and staff, or he will take individuals in his studio. The cost is the same whether the photo is taken at the school or in the studio, however, Ron prefers to do the work in his studio where all of the conditions are perfect and he can give each person a much higher degree of personalized service.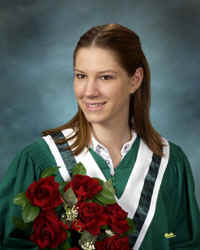 "A person's high school graduation is a once-in-a-lifetime event," Ron explained. "In fact, when you speak to most people, they will tell you that their high school graduation was the second most important event in their life, with their wedding coming first. That is why we like to take our time and do anywhere from 8 to 12 different poses in order to make sure that we get the best photo possible."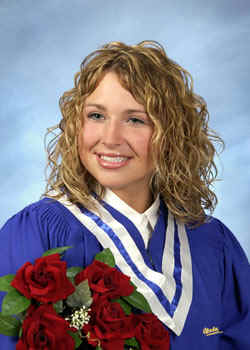 In order to accommodate all requests, Ron has caps and gowns for all secondary schools as well as the local colleges and universities. He often has students coming to him for portraits to capture the occasion from different institutions. If you are not happy with the photo that was taken at your particular school, you can come in on your own for a portrait at Ron Gladu Photos.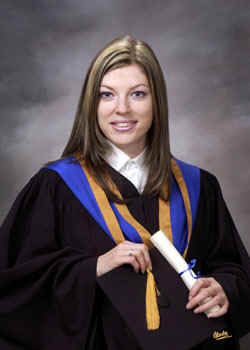 The basic package for a Graduation Photo consists of the following:

| | |
| --- | --- |
| | one 8 x 10 portrait |
| | one 5 x 7 portrait |
| | eight 2 x 3 mini-portraits |
The cost of the above package is:
| | |
| --- | --- |
| | $15 for the sitting fee |
| | $59.95 for the portraits in the package |
| | Therefore the total cost is $74.95 plus taxes |
SPECIAL VALUE-ADDED BENEFITS FOR SCHOOLS

Ecole Catholique Secondaire L'Horizon and Ecole Secondaire Hanmer each receive a large 20 x 24 composite of all of the individual students in the graduating class. This is displayed in the hallways of the school.

Students from these schools may purchase one of the composite photos for themselves for only $10.00 plus taxes.

At Confederation Secondary School, Ron attends the graduation ceremony where he takes a photo of each student as they receive their diploma.

Students are then given a 4 x 6 portrait of this event free of charge.
Ron and Lise thoroughly enjoy working with young students in the secondary and post-secondary schools. Graduation is such an accomplishment and it provides Ron and Lise with so much satisfaction to be able to help make the event last a lifetime with a quality portrait.