TUESDAY, JUNE 13, 2006 EDITION
Valley East Ladies' Slo-Pitch League Has Bright Future

A year ago the Valley East Ladies' Slo-Pitch League was facing a serious enrolment problem. With only six teams registered just prior to the start of the season, the women who enjoyed playing this sport were worried. The season began with seven teams, but it was obvious that changes had to be made.

The incoming executive knew they had a tough challenge, but they made it through the 2005 season and worked hard to get ready for the summer of 2006. Three of the Executive members met recently with Robert Kirwan, Publisher of Valley East Today to discuss plans for marketing and promotion of the league. Shown with Robert are, from the left, Robin Trottier, Secretary; Mandy Hnatiuk, President, and Natalie Raymond-Marois, Vice-President. Two other executive members were unable to attend the meeting. They are Nicki Trottier, Treasurer, and Paula Martel-Lavallee, Statistician.

This year there are a total of ten (10) teams in the league, thanks in part to a decision by the League to drop the 'residency' restriction and allow teams and players from other municipalities. Two teams have joined with players who live in Rayside Balfour or Sudbury. Another positive change was the decision to allow girls who are 16 years of age and over. There are only a few younger players in the league, but at least they now have a place where they can enjoy this sport while in their late teens.

As a result, there are over 200 women of all ages playing slo-pitch two nights a week during the 15 week season. They play at Centennial Ball Park every Monday and Wednesday evening, with games at 6:30, 8:00, and 9:30 p.m. It is a relatively inexpensive form of recreation for the ladies, with registration working out to approximately $100 per player. Each person provides her own equipment such as gloves, shoes, etc., and many even have their own personal bats.

Mandy, Natalie, and Robin showed a great deal of optimism for the league during the league and much of the discussion turned to long-term goals for upcoming seasons. All three are around the age of 30 and it is obvious that they intend to work hard to build up the league image and eventually see a 16 team league within a few years. They want to continue to maintain the "recreational" league as a place where women can enjoy friendly competition with their friends well into their 40's and 50's. Information about the league will be placed on the community web site and also in the Hanmer Valley Shopping Centre.




VISIT OUR
MUNICIPAL
ELECTION
SECTION




VISIT OUR
BUSINESS
SECTION

FOR ALL PAST ISSUES OF THE VALLEY EAST TODAY WEEKLY ONLINE NEWS MAGAZINE

The Campeau Family Is A True Example Of What Community Is All About In Valley East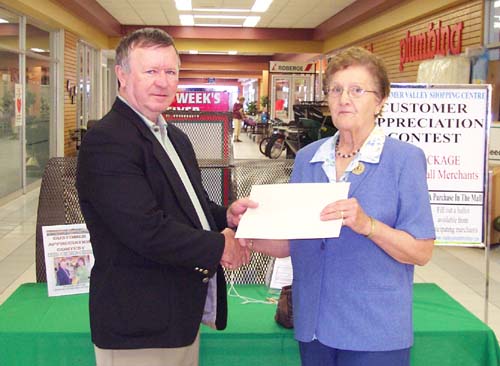 When THERESE CAMPEAU, shown in the photo on the right with Robert Kirwan was presented with the prize package as winner of the May 2006 Customer Appreciation Contest sponsored by merchants of the Hanmer Valley Shopping Centre, she indicated that this was the first thing she had ever won in her life. The proud mother of five has lived a full life during her seventy some years in Hanmer.

Therese and her late husband, Rheal, raised five children in Hanmer, and what is amazing is that all five still live in Hanmer and Val Therese. Rheal, unfortunately, passed away on October 16, 2003, after 51 years of marriage to Therese, but his memory is kept alive by his wonderful family, which now includes eight grandchildren and two great-grandchildren.

The Campeau family includes: Roger (married to Suzanne); Pauline (married to Gilbert Piquette); Benoit; Rejean (married to Beverly); and Julie (married to Ron Denomme).

Julie accompanied her mother to the Shopping Centre to pick up her prize and was just as excited as her mother. "This is great for Mom. She can't wait to go shopping to claim all of her prizes. She never wins anything."

And yet, there are many people around who would say that Therese is definitely a winner because of the fact that she can see her children, grandchildren and great grandchildren whenever she wants because they all live in the same community. The Campeau family has definitely made its presence felt in Valley East. And the fact that they all continue to live in this community is a testament to the spirit that lives on in Valley East. We congratulate Therese, not only on winning the Customer Appreciation Contest, but moreover for the tremendous contribution that she and Rheal made to the community of Hanmer.,
Club Optimiste de Vallee Holds Another Successful Golf Tournament In Valley East With 73 Participants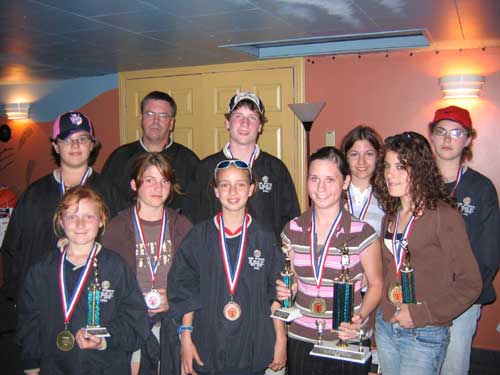 The Annual Junior Golf Tournament sponsored by The Club Optimiste de Vallée was held on May 28, 2006 at the Clearview Golf & Country Club. This was one of the largest fields ever, with a total of 73 boys and girls between the ages of 10 and 18 years taking part.
The group in the photo is showing some of their medals and trophies. Back row, from the left: Jennifer Beaudry, Rick Legault (President of the Club), Dexton Abresch, Krista Fitzsimmons, and Jessica Belanger. Front row: Natalie Desantis, Melanie Ferron, Michelle Gagnon, Julie Gascon, and Megan Thompson.
Membership in the Club Optimiste de Vallee is a bilingual organization that is open to all adults who have an interest in providing healthy recreational and cultural activities for area youth. They meet about six to eight times per year to plan and prepare their annual events and projects. Funding is largely done through a bingo at the Valley Bingo Hall. Members are expected to provide volunteer hours during events such as the golf tournament. For example there were no less than 33 volunteers helping out during the golf tournament.
The President of the Club Optimiste de Vallee is Rick Legault. He can be contacted by phoning 969-3173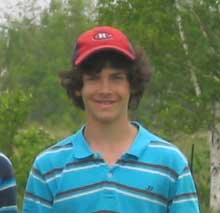 Miquel Larocque, shown on the left, is one of four participants who will be advancing to the National Championship Tournament for the Club Optimiste organization. That will be held in Ingersol in August.
Others who will be travelling with Miquel include, Dexton Abresch, Megan Thompson, and Eric Cantin.
The golf tournament is always considered one of the best around for young people. For example, with the $10 entry fee, participants each could play a full 18 holes; were treated to both lunch and dinner; each received a prize; each received a windbreaker jacket; and had a chance to win a trip to Ingersol to compete for a national title.
Besides the Annual Junior Golf Tournament, Club Optimiste de Vallee also runs a bike rodeo, a Christmas Breakfast for a local school; and provides MVP awards to students at local schools.
Grade 4/5 Class From Redwood Acres Enjoys Pizza Party For Participating in Mothers' Day Card Display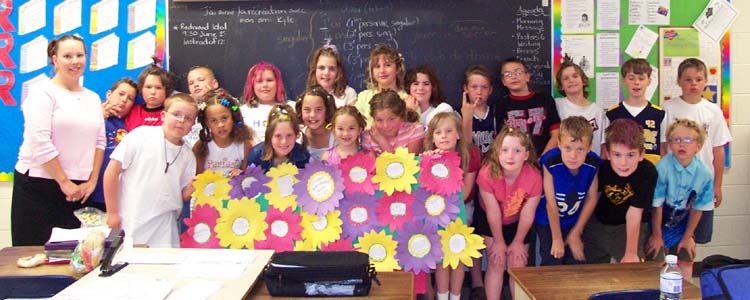 Mrs. Danielle Gagnon, Grade 4/5 teacher at Redwood Acres Public School, is shown with her happy students just before receiving their pizzas for lunch. The Pizza Party was provided by Val and Violet Mazzuca, owners of the Hanmer Valley Shopping Centre in appreciation for the class participation in the Annual Mothers' Day Card Tribute which was held at the mall. The card that was done by the students is being held up in front. A total of 13 different elementary schools from Valley East and Capreol took part in the display.

Members of the class, in no particular order, include:
| | | | |
| --- | --- | --- | --- |
| Rebecca Book | Jessica Busch | Brandon Delisle | Shelby Ernst |
| Zachary Farnel | Ethan Hovi | Natalie McDevitt | Baylee Ouwens |
| Hannah Paquette | Curtis Thompson | Kyle Wilson | Glen Winegarden |
| Sierra Crooks | Jenny Emms | Sean Everest | Tyler Grainge |
| Deidre Lynn Imbeau | James Innocente | Jessica Lloyd | Sarah MacDonald |
| Cameron McDonald | Brent St. Pierre | Logan Stamp-Elliott | |
The students were also taking part in Crazy Hair Day. Mrs. Gagnon's class won a School Spirit Award for having 100% participation in the event.
VALLEY EAST MENS' SLO PITCH
Each week during the 2006 season, Brian Beaupre will be providing us with up-to-date standings from the Valley East Mens' Slo Pitch League. You will be able to open up the standings in a WORD DOCUMENT and save them to your own computer if you wish. We appreciate Brian's efforts in providing us with this important service.
CLICK HERE FOR THE STANDINGS AS OF JUNE 10, 2006
GOLF TOURNAMENT - JUNE 25
SHOOTING STAR DAY CARE IS SPONSORING GOLF TOURNAMENT
AT COLONIAL GOLF CLUB IN CHELMSFORD
Entry Fee is $60 per person - Register before June 15 and save $40 per team
Includes 18 holes, brunch and more. Call 969-8685 for more information
Tuesday June 27 2006, 7 pm
Bilingual Rosary and a Christian music concert organized by the Emmaüs Disciples from the Emmaüs Centre, at the Grotto Mountain site 271 Van Horne Street . Everyone is welcome! For more information: Sister Claudette Marchand 671-0984
Young Student Creates Historical Display
Honouring The Mazzuca Family

Danica Laverne, a 10-year old Grade 5 student attending Valley View Public School, decided to do a historical project on the Mazzuca Family this year. The display can be seen at the Hanmer Valley Shopping Centre where it has been proudly set up by the owners of the mall, Val and Violet Mazzuca.

Marymount Academy Travelling Group Hosts Penny Table & Bake Sale At the Mall

A group of approximately 20 students from Grades 7 through 12 at Marymount Academy are planning an educational trip to Europe during the March Break in the spring of 2007. That means that for the next nine or ten months they will be out trying to raise money to pay for the trip. The Travelling Group took advantage of the heavy traffic in the Hanmer Valley Shopping Centre to hold a Penny Table and Bake Table recently. Shown in the photo above, from the left, are: Kayla Ryan, Shandi Charette, and Kaitlyn Charette. Both Kayla and Kaitlyn are in Grade 7 at Marymount. Kaitlyn's mother, Shandi, will be one of the parents accompanying the group on the trip.

In the photo below we have Kaitlyn and Kayla with Kayla's grandmother, Helen Ryan and her grandson, five-year old Bradey Ryan. Helen did much of the baking for the table which was a popular feature during the weekend.

Community Groups & Organizations; Churches; Schools - Are All Are Invited To Use Mall Facilities Free Of Charge To Raise Money and Promote Their Activities

The Marymount Academy Travelling Group is just one of the many groups and organizations that take advantage of an open invitation by the Hanmer Valley Shopping Centre to use its facilities to promote their activities and raise money through fund raisers such as car washes, penny tables, raffle sales and bake tables. There is absolutely no charge for the use of the facilities and the mall even provides tables, chairs and other material to help the groups. The owners of the mall, Val and Violet Mazzuca, have been strong supporters of Valley East and Capreol and will bend over backwards to help out in any way they can. If you or your group would like more information about using the mall, simply contact the Director of Marketing & Public Relations, Robert Kirwan at 524-7006.

CAROLINE PROVIDES INSPIRATIONAL MESSAGES THAT UNITE AND EMPOWER ALL TO BETTER LOVE THEMSELVES SO THAT THEY IN TURN CAN BETTER LOVE AND SERVE THE REST OF HUMANITY
See what Caroline has to say this week>>>>

St. Kevin's Parish Holds Its Annual Family Fun Day

The coldest day of June brought back Memories of 'Summerfest 1992' for many of the organizers of the St. Kevin's Family Fun Day. During that year they woke up to snow on the ground on June 20. The 2006 event won't go down as the coldest in history, but it certainly felt cold with the strong north wind blowing and the 4 degree temperature early in the morning. However, the cold didn't deter 8-year old Bailey Laforest and her brother, Blake (5) when their mother, Kim took them for a barbecue hot dog at the food tent manned by John Marcuccio and head chef, Stan Kunto seen standing behind the table. For more photos >>>>

Housing Market Is Strong In Greater Sudbury Area
Many realtors are indicating that they have never seen anything like the current housing boom in the Sudbury region. Homes are being sold the same day they are listed, and it is reminding people of what it was like in the mid-80's. The shortage of listings with the high demand means that prices for houses are rising rapidly.
It appears as if consumer confidence in the local economy is fueling the growth. Back in 1999, there were only 131 new housing starts and there was an 11 percent vacancy rate in apartments. That marked the all-time low for housing construction in the area.
The number of new housing starts for 2006 are expected to total approximately 400 or more. This is well short of the boom years of 1989 when close to 1000 new homes were built, but with a vacancy rate of only 2 percent, the demand for new homes will continue to increase.
Valley East is benefiting a great deal from this housing development. Many older people from smaller towns in Northeastern Ontario are coming to Sudbury to retire; baby boomers are up-sizing to bigger better houses; others are down-sizing; and the economy, especially the mining sector, seems to be creating employment.

Not All Full-Time Laurentian University Students Happy About Having To Pay $135 For Transit System Pass This Fall
After months of negotiations, Greater Sudbury Transit and Laurentian University have signed an agreement which will allow all students unlimited use of the transit system for the eight-month school year. The agreement was signed last week between the city, Laurentian's Students' General Association (SGA) and francophone students' association.
Greater Sudbury Mayor David Courtemanche, SGA president Luke Norton, Gabrielle Lemieux, president of the francophone students' association and LU president Judith Woodsworth gathered at Thursday to announce a universal pass or "U Pass" will be available for all LU students this September.
A referendum on whether to adopt the universal pass was held during student elections in March.
Many students have voiced their concerns about having to pay for the transit pass whether they use it or not, but SGA president, Luke Norton says he doesn't expect any more complaints now that the fee has been reduced to $135 from the original $200.
While the pass will be a good thing for students who use the transit system, many students from Valley East and other outlying areas feel that they should not have to pay for the transit pass if they find it more convenient to use their own vehicles. Students who use their vehicles must absorb the cost of paying for the automobile, gas and maintenance, as well as a parking fee of well over $100 to park at the university.
The real test will be to see if ridership does in fact increase as a result of the student transit pass. Critics of the plan say that all this is doing is forcing all students to subsidize those who can avail themselves of transit services, particularly those living in the former City of Sudbury where most streets have access to bus routes. Students in outlying areas such as Valley East will still find it inconvenient to use the transit system to get to Laurentian University since they often must walk long distances to catch the bus.

City Council Urged To Ban Cosmetic Use of Pesticides

Pressure is mounting from local citizens to have pesticides which are used for cosmetic purposes banned in Greater Sudbury because the chemicals are toxic to humans and animals.


Over 100 other communities in Canada have already implemented such a ban. Council was presented with a petition sighed by 1,600 citizens who want a bylaw prohibiting the use of pesticides on lawns, gardens, golf courses, commercial property and city property.

The ban would not apply to farmers or spraying to combat public health problems like West Nile Virus.

A number of high profile medical organizations are actively lobbying for pesticide bans, she says.
Councillors, such as Terry Kett, are reluctant to pass such a by-law until there are public meetings and a staff report. It is expected that the by-law is inevitable and will likely be ready for passage by next winter.
I Have Held Many Positions In My Life, But None More Important Than…

Editorial by Robert Kirwan


Sunday, June 18 is Fathers' Day.

This has always been a special day of reflection for me, and often it has been a day when I wish I could have turned back the clock and taken more time to appreciate all that is good about being a father. To illustrate this point, I would like to share a little story that has always been one of my favourites.

Two little boys were dressed and ready to go. In fact, they had been ready now for more than an hour. Excitement flooded their faces and all their talk was about only one thing: their father had promised to take them to the circus that afternoon and they were only minutes away from leaving.

As planned, Dad came home from work early that day, right after lunch and quickly changed into casual clothing. Then, just as the three of them were about to leave the house, the phone rang.

The boys listened intently as their father talked with the person at the other end of the line. Bit by bit, their faces began to fall. This was obviously a business call, and some urgent matter was requiring their father's attention back at work.

Disappointment rolled into the room like a dark cloud. Their mother also overheard what she thought was the inevitable change of plans, and looked consolingly at her sons. She went over and stroked their hair, hugging them closely to her sides. She knew how terribly disappointed they would be when her husband got off the phone.

And then, to the surprise of everyone, they heard Dad say, "No, I won't be coming back in today. It will just have to wait until the morning." Hanging up the phone he called for the boys to meet him at the car as he turned to kiss his wife good-bye. She smiled and with a twinge of fear that he may have made the wrong decision, she said, "The circus keeps coming back, you know."

The father replied, "Yes, I know. But childhood doesn't."

Sometimes it takes a long time for a father to realize this. With young children around the house, there seems to be little time for the really important things to get done. There are always chores to do or things to repair. Work responsibilities often require overtime or a change of holidays.

Nevertheless, one must never forget to look at the world through the eyes of a child. Eyes that long for those precious few moments of time spent in play with their father. It doesn't have to be much. The five minutes it takes to look at your child's math test; waiting for your child to find his shoes so that he can come with you to the store to pick up some milk and bread; playing catch in the backyard for five minutes; crawling into the 'cabin' your child made behind the couch; sitting with your child at the hockey game instead of talking to the other fathers in the corner of the rink; taking twice as long to put out the garbage because you let your child help you carry it to the road.

My own children are adults now, so I have gone through the 'father routine' for over 31 years. In fact, I have also been into the 'grandfather routine' for the past two years. For all my experience, I have two pieces of advice to give to young fathers. First, don't ever feel that spending time with your children is less important than anything else you have to do in your life. Absolutely nothing is more important than spending time, even if it is just for a few moments with your children. Secondly, never pass up an opportunity to make your children realize that you are extremely proud to be their father.

I have held many positions and accepted many responsibilities in my life, but my most important role, by far, is my role as a father. I know that this responsibility will continue for the rest of my life, and for that I am extremely grateful.

Have a happy Fathers' Day!

ROBERT KIRWAN'S FOOD FOR THOUGHT
For a complete selection of stories and editorials that will help you to reflect upon life's priorities, inspiring you to take on the daily challenges you face very day...

Vic Whissell To Coach Carter McDavid During Summer Months
Korbin Thibault Hopes To Make Baby Boy A Household Name

Valley East Waves Excel In The Pool This Past Season
Mosquitoes: Don't let them ruin your outdoor activities
Therese Campeau is winner of May Customer Appreciation Contest
Local Residents Looking For Assistance In Finding Meaningful Employment Now Have Easier Access To Job Connect / Connexion Emploi
Valley East Waves Host First Car Wash At The Hanmer Valley Shopping Centre on Saturday, June 3, 2006

It's Time To Bring Out The Bats & Gloves And "Play Ball"
Kin Club of Valley East Still Optimistic About Their Mission Despite Break In During Victoria Weekend Holiday
Ontario Metis Aboriginal Association Conducts Free Blood Glucose Screening Clinic
Healthy Babies - Health Children By Helping Young Mothers Before & After Birth
Young Friends Take Part In Relay For Life Project To Stay Together During Post-Secondary Years
Windows In Time Section Of Valley East Today Community Web Site Brings Back Fond Memories
Announcement of First Annual Lions Club of Valley East Charity Days Receiving Great Response From Local Residents
"Keeping The Spirit Alive" in Valley East is one of the definite outcomes that this town can use when the Lions of Valley East host their First Annual Charity Days on September 8 and 9. For More>>>>

CO-OP EDUCATION PROGRAM AT BISHOP ALEXANDER CARTER CATHOLIC SECONDARY SCHOOL PROVIDES VALUABLE REAL-LIFE EXPERIENCE FOR STUDENTS
The Co-op Education Program is one of the best things that ever happened to the Ontario Education System. Students who enrol in the program have an opportunity to work for half a day in a real-life business setting while earning two credits towards their secondary school diploma. More importantly, these students get practical, hands-on experience which will help them decide on an appropriate career choice. For More>>>>

Special Olympics Bowling League Celebrates With Annual Banquet At Lions' Den
For the past 22 years, a group of Physically and Emotionally Challenged individuals have enjoyed participating in a Tuesday Night bowling league. Their story touches the heart of every local resident. For More>>>>

CLUB OPTIMISTE DE LA VALLEE Holds Annual Bike Rodeo
The CLUB OPTIMISTE DE LA VALLEE held its annual bike rodeo on Saturday, May 13 at Neil's Independent Grocers. This is not only a popular event for the children, it is something that may save their life. For More>>>>

M&M MEAT SHOPS Hosts 18th Annual Charity BBQ Day For Crohn's & Colitis
The largest crowd ever turned out for the 18th Annual M&M MEAT SHOPS Annual Charity BBQ Day in Val Caron. For More>>>>

Chico's Bowl Hosts Junior National Bowling Championships
Junior bowlers range in age from 11 to 13. The Nationals brought teams from British Columbia, Alberta, Saskatchewan, Manitoba, Quebec, Newfoundland, Southern Ontario and Northern Ontario to Chico's Bowl. For More>>>>

First Annual Antique Outboard Motor Show Held In Valley East
Al Lockhart belongs to the Antique Outboard Motor Club Inc., which has more than 2600 members worldwide. He is also a member of the 250 strong Maple Leaf Chapter out of Toronto, which is a division of the AOMCI. He and the other six members who live in the Greater Sudbury Area all have a passion for collecting vintage outboards of all makes. For More>>>>

Next Valley Community Theatre Production Opens Up On May 27
It's called, 'Intimate & Interactive". The show will be held on Friday, May 26, 2006 and Saturday, May 27, 2006. Both shows will begin at 8:00 p.m. and will be held at the Howard Armstrong Recreation Centre on Elmview Drive. Tickets are only $10 each and light refreshments will be served. For More>>>>

Cercle Missionnaire De La Vallee Is Making A Huge Difference In Haiti
Georgette Bergeron and her 160 volunteers ship out about 120 tons of food and supplies every year to Haiti. Their entire operation depends on donations and support from local residents. They operate out of the old Public Works Building on Desmarais Road. For More>>>>

Graduation Parties and Prom Nights Can Be Wonderful Events In The Life Of A Young Person
The Sudbury District Health Unit Grad Turkey Program is aimed at helping protect young people from terrible mistakes on Graduation Night. For More>>>>

Share Your Heart! Share Your Home! Become A Family Home Provider With CLGS
There are many individuals with a developmental challenge capable of thriving in a home setting. There are also many sensitive and caring families, couples and individuals within our community who would happily welcome the opportunity to share their hearts and their homes. For More>>>>
| | |
| --- | --- |
| A Full-Size Online Living History Book About The Community of Valley East | |
For The Political Section

For The Business Section


For The full Valley East Community Web Site go to www.valleyeasttoday.ca
If you have time to relax for a while, make sure you visit the following web site. It is one of the most amazing web sites I have ever come across.
www.azildalions.ca