WELCOME TO PAGE TWO
TUESDAY, OCTOBER 3, 2006
"The Golden Windows..."

Editorial by Robert Kirwan

I consider myself to be a pretty lucky person. In my role as the main writer for The Vision Paper, I get to meet a lot of wonderful people of all ages from all walks of life in Valley East . My responsibilities as the marketing director of the Hanmer Valley Shopping Centre also afford me many opportunities to encounter local residents who are actively involved with the churches, sports organizations and service groups.

However, perhaps because of the 28 years I spent as a classroom teacher, I always enjoy getting into the schools where I can talk to young boys and girls who have so many questions about the exciting, yet unpredictable future that lies ahead of them.

One boy I met recently spoke about how he felt about living in Valley East . " Sudbury is such a terrible place to grow up. I can't wait to move away from this dump and live in Southern Ontario . Everything is big and modern down there. Life must be wonderful in the big city.

I sat down with the young lad and told him that I understood how he felt. "What you are feeling is quite normal. Even adults often think that things would be better in other circumstances. We are always looking for better jobs, better houses, better places to vacation, etc. A lot of people think that Sudbury is a dump, and not a place where they want to spend the rest of their life."

I then told him a little story called, "The Golden Windows".

There was once a young boy living on a farm which seemed like it was so far away from everywhere. He needed to get up before sunrise every morning to start his chores and then go out again later to do the evening ones. During sunrise he would take a break and climb up on the fence so in the distance he could see the house with golden windows. He thought how great it would be to live there and his mind would wander to imagine the modern equipment and appliances that might exist in the house.

"If they can afford golden windows, then they must have other nice things too." He promised himself that some day he would go there and see this wonderful place for himself.

Then one morning his father told him to stay home and his father would do the chores. Knowing that this was his chance, he packed a sandwich and headed across the field towards the house with the golden windows.

As the afternoon went on, he began to realize how he misjudged the distance, but something else was also very wrong. As he approached the house, he saw no golden windows, but instead a place with a broken down fence. He went to the tattered screen door and knocked. A boy very close to his own age opened the door.

He asked him if he has seen the house with the golden windows. The boy said, "Sure, I know." and invited him to sit on the porch. As he sat there, he looked back from where he just came where the sunset turned the windows on his own home to Gold.

And so, I said to the young boy I was speaking to that day, and I say to all of my readers, regardless of your age or personal circumstance, what appears in life to be "golden" is sometimes just an illusion. You may not realize it, but there are a lot of things about living in the Sudbury area, and Valley East in particular, that people in other places would love. To them, you are the lucky ones. You have everything they are looking for - all you have to do is look at things the right way.

In the story, the first boy saw the sun reflecting on the distant windows each morning. To him, that was the place where all the riches lie. To the other boy, who saw the sun reflecting on the first boy's windows as the sun set in the evening that was where the riches must surely lie. It's all a matter of perception.

I told the young boy that he will soon have his chance to discover for himself what lies outside this region. However, all I asked of him was that he would every once in a while look back to where he was coming from and see the golden windows that we have right here in Valley East .

Have a good week!


ROBERT KIRWAN'S FOOD FOR THOUGHT
For a complete selection of stories and editorials that will help you to reflect upon life's priorities, inspiring you to take on the daily challenges you face very day...

Monique Laderoute Narrowly Escapes From War-Ravaged Lebanon - Now It Is Time To Start All Over Again From Scratch But She Needs Help....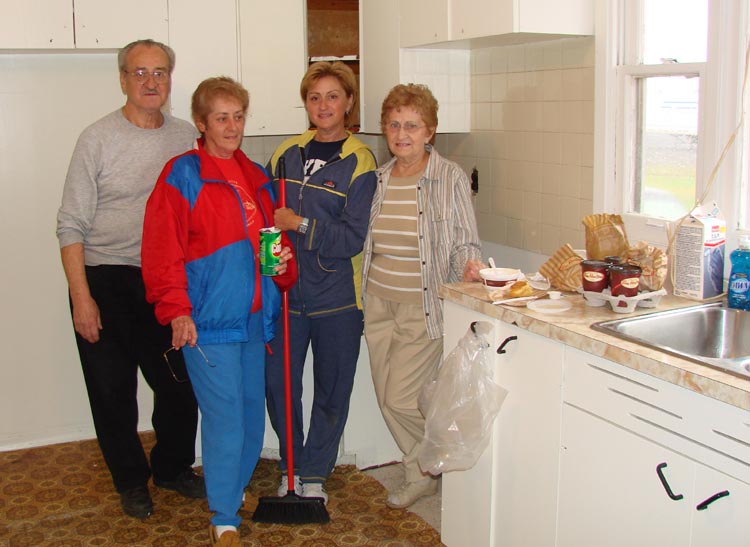 After spending the past 14 years living in Lebanon with her husband, Sam Zoghbi, Monique Laderoute, second from the right in the above photo, seemed to have it made. She and Sam had a great life. He was doing very well in the restaurant business and she was developing a solid reputation as a professional interior designer. And then around the middle of July 2006, their world was turned upside down when Israel invaded Lebanon and Monique was forced to flee from her home near Beirut and seek evacuation back to Canada.
With their assets frozen in Lebanon, Monique and her two teenaged boys were only able to bring one suitcase each out of the country. The Laderoute's were able to secure space with 200 others on a luxury casino yacht and eventually made it back to Valley East. "I didn't even have enough money to make a phone call from the bus station," recalls Monique. "But even though I have nothing and I have to start out all over again on welfare with an empty apartment, I am so grateful to have escaped with my sons. I'm back home now, and I will never leave again."
Monique, who was born and raised in Valley East, is the daughter of Ron and Susan Laderoute. Ron is on the far left in the photo and Susan is on the far right. Her aunt Jean Somers, second from the left, was described by Monique as "my lifeline".
Monique's husband remained back in Lebanon to protect their property. If all goes well, he should be joining his family in Valley East within a couple of months. In the meantime, the Laderoute's are in dire straights and are turning to the kind people of Valley East for help.
Monique is looking for a job as an administrative assistant, executive secretary, human resources officer, or other similar positions. Thanks to Val and Violet Mazzuca, they now have a rental home in Hanmer, close to family and friends, but they have absolutely nothing to put in the house and are looking for a helping hand. This is where the true Valley Spirit is expected to come forward and help put them back on their feet.
An open house is planned for Sunday, October 15, 2006 from 12:30 p.m. to 4:00 p.m. at the St. Jacques Parish Hall. If you have donations of new household items such as bedding, utensils, kitchen and bathroom items, etc. they would be greatly appreciated.
All are welcome to the open house, including family, friends and caring individuals. Please join the Laderoute's for coffee and a bite to eat as Monique shares her experiences with you. There will be a door prize. Any support would be greatly appreciated. If you require more information please contact Jean Somers at 969-2304.

Neil's Independent Grocer And President's Choice Children's Charity Provides Financial Assistance to The Poirier Family of Hanmer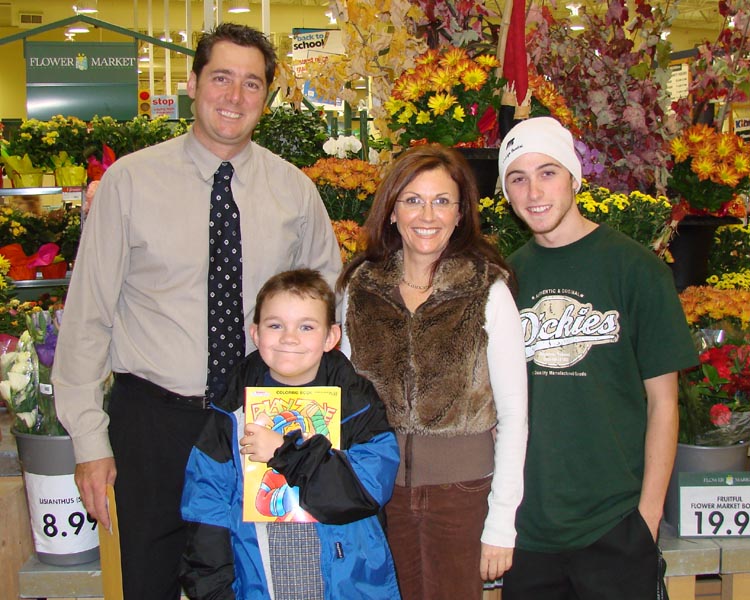 The President's Choice Children's Charity is dedicated to helping children who are physically or developmentally challenged.

We provide direct financial assistance in the purchase of mobility equipment, environmental modifications, physical therapy and more in an effort to remove some of the obstacles that make everyday living extremely difficult for these children.

Loblaws founded the charity in 1989 and has since raised in excess of $15,000,000 and helped over 3,500 families across Canada. Anyone with a child or young adult under the age of 25 with a physical or developmental disability can apply for financial assistance through this program. Just stop by Neil's Independent Grocers and talk to Neil for more information.

This past year, the staff at Neil's Independent Grocers held barbecues, walkathons, skateathons, draws, fish ponds and cake tables, raising over $10,000 for the President's Choice Charity. In recognition for its efforts, two local families received grants through the program.

In the photo above, Neil Lindenbach, owner of Neil's Independent Grocers, is shown with the Poirier Family of Hanmer. Claire Poirier is a single mother, raising three children. She is in the photo with two of her children: Francois (18), who attends Grade 12 at Ecole Secondaire Hanmer, and Isaac (10). Anik (6) was at home at the time of the photo.

For Claire, who was born and raised in Valley East, being the mother of an autistic child, Isaac, means being always unsure of the future. "Each day is a new day and you just don't know what it will bring. Isaac attends school at Ste. Marie in Azilda because it is the only school I know of that offers a special classroom for autistic children. He is extremely hyper-sensitive and takes a long time to adjust to changes in his routine, so I find that being in this class is good for him at this time."

It is quite difficult raising three children as a single mom in the first place, but having an autistic child brings with it even more challenges. Claire holds down two part-time jobs as a nurse so that she can take more time off if needed to attend to Isaac's requirements or to catch up on some much-needed rest.

"Francois is a great help to me," Claire declared. "I also need to hire help from time to time."

The grant from the President's Choice Children's Charity will be used to erect a fence around Claire's property in order to ensure that Isaac remains in the yard and doesn't venture off without telling anyone where he is going. This has always been a safety concern for the Poirier family and having the fence is going to make it much easier to allow Isaac to enjoy playing in the yard.

Neil is extremely proud of his staff who are always willing to take part in fund-raising ventures to assist in the ultimate goal of raising money for this worthwhile charity. "To have two grants in the same year is really quite remarkable and will certainly help motivate my staff even more."


Fall and Winter Programming
The Art Gallery of Sudbury on John Street has several very interesting programs for children and adults starting up this fall. Go to the main web site through the above link to see if there is anything of interest that you may wish to take part in and contact the administration at 675-4871.

A Variety of Community Notes

1.

All Peoples United Church invites you to "BYON" – bring your own needles.

APUC will provide the wool.

Kimm and Vanessa will provide some basic patterns.

You bring your needles and some enthusiam.

BYON evenings are held weekly on Mondays from 7 to 8 pm at All Peoples United Church – side door entrance – corner of Jean and Antwerp – FREE! Call Vanessa at 675-2738.

2.

All Peoples United Church invites everyone to our FREE Lectionary-Based Interdenominational Bible Study on Mondays from 10 to 11 am. Our leader for this session is Judith Traulsen. Come to All Peoples United Church – side door entrance – corner of Jean and Antwerp.

Call Jan at 522-5126.

3.

Chaplaincy / Ministry to Long Term Care Facilities welcomes your donations of small vases and small clean stuffed toys for our "Random Act of Flowers" program for seniors. We also can use unusual mugs – beautiful or silly. Call Jan at 522-5126.

4.

The Elgin St. Mission welcomes donations of sandwiches and fresh veggies. If you have fresh food left over from a lunch or suppertime event – why not give it to the Mission, located in the Samaritan Centre at 344 Elgin St.? Call 673-2163.

Good Neighbours Food Bank Is Gearing Up For Another Busy Winter Season Of Helping Those In Need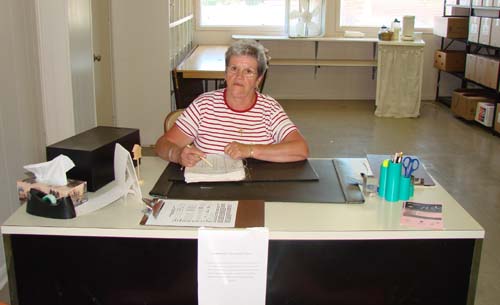 Reina Bazinet is shown at the Registration Desk at the Good Neighbours Food Bank which can be found upstairs at the Fire Hall on Lafontaine Street in Hanmer.
Mr. Pat Jobin originally started the Food Bank in February of 1994. With the assistance of the Sudbury Food Bank Association and under the umbrella of The Good Neighbours Foundation of Ontario, Pat was able to acquire financial support with charitable funds generated at Bingo 1 in Sudbury. After approaching the Mayor of Valley East, the local council granted her the use of the present facility.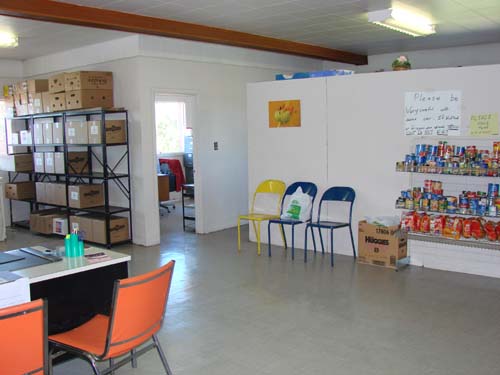 Inspired by Pat's enthusiasm and dedication a volunteer group of helpers was organized. These volunteer shared in Pat's vision of having a local food bank for residents whose circumstances found them in need of emergency assistance. Today that group of volunteers continues to provide a much needed service and it is not uncommon for them to be called during off hours to provide emergency assistance or perform required tasks. The volunteers also strive to bring awareness and involvement of the food bank into the community.
Many local and area merchants, professionals, organizations and private individuals have over the years donated and provided assistance to the Food Bank which encourages and motivates the dedicated group at Good Neighbours to continue to serve the community.
Today, Mrs. Anne Unwin, who has been involved with the Good Neighbours Food Bank since it opened, is the person who has been the leader of the Board of Directors and who leads the team of dedicated volunteers. The Good Neighbours Food Bank works hand-in-hand with the other food banks in the area to make sure that no one goes hungry in Valley East. Please go to the following links to find out more about our wonderful food banks.
| | |
| --- | --- |
| | Food Banks of Valley East |
St. Vincent de Paul
Good Neighbours

Open Monday to Friday
9:30 a.m. to 4:00 p.m.
For general sales
Open the last two Wednesdays of every month
from 10 a.m. to 2 p.m.
For Food Bank and Clothing
Food Bank
During the 3rd Week of every month
9:30 a.m. to 3:00 p.m.
Good Neighbours Food Bank no longer distributes clothing. You will have to go to St. Vincent for clothing.
Emergency Service Available
Emergency Service is available by calling the phone number below.
Located on Highway 69N at the top of the hill in Val Caron
Located on Lafontaine Street in Hanmer. Enter the street off Hwy 69N
Provides services to residents living in the 897- exchange
Provides services to residents living in the 969- exchange
Phone Number
897-1212
Fax: 897-3338
Phone Number
566-1283

Check Out The Picks of the Month For October At Masciangelo Motors - Great Deals Can Be Found Throughout The Entire Lot

One of the most popular features of the Masciangelo Motors web site has been the Pick of the Month section.

Each month, Ron, Jeff, Tim and Jen select one vehicle they have on the lot that they feel is one of the best on the lot.

According to Jeff, "It seems as if a lot of people go to that part of the web site because once we list a vehicle as a Pick of the Month, it is usually sold before the end of that month."

If you would like to check out the picks for September, simply follow this link: Pick of the Month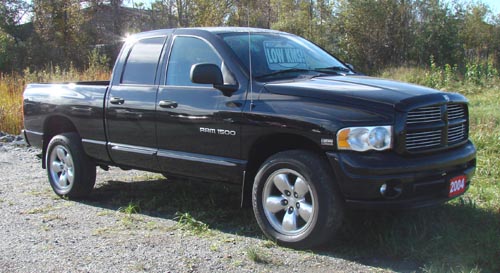 For example, Jeff's pick for the month of October is this great looking 2004 DODGE RAM HEMI 4x4 with crew cab, 40,000 kilometers and fully loaded. It has had only one owner!
Ron & Jeff continue to search out the auctions, both in person and on-line to bring in the best deals possible. This means that many vehicles are on and off the lot before you know it, so many people in the market for pre-owned vehicles have developed the habit of dropping in for a look on a regular basis.
You can still discuss the type of car or truck you would like to purchase and have Ron & Jeff search out the continent for exactly what you are looking for. The "Pick of the Month" section on their web site also gives you an excellent overview of the kinds of vehicles you can find on the lot.
If you want a close up look at the latest on the lot, just drop in and see Ron, Jeff, Tim or Jennifer. Better yet, go the link below and take a tour right from your computer.
You can find out much more by visiting the Masciangelo Motors web site at www.masciangelomotors.com
Nicole Brunet-Dandeno of Beswick Denture Clinic Invites You To Drop By During Denture Awareness Month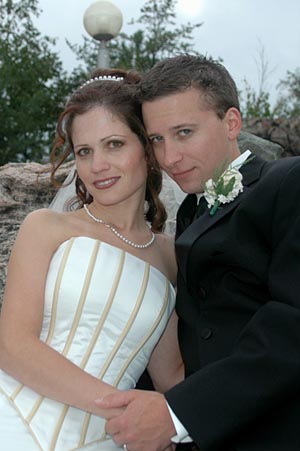 Congratulations go out to Nicole BRUNET-DANDENO and her new husband, John-David, who were married on September 2, 2006.
After a honeymoon in France, the couple is now enjoying the next chapter of their lives in Valley East.
We want all patients of Beswick Denture Clinic to know that even though the name has changed to Mrs. Nicole Brunet-Dandeno, our "Nicky" is still the same professional Denturist that we have all come to know and love.
We all wish Nicole and John-David many, many happy years of wedded bliss.
If you would like to find out more about Beswick Denture Clinic or the Beswick Footcare Clinic, simply go to their comprehensive web site at the following link>>>>
Denture Awareness Month

October is Denture Awareness Month, and Beswick Denture Clinic is inviting all denture-wearers to drop in for a free consultation and mini-cleaning session all month long.
In addition, Nicole Brunet-Dandeno and Doug Beswick will be arranging for a special display booth with plenty of information about dentures and the services they provide through their practice. You can visit the display outside the Beswick Denture Offices during the entire month of October.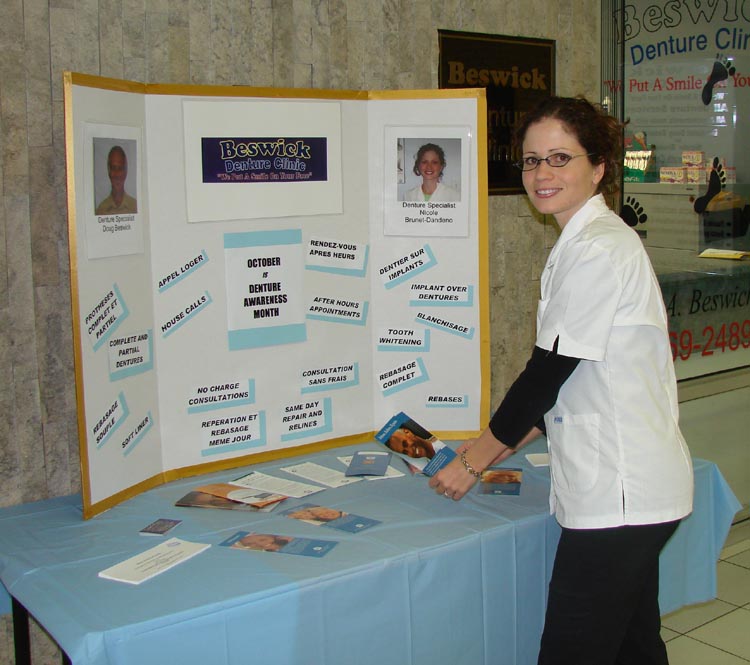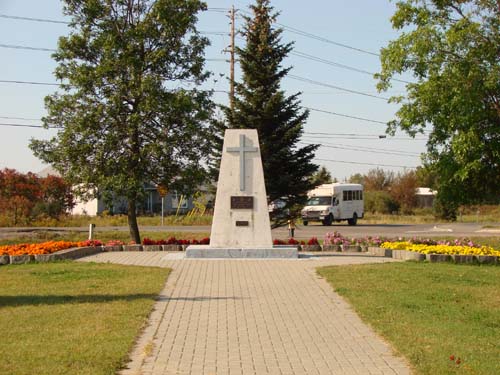 KOREA WAR VETERANS
The Korea Veterans Unit 19 Sudbury is always looking for New Members and if there is anyone out there who served in the Korean War we would be glad to welcome them into the Unit. Anyone interested can call Harold Payne at 969-4367 or George Haskin at geeoh@sympatico.ca 522-0562.
The next meeting of the Korea Veterans is on 27 Sep 06 at Branch 76 Royal Canadian Legion 1553 Weller St Sudbury
ON THE LIGHTER SIDE

Quick Fixes....

One weekend my friend, a nurse, was looking after her six-year-old nephew when he fell off a playground slide and hit his head. Worried that he might have a concussion, she checked him all night. Every hour, she'd gently shake him and ask, "What's your name?"

Soon, he began moaning in protest each time she entered the room. When she went in at 5 A.M., she found something white on his forehead. Leaning close, she saw a crayon-scrawled message taped to his forehead. It read, "My name is Daniel."

-----------
The bank manager noticed the new clerk was not very good at counting money and adding up figures.
"Where did you get your finance education?" he asked.
"Yale," replied the lad.
"And what's your name?" barked the manager.
"Yim Yohnston," he replied.

-----------
Our minister announced that the cost to attend a special church social event would be six dollars per person. "However, if you're over 65," he said, " the price will be only $5.50."
From the back of the congregation, a woman's voice rang out, "Do you
really think I'd give you that information for only 50 cents?"

=====================================
One may have good eyes and yet see nothing.
-- Italian Proverb

Job Applicant...

An applicant was filling out a job application. When he came to the question, "Have you ever been arrested?" he wrote, "No."

The next question, intended for people who had answered in the affirmative to the previous question, was "Why?"

The applicant answered it anyway: "Never got caught."

PONDER THESE!!!!!

Who was the first person to look at a cow and say, "I think I'll
squeeze these dangly things here, and drink whatever comes out?"

Why do toasters always have a setting that burns the toast to a
horrible crisp, which no decent human being would eat?

Why is there a light in the fridge and not in the freezer?

If Jimmy cracks corn and no one cares, why is there a song about him?

If the professor on Gilligan's Island can make a radio out of
coconut, why can't he fix a hole in a boat?

Why does Goofy stand erect while Pluto remains on all fours? They're
both dogs!

What do you call male ballerinas?

If corn oil is made from corn, and vegetable oil is made from
vegetables, then what is baby oil made from?

If electricity comes from electrons, does morality come from morons?

Is Disney World the only people trap operated by a mouse?

Why do the Alphabet song and Twinkle, Twinkle Little Star have the
same tune?

Stop singing and read on . . . . . .. . . . .

Do illiterate people get the full effect of Alphabet Soup?

Did you ever notice that when you blow in a dog's face, he gets mad at
you, but when you take him on a car ride, he sticks his head out the window?

Long Distance Calling???
? Interested in Voice Over Internet Technology??? Need Your Computer Repaired???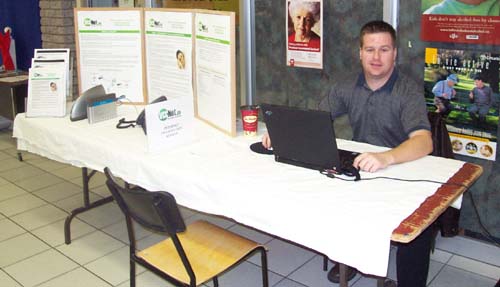 Edgar Lajambe, is a 30-year old life-long resident of Hanmer. His passion for computers and information technology goes back to a high school co-op placement he had in 1994 with a company called the AMS Group. When he graduated from St. Charles College he discovered that there were a lot of people who kept coming to him for computer repairs and consulting, so he formed his own company, Valley Computers & Consulting.

When VoIP (Voice over Internet Technology) was first introduced to Sudbury , Edgar saw this as the future of communication and immediately jumped on board; studying everything there is to know about the technology. As a result, he formed another division of his company, called VCCNet.ca Internet Solutions, which deals with long-distance discount calling and the use of the internet for communication purposes.

Edgar has joined forces with another locally owned firm, Infocom Canada Business Consultants Inc. which operates Valley East Today, a marketing & public relations company which publishes a community web site and weekly online news magazine.

"The cost of long distance calling has always been a detriment to people living in the north," Edgar explained when asked why he feels so strongly about the communication services he now provides to the community. "I know so many of my friends and acquaintances who have children or parents living in other parts of Ontario . They would love the chance to talk to them more often by phone, but long distance charges really cut into the budget; especially for seniors who would love to talk to grandchildren, or parents who have children away at university or college."

"Once people find out how easy it is to switch over to my plan, and they realize that there is absolutely no risk or long-term commitment – that all they get is the freedom to talk on the phone to anyone in Ontario for as long as they want for one low price of $15.95 a month, they are sold," Edgar went on.

Edgar also repairs and programs individual computers for both commercial and residential use. You can drop in and see him at his office in the Hanmer Valley Shopping Centre, or he will come directly to your home or office.

Whatever you are looking for, give Edgar a call at 670-4039 or you can go to his web site at www.vccnet.ca and see how he can meet your needs.

PREPARING FOR THE 2006 MUNICIPAL ELECTION
The next municipal election for the City of Greater Sudbury will take place on Tuesday, November 13, 2006.

A lot of things happen during a four-year term. Some are good and some are bad. However, every decision that is made by our municipal council has a direct impact on the lives of people living in Valley East and Capreol.

It hoped that anyone who is serious about standing for election will declare his/her intention as soon as possible so that we have enough time to fully understand their individual platforms.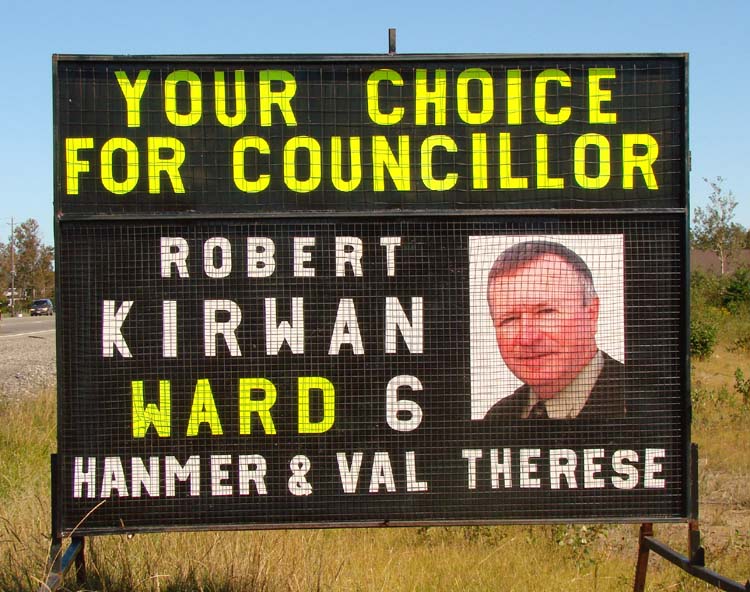 HANMER VALLEY SHOPPING CENTRE
PHONE: (705) 524-7006
www.kirwan.ca
| | |
| --- | --- |
| | The November 2006 Municipal Election Will Be All About Electing People With Strong Leadership Skills |
When it comes to casting your vote in the November 2006 Municipal Election, your choice will pretty much depend on one thing and one thing only.

Who do you feel among the possible candidates possesses the strongest leadership skills and therefore, who do you feel is best equipped to do the job of representing you at City Hall?

For example, anyone can make promises, but not everyone is capable of delivering on those promises. Sometimes it requires a great deal of strategic thinking and positioning in order to accomplish specific goals.

Let's take, for example, the issue of the Barrydowne Extension.

A large number of residents of Ward 6 - Hanmer & Val Therese, as well as the residents of Val Caron, Blezard Valley, McCrea Heights and Capreol also feel that a Barrydowne Extension highway would be beneficial to the northern communities in the City of Greater Sudbury. It is easy for a Councillor to stand behind this movement and demand that the rest of Council approve such a major highway construction project.

However, a strong leader will look at the end goal and then work backwards to see what has to be put in place in order to ensure the Barrydowne Extension becomes a reality.

When you work from the 'End Goal' backwards, you see that in order to be driving on a beautiful new four-lane highway linking Valley East to New Sudbury, the following will have to exist:
We will need to increase our population by about 5000 people in order to justify the construction of a new highway to accommodate the additional traffic load on our existing Hwy. 69N route.

In other words, it doesn't matter how many signatures you get on a petition, nor does it matter how passionate a plea you make for the construction of the highway, the existing traffic on Hwy 69 North heading into Sudbury is not high enough to warrant the spending of money on a new highway at the other end of the community. There are times of the day when the traffic is heavy, but that traffic load must be consistent all day long in order to convince the federal and provincial governments to help fund the Barrydowne Extension.
In order to make the Barrydowne Extension highway a reality, the following will have to take place:
We will need to have several senior apartment buildings and at least one senior residential complex established in Valley East so that seniors will be able to move out of their single family dwellings and open up their houses for purchase by new families who cannot afford to buy homes in the $300,000 range;

We will need to facilitate the construction of approximately 300 - 400 new houses EACH year for the next five years This is a lot of construction, but if we assume an occupancy of 3 people per new home, this is only 900 to 1200 people per year. This means that we must ensure that there are permits for approximately 1500 to 2000 new houses pre-approved through the planning department;

We will require many additional licensed day-care spaces for the young families who will be anticipated to purchase these new homes. Without adequate day-care spaces young families will not even consider locating in this part of the region. The licensed day-care spaces are needed in order for young families to receive subsidies to help pay for this "necessity of life" for the 21st Century family;

We will need to increase the water & sewer infrastructure in Ward 6 in order to meet the new standards for home construction. Right now, the infrastructure is restricting new development in some of the older areas of the community of Hanmer. There is abundant space for development, but the cost is prohibitive at this point until we can increase the size of the "pipes in the ground";

We will need to promote the Valley East Industrial Park in order to bring new industry and jobs into the Valley East area. People like to live close to where they work. The Valley East Industrial Park has a lot of space available. As a council we should be encouraging development in this Park because of its central proximity to all other sectors of the City of Greater Sudbury;

We will need to promote the industrial development of the East side of the City of Greater Sudbury in order to create more jobs in that part of the City so that people will be able to use the Barrydowne Extension to get to work. This will create a further demand for housing in the Valley and will place added pressure upon Council to approve the construction of the new highway;

We will need to convince the rest of City Council that the Barrydowne Extension will eliminate the need for a Maley Drive extension by virtually removing all traffic from Valley East from Lasalle Blvd. If the Maley Drive Extension goes ahead as planned, it will take over $32 million to complete. That will place a huge drain on the road construction budget. The construction of the Barrydowne Extension may accomplish the same goal at a fraction of the cost.

We will need to enhance our neighbourhood playgrounds and major recreational facilities in order to attract new residents to Valley East. This is an absolute no-brainer.
So, as you can clearly see, getting the Barrydowne Extension is not as easy as simply trying to convince City Council to designate this project as a top priority among road construction plans for the region. It will require a whole new philosophy on the part of councillors with respect to where residential development should be promoted, and thus requires a belief that Valley East is the best place for this development.
In order to accomplish this big goal, all of the others must be done first. That will take leadership and strategic planning.
When you cast your ballot on November 13, 2006, you will have to select the person who you feel has the necessary skills to make all of the above happen in order to accomplish your major objectives.
This applies to all major decisions that impact upon the residents of Ward 6 - Hanmer & Val Therese. It is all a matter of leadership. That is the question this time around.
POOR LEADERSHIP LEADS TO POOR DECISIONS
Unfortunately, we can site too many examples of how the 'Poor Leadership' qualities of the City Council in general has lead to some pretty bad decisions during the past few years. Just recently for example:
Council has had a great deal of difficulty deciding on how to pay for the rock tunnel project in the South End of the City. They have reversed several decisions and it appears as if the rest of the ratepayers will be paying for this project for the next 40 years;

Council approved a construction project of $6 million for the Kingsway from Falconbridge Road to the By-Pass. Funding from the Provincial and Federal Government was obtained in the amount of $4 million for that project (based upon the fact that all three levels of government were to split the cost equally). Between the time of the approval and the time Council was to approve the final expenditure, the cost had risen to $8.4 million. In addition, staff decided to add enhancements to the project effectively raising the total cost to $13 million. Instead of sending staff back to the drawing board to find a way of completing the project on budget, Councillors approved the increased expenditure, thus accepting responsibility for $9 million of the cost of a project that was originally pegged at $6 million. To add insult to injury, only $1.1 million was budgeted for 2006, so the remainder will be paid for in the 2007 and 2008 budgets, meaning that if Robert Kirwan is elected, almost $8 million has already been spent out of the road budget for the next two years.

Council had to appoint a Community Solutions Team to survey the residents of the outlying area in order to find out why they are so dissatisfied with the current municipal government structure. With seven members of the current council living in those outlying areas, this was a blatant admission of poor leadership.

The list is endless. This is why I say that the "Leadership" issue is the most important one for the 2006 elections.
CITY OF GREATER SUDBURY
OFFICIAL ELECTION SITE

READERS MAY SUBMIT THEIR OWN COMMENTS ON THE UPCOMING MUNICIPAL ELECTION BY CLICKING ON THE EMAIL BUTTON BELOW

WELCOME TO PAGE TWO
TUESDAY, OCTOBER 3, 2006