WELCOME TO THE FRONT PAGE
TUESDAY, OCTOBER 3, 2006
Valley East's John Rodriguez Takes Aim At Mayor's Position As Municipal Election Looms Large In The Minds Of Local Residents

November 13, 2006 will be a very important day in the history of the City of Greater Sudbury. On that day, residents will head to the polls to elect a Municipal Council that will change the future of this region. The next four years will be seen as a tremendous 'transition period' which will either boost the City of Greater Sudbury to a whole new level as a city or it will result in a further deterioration of the amalgamation process which has left us in a state of confusion and uncertainty.

John Rodriguez is considered a front-runner and perhaps the early favourite for the position of Mayor. Incumbent, David Courtemanche and Lynne Reynolds, a current member of city council, are the other two who are in the thick of the race. Four others, David Chevrier, Marc Crockford, Ed Pokonzie and David Popescu are official candidates for the Mayor's spot, but none of these have much of a chance of winning the election.

Because of the tremendous criticism the current council has received in the past couple of years, and John Rodriguez represents himself as a credible candidate from the "outlying communities", John, who resides in Ward 6, is being looked upon as the one person who can "make the amalgamation" work both for the former City of Sudbury and the "outlying communities" such as Valley East, Rayside Balfour, Walden, and Capreol. For this reason, he has an excellent chance of being sworn in as Mayor when the ballots are counted.

John had these words to say to the citizens of Greater Sudbury:

I have given considerable thought in making my decision to run for Mayor. I would like to share these thoughts with you.

In the 1970's this community was known as a "mining town." INCO began a huge downsizing that troubled all of us. The spirit of this community rose to this challenge and turned it into opportunity. Sudbury became more than a mining town. It became a centre of excellence in mining technology and research. The efforts of many Sudburians turned a barren landscape into a "greening" phenomenon, winning international recognition and awards. The community surged forward in its rightful role as the Northeastern Ontario Regional Centre for Health, Education and Commerce.

Today this community stands at another crossroad. The mining industry is experiencing another change with large mergers of foreign investment in our community. We have a choice; to remain as we are while accepting the status quo dictated by market influences or to build on our strengths and let our voice be heard to become an even Greater City of Sudbury .

I have served this community as Federal MP for 19 years. I know how the "systems work". In this role I have demonstrated leadership and gotten results that have benefited this community.

I understand that the City of Greater Sudbury is made up of many communities, rich in history and culture. Each community contributes substantially to the economic and social fabric of the whole city.

I believe that the role of an effective Mayor is about unifying people to make the right decisions for the right reasons while recognizing and respecting their differences.

Right decisions result in:

Accountable spending; Fair taxes

Business growth; Job growth,

Fair representation; Respect for Issues

Experience, Leadership and Unity are required to achieve right decisions.

I ask for your support on November 13. With your vote I am committed to make Sudbury an even greater city.

Sincerely,

John Rodriguez




VISIT THE
VALLEY
EAST
TODAY
COMMUNITY
WEB SITE


COMMUNITY
SECTION

Welcome
Our Spirit
Our Schools
Our Churches
Our Food Banks
Our Library
Our Cemetery
Our Playgrounds
Our Sports
Our Recreation
Our People
Sports Complex
Youth Centre
Organizations

MUNICIPAL
SECTION

Election 2006
City of Sudbury
Fire Services
Animal Shelter
Hospital

REFERENCE
SECTION

Local Media

The Vision Paper
Toronto Star
TSN Sports
Weather Network
Canada 411
Yellow Pages
Horoscopes
Lotto 649
Student Page
After The Whistle
Ponds & Gardens
Grotto Sudbury
Yahoo Search
Google Canada

Corporate Web Sites
Worth Visiting
Beswick Denture Clinic
Heatwave Tanning Salon
Fantastic Floors
Independent Energy Serv.
Hanson Family Dentistry
Valley View Cleaners
Sole Mates Footwear
Ron Gladu Photos
VCCNet
Masciangelo Motors

Infocom Canada
Valley East & Capreol Have Opportunity For Plenty of Influence At City Hall For The Next Four Years
All of the candidates for Municipal Council have now been registered and the election campaign should begin to heat up in the next couple of weeks. Of particular interest to the residents of Valley East are the candidates for Wards 5, 6 and 7. In addition, as you can see from the article above, Ward 6 is also home to one of the front-running candidates for the position of Mayor. The breakdown of candidates for the Ward Councillors is as follows:
WARD 5
Val Caron, Blezard Valley, McRea Heights & Cambrian Heights
WARD 6
Hanmer &
Val Therese
WARD 7
Capreol &
Garson
Ron Dupuis
Louise Portelance
Yvan Robert
Robert Kirwan
Henri Lagrandeur
Andre Rivest
Dave Kilgour
Russ Thompson
At the time of publication of this issue of Valley East Today, only John Rodriguez and Robert Kirwan had provided the general public with any information about their respective positions on issues of importance to local residents. Robert Kirwan, the publisher of Valley East Today has a comprehensive web site which can be found at www.kirwan.ca and he has been on the cover of The Vision Paper on a total of twelve (12) occasions since announcing his intention to run in April. Several signs have been erected in the community, but for the most part, very little has been said by the other candidates. It is expected that information will be forthcoming very shortly.
SIGNS OF THE UPCOMING ELECTION
Over the next several weeks residents will be seeing signs like the above springing up all over the community. Because of the importance of these elections, Valley East Today urges all residents to actively seek out information on all of the candidates prior to November 13. A name means nothing unless you know what that name stands for. Anyone can register for the election and put up a bunch of signs. However, since the 2006 Municipal Election is going to MAKE OR BREAK the City of Greater Sudbury, we urge everyone to take advantage of every opportunity to find out as much as you can about all of your candidates before the election. Then, make sure you take a half hour out of your day and VOTE for the best person for the job.
Robert Kirwan Makes It Very Clear...
"I Am Not A Politician!
I'm A Civil Advocate Working For The People Who Live In Ward 6, Hanmer & Val Therese"

Candidate for Councillor
Ward 6: Hanmer & Val Therese
When the people living in Ward 6, Hanmer and Val Therese cast their votes for Councillor on November 13, 2006 , they will be making a very serious decision about the kind of person they want to represent their best interests at City Hall for the next four years. There won't be much difference between the candidates with respect to their positions on the major issues facing this part of the City of Greater Sudbury . All of the candidates are going to say that they will work hard to get improved roads; lower taxes; better snowplowing; a new highway coming from New Sudbury to Hanmer; a referendum on de-amalgamation to determine the true will of the people; better police protection; better transit services to subdivisions; more development; more day care; more senior apartments; better recreational facilities and playgrounds; and the list goes on.

WHO HAS THE BEST CHANCE OF GETTING THE JOB DONE? is the big question that will be on the minds of all voters come November 13. People don't care who has the most signs posted on lawns. They don't care who comes around knocking at their door asking for support. They want someone who will actually be able to go to City Hall and make things happen. They want someone who can "walk the talk" and represent them well on City Council.

THE PEOPLE OF WARD 6 NEED A STRONG AND DEVOTED CIVIL ADVOCATE! That's right! We don't need another politician at City Hall. We don't want someone who is going to make promises during the election and then be unable to deliver on those promises for the next four years. We need someone who is going to be our community representative and our collective voice at City Hall. We need someone who will have the ability to defend our rights when it comes to municipal services. We need someone we can turn to in our time of need to push the right buttons and work hand-in-hand with other councilors to get what is best for the people of Ward 6, Hanmer & Val Therese.

ROBERT KIRWAN IS THE KIND OF CIVIL ADVOCATE WE CAN COUNT ON FOR RESULTS! "I am not a politician. I did not decide to put my name forward for the position of Councillor of Ward 6, Hanmer & Val Therese so that I could be seen at ribbon cutting ceremonies, on television, or attending other "feel-good" events. I put my name forward for the position of Councillor of Ward 6, Hanmer & Val Therese because I have devoted the better part of my life to the promotion and betterment of Valley East for the past 32 years. I taught school here. I am the main writer for The Vision Paper. I publish a community web site and weekly online News Magazine called Valley East Today which can be found at www.valleyeasttoday.ca. I have been involved in just about all sports and community organizations as my wife and I raised our three sons in Val Therese. I am the marketing manager for the Hanmer Valley Shopping Centre and in that role I work closely with schools, churches, food banks, organizations. sports groups and cultural groups to help them provide a better quality of life for local residents."

"I AM ASKING FOR YOUR VOTE on November 13, 2006 so that I can occupy a position of influence as a Councillor at City Hall and continue my work on your behalf as a CIVIL ADVOCATE for the people of Ward 6, Hanmer & Val Therese. Put me at the table with the rest of the City Councillors and I guarantee I will make a positive and significance difference in the future of this great town."

Confederation Secondary School Chargers Football Team Playing For First Place on Wednesday, Oct. 4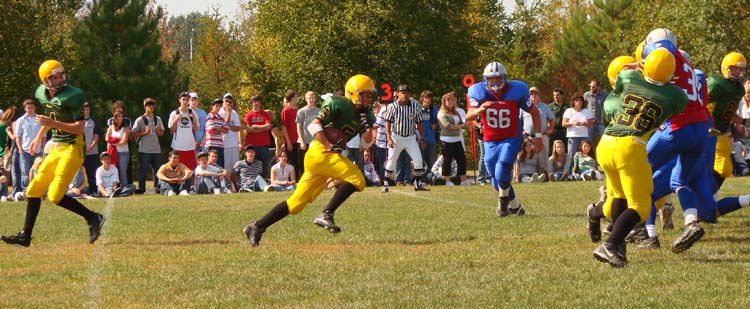 Three games into the regular season of play, the Confederation Secondary School Football Chargers find themselves in a three way tie for first place with Loellen and St. Benedict. Since they will not be playing St. Benedict in the regular season, the game on Wednesday, October 4 at 3:30 p.m. may very well be the biggest game of the season for the Chargers. The winner may eventually come out as league champs. The players would love to see as many people from the community at the field to cheer them on as well. Football is not something that we get much of a chance to see in Valley East, but it would be extremely nice if we gave our boys the kind of boost that they get in small towns in the United States.
The Chargers have been a powerhouse offensively during their first three games, outscoring their opposition by a score of 105 to 33. The downed Sudbury Secondary School, 34 to 0; Lasalle 35 to 12; and St. Charles, 36 to 21.
Loellen has outscored their opponents 88 to 20, so it should be some kind of game on Wednesday.
Of great interest in the game is the match-up against the two coaches. Loellen's Kevin Ellsworth was the coach at Confederation until he moved to Loellen two years ago, switching positions with the current coach, Brandon Dougan. The game preparation and strategic planning will undoubtedly be tremendous and the fans in attendance should be in for a real treat!
Game time is 3:30 p.m. at Confederation Secondary School. Don't miss it!
The complete schedule for the 2006 season for Confederation is as follows:
REGULAR SEASON

Friday, September 15
Confederation 34 - Sudbury Secondary 0
Friday, September 22
Confederation 35 - Lasalle 12
Friday, September 29
Confederation 36 - St. Charles 21
Wednesday, October 4
3:30 p.m. at Confederation against Loellen
Friday, October 13
3:30 p.m. at Confederation against Notre Dame
Wednesday, October 18
3:30 p.m. at Confederation against Lockerby

PLAYOFFS

Semi-Finals
October 25 to 28
The teams will be divided into two divisions for the playoffs with the top four in one division and the bottom four in another. Semi-Finals will be played between October 25 and 28 with the winners advancing to the finals of their respective divisions.
Finals
Friday, November 3
The two final games will be played at Queen's Athletic Field with the bottom four division meeting at 4:00 p.m. and the City Championship Game at 7:00 p.m.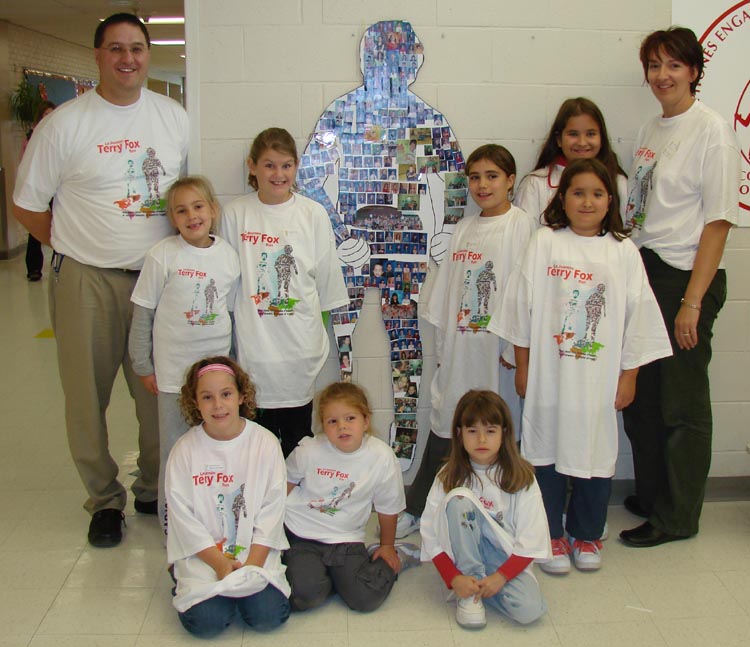 The students from Ecole Publique Foyer Jeunesse had a special treat on Wednesday, September 27. They all assembled outside the main entrance to take part in the school's 2nd Annual Terry Fox Walk to raise money for cancer research. Just prior to the walk, representatives from each of the divisions were chosen as the winner of a special T-Shirt. They all posed in front of the Terry Fox silhouette which contained small photos and class pictures of the students in the school. Grade 6 teacher, Dan Houle on the far left, and Principal, Lynn Desrosiers on the right, along with the classroom winners, put the final touches on the silhouette. Most of the 260 students in the school took part in the event. One of the classes was on a field trip and was unable to accompany the group.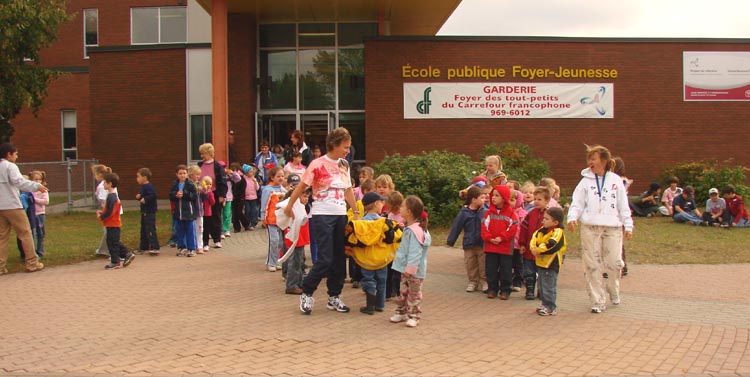 "The students really understand the message that everyone is touched in some way by cancer," Lynn stated. "When the teachers talked to their classes to prepare them for the Terry Fox Walk, most of the children knew someone in their family who had cancer."
In fact, the students took a letter home with them to explain to parents what they would be doing, and each parent was asked to fill out a sticker which stated, "I am walking for …..", filling in the name of someone in their family who had cancer or who died from cancer. Lynn stated that this helped emphasize how much cancer affects our lives.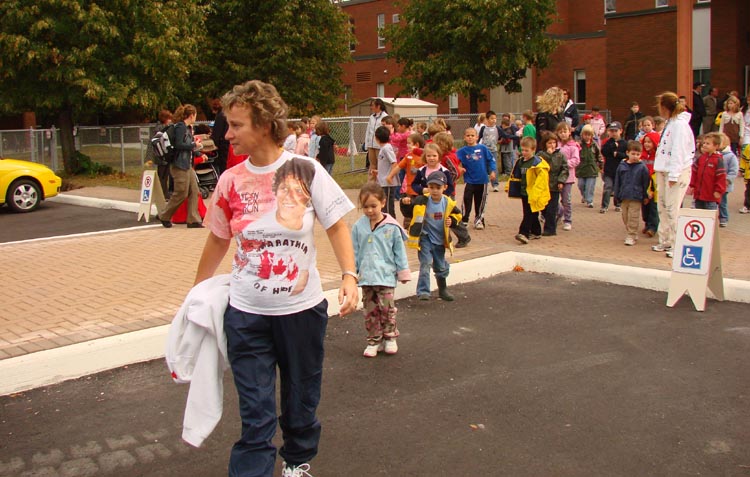 The Terry Fox School Run is more significant to Lynn Desrosiers than many others in this area simply because of the fact that she grew up in Thunder Bay and remembers when Terry Fox had to end his marathon of hope in that city. He left a lasting impression on this remarkable educator and she has been passing on the message to her students.





Now You Can Have Access To All Of The Stories and Articles That Were Published in Previous Issues Past Issues Of The Weekly Online News Magazine

by
Robert Kirwan: Publisher of Valley East Today

It gives us great pleasure to maintain a complete archive of previous issues of the Valley East Today Online News Magazine. We understand that there are times when you may have missed a week or would like to return to look over a previous article. Hopefully you will find this archive section useful and will share it with your friends. Everyone associated with Valley East Today is quite proud of the "Living History" we are creating and we know that it is providing a great deal of pleasure and enjoyment for people in the community. Thank you for spending some time with us today. If you have any comments, please do not hesitate to contact me at:
Inside Today's Issue...

Valley East's John Rodriguez Takes Aim At Mayor's Position As Municipal Election Looms Large In The Minds Of Local Residents
Valley East & Capreol Have Opportunity For Plenty of Influence At City Hall For The Next Four Years
Robert Kirwan Makes It Very Clear...
"I Am Not A Politician!
I'm A Civil Advocate Working For The People Who Live In Ward 6, Hanmer & Val Therese"
Confederation Secondary School Chargers Football Team Playing For First Place on Wednesday, Oct. 4
Ecole Publique Foyer-Jeunesse Holds 2nd Annual Terry Fox Run To Remember That Everyone Is Touched By Cancer
"The Golden Windows..." Editorial by Robert Kirwan
Monique Laderoute Narrowly Escapes From War-Ravaged Lebanon - Now It Is Time To Start All Over Again From Scratch But She Needs Help....
Neil's Independent Grocer And President's Choice Children's Charity Provides Financial Assistance to The Poirier Family of Hanmer
Good Neighbours Food Bank Is Gearing Up For Another Busy Winter Season Of Helping Those In Need
Check Out The Picks of the Month For October At Masciangelo Motors - Great Deals Can Be Found Throughout The Entire Lot
Nicole Brunet-Dandeno of Beswick Denture Clinic Invites You To Drop By During Denture Awareness Month
Long Distance Calling???? Interested in Voice Over Internet Technology??? Need Your Computer Repaired???
2915 Royal Canadian Army Cadet Corps Irish Regiment of Canada Capreol Group Gains Money and Recruits From Visit To the Mall
Ten More Qualifiers Selected By Valley East Today In The Keep The Spirit Alive Contest
Community Solutions Team Present Preliminary Findings to Valley East Residents on Monday, September 25
Acrobat Results Marketing Looking To Expand Workforce With New Hires From Valley East And Capreol
Glamorous You Nail Salon Not Only Provides Service To Clients, But Also Gives People A Chance To Get Certified In A Great Career
Ron & Lise Gladu Welcome All Visitors To Take A Tour Of Their Home Based Professional Studio
ROGER'S SPORTS LINE
2006 CHAMPIONS DECLARED IN VALLEY EAST MENS' SLO PITCH LEAGUE
Scotiabank To Open New Branch In Val Caron
Next Blood Donor Clinics Scheduled For October 18 At Knights of Columbus Hall

First Anniversary Is Cause For Celebration of An Excellent Year For Val Caron's Fantastic Floors - Fall Renovation Projects Are The Order of the Day - Begin Planning Now!

Popularity of "Welcome Home Gift Basket" Is Clear Indication Of Growth Of The Community - Over 165 New Residents Receive Gift Basket In Less Than Three Months

Most Recent Previous Issues...

Community Solutions Team Present Preliminary Findings to Valley East Residents on Monday, September 25
Acrobat Results Marketing Looking To Expand Workforce With New Hires From Valley East And Capreol
NOHA Minor Atom Hockey Team Raises Money By Helping The Environment
Building Demolished To Make Room For Shoppers Drug Mart
Check Out The Picks of the Month For September At Masciangelo Motors - Great Deals Can Be Found Throughout The Entire Lot
"Burn Your Boats"....Editorial by Robert Kirwan
Valley East Lions Club Presents Money To Local Charity Groups That Helped Make First Annual Lions Charity Days A Huge Success
Local Ambassadors for the Easter Seal Society Deliver Powerful Message During Valley East Lions Charity Days
Good Neighbours Food Bank Receives Some Much Needed Funding and Awareness From Valley East Lions Charity Days
Wedding Bells Ring Out For Nicole Brunet of Beswick Denture Clinic
Long Distance Calling???? Interested in Voice Over Internet Technology??? Need Your Computer Repaired???
"I Am Not A Politician!
I'm A Civil Advocate Working For The People Who Live In Ward 6, Hanmer & Val Therese"
Keep The Spirit Alive Contest Is Being Well-Received By Local Residents
Come Out And Cheer Your Confederation Secondary School Chargers
Sudbury Regional Palliative Care Association Represented At Lions Charity Days
Tom Guthrie Wins 2006 Pontiac Wave As Grand Prize Winner In Valley East Lions Club Draw
Glamorous You Nail Salon Not Only Provides Service To Clients, But Also Gives People A Chance To Get Certified In A Great Career

Popularity of "Welcome Home Gift Basket" Is Clear Indication Of Growth Of The Community - Over 165 New Residents Receive Gift Basket In Less Than Three Months

Good Luck Lorna
Ron & Lise Gladu Welcome All Visitors To Take A Tour Of Their Home Based Professional Studio
ROGER'S SPORTS LINE
Helene Belzile Wins Trip To Cuba In Valley East Lions' Charity Days Contest
Blood Donor Clinics Held At Knights of Columbus Hall Every Month

First Anniversary Is Cause For Celebration of An Excellent Year For Val Caron's Fantastic Floors - Fall Renovation Projects Are The Order of the Day - Begin Planning Now!

Howard Armstrong Recreation Centre Continues To Meet The Fitness & Recreational Needs of Thousands of Local Residents
Keep The Spirit Alive Contest Is Being Well-Received By Local Residents
You Can't Find Anything Better Than A High School Football Game On a Beautiful Autumn Day
Community Solutions Team Will Meet With Residents of Valley East on Monday, September 25 At Centennial Arena
LES AIGLES FROM HORIZON CAPTURE FIRST GIRLS BASKETBALL TOURNAMENT OF THE SEASON
Check Out The Picks of the Month For September At Masciangelo Motors - Great Deals Can Be Found Throughout The Entire Lot
No Act of Kindness is Ever Wasted...Editorial by Robert Kirwan
Shelley Martel Helps Promote Ontario Child Find KidCheck / FingerPrint Program During Charity Days
Food Bank Associations of Valley East Put Together Impressive Displays During Valley East Lions Charity Days
Valley East Ladies' Slo-Pitch League Playoffs Continue Mondays and Wednesdays At Centennial Fields In Hanmer
Wedding Bells Ring Out For Nicole Brunet of Beswick Denture Clinic
ON THE LIGHTER SIDE
Long Distance Calling???? Interested in Voice Over Internet Technology??? Need Your Computer Repaired???
This Election Is All About Communicating With Voters

Valley East Community Theatre Holds Fall Penny Table Fund-Raiser At the Mall
Valley East Community Action Network Provides Opportunity For Public To Participate In Many Worthwhile Projects
Team Ecole Secondaire Catholique L'Horizon Provide Excellent Sound Services During Valley East Lions Charity Days
Glamorous You Nail Salon Not Only Provides Service To Clients, But Also Gives People A Chance To Get Certified In A Great Career

Popularity of "Welcome Home Gift Basket" Is Clear Indication Of Growth Of The Community

Good Luck Lorna
Ron & Lise Gladu Welcome All Visitors To Take A Tour Of Their Home Based Professional Studio
Comments From Our Readers Are Always Welcome And Will Help Us Make Valley East Today Even More Useful
ROGER'S SPORTS LINE
Twelve of Our Community's Finest Vocalists Make It To The Finals of The First Annual Valley East Idol Competition
Steady Line of People Trying Out Combination Locks For Trip To Cuba
New School In Val Caron Involved in Fund-Raising For Two Very Important Projects For Children
Blood Donor Clinics Held At Knights of Columbus Hall Every Month

First Anniversary Is Cause For Celebration of An Excellent Year For Val Caron's Fantastic Floors - Fall Renovation Projects Are The Order of the Day - Begin Planning Now!

Valley East Skating Club Registration Sessions at The Hanmer Valley Shopping Centre Prove Very Popular With Local Residents

You Can Win 100 Lotto 649 Tickets Plus Other Great Prizes Just By Subscribing To Free Weekly News Magazine

Confederation Secondary School Chargers Looking For Plenty of Fan Support When They Open Their Season At Home On Friday

First Anniversary Is Cause For Celebration of An Excellent Year For Val Caron's Fantastic Floors - Fall Renovation Projects Are The Order of the Day - Begin Planning Now!

Check Out The Picks of the Month For September At Masciangelo Motors - Great Deals Can Be Found Throughout The Entire Lot
"Life Is Not Fair…Get Used To It"

Editorial by Robert Kirwan

Couple Travels All Over North America And Decides To Settle Down In Valley East
1st Valley East Scouts Hold Registrations At Mall And Increase Membership Significantly
Valley East Ladies' Slo-Pitch League Plays Every Monday and Wednesday Evening At Centennial Fields In Hanmer
Joe Ann's Market Research Collects Important Information From Local Consumers
Beswick Denture Clinic Provides Education As Well As Patient Service
ON THE LIGHTER SIDE
Long Distance Calling???? Interested in Voice Over Internet Technology??? Need Your Computer Repaired???
Robert Kirwan Believes In The Golden Rule of Politics…Know Your People
The United Church Women of St. James In The Valley Are Very Pleased With The Support They Received At Their Annual Fall Bake Sale & Penny Table Sale
Glamorous You Nail Salon Not Only Provides Service To Clients, But Also Gives People A Chance To Get Certified In A Great Career

Popularity of "Welcome Home Gift Basket" Is Clear Indication Of Growth Of The Community

Choosing The Right Back To School Footwear Can Mean All The Difference In The World For Your Children
Ron & Lise Gladu Welcome All Visitors To Take A Tour Of Their Home Based Professional Studio
Comments From Our Readers Are Always Welcome And Will Help Us Make Valley East Today Even More Useful
"Young Eagles" Flight Rally!
2006 Valley East Sports Hall of Fame Inductions Held During Valley East Lions Charity Days
Suzanne McCarthy Wins Over $1500 In Gift Certificates As Grand Prize Winner For August
Valley East Lions Charity Days Kicks Off The Day With Popular Pancake Breakfast Sponsored by Desjardins' Food Basics
Canadian Red Cross Youth Group Is Looking For Members Who Want To Have Fun
Valley East Skating Club Returns For Another Registration Session at The Hanmer Valley Shopping Centre on September 15 and 16

Confederation Secondary School Football Program Looking Forward To A Solid Season
The Secret To A Happy Family – Treat Each Other Like Strangers...Editorial by Robert Kirwan

Valley Pentecostal Church Provides Local Food Banks With Windfall That Will Go A Long Way To Help Those In Need This Year

Late Registration For Valley East Minor Hockey Association Will Be Held Saturday & Sunday - September 8 & 9, 2006

Valley East Cobras 'AAA' Midget Team Gearing Up For A Great Season - Looking For Fan Support

This Could Be Your Last Chance To Qualify For A Trip To Cuba!

Robert Kirwan Believes In The Golden Rule of Politics… "Know Your People!"

Robert Kirwan Urges All Residents of Valley East To Support Organizations Such As LE CENTRE CLUB AGE d'OR DE LA VALLEE / GOLDEN AGE CLUB

CIBC Run For The Cure Sets Up In The Mall To Raise Funds For Breast Cancer Research
FREE AIRPLANE RIDES
Roy St. Jacques Continues To Collect Pop Cans In Support Of Special Olympics Bowling League
Suzanne McCarthy Wins Over $1500 In Gift Certificates As Grand Prize Winner For August
Our Children / Our Future Raising Funds By Selling Tickets To Councillors' Breakfast at Valley East Lions Charity Days
Valley East Skating Club Returns For Another Registration Session at The Hanmer Valley Shopping Centre on September 15 and 16
OPEN INVITATION TO GIRLS NIGHT OUT
GREATER SUDBURY COMPETITIVE


LADIES BASKETBALL LEAGUE
Azilda Dog House Sports Bar Relics Lose In Championship Final

TO VIEW ALL OF THE PREVIOUS ISSUES

MAKE SURE YOU TAKE TIME TO VISIT THE VALLEY EAST TODAY COMMUNITY WEB SITE AT www.valleyeasttoday.ca
WELCOME TO THE FRONT PAGE
TUESDAY, OCTOBER 3, 2006