WELCOME TO PAGE FOUR
TUESDAY, SEPTEMBER 19, 2006
ROGER'S SPORTS LINE
This week we are pleased to introduce a new feature to the Valley East Today Weekly Online News Magazine. "Roger's Sports Line" is a column that will be written by well-known local sports personality, Roger Legendre.
Sports in all facets are fine and alive in the Greater Sudbury Region. This past summer saw the return of fastball for both ladies and men come to the forefront once again. Many players who turned to slo-pitch some years ago when fastball seemed to be dying out are now returning and in large numbers.
The Rick McDonald Memorial Fastball League once known as the Rayside/Balfour Fastball League preceded by the Sudbury District Fastball League and going back to the Church League and the Nickel District Fastball League of the 50's ,60's and 70's era is being rejuvenated and the new and old fans like what they see.
This past Summer saw a superb All-Star Fastball Extravaganza pitting the Greater Sudbury Region Fastball All-Stars against the North Shore Fan Select All-Star game. The locals won an exciting 7-6, nine inning game. Later in August both Sudbury teams : the Greater Sudbury Select Ladies Nickels under the direction of veteran coach Judy Dunn and the Dog House Sports Bar North Stars both won their Northern Ontario Fast Pitch Championships against stiff opposition. The North Stars then went on to the 20th Annual Senior Fastball World Championships where they went 5-0 before losing a heartbreaker 3-1 in the championship final against Cold Springs Cats from Southern Ontario . At that tournament it was a treat to be able to watch such notable pitchers as the legendary Darren Zack of Garden River Sault Ste Marie and Mike Crawford of Coburn.
Next summer the Sudbury fans will be treated to some excellent fastball when we host the All-Ontario Intermediate "A" Men's Ontario championships at the Terry Fox Sports Complex. Also a major fastball tournament under my direction and with the sponsorship of Molson Canada and Cranky Joe's Roadhouse Sportbar will bring to this region some 64 men's fastball teams from across Canada as well as parts of theUSA.It will be a four day event held at Terry Fox with a total purse of $20 000,00 .First prize will be $10 000,00.Keep watching my sport line as further details will be made available. It will be called the "Cranky Joe's International Fastball Championships.
Be sure to stay tune each and every week as I keep you up to date on local sports activities in fastball, slo-pitch, soccer, hockey and basketball. Next week I will report on the final results from the Rick McDonald Memorial Fastball League Championship as well as other league championships e also on the look out for basketball results and my take on this year's edition of the Sudbury Junior "A" Wolves , the Laurentian Vees men's and ladies varsity basketball teams.
Until next week, stay active! Don't just watch these sports but take part in them!
Angele Jameus Declared 2006 Valley East Idol As Twelve of Our Community's Finest Vocalists Make It To The Finals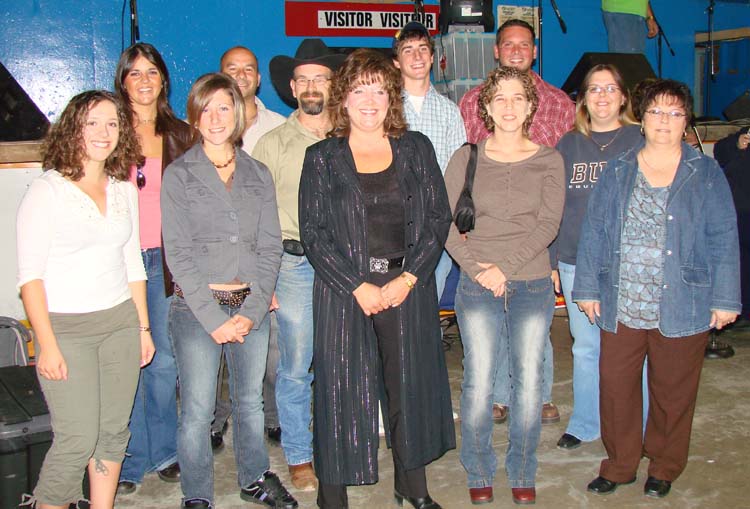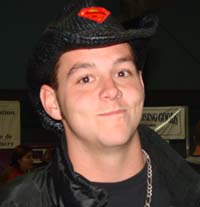 One of the highlights of the Valley East Lions Charity Days was the Finals of the Valley Eat Idol Competition. A number of contestants took part in the elimination stages at Buddies' Restaurant and twelve were selected to compete in the finals which were held during the afternoon at Centennial Arena on September 9, 2006.

As the final notes resonated through the arena, the judges declared Angele Jameus, 2nd from the right in the front row with the black bag over her right shoulder, as the 2006 Valley East Idol.

The Publisher apologizes for not being able to identify the individuals in the photo above, however, we were given the names of the finalists. IF ANY OF OUR READERS CAN SEND US AN EMAIL with the identity of one or more of the people in the photo above, we will revise this list accordingly. Please email us to the following link: VALLEY EAST IDOL IDENTIFICATION

The names of the twelve finalists are: Asim Mainville; Natalie Jolivet; Steve Liddard; Keith Mantysaari; Angele Jameus; Christine Cousineau; Sue Lefebvre; Jean St. Pierre; Louise Alexakis; Julie Crispin Taylor; Stephanie Dominelli; and Yves Charbonneau, shown in the photo at the side. If any of the names are misspelled, we again apologize, but these are the spellings that were given to us at the event. Hopefully, we will be able to identify the names of all of the contestants in the photo and we will also identify the winner of the contest.

The very capable judges, shown below, certainly had their hands full during the competition. From left to right, the judges were: Moe Leblanc, Norm McIntosh and Mike Lehay.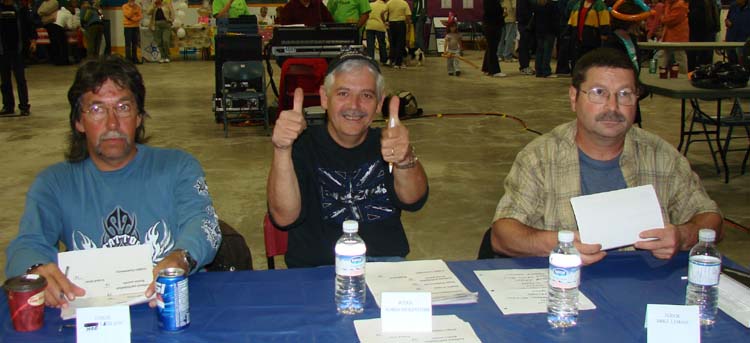 Steady Line of People Trying Out Combination Locks For Trip To Cuba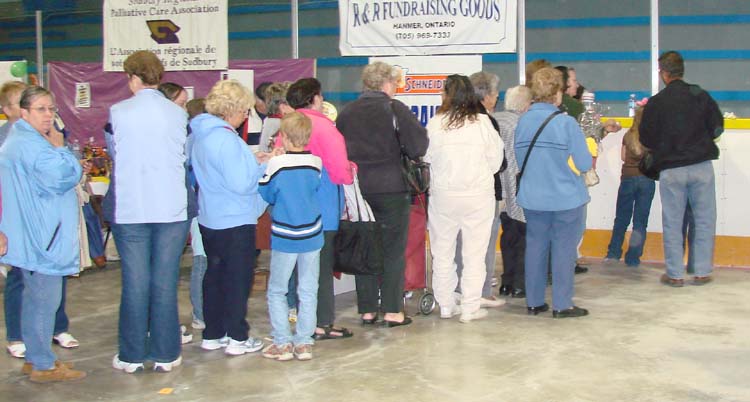 Valley East Lions' Charity Days
Trip for 2 to CUBA!!!!
(+$500 in spending cash)

All summer long, people from around the area have been given combinations that might have opened one of sixteen locks that were on display by local merchants. The final seven locks were on display at the Centennial Arena where people were able to try one more time to see if they qualified for the finals. The line above is indicative of the popularity of this contest. Next week we will announce the winner of the Trip for 2 to Cuba.
New School In Val Caron Involved in Fund-Raising For Two Very Important Projects For Children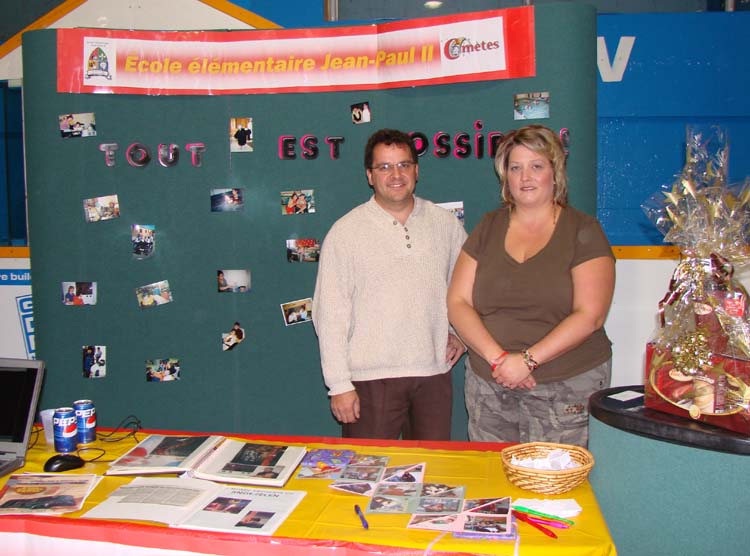 Principal, Luc Dalcourt and Carole Landry, Teacher of the Deaf & Blind, were on hand to promote two important projects that are now on-going at the new ECOLE ELEMENTAIRE JEAN-PAUL II which is now open for students in Val Caron. This September NOTRE DAME DU ROSAIRE and NOTRE DAME DE L'ESPERANCE elementary schools merged, creating a state of the art school which will better meet the needs of all students. Luc and Carole were taking part in the Valley East Lions Charity Days on September 9 to show the public information about the Snoezelen Room Project and the New School Yard Equipment Fund-Raising Project. Be watching Valley East Today for much more on going information about the Snoezelen Room.
Blood Donor Clinics Held At Knights of Columbus Hall Every Month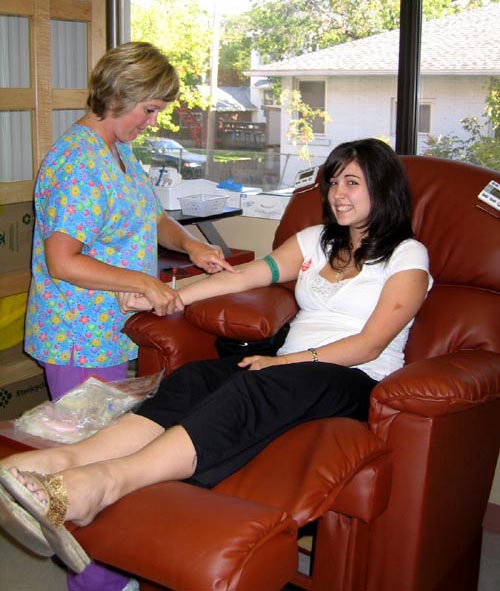 Michelle Blais, Senior Clinic Coordinator, Donor Services for Canadian Blood Services reminds all local residents that monthly clinics are held at the Knights of Columbus Hall on Emily Street every month.

Clinic hours are between 4:00 and 7:00 p.m. on the following dates:

October 18
November 15
December 21
January 17, 2007
February 21, 2007
March 21, 2007

If you have any questions, please contact Michelle at:
Phone: (705)688-7347
Toll free: (800) 263-3733
email: michelle.blais@bloodservices.ca

Seventeen year old Kelsey Patterson, shown above in the photo, a Grade 12 student at Confederation Secondary School in Val Caron, recently gave blood for the very first time on her 17th birthday. She is shown above with Health Worker, Shiela Gravelle, who gave Kelsey a birthday to remember.

First Anniversary Is Cause For Celebration of An Excellent Year For Val Caron's Fantastic Floors - Fall Renovation Projects Are The Order of the Day - Begin Planning Now!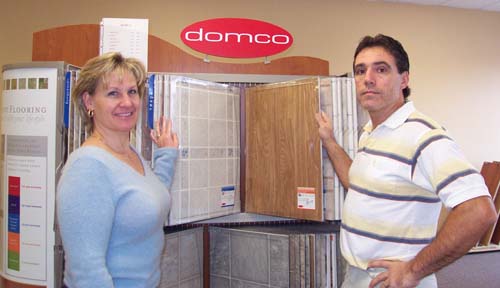 Bernie & Ron Pedneault will be approaching the first anniversary of the opening of their new store in Val Caron on October 1. It has been a great year for Fantastic Floors as they continue to establish their reputation for quality products and good, sound advice. Whether the job is big or small, you can always trust Ron to come up with excellent ideas to help you accomplish your goals within your budget constraints. One piece of advice he gives people during this time of year is that if you are thinking of doing some home renovations before Christmas, now is the time to begin looking through samples and preparing your plans. Don't wait until the last minute or you will be scrambling around and you won't be happy with the end result. Ron invites you to stop by his site in the Valley Bingo Plaza at any time to go over your plans and establish your options. He always encourages people to shop around and look for the best value because he knows that his prices cannot be beat, and he is confident in his ability to provide you with that bit of extra added value that means so much when you are renovating.
Make sure you visit their web site or call Ron today to get some more information on the Fantastic Floor experience.
FANTASTIC FLOORS, is open Monday to Wednesday, from

to

; open late until

on Thursdays and Fridays, and; open until

on Saturdays.



We also invite you to take a virtual tour of FANTASTIC FLOORS on their web site at

www.fantasticfloors.ca

2914 Hwy 69 North, Val Caron
In the Valley Bingo Plaza
897-3567
www.fantasticfloors.ca
GREATER SUDBURY PUBLIC LIBRARY
OFFERS STORY TIME FOR CHILDREN
The Greater Sudbury Public Library is pleased to present Saturday Family Story Time.

Saturday Family Story Time will be offered monthly, from 10:30 to 11:15 a.m. We invite children from 0 to 7 years of age accompanied by an adult to the Main Public Library, 74 MacKenzie Street, Sudbury. Family Story Time is designed to encourage children to become life-long readers by promoting an appreciation of language, rhythm and imagination. It includes storytelling, puppets, finger plays, songs, rhymes and a craft.

Register for the following Saturday Family Story Times to avoid disappointment...

September 30, 2006.

November 25, 2006

December 16, 2006

January 27, 2007

February 24, 2007

March 24, 2007

April 28, 2007

May 26, 2007

Please note, the different time on October 21, from 1:30 to 2:15 p.m.

For more information and to register, call the Main Library at 673-1155 or contact Monique Roy at 673-1155 extension 270.

For more information, please contact:


Monique Roy - Children's Librarian


Greater Sudbury Public Library, 673-1155, extension 270


monique.roy@greatersudbury.on.ca
GREATER SUDBURY PUBLIC LIBRARY


Looking for Volunteers

The Greater Sudbury Public Library is looking for volunteers to help organize a special photo collection.

If interested please call Nada at the library, 673-1155 extension 274.

For more information, please contact:


Kaija Mailloux, Co-ordinator of Outreach Programs and Partnerships,


Greater Sudbury Public Library, 673-1155, extension 210


kaija.mailloux@city.greatersudbury.on.ca
Marymount College/Academy's 50th Anniversary Reunion
Calling all former & present students & teachers …Spouses & friends welcome also…
Sat. Oct. 14th /06 -- 11am-2pm: Open House - Marymount Academy
6pm: Reception & 6:30pm: Dinner at Howard Johnson Hotel (Brady St.)
(Seating for 300 only!)
Sun. Oct. 15th/06 -- 10:00am: Mass at Marymount
11:00am: Light Brunch
Tickets: $50./person Register online at: www.marymount.scdsb.edu.on.ca/reunion.html
Or pick up forms at St. Patrick's Church (in main entrance at Youth Bulletin Board) 39 Walford Rd.;
Christ the King Church or Vicki Dee's (Forms can be dropped off at all Sudbury Catholic Churches)
Mail cheque payable to Marymount Academy 165 D'Youville Ave. Sudbury, ON P3C 5E7
Final Registration Deadline: August 20th/2006
Valley East Skating Club Registration Sessions at The Hanmer Valley Shopping Centre Prove Very Popular With Local Residents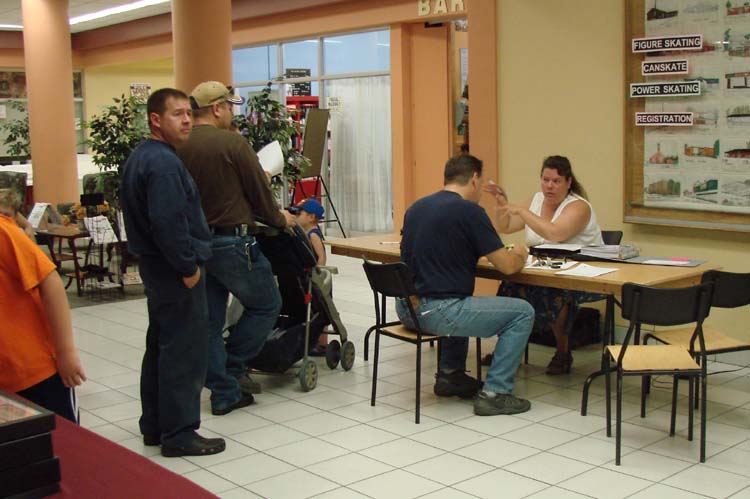 Renee Saya, shown sitting at the table explaining details of one of the programs to a parent, was kept busy all evening during the final registrations sessions that were held at the Hanmer Valley Shopping Centre on September 15 and 16, 2006.

Parents were registering their children for Figure Skating, Canskate and Power Skating.

If you were unable to register yet, President, Ray Levesque encourages everyone who is still interested in Figure Skating, Canskate or Power Skating to check out the club's web site at www.vesc.ca or phone 969-7017.
OPEN INVITATION TO GIRLS NIGHT OUT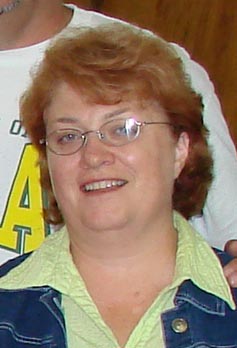 Esther Gudrie of the Valley Pentecostal Church, shown to the left, invites all ladies in Valley East and surrounding communities are invited to an evening just for you!

It will give you a chance to unwind with friends, listen to some good music, savour delightful snacks, and even enjoy a good pampering.

Joanne Goodwin, a highly acclaimed public speaker will be on hand to provide an inspirational message.

Music and comedy will be provided by KELITA.

To top it all off, all ladies attending will receive a FREE GIFT BAG!

The event will be held on Friday, September 29, 2006 beginning at 7:30 p.m.

It will be held at the Valley Pentecostal Church which is located at 231 Martha Street in Hanmer.

There is absolutely no cost for this evening but it is recommended that tickets be reserved by calling Esther at 969-7940. Let all of your friends know about this marvelous evening of entertainment and socializing. It is about time that the girls had a night out on their own!
GREATER SUDBURY PUBLIC LIBRARY
OFFERS STORY TIME FOR CHILDREN
The Greater Sudbury Public Library is pleased to present Family Story Time.
Story Time is a half-hour program for children aged 5 and under accompanied by an adult.

It is designed to encourage children to become life-long readers by promoting an appreciation of language, rhythm and imagination.

It includes storytelling, puppets, finger plays, songs and rhymes.

All our sessions are six weeks in length.

The first session begins the week of September 18, 2006.
Register early to avoid disappointment!
For more information, please contact:
Monique Roy - Children's Librarian
Greater Sudbury Public Library, 673-1155, extension 270
GREATER SUDBURY PUBLIC LIBRARY
OFFERS A TEEN ADVISORY GROUP
TAG! You're it!
The Greater Sudbury Public Library is looking for teens in grades 7 to 12, who will meet monthly, to join the library's Teen Advisory Group (TAG).
Reasons to consider joining...
1. Look good on college resume
2. Earn Community Service hours
3. Suggest materials for the library
4. Meet new people
5. There's always food at meetings
6. It's fun!
You have the choice of two groups:

Valley East Public Library

4100 Elmview Drive, Hanmer

first Wednesday of the month

4:00 - 5:00 p.m.

Main Public Library

74 MacKenzie Street, Sudbury

last Wednesday of the month

4:00 - 5:00 p.m.
If you are interested, please call Ginette Mallette at
673-1155, extension 205.
Join us for the next meeting.
For more information, please contact:
Ginette Mallette, Children and Teens Programmer
Greater Sudbury Public Library, 673-1155, extension 205
GREATER SUDBURY COMPETITIVE


LADIES BASKETBALL LEAGUE
Age limit is from 17 years of age and up

There will be a draft to form the teams

Each team will be allowed one 16 year old player

The league will run from mid November 2006 till early May 2007

All teams will play one game a week on either Sunday afternoon or Sunday evening

If you're interested please send the following information to the email address below:

Send your a] full name

b] Home phone number

c] Cell number if you have one

d] Your email address

e] Experience playing basketball at the secondary level, college level or university level

There will be a meeting in late October or early November for all the particulars: the cost, the sponsorship and insurance.

The list of names will fill up fast therefore send in all your information ASAP

Roger Legendre


Greater Sudbury Ladies Competitive Basketball League


Commissioner/statistician/publicist
REGISTRATION
VALLEY EAST MINOR BASKETBALL LEAGUE
WHY: Learning the basic skills, playing the game and having FUN
WHO: Boys and Girls - 5 to 16 years old
WHERE: Howard Armstrong Recreation Center, Dominion Drive
WHEN: Saturday/Sunday, September 16 & 17 - 10:00 am to 4:00 pm
Saturday/Sunday, September 23 & 24 - 10:00 am to 4:00 pm
NOTE: Birth Certificate & Height Required Upon Registration
**Registrations over the phone not accepted**
DURATION: Mid-October to Mid-April
COST:
Tikes 5 & 6 yrs- $75--- ½ hr. practice & ½ hr. game per week
(limit 20 players).

Mini 7 & 8 yrs- $75--- ½ hr. practice & ½ hr. game per week
(limit 32 players).

Pewee 9,10,11yrs- $100— 1 hr. practice & 1 hr. game per week
(limit 60 players).
Bantam 12,13,14 yrs- $100— 1 hr. practice & 1hr. game per week
(limit 60 players).
Midget 15 & 16 yrs- $100— 1hr. practice & 1 hr. game per week
(limit 60 players).
***Game nights and practice gyms dependant on gym availability
Note: 1st Child = full price; 2nd Child = full price; 3rd child = ½ full price &
additional registrations are free.
VOLUNTEERS NEEDED FOR COACHING & ASSISTANT COACHING
If we don't have the coaches, we don't have a league!!!
(Volunteer Hours provided for high school students wishing to coach/assistant coach)
VOLUNTEERS NEEDED FOR CONVENERS & BOARD MEMBERS
REFEREES & SCORE KEEPERS REQUIRED – PAID POSITIONS
For additional information or to volunteer some time, please call:
Helene Van Dyk - 969-0062, Bruce McFadden - 969-7407
Maureen Beaudry - 969-7712, Mike Bertrand - 897-0031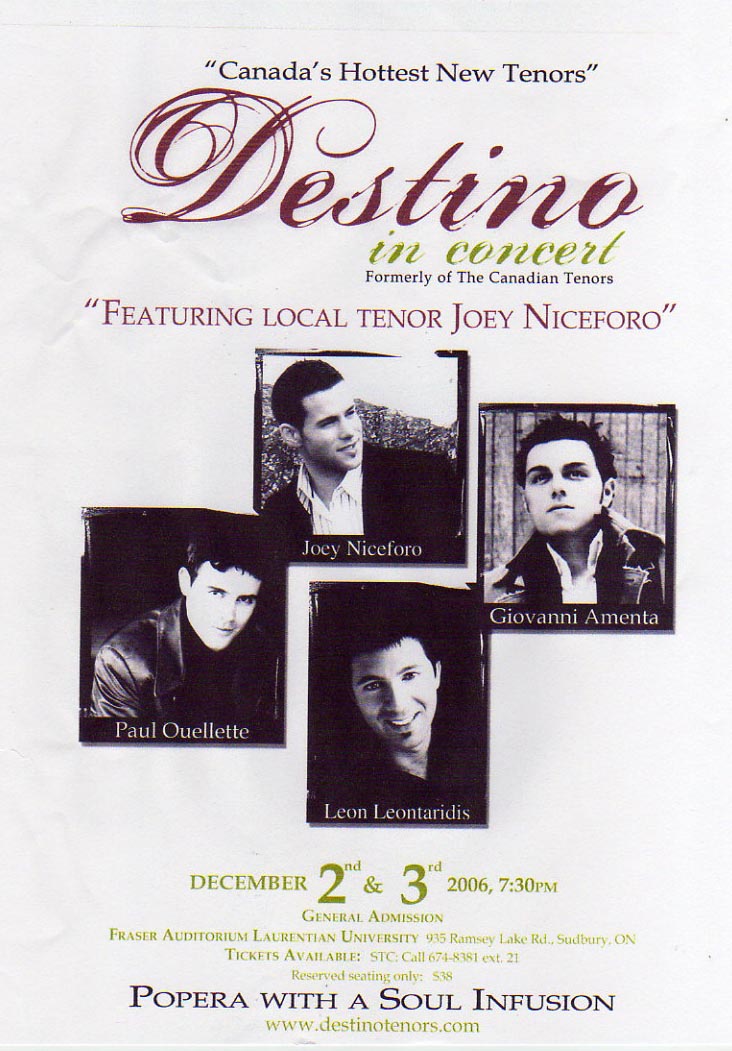 WELCOME TO PAGE FOUR
TUESDAY, SEPTEMBER 19, 2006