WELCOME TO THE FRONT PAGE
TUESDAY, SEPTEMBER 19, 2006
Howard Armstrong Recreation Centre Continues To Meet The Fitness & Recreational Needs of Thousands of Local Residents

Jerry Lynch, Aquatic and Recreation Centre Co-ordinator of the Howard Armstrong Recreation Centre in Hanmer, and Anne Gervais, Facility Pool Operator, are shown in Anne's office discussing some of the exciting new programs that have begun at the Centre this September. Both Anne and Jerry are extremely pleased with the registrations for this session and have seen significant growth in the use of the facility in all areas. Jerry is particularly happy with the use of the expanded fitness and weight rooms.
From the time the centre opened in 1983 until last year, many of the members had requested free weights. Now, with a well-equipped separate free weight room, people can follow a complete fitness program under one roof.
Jerry and Anne invite local residents to drop in to the Howard Armstrong Recreation Centre any time to pick up a Fall Leisure Guide or to discuss some of the programs that may be of interest. The Centre is open seven days a week until 10 p.m., so it can accommodate everyone's personal schedule.

For a more complete "virtual tour" of the Howard Armstrong Recreation Centre, go the following link.




VISIT THE
VALLEY
EAST
TODAY
COMMUNITY
WEB SITE


COMMUNITY
SECTION

Welcome
Our Spirit
Our Schools
Our Churches
Our Food Banks
Our Library
Our Cemetery
Our Playgrounds
Our Sports
Our Recreation
Our People
Sports Complex
Youth Centre
Organizations

MUNICIPAL
SECTION

Election 2006
City of Sudbury
Fire Services
Animal Shelter
Hospital

REFERENCE
SECTION

Local Media

The Vision Paper
Toronto Star
TSN Sports
Weather Network
Canada 411
Yellow Pages
Horoscopes
Lotto 649
Student Page
After The Whistle
Ponds & Gardens
Grotto Sudbury
Yahoo Search
Google Canada

Corporate Web Sites
Worth Visiting
Beswick Denture Clinic
Heatwave Tanning Salon
Fantastic Floors
Independent Energy Serv.
Hanson Family Dentistry
Valley View Cleaners
Sole Mates Footwear
Ron Gladu Photos
VCCNet
Masciangelo Motors

Infocom Canada
Keep The Spirit Alive Contest Is Being Well-Received By Local Residents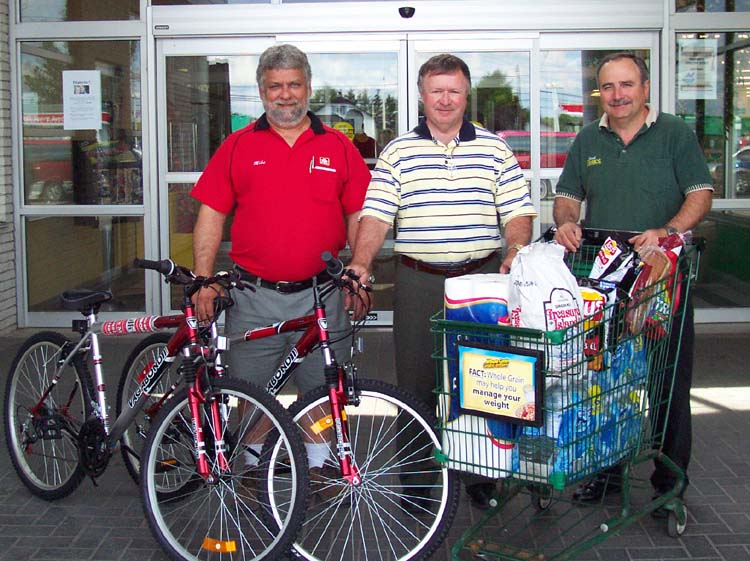 The "Keep The Spirit Alive Contest" was only introduced to the community during the month of June, and already it is picking up momentum as residents not only like the idea of winning valuable prizes, but they also are thrilled about the fact that they can do their small part to help improve the overall community spirit in Valley East.
Three community-minded local businessmen have teamed up to begin a "Keep The Spirit Alive Campaign" and they are inviting all residents to help them spread the message that Valley East is a great place in which to live!
From left to right in the photo: Mike Lemieux, owner of Hanmer Home Hardware, Robert Kirwan, Publisher of the Valley East Today Community Web Site and Online Weekly News Magazine, and Ken Desjardins of Desjardins' Food Basics announced the launch of the campaign during a press conference which was held at the Hanmer Valley Shopping Centre.
In explaining the purpose of the initiative, Kirwan explained, "We want to let everyone know that Valley East is a town where you can still find that "old style community spirit" mixed with a modern lifestyle that fits right in with the 21st Century. There are a lot of good things happening in Valley East and it is about time that the rest of the people in the City of Greater Sudbury knew about it too! Furthermore, it is also time to let the rest of the province know that if anyone is looking for a place to live and raise a family, or a place to retire within the City of Greater Sudbury , they need look no further than Valley East ."

In order to help get this message out to the rest of the "world" the people of Valley East are being asked to take part in a massive communication strategy using the power of the internet.
Everyone participating in this campaign will have a chance to win a "Grand Prize" consisting of 100 Lotto 649 tickets for the New Year's Eve Draw on December 31, 2006 . What a way to celebrate the New Year by winning the big prize with one of those tickets!
Runners up will receive other valuable prizes, including "two" mountain bikes donated by Hanmer Home Hardware, $300 in groceries from Desjardins' Food Basics, More prizes from other local merchants may be announced in the coming weeks before the contest ends.
In order to qualify for these prizes, all you have to do is register to receive the Valley East Today Weekly Online News Magazine. Every month from July until the end of December, ten names will be drawn at random from all of the people registered to receive the publication. Those ten people will qualify for our final draw which will be held on Christmas Eve. The winners will be announced in the December 26 issue of Valley East Today!
Once you register, the Valley East Today Online Weekly News Magazine, which is currently being received by over 2000 people, will be sent directly to your email address every Tuesday. Not only will you qualify to win the 100 Lotto 649 tickets or other runner up prizes, but more importantly, you can help us "Keep the Spirit Alive" by forwarding Valley East Today to everyone on your own personal mailing list. By using the power of the internet, we can let tens of thousands of people know about Valley East every week.
CONTEST QUALIFIERS
People who have already qualified for the Grand Prizes in the
Keep The Spirit Alive Contest. These names will be placed in a drum along with ten additional qualifiers chosen each month until December 2006.

QUALIFIERS

FOR THE

MONTH OF

JUNE 2006

| | |
| --- | --- |
| #0065 | Chantal Proulx |
| #0133 | Marilyn Liske |
| #0384 | Bernadette Mrochek |
| #0411 | Cathy Bellefeuille |
| #0446 | Gaston Boisvoneault |
| #0690 | Carol Mailloux |
| #1057 | Glynis Cappadocia |
| #1228 | Shelly Pelland |
| #1318 | Nicky Blais |
| #1827 | Michelle Wiebes |

QUALIFIERS

FOR THE

MONTH OF

JULY 2006

| | |
| --- | --- |
| #80 | Kim Dwyer |
| #154 | Lana Ranger |
| #255 | Karen Lische |
| #288 | Rebecca Ogilvy |
| #886 | Chris Coulombe |
| #1086 | Brian Koivu |
| #1194 | Jessica Rienguette |
| #1979 | Corina Gavin |
| #1993 | Lynn Poulin |
| #2006 | Linda Dubois |

QUALIFIERS

FOR THE

MONTH OF

AUGUST 2006

| | |
| --- | --- |
| #5 | Lillian Wade |
| #37 | Lisa Proulx |
| #74 | Hayden Hack |
| #499 | Linda Tessier |
| #623 | Doug Malloy |
| #1098 | Bob Boyuk |
| #1283 | Shandi Charette |
| #1366 | Todd Mazzuca |
| #1522 | Sharon Leger |
| #2259 | Angele Rancourt |

The names of the above people who are already subscribed to the Valley East Today Online Weekly News Magazine will be entered as finalists in the contest. The sooner you register, the more chances you have of being selected as one of the ten monthly finalists. On December 24, 2006, one person will win 100 Lotto 649 tickets, while runners up will win other valuable prizes. Make sure your friends all enter the contest and help us "Keep the Spirit Alive". Enter now and you may be one of the ten qualifiers picked at random at the end of September.
ARE YOU RECEIVING VALLEY EAST TODAY EVERY WEEK?
THEN CONGRATULATIONS - YOU ARE ALREADY REGISTERED
YOU QUALIFY FOR THE CONTEST!
NOT REGISTERED YET?????
TO QUALIFY FOR THE CONTEST
ALL YOU HAVE TO DO IS SEND US AN EMAIL BELOW
ALONG WITH YOUR NAME AND PHONE NUMBER

You Can't Find Anything Better Than A High School Football Game On a Beautiful Autumn Day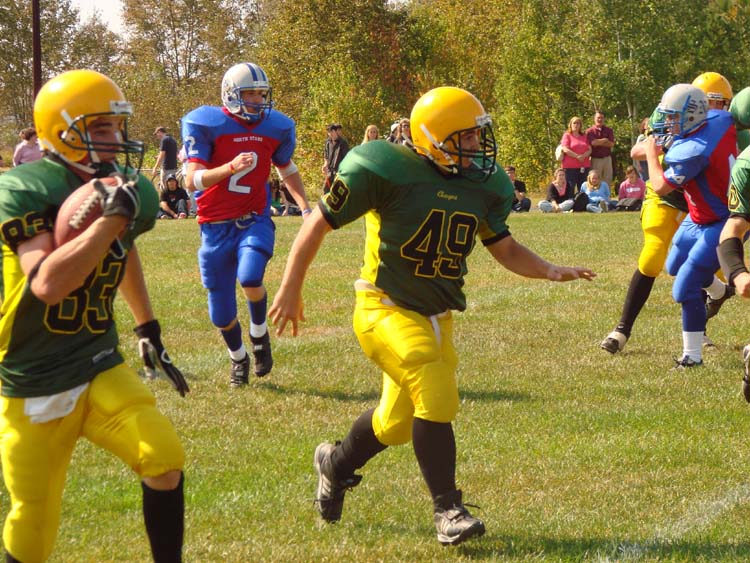 The Confederation Secondary School Chargers played their first home game of the season on Friday, September 15, 2006 at 1:30 in the afternoon at Confederation. Their opponent was the Secondary School North Stars.


Confederation is beginning its 5th year in the 8-team league, and to its credit, already holds one City Championship which was captured during its 2nd year of operation.

The six-game schedule doesn't leave much time to play yourself into shape, so each game must be considered a must-win for the club. "Everybody who comes out to practice will make the team," explained Dougan, who plays as a receiver with the Sudbury Spartans during the summer. "The coaching staff is prepared to work with each of the boys to develop their playing skills and help them enjoy the game. We all have a background in football and truly believe in the benefits of being part of a football team."

Dougan also coaches in the Joe MacDonald Football League and is committed to putting something back into the game he loved as a young kid. "I remember playing for the Paris Street Blues in high school under Sid Forester. He helped me go on to a University career with the St. Mary's Huskies. I love the game and I saw what it did to help me accomplish my goals. Now as a teacher, I can look forward to working with young people all my life."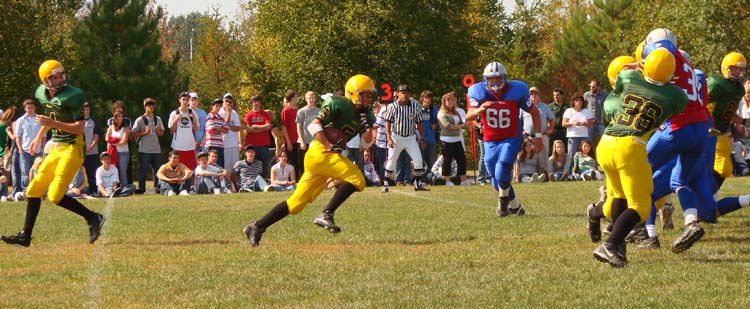 The players would love to see as many people from the community at the field to cheer them on as well. Football is not something that we get much of a chance to see in Valley East, but it would be extremely nice if we gave our boys the kind of boost that they get in small towns in the United States.
The complete schedule for the 2006 season for Confederation is as follows:
REGULAR SEASON

Friday, September 15
1:30 p.m. at Confederation against Sudbury Secondary
Friday, September 22
7:00 p.m. at Queen's Athletic Field against Lasalle
Friday, September 29
7:00 p.m. at Queen's Athletic Field against St. Charles
Wednesday, October 4
3:30 p.m. at Confederation against Loellen
Friday, October 13
3:30 p.m. at Confederation against Notre Dame
Wednesday, October 18
3:30 p.m. at Confederation against Lockerby

PLAYOFFS

Semi-Finals
October 25 to 28
The teams will be divided into two divisions for the playoffs with the top four in one division and the bottom four in another. Semi-Finals will be played between October 25 and 28 with the winners advancing to the finals of their respective divisions.
Finals
Friday, November 3
The two final games will be played at Queen's Athletic Field with the bottom four division meeting at 4:00 p.m. and the City Championship Game at 7:00 p.m.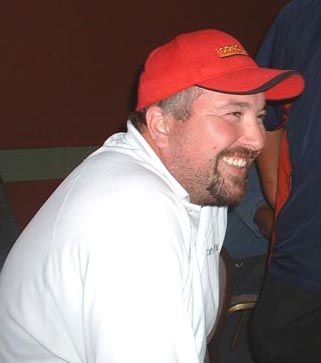 VALLEY EAST
MENS'
SLO PITCH
LEAGUE

The first round of the playoffs is history. Now the four divisions enter their championship finals with the first games to be played on Tuesday, September 12.
Our playoff information is being provided by Brian Beaupre who has been providing us with up to date standings all during the season.
Check out the standings by clicking on the link below to open up a WORD document which will contain the latest standings, courtesy of Brian Beaupre.
We appreciate Brian's efforts in providing us with this important service and will keep you up to date with the latest playoff scores. It should be an exciting race in all of the four playoff divisions as the teams this year are extremely competitive within their own groups.
FIRST HALF
FINAL STANDINGS
FINAL STANDINGS &
First Round Playoff Results
CHAMPIONSHIP SERIES SCHEDULES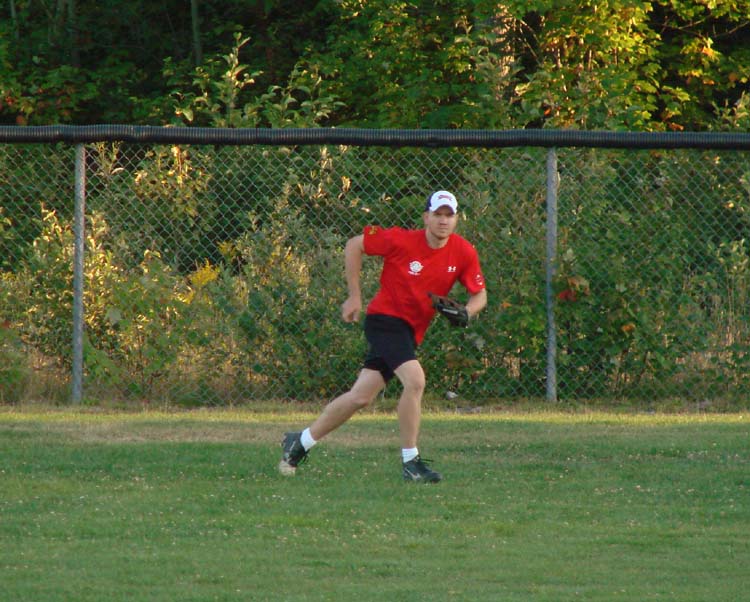 Ryan Kirwan, a member of the Auto Tech Men's Slo-Pitch Team heads for a fly ball during action in the Men's Finals which continue this week. You can catch all of the playoff action at the Centennial Ball Fields every Tuesday and Thursday night as the playoffs wind down. The link above will give you the schedule of the matches. Spectators are always welcome to the playoffs where you will spend a couple of hours of friendly conversation with your neighbours and friends.

Fall and Winter Programming
The Art Gallery of Sudbury on John Street has several very interesting programs for children and adults starting up this fall. Go to the main web site through the above link to see if there is anything of interest that you may wish to take part in and contact the administration at 675-4871.
Community Solutions Team Will Meet With Residents of Valley East on Monday, September 25 At Centennial Arena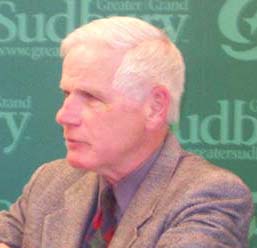 Floyd Laughren and the members of the Greater Sudbury Community Solutions Team will engage residents of outlying communities during six meetings over the next few weeks. Mr. Laughren released the meeting schedule on last week.

The Community Solutions Team will present a summary of the issues and suggestions made during the first set of public meetings in June, as well as outline how the team will proceed to develop its final recommendations to City Council.

'We've taken the summer to organize the more than 5,000 issues and suggestions we heard during our consultations in June," said Mr. Laughren. 'Although we can't deal with every issue and suggestion that was brought forward, we want to show the community that we have chosen broad themes to focus on as we develop concrete recommendations to improve our city."

Six citizen working groups, each led by a member of the Solutions Team, will tackle these themes during October and November. The working groups will propose draft solutions for the Community Solutions Team's consideration and adoption. A final report will be presented to City Council in early 2007.

'Our hope is to have someone from each of the former municipalities on each working group," said Solutions Team member Gisèle Chrétien. 'These folks will help us to focus on the most important and broadest issues to develop realistic proposals for improvement. I encourage people to come out to our meetings and volunteer to help with one of the working groups."

Floyd Laughren reiterated the team's commitment to be as open and realistic as possible. 'I've said all along that we will not be able to deal with every issue that was brought to our attention. We intend to be as open as possible about what we will be focusing on as we move forward. We have, of course, recorded all of the issues presented and we will be passing these on to City staff."

Members of the Community Solutions Team are: Keir Kitchen, Barry Brett, Jack Oatway, Gisèle Chrétien, France Belanger-Houle and Martha Cunningham-Closs.

The schedule for the upcoming second round of public meetings is as follows:
Monday, September 18th, 7:00 p.m., Falconbridge Recreation Centre
Tuesday, September 19th, 7:00 p.m., T.M. Davies Community Centre/Arena (Lively)
Thursday, September 21st, 7:00 p.m., Chelmsford Arena
Monday, September 25th, 7:00 p.m., Centennial Arena (Hanmer)
Tuesday, September 26th, 7:00 p.m., Onaping Community Centre
Monday, October 2nd, 7:00 p.m., Capreol Arena
LES AIGLES FROM HORIZON CAPTURE FIRST GIRLS BASKETBALL TOURNAMENT OF THE SEASON
Story Provided By Roger Legendre, Greater Sudbury Basketball Officials Public Relations Liaison

Following twelve games of round robin action with eight junior teams involved , les Aigles from l"Horizon Secondary School out of Val Caron captured the first basketball tournament of the season.The "Tip Off " tournament was held over the weekend at Lo-Ellen Park Secondary School.Some eight team were involved: Northern from Sturgeon, West Ferris from North Bay, Theriault from Timmins, Bewating from the Sault , Sacre Coeur from Sudbury, l'Horizon from Val Caron , Kora from the North Shore and the host Lo-Ellen team. West Ferris from North Bay won the consolation third position

In the championship final the locals , Aigles from l"Horizon , took an early 10-4 lead after one quarter of play but their opponents the Flames out of Theriault in Timmins made a game of it and only trailed by three at half time 18-15.Both squads scored 8 points in the third frame. Jasmine Roy came through with five important points late in the game to give the Aigles the gold medal and a 36-29 victory.Roy led all scorers with 14 points .Julie Dufresne had 10 points for the Flames. Other members of the winning squad were : Jasmine Guerin , Tessa Bertrand , Melanie Rivest , Kaitlyn MacIntyre , Melanie Demers , Pamela Charron , Emilie Mayer , Veronique Beaudry , Britney Haert et Emilie Labelle. They were coached by Lyne Guerin.
Check Out The Picks of the Month For September At Masciangelo Motors - Great Deals Can Be Found Throughout The Entire Lot

One of the most popular features of the Masciangelo Motors web site has been the Pick of the Month section.

Each month, Ron, Jeff, Tim and Jen select one vehicle they have on the lot that they feel is one of the best on the lot.

According to Jeff, "It seems as if a lot of people go to that part of the web site because once we list a vehicle as a Pick of the Month, it is usually sold before the end of that month."

If you would like to check out the picks for September, simply follow this link: Pick of the Month

Ron & Jeff continue to search out the auctions, both in person and on-line to bring in the best deals possible. This means that many vehicles are on and off the lot before you know it, so many people in the market for pre-owned vehicles have developed the habit of dropping in for a look on a regular basis.

You can still discuss the type of car or truck you would like to purchase and have Ron & Jeff search out the continent for exactly what you are looking for. The "Pick of the Month" section on their web site also gives you an excellent overview of the kinds of vehicles you can find on the lot.

If you want a close up look at the latest on the lot, just drop in and see Ron, Jeff, Tim or Jennifer. Better yet, go the link below and take a tour right from your computer.

You can find out much more by visiting the Masciangelo Motors web site at www.masciangelomotors.com

Now You Can Have Access To All Of The Stories and Articles That Were Published in Previous Issues Past Issues Of The Weekly Online News Magazine

by
Robert Kirwan: Publisher of Valley East Today

It gives us great pleasure to maintain a complete archive of previous issues of the Valley East Today Online News Magazine. We understand that there are times when you may have missed a week or would like to return to look over a previous article. Hopefully you will find this archive section useful and will share it with your friends. Everyone associated with Valley East Today is quite proud of the "Living History" we are creating and we know that it is providing a great deal of pleasure and enjoyment for people in the community. Thank you for spending some time with us today. If you have any comments, please do not hesitate to contact me at:
Inside Today's Issue...

Howard Armstrong Recreation Centre Continues To Meet The Fitness & Recreational Needs of Thousands of Local Residents
Keep The Spirit Alive Contest Is Being Well-Received By Local Residents
You Can't Find Anything Better Than A High School Football Game On a Beautiful Autumn Day
Community Solutions Team Will Meet With Residents of Valley East on Monday, September 25 At Centennial Arena
LES AIGLES FROM HORIZON CAPTURE FIRST GIRLS BASKETBALL TOURNAMENT OF THE SEASON
Check Out The Picks of the Month For September At Masciangelo Motors - Great Deals Can Be Found Throughout The Entire Lot
No Act of Kindness is Ever Wasted...Editorial by Robert Kirwan
Shelley Martel Helps Promote Ontario Child Find KidCheck / FingerPrint Program During Charity Days
Food Bank Associations of Valley East Put Together Impressive Displays During Valley East Lions Charity Days
Valley East Ladies' Slo-Pitch League Playoffs Continue Mondays and Wednesdays At Centennial Fields In Hanmer
Wedding Bells Ring Out For Nicole Brunet of Beswick Denture Clinic
ON THE LIGHTER SIDE
Long Distance Calling???? Interested in Voice Over Internet Technology??? Need Your Computer Repaired???
This Election Is All About Communicating With Voters

Valley East Community Theatre Holds Fall Penny Table Fund-Raiser At the Mall
Valley East Community Action Network Provides Opportunity For Public To Participate In Many Worthwhile Projects
Team Ecole Secondaire Catholique L'Horizon Provide Excellent Sound Services During Valley East Lions Charity Days
Glamorous You Nail Salon Not Only Provides Service To Clients, But Also Gives People A Chance To Get Certified In A Great Career

Popularity of "Welcome Home Gift Basket" Is Clear Indication Of Growth Of The Community

Good Luck Lorna
Ron & Lise Gladu Welcome All Visitors To Take A Tour Of Their Home Based Professional Studio
Comments From Our Readers Are Always Welcome And Will Help Us Make Valley East Today Even More Useful
ROGER'S SPORTS LINE
Twelve of Our Community's Finest Vocalists Make It To The Finals of The First Annual Valley East Idol Competition
Steady Line of People Trying Out Combination Locks For Trip To Cuba
New School In Val Caron Involved in Fund-Raising For Two Very Important Projects For Children
Blood Donor Clinics Held At Knights of Columbus Hall Every Month

First Anniversary Is Cause For Celebration of An Excellent Year For Val Caron's Fantastic Floors - Fall Renovation Projects Are The Order of the Day - Begin Planning Now!

Valley East Skating Club Registration Sessions at The Hanmer Valley Shopping Centre Prove Very Popular With Local Residents

Most Recent Previous Issues...

You Can Win 100 Lotto 649 Tickets Plus Other Great Prizes Just By Subscribing To Free Weekly News Magazine

Confederation Secondary School Chargers Looking For Plenty of Fan Support When They Open Their Season At Home On Friday

First Anniversary Is Cause For Celebration of An Excellent Year For Val Caron's Fantastic Floors - Fall Renovation Projects Are The Order of the Day - Begin Planning Now!

Check Out The Picks of the Month For September At Masciangelo Motors - Great Deals Can Be Found Throughout The Entire Lot
"Life Is Not Fair…Get Used To It"

Editorial by Robert Kirwan

Couple Travels All Over North America And Decides To Settle Down In Valley East
1st Valley East Scouts Hold Registrations At Mall And Increase Membership Significantly
Valley East Ladies' Slo-Pitch League Plays Every Monday and Wednesday Evening At Centennial Fields In Hanmer
Joe Ann's Market Research Collects Important Information From Local Consumers
Beswick Denture Clinic Provides Education As Well As Patient Service
ON THE LIGHTER SIDE
Long Distance Calling???? Interested in Voice Over Internet Technology??? Need Your Computer Repaired???
Robert Kirwan Believes In The Golden Rule of Politics…Know Your People
The United Church Women of St. James In The Valley Are Very Pleased With The Support They Received At Their Annual Fall Bake Sale & Penny Table Sale
Glamorous You Nail Salon Not Only Provides Service To Clients, But Also Gives People A Chance To Get Certified In A Great Career

Popularity of "Welcome Home Gift Basket" Is Clear Indication Of Growth Of The Community

Choosing The Right Back To School Footwear Can Mean All The Difference In The World For Your Children
Ron & Lise Gladu Welcome All Visitors To Take A Tour Of Their Home Based Professional Studio
Comments From Our Readers Are Always Welcome And Will Help Us Make Valley East Today Even More Useful
"Young Eagles" Flight Rally!
2006 Valley East Sports Hall of Fame Inductions Held During Valley East Lions Charity Days
Suzanne McCarthy Wins Over $1500 In Gift Certificates As Grand Prize Winner For August
Valley East Lions Charity Days Kicks Off The Day With Popular Pancake Breakfast Sponsored by Desjardins' Food Basics
Canadian Red Cross Youth Group Is Looking For Members Who Want To Have Fun
Valley East Skating Club Returns For Another Registration Session at The Hanmer Valley Shopping Centre on September 15 and 16

Confederation Secondary School Football Program Looking Forward To A Solid Season
The Secret To A Happy Family – Treat Each Other Like Strangers...Editorial by Robert Kirwan

Valley Pentecostal Church Provides Local Food Banks With Windfall That Will Go A Long Way To Help Those In Need This Year

Late Registration For Valley East Minor Hockey Association Will Be Held Saturday & Sunday - September 8 & 9, 2006

Valley East Cobras 'AAA' Midget Team Gearing Up For A Great Season - Looking For Fan Support

This Could Be Your Last Chance To Qualify For A Trip To Cuba!

Robert Kirwan Believes In The Golden Rule of Politics… "Know Your People!"

Robert Kirwan Urges All Residents of Valley East To Support Organizations Such As LE CENTRE CLUB AGE d'OR DE LA VALLEE / GOLDEN AGE CLUB

CIBC Run For The Cure Sets Up In The Mall To Raise Funds For Breast Cancer Research
FREE AIRPLANE RIDES
Roy St. Jacques Continues To Collect Pop Cans In Support Of Special Olympics Bowling League
Suzanne McCarthy Wins Over $1500 In Gift Certificates As Grand Prize Winner For August
Our Children / Our Future Raising Funds By Selling Tickets To Councillors' Breakfast at Valley East Lions Charity Days
Valley East Skating Club Returns For Another Registration Session at The Hanmer Valley Shopping Centre on September 15 and 16
OPEN INVITATION TO GIRLS NIGHT OUT
GREATER SUDBURY COMPETITIVE


LADIES BASKETBALL LEAGUE
Azilda Dog House Sports Bar Relics Lose In Championship Final

Kelsey Patterson Has Chance To Earn Bursary By Volunteering Her Time To Recruit Blood Donors
Valley East Cobras 'AAA' Midgets Annual Golf Tournament Was Enjoyed By All
Coping With Change Is All A Matter of Going With The Flow

...Editorial by Robert Kirwan

Valley East Ringette Association Registrations Expected To Reach Record Levels

Another Year Gets Under Way For Valley East Minor Hockey With Registrations At The Hanmer Valley Shopping Centre

Valley East Ladies' Slo-Pitch League Plays Every Monday and Wednesday Evening At Centennial Fields In Hanmer

Valley East Cobras AAA Midgets 2006-2007 Team Tryout Schedule

2006 Northern Ontario Fastpitch Champions
Valley East Skating Club Registers Dozens of Hockey and Ringette Players For Power Skating Sessions During The Winter

TO VIEW ALL OF THE PREVIOUS ISSUES

MAKE SURE YOU TAKE TIME TO VISIT THE VALLEY EAST TODAY COMMUNITY WEB SITE AT www.valleyeasttoday.ca
WELCOME TO THE FRONT PAGE
TUESDAY, SEPTEMBER 19, 2006