WELCOME TO PAGE TWO
TUESDAY, SEPTEMBER 26, 2006
"Burn Your Boats…"

Editorial by Robert Kirwan

It's no secret that I am a person who loves quotes and inspirational messages. I also believe that in order for a person to be successful in anything he or she gets involved in, there has to be a passion and a commitment to an ultimate goal or vision. Vince Lombardi, a Hall of Fame NFL football coach best summed it up when he said, "The quality of a person's life is in direct proportion to their commitment to excellence, regardless of their chosen field of endeavor."

When you adopt Vince Lombardi's philosophy, all you need in order to enjoy a successful, satisfying life is a commitment to excellence. You need to be determined to be the best you can be at whatever it is that you have chosen to do with your life. In other words, if you are driving a snow plow, strive to be the best snow plow operator anyone has ever seen. If you are a janitor, strive to make your buildings the cleanest buildings around. If you are a manager of a huge corporation, be the best manager for whom your employees have ever worked.

I once stopped for a submarine sandwich at a local establishment and was served by a young lady who I will never forget. When I told her what toppings I wanted on my cold-cut sandwich, instead of simply tossing the ingredients helter-skelter as most servers do, she actually took the time to place everything neatly over the meat, moving individual items around one at a time so that everything was balanced and actually looked like one of those sandwiches you see in magazine photos. I sincerely thanked her for her attention to detail and told her that this was the best submarine sandwich anyone had ever made for me. She thanked me and said, in a humble tone, "I get that a lot from my customers. I just think that if I am going to make a sandwich for you I want to make sure it is the best sandwich I can make."

I don't know what that young lady will be doing with the rest of her life, but I can tell you one thing: if she maintains that attitude, she will be successful at whatever she does.

Unfortunately, most people fail to achieve their goals, not because they are lazy or lack self-motivation, but because they were never fully committed to succeed in the first place. All of the people who achieve great things begin with a plan of action and then an unshakable commitment to its accomplishment. Walt Disney was a dreamer. He always said, "When you believe in a thing, believe in it all the way, implicitly and unquestionably."

I read a book recently about how the ancient Greek warriors developed a reputation for bravery and an unshakable commitment to victory. Interestingly enough, the key to their overwhelming success on the battlefield had more to do with how the Greek commanders motivated the warriors than it did with war tactics or strategies.

For you see, the Greeks were master motivators and understood how to use a dramatic demonstration to infuse a spirit of commitment into the heart of every warrior. Once the warriors had been offloaded from their boats onto the shore of their enemy, the Greek commanders would give their first order: "Burn the boats!"

The sight of burning boats removed any thoughts of surrender from their heads. As they watched their boats burn and sink into the water, they knew there was no turning back. The only way home was through victory. They could not retreat, so defeat was not an option.

Whenever I head into a new venture, I too give the command to "Burn the Boats!" I don't allow negative thoughts, fear, anxiety or self-doubt to enter into the picture. I have always said that whatever I get involved in; there is only one goal – to be the best – second best is not an option. It's all the way or no way! That is the reason why I was so impressed with that young lady in the submarine shop. She was "the best" sandwich maker I had ever seen. I have witnessed the same level of passion and commitment in many different areas of life. So have you. And I am sure that when you meet someone with that kind of commitment, you know it!

So no matter what you are doing in your life right now. Whether you are a homemaker; a student; a grocery clerk; a telemarketer; a manager; a business owner; or an athlete, just remember that the moment you definitely commit your self to be the best at what you are doing – in other words, the moment you give the command to "Burn The Boats", you will experience the magic and you will be taking the first step to achieving your dreams.

Go ahead – Burn Your Boat!

ROBERT KIRWAN'S FOOD FOR THOUGHT
For a complete selection of stories and editorials that will help you to reflect upon life's priorities, inspiring you to take on the daily challenges you face very day...
Valley East Lions Club Presents Money To Local Charity Groups That Helped Make First Annual Lions Charity Days A Huge Success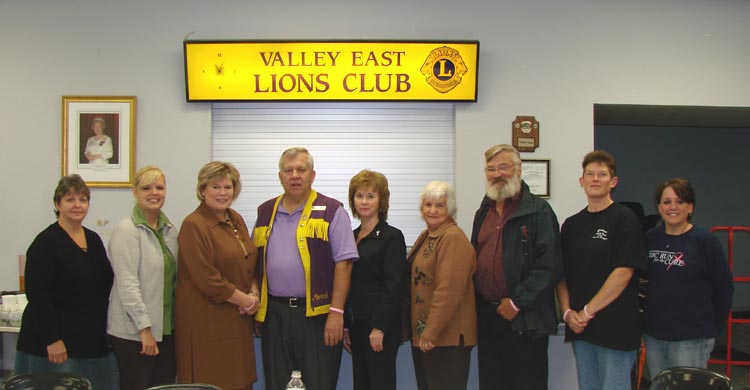 Marcel Servais, shown fourth from the left, is shown with some of the representatives from the charities that participated in the First Annual Valley East Lions Club Charity Days which was held on September 9, 2006. Each of the charities was presented with the proceeds from their respective sponsored events.

From the left we have: Mary Bertrand (St. Vincent de Paul Food Bank); Stephanie Richard (Our Children, Our Future): Muriel Anderson (Sudbury Regional Palliative Care Association); Marcel Servais (Chair of the Valley East Lions Charity Days); Angela Paquin (Sudbury Regional Palliative Care Association); Mary Lou and Bob Bolger (Kin Club of Valley East); Dawn (Our Children, Our Future); and Sylvie Demore (Canadian Breast Cancer Foundation and sponsor of the Teen Dance). Other charities that were missing from the photo included: The Easter Seal Society, Confederation Secondary School Travelling Group, and the Good Neighbours Food Bank.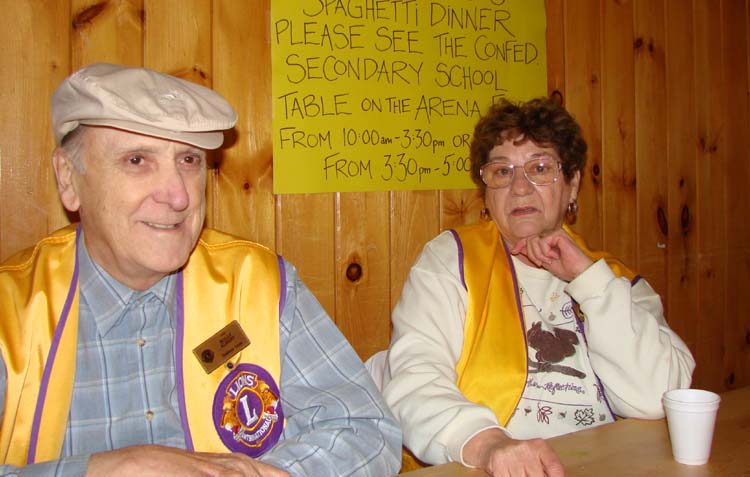 Rolly & Yvonne Albert are two people who are perfect examples of the type of person who becomes a Lion. Rolly has been a member of the Sudbury Lions Club for over 25 years. His wife, Yvonne, has been a member of the Valley East Lions Club for the past ten years. Rolly is an Associate Member of the Valley East Lions Club by virtue of his wife's membership. The two dedicated members can be seen often during the year volunteering to work on behalf of initiatives of their respective clubs. Here they are shown selling tickets for the spaghetti dinner during the First Annual Valley East Lions Charity Days which was held on September 9, 2006. Rolly is also a Past Governor of District A5 which covers all of Northern Ontario.
Local Ambassadors for the Easter Seal Society Deliver Powerful Message During Valley East Lions Charity Days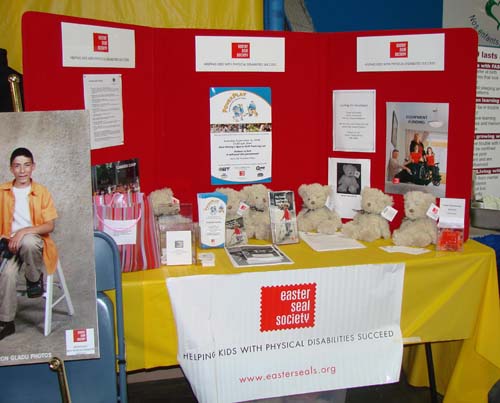 Lisa Lounsbury, District Manager of the Sudbury Branch of the Easter Seal Society, is shown in the photo below with the two Ambassadors for 2006 as they spoke during the Valley East Lions Charity Days Event held on September 9, 2006 at the Centennial Arena.

Tanya Quesnel, a nine year old, Grade 5 student at Jean Sauve School and twelve-year old Sylvain Labelle, a Grade 7 student at Ecole St. Therese of Val Therese, spoke on behalf of the Easter Seal Society, encouraging visitors to support the fight for a cure.

The two children attend numerous public events during the year as spokespersons for the Easter Seal Society.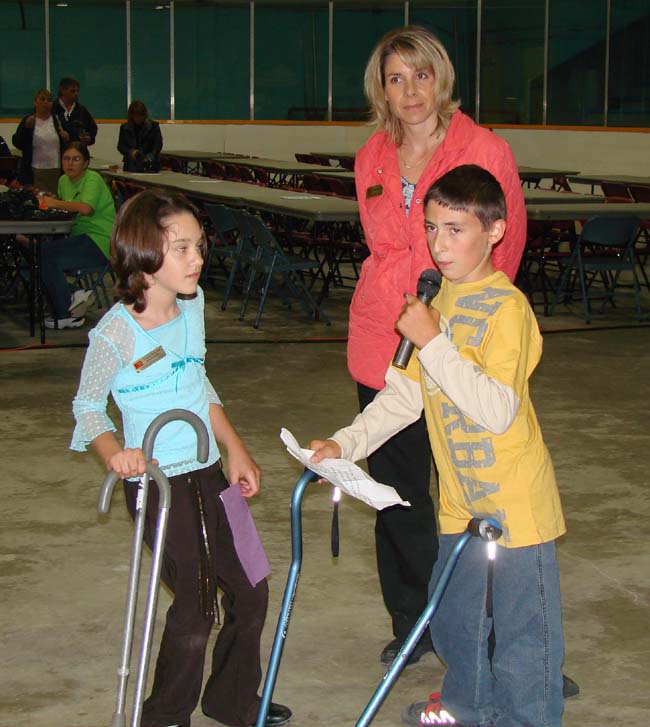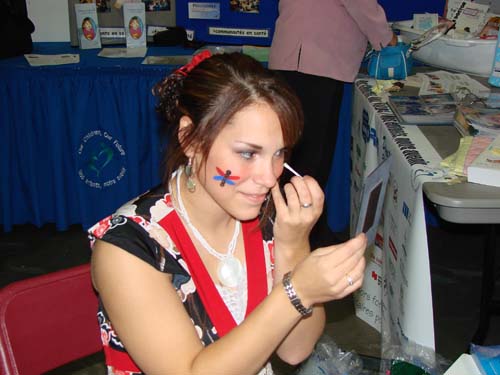 Cammie Thibert was in charge of Face Painting during the Valley East Lions Charity Days while volunteering with the Our Children Our Future booth. Here she is shown decorating up her own face prior to opening up for the kids who were in attendance during the event.
Good Neighbours Food Bank Receives Some Much Needed Funding and Awareness From Valley East Lions Charity Days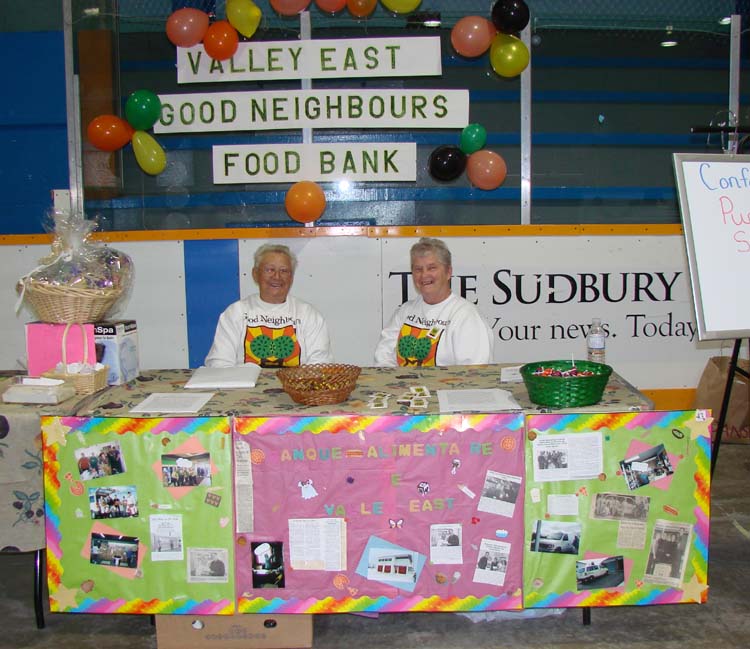 Anne Unwin and Margaret Bourgeois, are shown at the display for the Good Neighbours Food Bank which they had set up during the Valley East Lions Charity Days on September 9, 2006.
| | |
| --- | --- |
| | Food Banks of Valley East |
St. Vincent de Paul
Good Neighbours

Open Monday to Friday
9:30 a.m. to 4:00 p.m.
For general sales
Open the last two Wednesdays of every month
from 10 a.m. to 2 p.m.
For Food Bank and Clothing
Food Bank
During the 3rd Week of every month
9:30 a.m. to 3:00 p.m.
Good Neighbours Food Bank no longer distributes clothing. You will have to go to St. Vincent for clothing.
Emergency Service Available
Emergency Service is available by calling the phone number below.
Located on Highway 69N at the top of the hill in Val Caron
Located on Lafontaine Street in Hanmer. Enter the street off Hwy 69N
Provides services to residents living in the 897- exchange
Provides services to residents living in the 969- exchange
Phone Number
897-1212
Fax: 897-3338
Phone Number
566-1283
Wedding Bells Ring Out For Nicole Brunet of Beswick Denture Clinic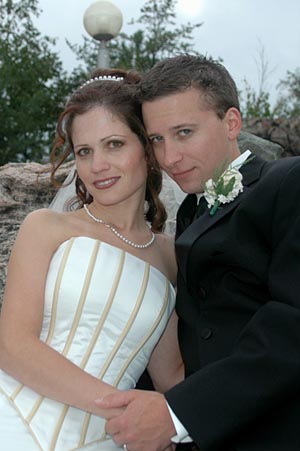 Congratulations go out to Nicole BRUNET-DANDENO and her new husband, John-David, who were married on September 2, 2006.
After a honeymoon in France, the couple is now enjoying the next chapter of their lives in Valley East.
We want all patients of Beswick Denture Clinic to know that even though the name has changed to Mrs. Nicole Brunet-Dandeno, our "Nicky" is still the same professional Denturist that we have all come to know and love.
We all wish Nicole and John-David many, many happy years of wedded bliss.
If you would like to find out more about Beswick Denture Clinic or the Beswick Footcare Clinic, simply go to their comprehensive web site at the following link>>>>
Don't forget that October is Denture Awareness Month and Beswick Denture Clinic will have an information display exhibit outside their office all month.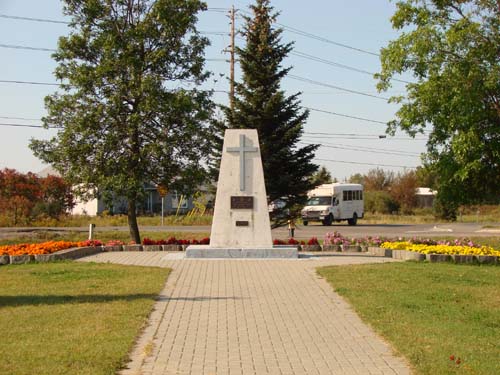 KOREA WAR VETERANS
The Korea Veterans Unit 19 Sudbury is always looking for New Members and if there is anyone out there who served in the Korean War we would be glad to welcome them into the Unit. Anyone interested can call Harold Payne at 969-4367 or George Haskin at geeoh@sympatico.ca 522-0562.
The next meeting of the Korea Veterans is on 27 Sep 06 at Branch 76 Royal Canadian Legion 1553 Weller St Sudbury
ON THE LIGHTER SIDE
Groaners....

1. Two antennas meet on a roof, fall in love and get married. The
ceremony wasn't much, but the reception was excellent.

2. Two hydrogen atoms walk into a bar. One says, "I've lost my electron."
The other says, "Are you sure?" The first replies, "Yes, I'm positive..."

3. A jumper cable walks into a bar. The bartender says, "I'll serve
you, but don't start anything."

4. Two peanuts walk into a bar, and one was a salted.

5. A sandwich walks into a bar. The bartender says, "Sorry we don't serve
food in here."

6. A dyslexic man walks into a bra.

7. A man walks into a bar with a slab of asphalt under his arm and says:
"A beer please, and one for the road."

8. Two cannibals are eating a clown. One says to the other: "Does this
taste funny to you?"

9. "Doc, I can't stop singing 'The Green, Green Grass of Home'"
"That sounds like Tom Jones Syndrome."
"Is it common?"
Doc says "It's Not Unusual."

10. Two cows standing next to each other in a field, Daisy says to Dolly,
"I was artificially inseminated this morning."
"I don't believe you," said Dolly.
"It's true, no bull!" exclaimed Daisy.

11. An invisible man marries an invisible woman. The kids were nothing to
look at either.

12. A man takes his Rottweiler to the vet and says, "My dog's cross-eyed,
is there anything you can do for him?"
"Well," says the vet, "let's have a look at him" So he picks the dog up
and examines his eyes, then checks his teeth Finally, he says, "I'm going to have to put him down."
"What? Because he's cross-eyed?"
"No, because he's really heavy."

13. I went to buy some camouflage trousers the other day but I couldn't find any.

14. I went to the butcher's the other day and I bet him 50 bucks that he couldn't reach the meat off the top shelf.
He said, "No, the steaks are too high."

15 . I went to a seafood disco last week... and pulled a mussel.

16 . What do you call a fish with no eyes? A fsh.

Oh Dear......

The weather was very hot and this man wanted desperately to take a dive in a nearby lake. He didn't bring his swimming trucks, but who cared? He was all alone. So he undressed and got into the water.

After some delightful minutes of cool swimming, a pair of old ladies walked onto the shore in his direction. He panicked, got out of the water and grabbed a bucket lying in the sand nearby. He held the bucket in front of his private area and sighed with relief. The ladies got nearby and looked at him. He felt awkward and he wanted to move.

Then one of the ladies said to him, "You know, I have a special gift, I can read minds."
"Impossible," said the embarrassed man. "You really know what I think?"
"Yes," the lady replied,
"Right now, you are thinking that the bucket you're holding has a bottom."...


Long Distance Calling???
? Interested in Voice Over Internet Technology??? Need Your Computer Repaired???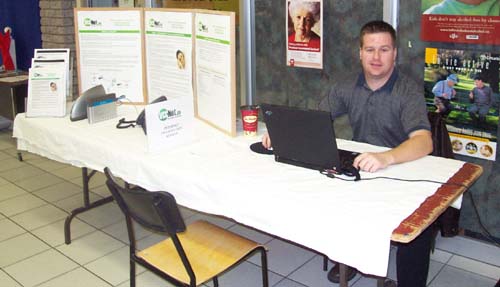 Edgar Lajambe, is a 30-year old life-long resident of Hanmer. His passion for computers and information technology goes back to a high school co-op placement he had in 1994 with a company called the AMS Group. When he graduated from St. Charles College he discovered that there were a lot of people who kept coming to him for computer repairs and consulting, so he formed his own company, Valley Computers & Consulting.

When VoIP (Voice over Internet Technology) was first introduced to Sudbury , Edgar saw this as the future of communication and immediately jumped on board; studying everything there is to know about the technology. As a result, he formed another division of his company, called VCCNet.ca Internet Solutions, which deals with long-distance discount calling and the use of the internet for communication purposes.

Edgar has joined forces with another locally owned firm, Infocom Canada Business Consultants Inc. which operates Valley East Today, a marketing & public relations company which publishes a community web site and weekly online news magazine.

"The cost of long distance calling has always been a detriment to people living in the north," Edgar explained when asked why he feels so strongly about the communication services he now provides to the community. "I know so many of my friends and acquaintances who have children or parents living in other parts of Ontario . They would love the chance to talk to them more often by phone, but long distance charges really cut into the budget; especially for seniors who would love to talk to grandchildren, or parents who have children away at university or college."

"Once people find out how easy it is to switch over to my plan, and they realize that there is absolutely no risk or long-term commitment – that all they get is the freedom to talk on the phone to anyone in Ontario for as long as they want for one low price of $15.95 a month, they are sold," Edgar went on.

Edgar also repairs and programs individual computers for both commercial and residential use. You can drop in and see him at his office in the Hanmer Valley Shopping Centre, or he will come directly to your home or office.

Whatever you are looking for, give Edgar a call at 670-4039 or you can go to his web site at www.vccnet.ca and see how he can meet your needs.

PREPARING FOR THE 2006 MUNICIPAL ELECTION
The next municipal election for the City of Greater Sudbury will take place on Tuesday, November 13, 2006.

A lot of things happen during a four-year term. Some are good and some are bad. However, every decision that is made by our municipal council has a direct impact on the lives of people living in Valley East and Capreol.

Please note that Candidates have until 5:00 p.m. on September 29, 2006 to file their completed nomination form.

It hoped that anyone who is serious about standing for election will declare his/her intention as soon as possible so that we have enough time to fully understand their individual platforms.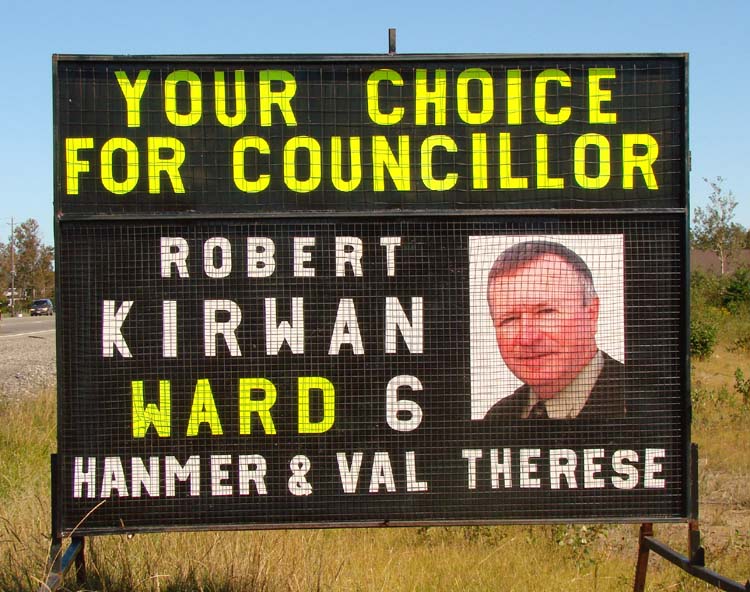 HANMER VALLEY SHOPPING CENTRE
PHONE: (705) 524-7006
www.kirwan.ca
"I Am Not A Politician!
I'm A Civil Advocate Working For The People Who Live In Ward 6, Hanmer & Val Therese"
When the people living in Ward 6, Hanmer and Val Therese cast their votes for Councillor on November 13, 2006 , they will be making a very serious decision about the kind of person they want to represent their best interests at City Hall for the next four years. There won't be much difference between the candidates with respect to their positions on the major issues facing this part of the City of Greater Sudbury . All of the candidates are going to say that they will work hard to get improved roads; lower taxes; better snowplowing; a new highway coming from New Sudbury to Hanmer; a referendum on de-amalgamation to determine the true will of the people; better police protection; better transit services to subdivisions; more development; more day care; more senior apartments; better recreational facilities and playgrounds; and the list goes on.

WHO HAS THE BEST CHANCE OF GETTING THE JOB DONE? is the big question that will be on the minds of all voters come November 13. People don't care who has the most signs posted on lawns. They don't care who comes around knocking at their door asking for support. They want someone who will actually be able to go to City Hall and make things happen. They want someone who can "walk the talk" and represent them well on City Council.

THE PEOPLE OF WARD 6 NEED A STRONG AND DEVOTED CIVIL ADVOCATE! That's right! We don't need another politician at City Hall. We don't want someone who is going to make promises during the election and then be unable to deliver on those promises for the next four years. We need someone who is going to be our community representative and our collective voice at City Hall. We need someone who will have the ability to defend our rights when it comes to municipal services. We need someone we can turn to in our time of need to push the right buttons and work hand-in-hand with other councilors to get what is best for the people of Ward 6, Hanmer & Val Therese.

ROBERT KIRWAN IS THE KIND OF CIVIL ADVOCATE WE CAN COUNT ON FOR RESULTS! "I am not a politician. I did not decide to put my name forward for the position of Councillor of Ward 6, Hanmer & Val Therese so that I could be seen at ribbon cutting ceremonies, on television, or attending other "feel-good" events. I put my name forward for the position of Councillor of Ward 6, Hanmer & Val Therese because I have devoted the better part of my life to the promotion and betterment of Valley East for the past 32 years. I taught school here. I am the main writer for The Vision Paper. I publish a community web site and weekly online News Magazine called Valley East Today which can be found at www.valleyeasttoday.ca. I have been involved in just about all sports and community organizations as my wife and I raised our three sons in Val Therese. I am the marketing manager for the Hanmer Valley Shopping Centre and in that role I work closely with schools, churches, food banks, organizations. sports groups and cultural groups to help them provide a better quality of life for local residents."

"I AM ASKING FOR YOUR VOTE on November 13, 2006 so that I can occupy a position of influence as a Councillor at City Hall and continue my work on your behalf as a CIVIL ADVOCATE for the people of Ward 6, Hanmer & Val Therese. Put me at the table with the rest of the City Councillors and I guarantee I will make a positive and significance difference in the future of this great town."
CITY OF GREATER SUDBURY
OFFICIAL ELECTION SITE

READERS MAY SUBMIT THEIR OWN COMMENTS ON THE UPCOMING MUNICIPAL ELECTION BY CLICKING ON THE EMAIL BUTTON BELOW

WELCOME TO PAGE TWO
TUESDAY, SEPTEMBER 26, 2006