WELCOME TO THE FRONT PAGE
TUESDAY, SEPTEMBER 26, 2006
Community Solutions Team Present Preliminary Findings to Valley East Residents on Monday, September 25

Floyd Laughren and the members of the Greater Sudbury Community Solutions Team conducted Round 2 of their mandate by visiting each of the outlying communities to present a summary of the issues and suggestions made during the first set of public meetings in June, as well as outline how the team will proceed to develop its final recommendations to City Council.

'We've taken the summer to organize the more than 5,000 issues and suggestions we heard during our consultations in June," said Mr. Laughren. 'Although we can't deal with every issue and suggestion that was brought forward, we want to show the community that we have chosen broad themes to focus on as we develop concrete recommendations to improve our city."

Six citizen working groups, each led by a member of the Solutions Team, will tackle these themes during October and November. The working groups will propose draft solutions for the Community Solutions Team's consideration and adoption. A final report will be presented to the 'New' City Council in early 2007.

"Our hope is to have someone from each of the former municipalities on each working group," said Solutions Team member Gisèle Chrétien. 'These folks will help us to focus on the most important and broadest issues to develop realistic proposals for improvement. I encourage people to come out to our meetings and volunteer to help with one of the working groups."

Floyd Laughren reiterated the team's commitment to be as open and realistic as possible. 'I've said all along that we will not be able to deal with every issue that was brought to our attention. We intend to be as open as possible about what we will be focusing on as we move forward. We have, of course, recorded all of the issues presented and we will be passing these on to City staff."

"We can't just present city council with 3,000 problems. City council needs to deal with policy issues. We have to weed out some issues. You can't say to city council that there's a sign down at Suez Rd. in Capreol," he says.

"We've already given all the local stuff to the city staff. We've already done that. They can be looking at those problems and fixing them."

Laughren says he'll make sure his recommendations are practical. "I'm not going to give recommendations that are pie in the sky. I live at the end of Penage Lake Rd. I could ask that the road be four-laned, but that's just not realistic."

If citizens can't make it out to the meetings, they can submit their comments or volunteer to be in a working group by e-mail at cst@greatersudbury.ca, in person at any Citizen Service Centre or by mail at Community Solutions Team, Tom Davies Square , 200 Brady St., Sudbury , ON , P3A 5P3 .




VISIT THE
VALLEY
EAST
TODAY
COMMUNITY
WEB SITE


COMMUNITY
SECTION

Welcome
Our Spirit
Our Schools
Our Churches
Our Food Banks
Our Library
Our Cemetery
Our Playgrounds
Our Sports
Our Recreation
Our People
Sports Complex
Youth Centre
Organizations

MUNICIPAL
SECTION

Election 2006
City of Sudbury
Fire Services
Animal Shelter
Hospital

REFERENCE
SECTION

Local Media

The Vision Paper
Toronto Star
TSN Sports
Weather Network
Canada 411
Yellow Pages
Horoscopes
Lotto 649
Student Page
After The Whistle
Ponds & Gardens
Grotto Sudbury
Yahoo Search
Google Canada

Corporate Web Sites
Worth Visiting
Beswick Denture Clinic
Heatwave Tanning Salon
Fantastic Floors
Independent Energy Serv.
Hanson Family Dentistry
Valley View Cleaners
Sole Mates Footwear
Ron Gladu Photos
VCCNet
Masciangelo Motors

Infocom Canada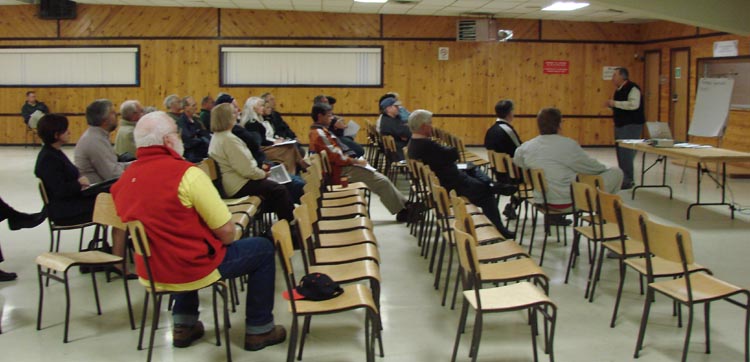 Only thirty (30) people attended the meeting in Valley East which was an opportunity for the public to review the information that was gathered during the first round of meetings which were held in June. Of that group, a total of 13 included committee members, City staff, representatives from the media and candidates in the upcoming election. Only 17 were considered members of the general public, and almost one third of that total came from the Valley East Community Action Network.

Gary Michlak is shown leading the group through several sessions during which people reiterated some of the issues, concerns and suggestions that were mainly included in the initial report.

On October 12, 2006, the Community Solutions Team will meet with some 36 members of the general public who will have been selected to sit on six different committees, each with a responsibility of sifting through one of the six themes that have been identified during the meetings with the public. Following the orientation meeting, the groups will meet three more times, on October 19, November 2 and November 9, before turning things back to the Community Solutions Team members for their final deliberations and preparation of a report that will be turned over to the New Council in January 2007.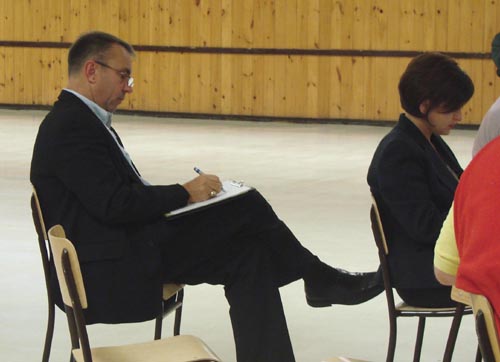 Two very interested Senior Managers from City Staff were also in the audience taking careful notes and making observations. They were Alan Stephen, General Manager, Infrastructure and Emergency Services on the left, and just in front of him, Lorella Hayes, Chief Financial Officer with the City.
It was apparent from the mood of the small audience in Valley East that people in the outlying areas are not happy with the level of services they have been receiving since amalgamation in 2001. The issues range from poor road maintenance and snow removal to a lack of senior housing developments. It was obvious that much work must be done to create a level of "decentralization" in some areas of responsibility so that people have a sense of "belonging" to the City of Greater Sudbury. Much of the blame for the conditions as they exist today was directed to City Council for failing to fully understand and appreciate the needs of their constituents. It seems as if the upcoming election campaign will be fought on one major underlying principle: Do we want to be "One City" or do we want to be a "Community of Communities"?
For a full report you can go to the City web site at: http://www.city.greatersudbury.on.ca/cms/index.cfm?app=dept_cao&lang=en&currid=4984

Acrobat Results Marketing Looking To Expand Workforce With New Hires From Valley East And Capreol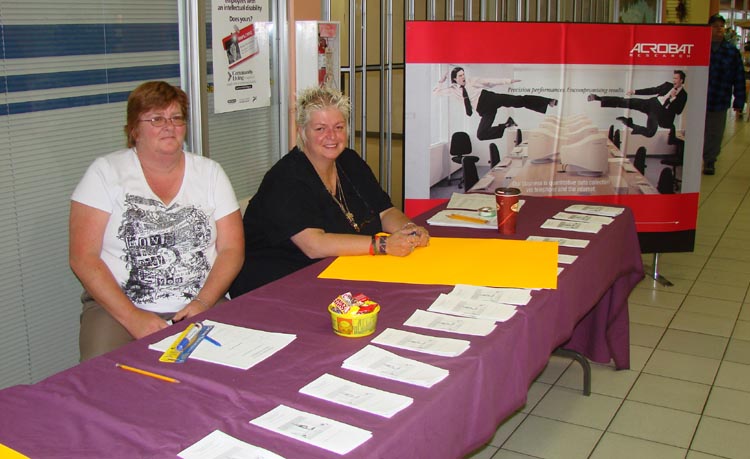 Margaret Richer, left, and Cecile Labelle, two Customer Care Representatives with Acrobat Results Marketing of Capreol, were on hand at the Hanmer Valley Shopping Centre from September 22 to 24, 2006 conducting a Mini - Job Fair in hopes of recruiting new employees for their company.

Cecile, who has been with the firm since it opened some six years ago, explained that this is one of the best jobs she has ever had, "I just love it because we don't do any selling. All we do is conduct surveys and collect data on just about anything you can think of. Most of our calls are to places outside of Canada, but we have done surveys and polls for local businesses and politicians."

Margaret, who has been with the company for three years, went on, "It is such a nice place to work. Everyone gets along with each other and the company really treats us fairly. Our boss, Beth Depatie, who is a Vice President of Acrobat, in charge of Field Operations in Capreol, is so nice to work for. She really cares about her employees and does everything she can to be accommodating."

The starting rate for interviewers is $8.50 for the Day Shift (9 a.m. to 5:00 p.m.) and $8.00 for the Night Shift (5:15 p.m. to 12 a.m.). Both Cecile and Margaret point out that there are plenty of opportunities for advancement and with the performance incentives the actual wage can be much higher. In addition, there is so much work lined up that the company must hire more people to complement its staff which is already close to 100 employees.

The best thing of all is that Acrobat Results Marketing offers flexible scheduling done on a weekly basis so that you can work as few as three evenings a week to work around other commitments. This is an excellent job for a student or someone looking for part-time employment to supplement another full-time job.

If you are interested in finding out more about this employment opportunity, call (705) 858-4343.

NOHA Minor Atom Hockey Team Raises Money By Helping The Environment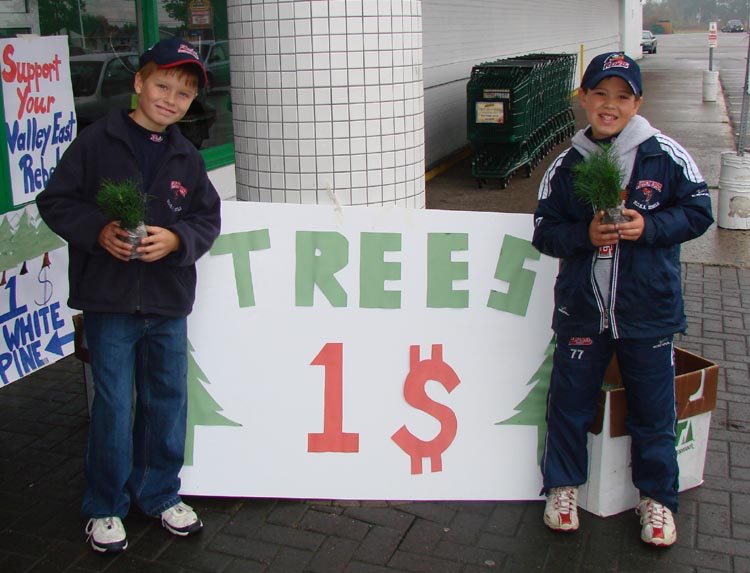 Members of the Valley East NOHA Minor Atoms were out in full force this past weekend (September 22 & 23, 2006) trying to raise money to help defray some of their team's expenses for the 2006-2007 hockey season. In the photo above, Cole Braney (9), a Left-Winger with the team and a Grade 4 student at Valley View Public School, and his linemate, Body Brunet (9), a Centre Man who attends Grade 4 at the new John Paul II school in Val Caron, are shown during their shift at the Hanmer Valley Shopping Centre.

Cole's mother, Christina Braney was supervising the pair and had this to say about the fund-raising initiative. "My husband, Colin is the manager of the team and he used to be with the Ministry of Natural Resources. So when the parents were discussing ways to raise money, he suggested that we purchase 5000 white pine seedlings and sell them for $1 each. That way we would be providing people with something they could plant to improve the environment instead of just holding a tag day."

The team is scheduled to take part in a Bell Canada Tournament in Ottawa during the Christmas Break, so the funds raised will go a long way to covering the expenses for that trip alone.

Head coach of the club is Kevin Villeneuve who will be working with Assistant Coach, Bobby Brunet. The rest of the management team includes: Colin Braney, Manager; John Sauve, Assistant Manager; and Paul Rychlo, Trainer. There are nine teams in the Minor Atom league this year.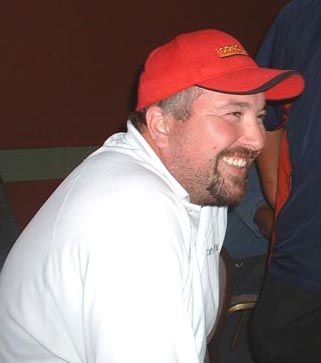 VALLEY EAST
MENS'
SLO PITCH
LEAGUE

The first round of the playoffs is history. Now the four divisions enter their championship finals with the first games to be played on Tuesday, September 12.
Our playoff information is being provided by Brian Beaupre who has been providing us with up to date standings all during the season.
Check out the standings by clicking on the link below to open up a WORD document which will contain the latest standings, courtesy of Brian Beaupre.
We appreciate Brian's efforts in providing us with this important service and will keep you up to date with the latest playoff scores. It should be an exciting race in all of the four playoff divisions as the teams this year are extremely competitive within their own groups.
FIRST HALF
FINAL STANDINGS
FINAL STANDINGS &
First Round Playoff Results
CHAMPIONSHIP SERIES SCHEDULES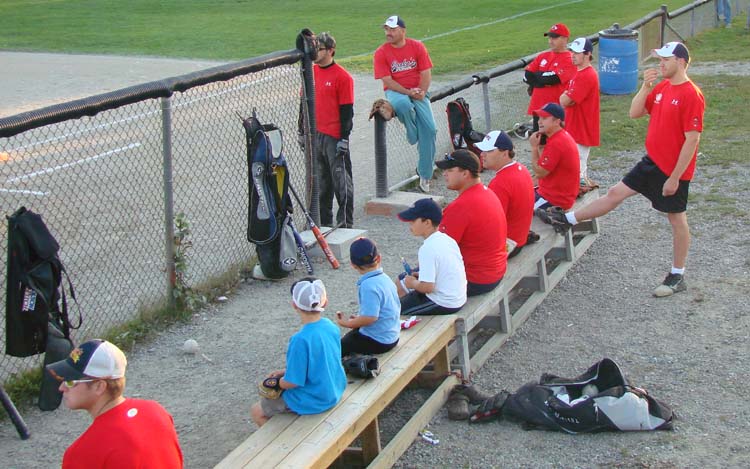 Things are getting tense in the Budweiser Division Finals as Auto Tech and Moeric Services head into a fifth and deciding game tonight (September 26, 2006) at Centennial Ball Field. The game is scheduled to go at 8:00 p.m. It is the last game to be played this season as all three other championship series have been decided.



Fall and Winter Programming
The Art Gallery of Sudbury on John Street has several very interesting programs for children and adults starting up this fall. Go to the main web site through the above link to see if there is anything of interest that you may wish to take part in and contact the administration at 675-4871.

A Variety of Community Notes

1.

All Peoples United Church invites you to "BYON" – bring your own needles.

APUC will provide the wool.

Kimm and Vanessa will provide some basic patterns.

You bring your needles and some enthusiam.

BYON evenings are held weekly on Mondays from 7 to 8 pm at All Peoples United Church – side door entrance – corner of Jean and Antwerp – FREE! Call Vanessa at 675-2738.

2.

All Peoples United Church invites everyone to our FREE Lectionary-Based Interdenominational Bible Study on Mondays from 10 to 11 am. Our leader for this session is Judith Traulsen. Come to All Peoples United Church – side door entrance – corner of Jean and Antwerp.

Call Jan at 522-5126.

3.

Chaplaincy / Ministry to Long Term Care Facilities welcomes your donations of small vases and small clean stuffed toys for our "Random Act of Flowers" program for seniors. We also can use unusual mugs – beautiful or silly. Call Jan at 522-5126.

4.

The Elgin St. Mission welcomes donations of sandwiches and fresh veggies. If you have fresh food left over from a lunch or suppertime event – why not give it to the Mission, located in the Samaritan Centre at 344 Elgin St.? Call 673-2163.

Building Demolished To Make Room For Shoppers Drug Mart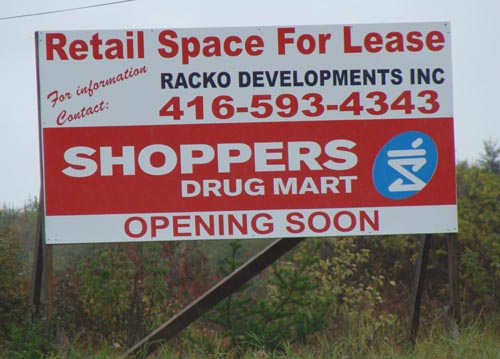 Residents of Valley East lost a familiar landmark this week when the former Fruit Stand at the corner of Hwy 69N and Deschenes was demolished to make room for a brand new retail centre which will be anchored by a 15,000 square foot Shoppers Drug Mart. It is expected that the new retail complex will be approximately 28,000 square feet in total size once several other retail spaces are filled. The sign at the right indicates that there is still space available for anyone who wishes to rent.

The establishment of the Shoppers Drug Mart is consistent with a new corporate trend that will see many of the larger chain stores seeking out expansion opportunities into smaller towns now that the big cities are saturated.

Tony Hernandez, director of Ryerson University's Centre for the Study of Commercial Activity noted that if you look at Wal-Mart for the past five years in Canada, they have gone from 196 to 233 stores with the vast majority of growth being in markets of less than 30,000 people in population. For example, 16 of the 37 new stores have been in centres with less than 50,000 in population.

Hernandez is noting a similar pattern with Home Depot and Shoppers Drug Mart pharmacies. Hence, it is no surprise to find a Shoppers' Drug Mart springing up in Valley East which draws from approximately 30,000 people when you include Capreol.

Peter MacKenzie, a development consultant with CB Richard Ellis Ltd. in Halifax predicts that the concept of malls will change somewhat as the larger chains move into smaller communities. He feels that we will see a collection of smaller stores tied to a single giant retailer in a town of 10,000 people rather than a large power centre on the outskirts of a large city. MacKenzie went on to explain that it is possible that small communities will benefit as shoppers choose to stay home to shop rather than driving 50 kilometres to a large urban mall. The aging population and the rising gas prices may also help with this new shopping trend.

Therefore the commercial activity at the corner of Hwy 69 North and Elmview Drive in Hanmer should come as no surprise. When completed, this will be viewed as a sign of things to come in communities the size of Valley East. Shoppers can come to one location within their community to find two large grocery stores, a Canadian Tire Store, A Mark's Work Wearhouse, A Hart Department Store, two large pharmacy chains in Pharmasave and Shoppers Drug Mart, a Home Hardware Store and a multitude of smaller independent retail and professional establishments, including a Tim Horton's and the only gas station within a radius of five kilometres.


There is no question that we are experiencing the future with respect to the development of retail in the 21st Century. The impact it will have on smaller retailers will be seen shortly. However, consumers speak with their wallets, and the successful large chains have learned to listen to what the consumers are saying. For residents of Valley East and Capreol, the expansion comes at an opportune time and bodes well for the future of this part of the Greater Sudbury Area.


Check Out The Picks of the Month For September At Masciangelo Motors - Great Deals Can Be Found Throughout The Entire Lot

One of the most popular features of the Masciangelo Motors web site has been the Pick of the Month section.

Each month, Ron, Jeff, Tim and Jen select one vehicle they have on the lot that they feel is one of the best on the lot.

According to Jeff, "It seems as if a lot of people go to that part of the web site because once we list a vehicle as a Pick of the Month, it is usually sold before the end of that month."

If you would like to check out the picks for September, simply follow this link: Pick of the Month

Ron & Jeff continue to search out the auctions, both in person and on-line to bring in the best deals possible. This means that many vehicles are on and off the lot before you know it, so many people in the market for pre-owned vehicles have developed the habit of dropping in for a look on a regular basis.

You can still discuss the type of car or truck you would like to purchase and have Ron & Jeff search out the continent for exactly what you are looking for. The "Pick of the Month" section on their web site also gives you an excellent overview of the kinds of vehicles you can find on the lot.

If you want a close up look at the latest on the lot, just drop in and see Ron, Jeff, Tim or Jennifer. Better yet, go the link below and take a tour right from your computer.

You can find out much more by visiting the Masciangelo Motors web site at www.masciangelomotors.com


Now You Can Have Access To All Of The Stories and Articles That Were Published in Previous Issues Past Issues Of The Weekly Online News Magazine

by
Robert Kirwan: Publisher of Valley East Today

It gives us great pleasure to maintain a complete archive of previous issues of the Valley East Today Online News Magazine. We understand that there are times when you may have missed a week or would like to return to look over a previous article. Hopefully you will find this archive section useful and will share it with your friends. Everyone associated with Valley East Today is quite proud of the "Living History" we are creating and we know that it is providing a great deal of pleasure and enjoyment for people in the community. Thank you for spending some time with us today. If you have any comments, please do not hesitate to contact me at:
Inside Today's Issue...

Community Solutions Team Present Preliminary Findings to Valley East Residents on Monday, September 25
Acrobat Results Marketing Looking To Expand Workforce With New Hires From Valley East And Capreol
NOHA Minor Atom Hockey Team Raises Money By Helping The Environment
Building Demolished To Make Room For Shoppers Drug Mart
Check Out The Picks of the Month For September At Masciangelo Motors - Great Deals Can Be Found Throughout The Entire Lot
"Burn Your Boats"....Editorial by Robert Kirwan
Valley East Lions Club Presents Money To Local Charity Groups That Helped Make First Annual Lions Charity Days A Huge Success
Local Ambassadors for the Easter Seal Society Deliver Powerful Message During Valley East Lions Charity Days
Good Neighbours Food Bank Receives Some Much Needed Funding and Awareness From Valley East Lions Charity Days
Wedding Bells Ring Out For Nicole Brunet of Beswick Denture Clinic
Long Distance Calling???? Interested in Voice Over Internet Technology??? Need Your Computer Repaired???
"I Am Not A Politician!
I'm A Civil Advocate Working For The People Who Live In Ward 6, Hanmer & Val Therese"
Keep The Spirit Alive Contest Is Being Well-Received By Local Residents
Come Out And Cheer Your Confederation Secondary School Chargers
Sudbury Regional Palliative Care Association Represented At Lions Charity Days
Tom Guthrie Wins 2006 Pontiac Wave As Grand Prize Winner In Valley East Lions Club Draw
Glamorous You Nail Salon Not Only Provides Service To Clients, But Also Gives People A Chance To Get Certified In A Great Career

Popularity of "Welcome Home Gift Basket" Is Clear Indication Of Growth Of The Community - Over 165 New Residents Receive Gift Basket In Less Than Three Months

Good Luck Lorna
Ron & Lise Gladu Welcome All Visitors To Take A Tour Of Their Home Based Professional Studio
ROGER'S SPORTS LINE
Helene Belzile Wins Trip To Cuba In Valley East Lions' Charity Days Contest
Blood Donor Clinics Held At Knights of Columbus Hall Every Month

First Anniversary Is Cause For Celebration of An Excellent Year For Val Caron's Fantastic Floors - Fall Renovation Projects Are The Order of the Day - Begin Planning Now!

Most Recent Previous Issues...

Howard Armstrong Recreation Centre Continues To Meet The Fitness & Recreational Needs of Thousands of Local Residents
Keep The Spirit Alive Contest Is Being Well-Received By Local Residents
You Can't Find Anything Better Than A High School Football Game On a Beautiful Autumn Day
Community Solutions Team Will Meet With Residents of Valley East on Monday, September 25 At Centennial Arena
LES AIGLES FROM HORIZON CAPTURE FIRST GIRLS BASKETBALL TOURNAMENT OF THE SEASON
Check Out The Picks of the Month For September At Masciangelo Motors - Great Deals Can Be Found Throughout The Entire Lot
No Act of Kindness is Ever Wasted...Editorial by Robert Kirwan
Shelley Martel Helps Promote Ontario Child Find KidCheck / FingerPrint Program During Charity Days
Food Bank Associations of Valley East Put Together Impressive Displays During Valley East Lions Charity Days
Valley East Ladies' Slo-Pitch League Playoffs Continue Mondays and Wednesdays At Centennial Fields In Hanmer
Wedding Bells Ring Out For Nicole Brunet of Beswick Denture Clinic
ON THE LIGHTER SIDE
Long Distance Calling???? Interested in Voice Over Internet Technology??? Need Your Computer Repaired???
This Election Is All About Communicating With Voters

Valley East Community Theatre Holds Fall Penny Table Fund-Raiser At the Mall
Valley East Community Action Network Provides Opportunity For Public To Participate In Many Worthwhile Projects
Team Ecole Secondaire Catholique L'Horizon Provide Excellent Sound Services During Valley East Lions Charity Days
Glamorous You Nail Salon Not Only Provides Service To Clients, But Also Gives People A Chance To Get Certified In A Great Career

Popularity of "Welcome Home Gift Basket" Is Clear Indication Of Growth Of The Community

Good Luck Lorna
Ron & Lise Gladu Welcome All Visitors To Take A Tour Of Their Home Based Professional Studio
Comments From Our Readers Are Always Welcome And Will Help Us Make Valley East Today Even More Useful
ROGER'S SPORTS LINE
Twelve of Our Community's Finest Vocalists Make It To The Finals of The First Annual Valley East Idol Competition
Steady Line of People Trying Out Combination Locks For Trip To Cuba
New School In Val Caron Involved in Fund-Raising For Two Very Important Projects For Children
Blood Donor Clinics Held At Knights of Columbus Hall Every Month

First Anniversary Is Cause For Celebration of An Excellent Year For Val Caron's Fantastic Floors - Fall Renovation Projects Are The Order of the Day - Begin Planning Now!

Valley East Skating Club Registration Sessions at The Hanmer Valley Shopping Centre Prove Very Popular With Local Residents

You Can Win 100 Lotto 649 Tickets Plus Other Great Prizes Just By Subscribing To Free Weekly News Magazine

Confederation Secondary School Chargers Looking For Plenty of Fan Support When They Open Their Season At Home On Friday

First Anniversary Is Cause For Celebration of An Excellent Year For Val Caron's Fantastic Floors - Fall Renovation Projects Are The Order of the Day - Begin Planning Now!

Check Out The Picks of the Month For September At Masciangelo Motors - Great Deals Can Be Found Throughout The Entire Lot
"Life Is Not Fair…Get Used To It"

Editorial by Robert Kirwan

Couple Travels All Over North America And Decides To Settle Down In Valley East
1st Valley East Scouts Hold Registrations At Mall And Increase Membership Significantly
Valley East Ladies' Slo-Pitch League Plays Every Monday and Wednesday Evening At Centennial Fields In Hanmer
Joe Ann's Market Research Collects Important Information From Local Consumers
Beswick Denture Clinic Provides Education As Well As Patient Service
ON THE LIGHTER SIDE
Long Distance Calling???? Interested in Voice Over Internet Technology??? Need Your Computer Repaired???
Robert Kirwan Believes In The Golden Rule of Politics…Know Your People
The United Church Women of St. James In The Valley Are Very Pleased With The Support They Received At Their Annual Fall Bake Sale & Penny Table Sale
Glamorous You Nail Salon Not Only Provides Service To Clients, But Also Gives People A Chance To Get Certified In A Great Career

Popularity of "Welcome Home Gift Basket" Is Clear Indication Of Growth Of The Community

Choosing The Right Back To School Footwear Can Mean All The Difference In The World For Your Children
Ron & Lise Gladu Welcome All Visitors To Take A Tour Of Their Home Based Professional Studio
Comments From Our Readers Are Always Welcome And Will Help Us Make Valley East Today Even More Useful
"Young Eagles" Flight Rally!
2006 Valley East Sports Hall of Fame Inductions Held During Valley East Lions Charity Days
Suzanne McCarthy Wins Over $1500 In Gift Certificates As Grand Prize Winner For August
Valley East Lions Charity Days Kicks Off The Day With Popular Pancake Breakfast Sponsored by Desjardins' Food Basics
Canadian Red Cross Youth Group Is Looking For Members Who Want To Have Fun
Valley East Skating Club Returns For Another Registration Session at The Hanmer Valley Shopping Centre on September 15 and 16

Confederation Secondary School Football Program Looking Forward To A Solid Season
The Secret To A Happy Family – Treat Each Other Like Strangers...Editorial by Robert Kirwan

Valley Pentecostal Church Provides Local Food Banks With Windfall That Will Go A Long Way To Help Those In Need This Year

Late Registration For Valley East Minor Hockey Association Will Be Held Saturday & Sunday - September 8 & 9, 2006

Valley East Cobras 'AAA' Midget Team Gearing Up For A Great Season - Looking For Fan Support

This Could Be Your Last Chance To Qualify For A Trip To Cuba!

Robert Kirwan Believes In The Golden Rule of Politics… "Know Your People!"

Robert Kirwan Urges All Residents of Valley East To Support Organizations Such As LE CENTRE CLUB AGE d'OR DE LA VALLEE / GOLDEN AGE CLUB

CIBC Run For The Cure Sets Up In The Mall To Raise Funds For Breast Cancer Research
FREE AIRPLANE RIDES
Roy St. Jacques Continues To Collect Pop Cans In Support Of Special Olympics Bowling League
Suzanne McCarthy Wins Over $1500 In Gift Certificates As Grand Prize Winner For August
Our Children / Our Future Raising Funds By Selling Tickets To Councillors' Breakfast at Valley East Lions Charity Days
Valley East Skating Club Returns For Another Registration Session at The Hanmer Valley Shopping Centre on September 15 and 16
OPEN INVITATION TO GIRLS NIGHT OUT
GREATER SUDBURY COMPETITIVE


LADIES BASKETBALL LEAGUE
Azilda Dog House Sports Bar Relics Lose In Championship Final

TO VIEW ALL OF THE PREVIOUS ISSUES

MAKE SURE YOU TAKE TIME TO VISIT THE VALLEY EAST TODAY COMMUNITY WEB SITE AT www.valleyeasttoday.ca
WELCOME TO THE FRONT PAGE
TUESDAY, SEPTEMBER 26, 2006