As the leaves change colors, the sun goes down much earlier and the early morning frost appears on our car windows so does the sports scene change.
Following a very successful fastball season in both ladies and men, the Rick McDonald Memorial Fastball League's 2006 edition came to a close on Tuesday, September the 19th in Garson at the Lorn Brady Memorial Park . The championship series best of five affair tied at 2-2 came down to this deciding game. It was a classic where most of the fans were huddled in blankets, toques and mitts to watch this final deciding game. Both starting pitchers Eric"E-train" Abitong of the Pickerel River Cardinals and Aaron Sixer" Owl of the Dog House North Stars matched strike out for strike out combining to just give up nine hits(three by the Dog House and six by the Cardinals). In the end the Cardinals prevailed 3-2 to capture the 2006 league championship for they very first time (below you can see the picture of the happy winning team and the league trophy which is 39 years old this year).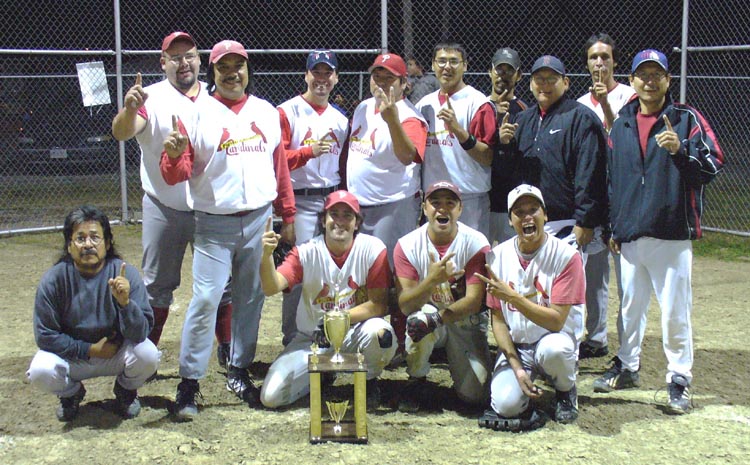 PICKEREL RIVER CARDINALS

: Frank"Bonkers"Ashawasaga , Alex"Broback"Ashawasagai, Edward Jr "Shaq"Panamick, Jonathon Contin, Johnny Paiponsai, Eric "E-train" Abitong(game MVP and winning pitcher), Earl Contin, Bucky Abitong


Front row left to right

: Edward Sr Panamick(coach) , Pat Brennan , Kevin Flood and Jamie Contin
Both Owl and Abitong were named game MVP's.Owl finish the playoff round with 73 strike outs and 173 for the season (an average of 9, 78 per game.Joel Belanger of Dog House was the playoff top hitter finishing at 522. The league golf tournament (at Clearview Golf Course in Val Caron) and the year end banquet/awards celebration (at Cranky Joe's Roadhouse Sports Bar) will be held on Saturday October the 14th.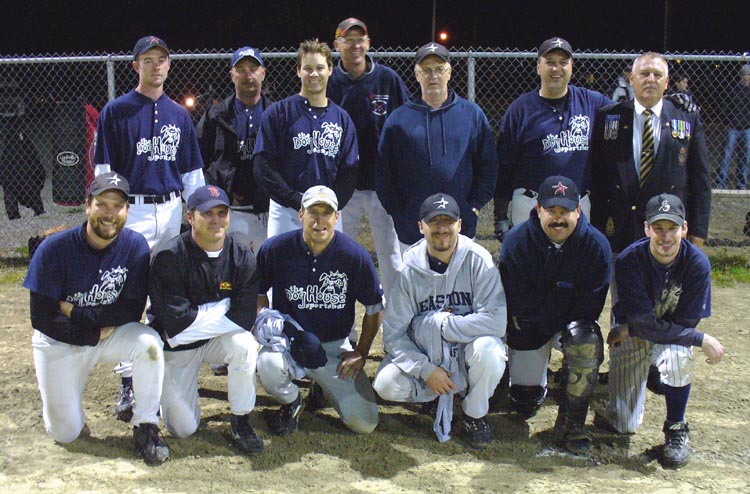 Dog House North Stars - 2006 Runners Up
In College ladies fastball action , after starting the season with an 0-4 record , the Cambrian ladies under the direction of coach Mickey Chartrand came up with a convincing 9-1 victory over their northern rivals from Canadore College of North Bay and now stand at 1-4 before heading out to St Clair in Windsor this coming weekend.
In other news, the Secondary Schools autumn season are well underway. Two time champions. The Lockerby Composite Vikings seem to be the favorites to three peat as city champions in 2006. They will be hard pressed by the Lo-Ellen Park Knights and the St Benedict Secondary Bears. The Confederation Secondary Chargers should also do well. Following are the standings after one week of action:
Wins Losses For Against Points
1. Confederation Chargers 1 0 34 0 2
2.Lo-Ellen P. Knights 1 0 24 2 2
3.Lockerby C. Vikings 1 0 31 7 2
4.St Benedicts S. Bears 1 0 28 10 2
5.St Charles C. Cardinals 0 1 10 28 0
6.Notre Dame C. Alouettes 0 1 2 24 0
7.Lasalle S. Lancers 0 1 7 31 0
8. Sudbury S. North Stars 0 1 0 34 0
The first basketball tournament of the year in secondary schools was held on the weekend of September the 15th and 16th at Lo-Ellen Park Secondary School . The "Tip Off" tournament saw some eight junior girl's teams take part from Timmins , North Bay the Sault, North Shore and Greater Sudbury Region. One of this years top junior teams in Sudbury region les Aigles from Ecole Secondaire l'Horizon went undefeated and took the championship game 36-29 over Theriault Secondary from Timmins.Jasmine Roy from l'Horizon with 14 points in the final was named tournament MVP.Other members of the winning squad were : Jasmine Guerin,Tessa Bertrand,Melanie Rivesr,Kaithlyn MacIntyre,Melanie Demers,Pamela Charron,Emilie Mayer,Veronique Beaudrey,Britny Haert and Emilie Labelle.They were coached by Lyne Guerin.
For those interested in playing Ladies Competitive Basketball you can join the league which will be in its second year of operation with a much longer season for 2006-07 starting in November to end in May 2007.For more information just email the Commissioner Roger Legendre at er_legendre@sympatico.ca .
In the season opener the Sudbury Junior "A" Wolves, this being their 35 year of existence, put on a disappointing game in front of an almost full house. Following opening game special ceremony to honor a few members, the game got underway against their divisional rivals the Ice Dogs of Mississauga.
It followed the same pattern as the 2005 season with two players going to the penalty box within the first two minutes of play. They held on mostly due to some excellent goaltending by Beech. Soon after they scored on a power play and seemed well on their way but then the roof caved in. Following several physical and mental defensive lapses the Ice Dogs scored three quick goals an before the game was seventeen minutes old they were down 5-1.The opposition increased it to7-1 and then 8-2 before winning going away 10-4.It certainly wasn't the opening the fans, Mike Fooling (coach) and myself were expecting. Let us hope this is not what we are in for this season.
For those Secondary Schools interested, the first major basketball tournament of the 2006-07 season goes the weekend of October 26th and 27th .It will be the third annual "Junior/Senior Girls Air Time "tournament. Charlie Katter and I are the co-conveners. The tournament will be played out of five sites: Confederation Secondary School , Bishop Alexander Secondary School , Ecole secondaire l'Horizon, Notre Dame College and St Charles College . The entry fee is $225, 00 per team. Already several teams from out of town and in the Greater Sudbury Region have committed. The deadline for entry is October the 13th.For further information please contact the following people:
Roger Legendre 969-7268 or 691-7268 or
Charlie Ketter 897-6579 or 561-6579 or
Have a nice week! Take a walk on these beautiful autumn evenings and bread in that wonderful fresh air.