HOME

Garden
Tour

Totems

Fairy
Garden

Archways

Birds

Bird
Stations

Backyard
Bird List

Flowers

Main Pond

Corner
Pond

Waterfall

Bathtub
Pond

Angel
Statues

St. Francis

Variety of Statues

Odds &
Ends

Wildlife

Words
of
Wisdom

Jokes....
Some Contain Mature Content!!

New York
City Trip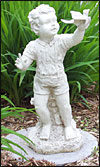 Having three sons I'm partial to ornaments of little boys.
If a bird can be involved in it somehow, all the better.
This one combines both.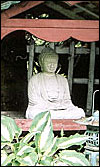 The husband of a good friend does some cement work when time permits. He made me two Budha statues a number of years ago.
This one sits in it's own little "shrine" with hostas and ferns |planted around it. The other is under another evergreen tree.
Thanks Joan & Paul!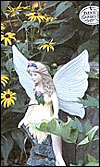 This is my beautiful Fairy that started my whole
Fairy Garden idea.
A good neighbor does wonders with ceramics and made this
wonderful Fairy especially for my garden. Thanks Madeleine!
This is where my Fairy Garden Fountain is situated.
These pictures were taken last year,
so the fountain has changed a bit.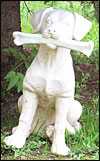 We have one very spoiled, 100 pound lap dog, Sarg.
When I saw this little statue I couldn't pass it by. I
t reminded me of him to a tee. He just loves his rawhide bones.