HOME

Garden
Tour

Totems

Fairy
Garden

Archways

Birds

Bird
Stations

Backyard
Bird List

Flowers

Main Pond

Corner
Pond

Waterfall

Bathtub
Pond

Angel
Statues

St. Francis

Variety of Statues

Odds &
Ends

Wildlife

Words
of
Wisdom

Jokes....
Some Contain Mature Content!!

New York
City Trip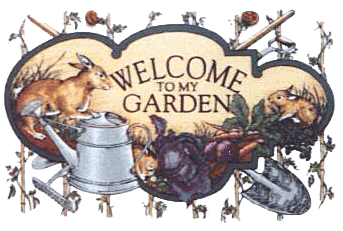 I hope you enjoy this "Cyber Tour" of Evergreen Gardens. Please note that my garden is totally Pesticide Free. Seeing as it's main purpose is devoted to attracting birds/small animals, I wouldn't feel right using anything that could harm them. As such, weeds do tend to make their homes here...
but once cut, they're just as green as grass.
| | |
| --- | --- |
| | Click on pictures for larger view..... |
| | |
| --- | --- |
| New Hosta garden beside main driveway, under Lilac trees. | Old window frame with mirror. Adds a homey touch to walkway between the house and Sauna Shed |
Walkway between the house and
Sauna Shed. Each year I plant with annuals in a different color scheme. Shady most of the day.

Entrance to pathway taking you into
the backyard. This wagon wheel was given to me by a dear friend...thanks Pete!
| | |
| --- | --- |
| Pathway taking you down to the lower level of the backyard. | Looking back on the pathway in the picture on the left. A nice shady spot to sit. |
WE HOPE YOU ENJOY YOUR VISIT