Elizabeth Centre Residents Have A Great Time During Octoberfest Pie Baking Contest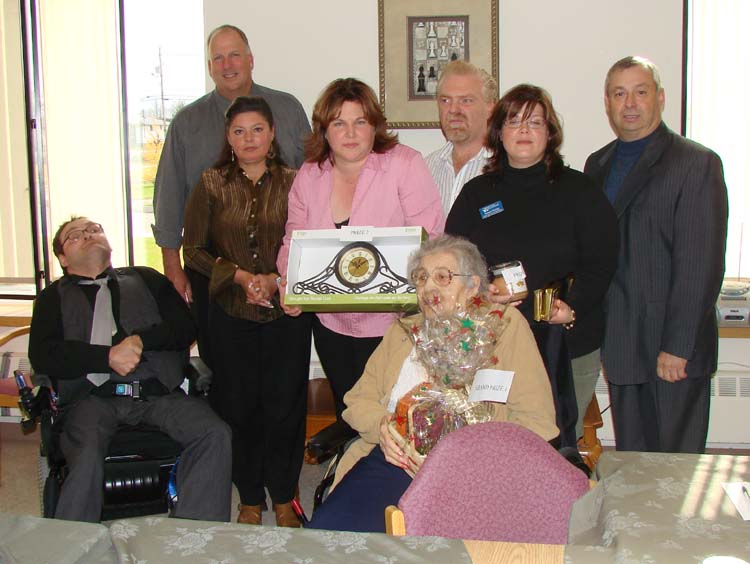 This yearís Elizabeth Centre Octoberfest Day featured a special pie-eating contest that proved to be very popular with the residents of the facility.
After tasting fifteen different pies, the judges selected Germaine Laurinís raspberry pie as the winner of the first place prize. Germaine, who is shown seated in front of the group, baked the pie with the help of a family member, Linda Perreault. Others in the photo included: Henri Fortin, seated on the far left, Dan Draper, Administrator of the Centre; Louise Portelance; Vicki Vincent, 2nd place winner with an apple pie; Andre Rivest; Sonya Hearty, 3rd place winner with another applie pie; and Ron Dupuis.
Dan Draper, Louise Portelance, Andre Rivest, Ron Dupuis and Henri Fortin were the judges of the contest. They had a taste of each of the fifteen pies and then rated them on a scale of one to five. Following the prize presentations, the residents enjoyed eating the rest of the pies as a fitting conclusion to their barbecue lunch.

The Elizabeth Centre is located on Main Street in Val Caron and is home to 128 low- to total-care residents.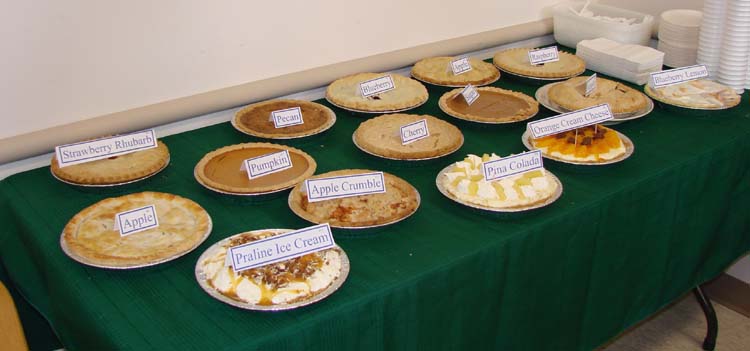 Click on the link below to see more photos from the 2006 Elizabeth Centre Octoberfest.

2915 R.C (Army) C.C. Irish Regiment of Canada Sell Poppies To Assist Capreol Legion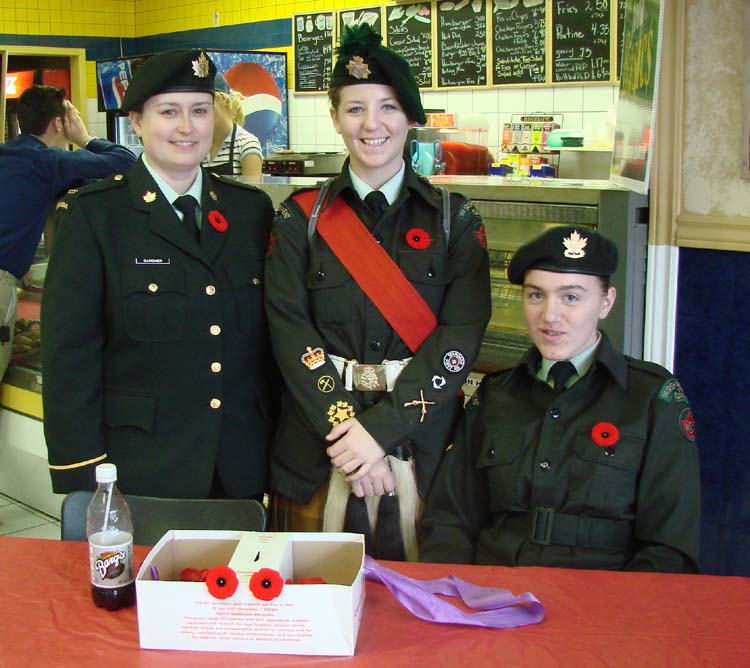 Members of the 2915 R.C (Army) C.C. Irish Regiment of Canada were in the Hanmer Valley Shopping Centre on Saturday, October 28, 2006 selling poppies to the general public in honour of Canadians who fought and/or died for our country.

Shown above at one of the entrances are, from the left: Officer Cadet Kim Gardner; Warrant Officer Karie Belisle; and Private Miranda Bourgeois. They were part of a contingent that included eleven cadets and two officers.

Warrant Officer Belisle was just recently promoted from the rank of Company Sergeant Major and remains the ranking cadet in Capreol. A resident of Hanmer, Warrant Officer Belisle has been with the "Capreol Cadets" for the past four years. She is a Grade 12 student at Confederation Secondary School. She feels that being a member of the Cadets has definitely helped her in a great many ways and she thoroughly enjoys getting out in the community and helping organizations like the Capreol Legion.

Captain Norm Duffy oversees the operations of the Capreol Cadets and he feels that, "This definitely is something that every kid should try, but it is not for everyone." He continued to explain, "The goal of the Irish Regiment of Canada is to produce better citizens, promote physical fitness, and give young people insight into the Canadian Armed Forces. It helps boys and girls develop self-confidence, poise, and a sense of respect for their fellow man and for authority. Many people say that you don't belong to Cadets; you are adopted by Cadets.


PAROISSE STE-MARGUERITE-D'YOUVILLE
SPAGHETTI DINNER DRAWS A CROWD OF CLOSE TO 500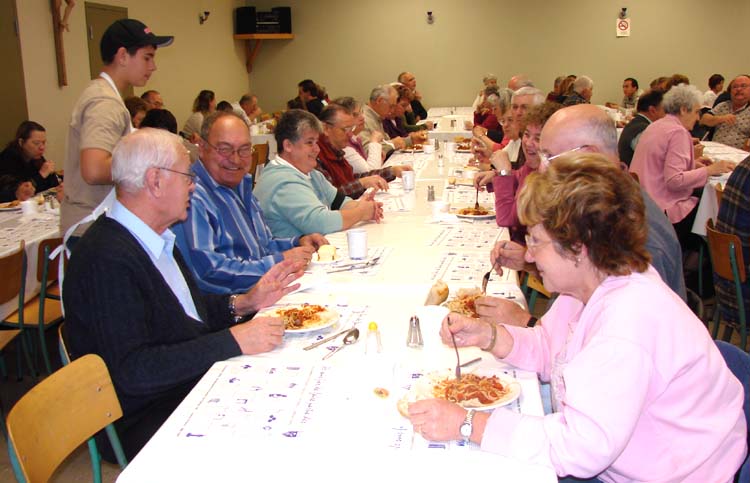 PERE DENIS SAVIGNAC, on the left front of the photo, enjoys a hearty spaghetti dinner with some of the parishioners of PAROISSE STE-MARGUERITE-D'YOUVILLE during the Annual Chevaliers de Colomb Spaghetti Dinner which was held on Sunday, October 29, 2006. Sitting beside PERE SAVIGNAC is long-time Montreal Canadian's fan, Pat Labelle. He and PERE SAVIGNAC had some great debates during the dinner since PERE SAVIGNAC is a die-hard fan of the Toronto Maple Leafs. Beside Pat is Ghislaine Deschesne who was staying out of the hockey debate. This is always a popular event for the parish and as usual close to 500 people took advantage of the excellent dinner opportunity.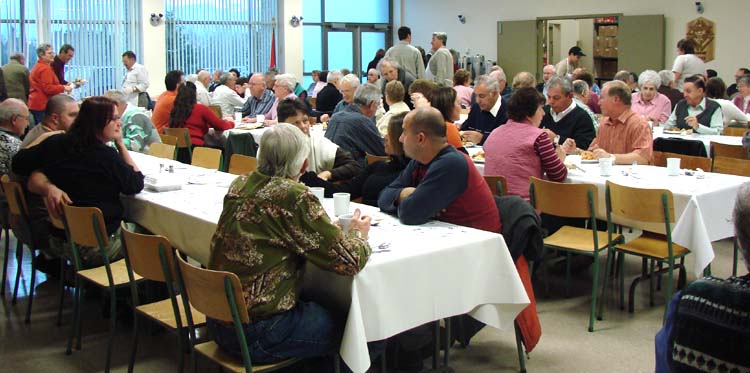 PAROISSE STE-MARGUERITE-D'YOUVILLE is situated in Val Therese, on Highway 69 North. The parish serves over 600 families from Val Therese, Val Caron and McCrea Heights.

In addition to the Spaghetti Dinner, the Chevaliers de Colomb #10602 also sponsors a Sunday Brunch on the first Sunday of every month. The next Sunday Brunch will be held on November 5 from 9:30 a.m. to 1:00 p.m. Adults are only $5; children between the ages of 5 and 13, $3; and children under the age of five free. The Sunday Brunch is open to everyone in the community, so drop in if you happen to be in the neighbourhood.
FOR MORE PHOTOS >>>>

Roger Chevrier Will Be Back In The Mall On November 4 With His Finger-Style Guitar Music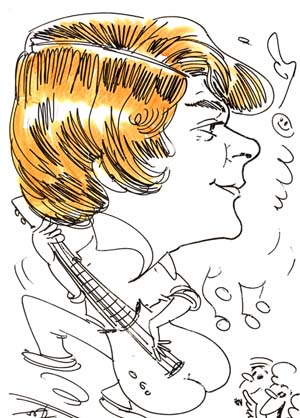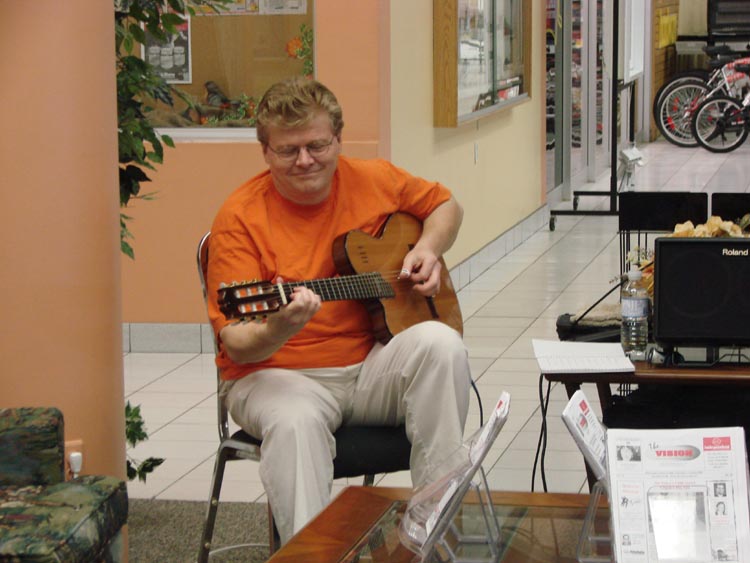 Roger Chevrier has returned for another year of playing his unique finger-style guitar music at the Hanmer Valley Shopping Centre. Roger will be at the mall on the first Saturday every month from 1:00 p.m. to 2:30 p.m. at the Centre Court sitting area.
His next session will be on Saturday, November 4, 2006.
Shoppers are always welcome to stop by to take a break and listen to this relaxing music. If you have a guitar at home or if you love this kind of music, pick up an information pamphlet and find out how you can become involved in this wonderful part of the music industry. Roger is hoping to find enough guitar playing enthusiasts in the area to form a small club which may be able to meet once in a while to share some music and perhaps perform as a group in the mall.
You can catch Roger on the Laurentian University Radio Station at CKLU 96.7FM every Tuesday and Sunday. On Tuesdays from 6 p.m. to 8 p.m. Roger is host of the show, "My Picking Parlour", while on Sundays from 10 a.m. to 12 noon the show is called "Sitting Back Picking".
If you would like to talk to Roger about guitar music or about forming a local club, call him at 969-1110 or email him at:

LE CENTRE CLUB AGE d'OR DE LA VALLEE Hosts Monthly Luncheon For Special Guests From Community Living Greater Sudbury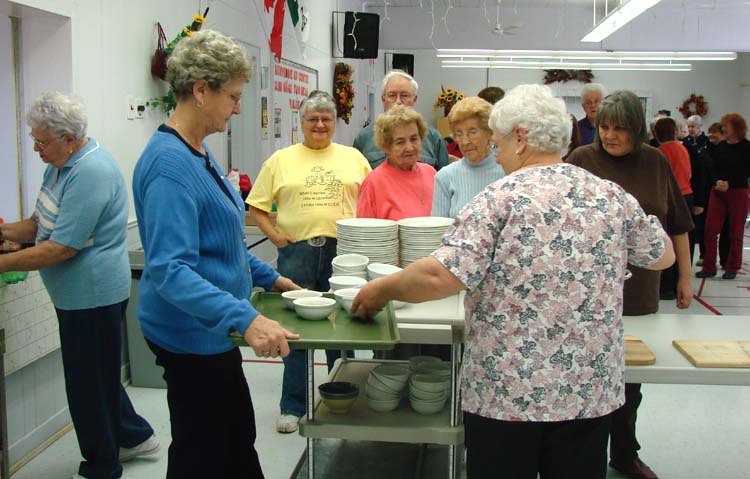 LE CENTRE CLUB AGE d'OR DE LA VALLEE has a luncheon every Monday for its members and the general public. Usually it is only a place to socialize and enjoy lunch with family and friends. For only $5 you get a bowl of soup, a hot meal, coffee and dessert.

On the last monday of every month, guests from Community Living Greater Sudbury are invited to attend the lunch and the group is treated to live entertainment. On Monday, October 30, 2006, about 100 people gathered for lunch, including over 20 clients from Our Friendship Centre in Lively and Our Place in Blezard Valley.

In the photo above, Rollande Charette, on the left, is getting bowls of soup filled on her tray to be served to her group. Rollande is from Our Friendship Centre in Lively. Theresa Forget is dishing out the soup.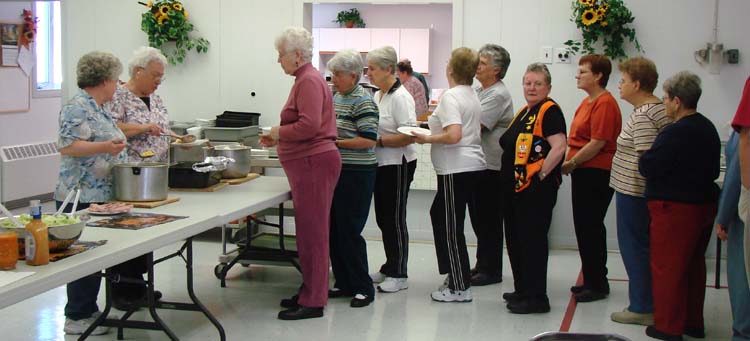 FOR MORE PHOTOS>>>>

Euchre Tournament Takes Place Every Monday Afternoon At LE CENTRE CLUB AGE d'OR DE LA VALLEE - All Are Welcome!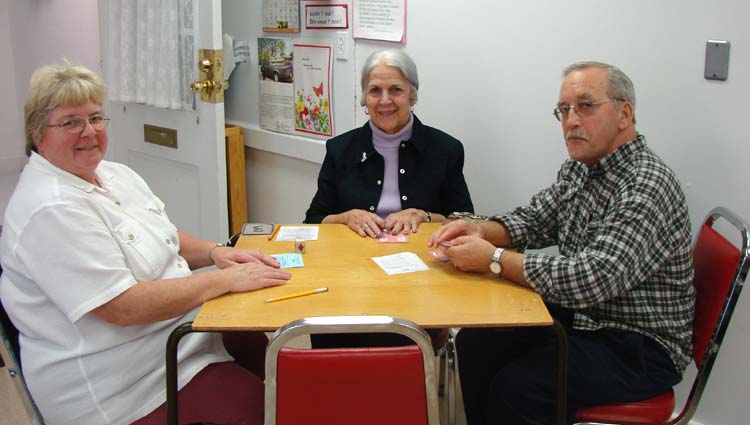 Every Monday afternoon beginning at 12:25 p.m. anywhere from 24 to 32 people gather for an afternoon of friendly competition in the form of euchre. Sue Carr, on the left above, is the Coordinator of the Euchre Tournaments. She is seated with Gerry Lee and Paul Legault. The entry fee is $4 per person, which includes a chance to win lunch the following Monday. You can also enter a 50/50 draw for only $2.00.

The group plays a "Progressive Style Tournament" where everybody is on their own and points are accumulated during the afternoon. It is a great pastime which ends at approximately 3 p.m.

The play is open to the general public, so if you are interested in playing euchre on Monday afternoons, just drop in and see Sue next Monday.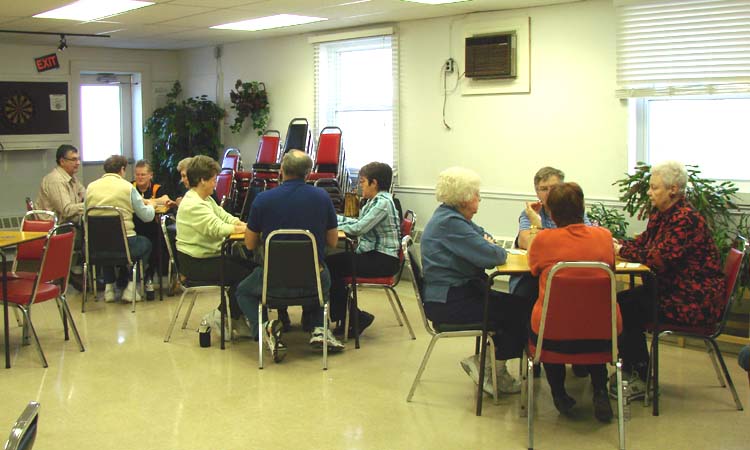 Memories From Monique Grenon
We thank Monique Grenon of Hanmer for sharing some of these old photos that she uncovered from one of her albums. See if you can spot some of your old friends (or ancestors). Click on the link below for more photos.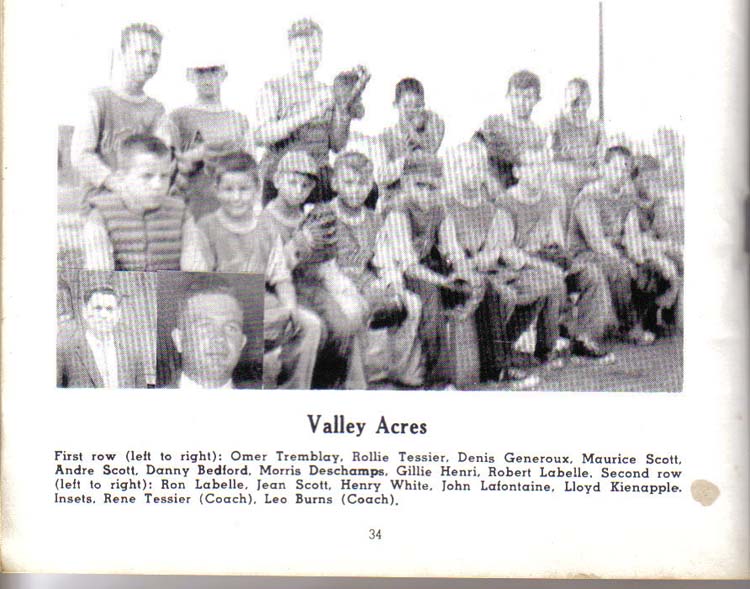 Canadian Tire & Mark's Work Wearhouse Open Their Doors on October 26, 2006 at 12 Noon

Canadian Tire and Mark's Work Wearhouse opened their doors officially for the first time at 12 noon on Thursday, October 26, 2006. There was very little fan-fare and no advance advertising. But by the end of the afternoon the parking lot was full as curious shoppers stopped by to see what they have been waiting many years to come. Traffic was brisk all weekend long.

The Grand Opening of the Centre is scheduled for Thursday, November 16, 2006.