VALLEY EAST TODAY
ONLINE WEEKLY NEWS MAGAZINE
OCTOBER 2006 ISSUE
Knights of Columbus #5005 Blood Donor Clinic Collects 94 Units of Blood In October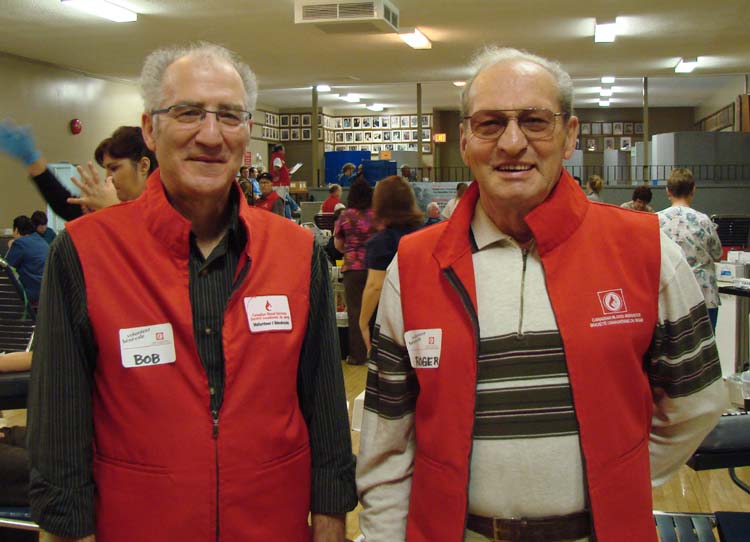 Robert Plourde, left, and Roger Menard, are Co-Chairs of the Blood Donor Clinic for the Knights of Columbus Council #5005. If you look behind them in the photo, you will see part of the results of the tremendous organization that goes into the mobile clinic that is held at the hall on Emily Street in Hanmer, approximately once a month. Robert and Roger head up a team of about twelve K of C members who are responsible for assisting the Canadian Blood Services staff when it is their turn to supervise, which occurs approximately three or four times a year.

We invite you to click on the link below for the full article as well as several photos showing what goes on during one of the clinics.

Education Travel Group Hosts Penny Sale To Raise Funds For Trip To Italy In Spring of 2007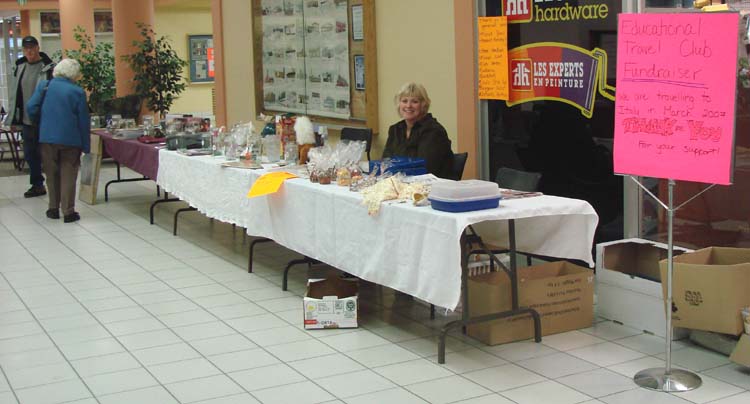 Shandi Charette is shown taking care of the Penny Table for the Educational Travel Club which consists of students from Grades 7 to 12 who are preparing for a special educational trip to Italy in March 2007. The penny table was held on the weekend of October 20 to 22, 2006 and contained many spectacular prizes.

John Brown "The Coin Guy" Provides Shoppers With Plenty of Holiday Gift Ideas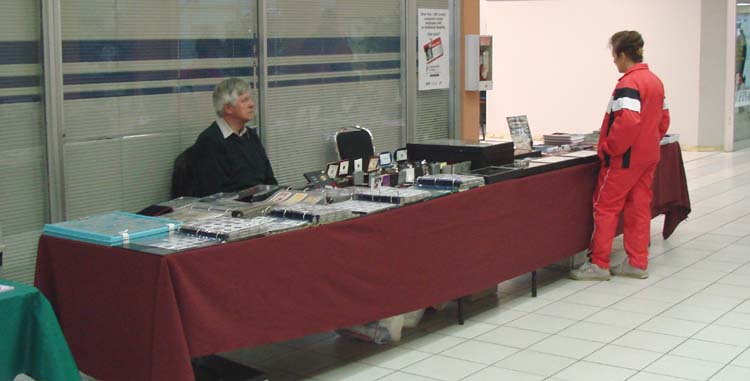 John Brown, "The Connoisseur" is preparing for a very busy Christmas season at the Hanmer Valley Shopping Centre. "This time of year many people are looking for something different to get for Christmas gifts. I had a lot of people stopping by to look and see what is available this weekend. They are all interested in when I am returning, so I expect to see a lot of them when I return next month."

John will be returning on November 16 and 17 and then again from December 20 to 23.

Centre Court At the Mall Is The Place To Be Every Afternoon To Discuss Politics of The Day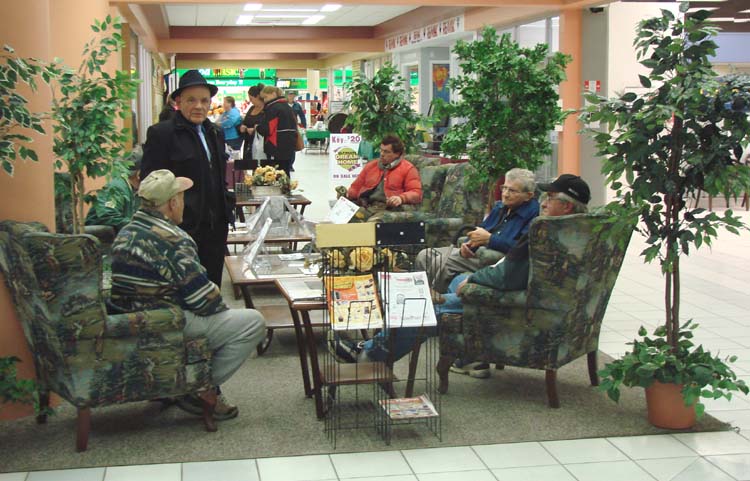 The first Mayor of Valley East, Mr. Raymond Plourde, second from the right, is shown having a conversation with several of his friends during one of the "Afternoon Council Sessions" that are held daily in the Centre Court Sitting Area at the Hanmer Valley Shopping Centre. The gentlemen enjoy their afternoon conversations with friends and acquaintances as they discuss everything under the sun. The mall has developed a very community-friendly image over the past couple of years, making this a true community centre for young and old alike.

Valley East Fire Department Ranks Right Up At The Top of The Heap With Excellent Volunteer Firefighting Crew

A fire at a local house on Hwy 69North across from the ball park demonstrated the efficiency of the Valley East Fire Protection Crew. Valley East is one of those communities which relies upon "Volunteer Firefighters" to assist the two to four full-timers on duty at the Val Therese Station #16. With over 60 "volunteers" on the list, residents of Valley East can rest assured that they are well protected. When a call goes out to the volunteers it is not uncommon to see 15 or 20 responding within minutes, ready for any emergency.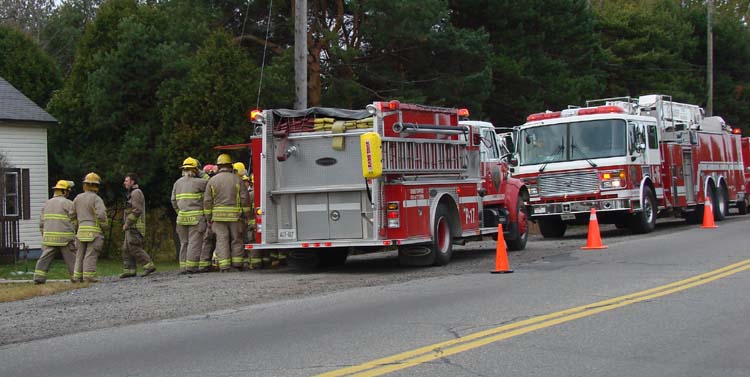 In the photo above, the volunteers wait until they get the "all clear" from their commander before departing the scene.

Capreol Child Care Centre Celebrates 10th Anniversary With Special Open House Event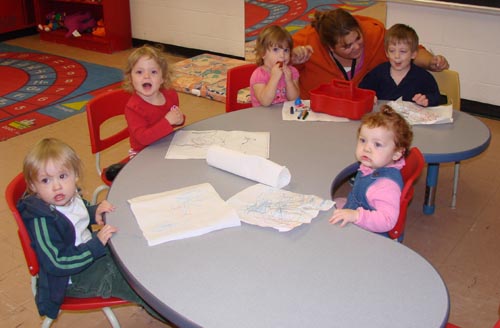 Early Childhood Educator, Lori Major, is shown working with her five "toddlers" during a drawing activity in one of the spacious classrooms at St. Mary's Catholic School which have been used by the Capreol Child Care Centre since it opened in 1996.

The Capreol Child Care Centre also operates out of C.R. Judd Public School , providing children from the community with an opportunity to make an easy transition from the day care setting to Junior Kindergarten when the time comes at the age of four.

The two centers provide a total of seventy-five (75) child care spaces for children ages eighteen months to twelve years old. Families come from Capreol, Hanmer, Val Caron, Sudbury and other localities.

Executive Director, Mary Chernenko, is quick to give credit to the team of loyal and devoted staff who have given so much over the years and to the volunteers who serve on the Board of Directors. "We have taken steps to reduce the struggle between career and parental obligations by offering very flexible child care hours, operating from seven days a week opening from six a.m. to six p.m. and even accommodating parents who work late in the evening or weekend when requested and feasible. We're also proud to say that we have never had a waiting list due to the school's availability of classrooms to expand our center if and when needed."

The Capreol Child Care Centre is nonprofit and fully licensed establishment and follows the stringent guidelines and requirements set out by the Ministry. "We offer the full range of programs you would expect to find at any licensed child care center," Mary explained. "Through the Best Start Plan we facilitate educational programs in conjunction with school programs offering alternate full day junior kindergarten programs. We have before and after school programs. We continue to work with the City of Greater Sudbury to promote school readiness programs with nominal or no fees for parents."

With respect to cost, the Capreol Child Care Centre offers child care at a lower cost than many other day cares in order to appeal to larger families. "We are the only nonprofit day care center that offers 30% child care discount for families with two or more children. Subsidies are also available from the City of Greater Sudbury for low income families who qualify."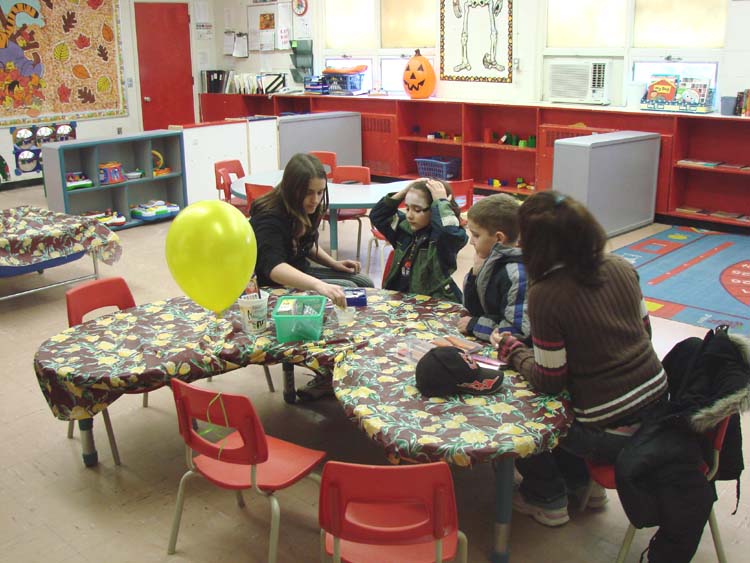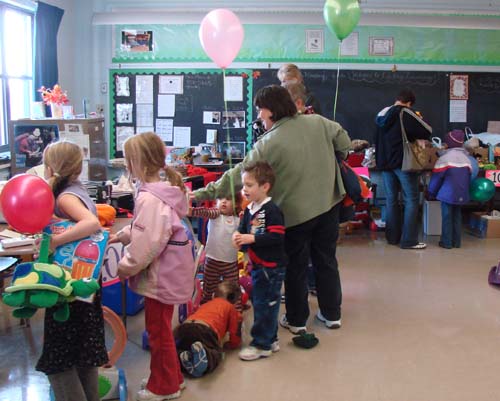 The public was invited to attend the Capreol Child Care Centre's Tenth Year Anniversary Kids Party on Saturday, October 21, 2006 from to at the St. Mary's School site on Meehan Street .

This was an an opportunity for parents to tour our facility and talk to our qualified instructors.

As you can see from the photos in this article, there was a yard sale, games, balloons, crafts and face painting. A fantastic kid's show was featured at put on by "The Stylanders" from Toronto . The outdoor barbecue provided plenty of hot dogs and sausages plus plenty of refreshments and donuts on hand at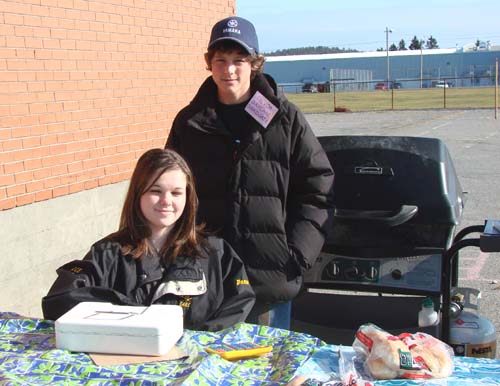 Mary, the entire staff and Board of Directors want to thank the hundreds of people who have supported the center over the years. "We could not have done it without you and we are glad that so many of you were able to stop by and enjoy our anniversary celebrations.

Two of the young people helping out at the barbecue are graduates of the Capreol Child Care Centre. They are Stephanie Wilson and Trevor Lambovich, both attending Bishop Alexander Carter Catholic School in Hanmer.

If you have any questions about the Capreol Child Care Centre contact Mary Chernenko at 26 Meehan Street in Capreol or call her at (705) 858-0651.

Capreol Family Action Network Operates Clothing Exchange For Residents of Valley East and Capreol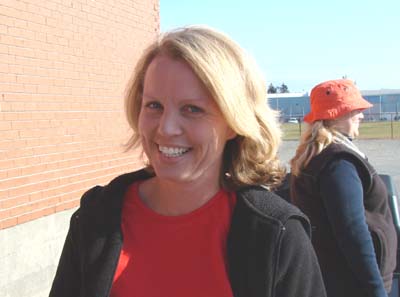 Sari Huhtala, Chair of the Capreol Family Action Network wants people from Capreol and Valley East to know about the clothing exchange service that she and her team of volunteers operate at the Citizen Service Centre in Capreol.

"If anyone, especially from young single-parent families is in need of clothing of all sizes and kinds, please call me at 858-4430 to get information about how we can help you out," Sari explained. "We have received so many donations from wonderful people in the area that we just want to distribute these articles to people who can use them."

The centre is open for distribution Mondays from 11:30 to 121:30 and Thursdays from 6 to 7 p.m.

If you need more information, contact Sari by email at chacha@isys.ca

Our Lady of Peace Pasta Girls Get Ready For Annual Christmas Tea & Bazaar on November 5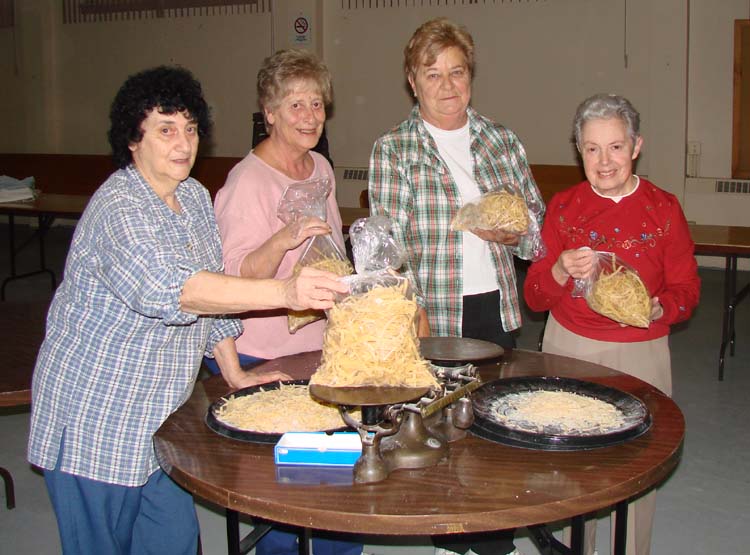 The "Pasta Girls" from Our Lady of Peace Catholic Church are at it again for another year. Above they are shown "bagging" the home-made pasta that was prepared from scratch in the Church Hall last week. From the left we have: "Sparky" Lambovitch, Rose Mazzuca, Marg Plexman, and Lenore D'Appolonia.

The pasta bags will be on sale during the Annual Christmas Tea & Bazaar which will be held in the Parish Hall at Our Lady of Peace Catholic Church on Sunday, November 5, 2006 from 12 noon to 3:00 p.m.

Blessing of
Peace
Monument At Our Lady of Lourdes Shrine On October 22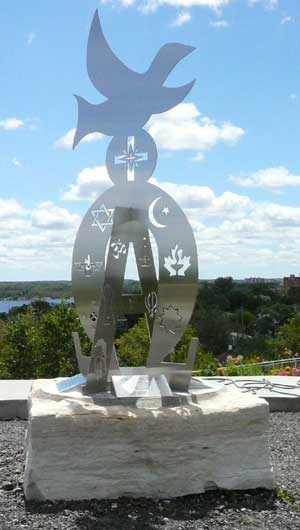 Everyone was invited to attend, on Sunday, October 22, 2006 , at , at the Our Lady of Lourdes Shrine, located at 271 Van Horne Street , the blessing of a new Peace Monument . The chosen date bears a special significance as it coincides with the first day of the Spiritual and Religious Care Awareness Week.

Mgr Jean-Louis Plouffe, bishop of the diocese of Sault Ste. Marie, will preside over the ceremony. Also in attendance will be a delegate of the Provincial of the Jesuit Society of French Canada, as well as representatives from each of the 12 spiritual traditional religions depicted on this Alpha and Omega monument.

This stainless steel structure has been sponsored by Les Jésuites de Sudbury who are celebrating a triple jubilee this year: the 450th anniversary of the death of the founder of the Jesuits, Ignatius of Loyola, as well as the 500th anniversary of the birthday of two well-known Jesuits, Francis-Xavier and Pierre Favre.

In case of bad weather, the ceremony was scheduled to be held at Sainte-Anne-des-Pins church, 14 Beech Street .

For more information about the Grotto Sudbury, call 705-674-1947

Popcorn Video House League Atoms Sell Kernels Popcorn To Raise Money For Tournament Expenses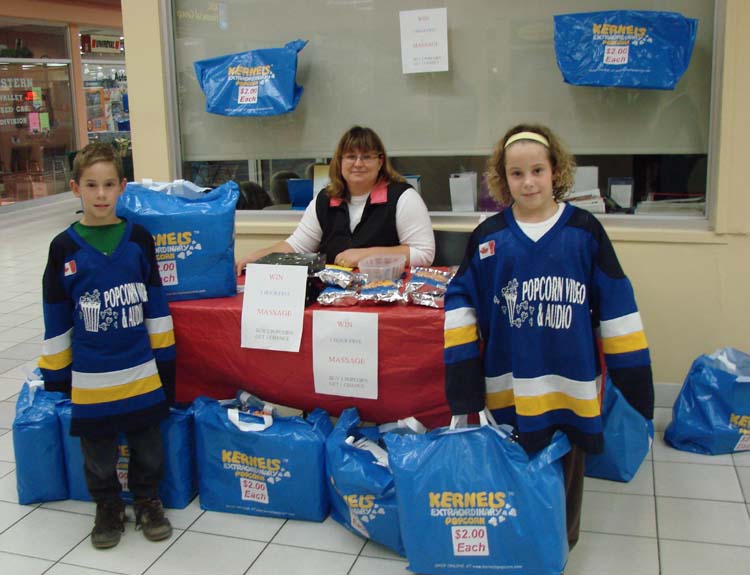 Lyse Brideau is shown doing her duty as a "Hockey Mom" on a Friday evening at the Hanmer Valley Shopping Centre. Lyse took time to help her nine year old twins, Ryan and Megan sell Kernels Popcorn to help raise funds to cover tournament expenses for the Popcorn Video & Audio Atom Tier I Hockey Team which plays in the Valley East Minor Hockey Association House League.