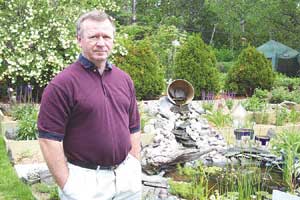 NOTES FROM EDITOR, ROBERT KIRWAN
The purpose of this section of Valley East Today is to provide you with a sampling of general stories and articles of interest that conain information that is important for residents of the Community of Valley East. The stories will be archived so that you can access them or link to them at any time. If you have an item that you feel might be of interest let me know at rkirwan@infocomcanada.com

FACEBOOK LINKS FOR VALLEY EAST FACEBOOK COMMUNITY


L'Ecole Jean-Paul II Students Put on Spectacular Variety Show Performance
Development Charge Options Being considered by Councillors
Canada's Anti Spam Legislation Is Effective on July 1, 2014 - May Have Profound Changes For Marketing Experts
Ten Business Tactics That Will Be Gone in the Next Five Years
Valley East Today Is Right A Pioneer In The Future of Community Engagement
Ontario Provincial Candidates Featured On The Learning Clinic with Robert Kirwan
Report on Leisure Master Plan Open House Held on May 13, 201
New Mall Across From Carol Richard Park Still Going Ahead
Court Challenges To New Marijuana Legislation Means Current Grow-Ops Continue As Usual
Sudbury 5 Way Carnival Takes Place from May 15 to 25 at the Hanmer Valley Shopping Centre.
New Mall Across From Carol Richard Park Still Going Ahead
Court Challenges To New Marijuana Legislation Means Current Grow-Ops Continue As Usual
Elevate Sudbury Being Organized for June 7 and 8
McDonalds Restaurant Will Be Moving Beside the Shoppers Drug Mart in Hanmer Some Time in 2014 or 2015
Val Est Medical Walk In Clinic Hours
New Traffic Lights Will Be Installed Across From the Hanmer Valley Shopping Centre
ARCHIVED STORIES
U Spice It Is Truly a "Family" Business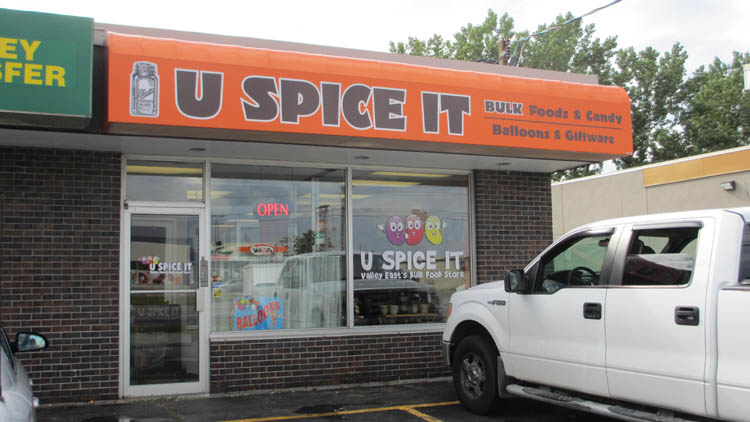 U Spice It first opened its doors in Val Caron on April 9, 2012. So when Holly Baril and her husband Richard were driving by one day this winter, they were surprised to see that the business was up for sale. Both Holly and Richard thought it might be an excellent idea to buy the business and turn it into a family operation, providing some valuable hands-on experience for their two children who have shown interest in becoming entrepreneurs themselves when they graduate from school.
The idea made sense for Holly who has always embraced the bulk food concept and so in March, the Barils took ownership of U Spice It and have loved every minute since. Long time residents of Valley East will recognize the Baril family name, since Richard's parents and his relatives have been active in this community for as long as anyone can remember. Holly, who grew up in Timmins, absolutely loves the Valley. Her daughter, who has aspirations of becoming a veterinarian, will be starting the four-year Bio-Med program at Laurentian University in September. Holly feels that the education her daughter will get from working in the store will go a long way to preparing her with the appropriate skills to successfully own and operate her own business as a veterinarian.
Visitors to U Spice It are amazed at the selection that is available. They can find most of the usual products you would expect to see in a bulk food store, such as nuts, spices, candy and also Walton Baking products plus a very popular coffee selection by "KiennaKUP", which is proving to be a big hit among customers. Holly's own mother travels from Timmins every month to spend a few days visiting her grandchildren and working in the store. Both she and Richard's mother have their own personalized aprons and enjoy meeting the friendly residents of the Valley. Feel free to drop in at any time just to look around or call (705) 588-5060 if you have any questions.
Craig's Parthenon Commits To Maintaining Fine Dining Tradition Established Over The Years By George & Irene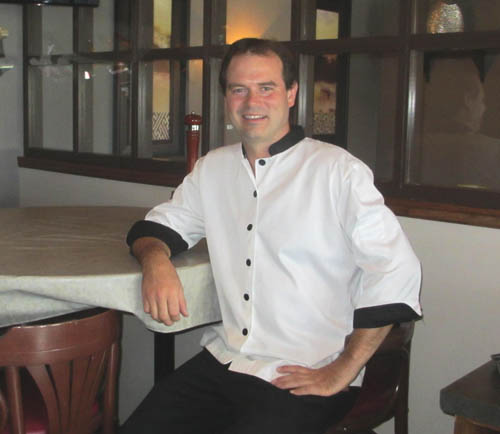 Craig Charrier, is the new Owner/Chef of Craig's Parthenon Restaurant as of July 1, 2013. He has already claimed the familiar table and chair where George and Irene sat for so many years greeting loyal customers and providing a high standard of dining in Valley East.
Craig, who was born and raised in Sudbury, took his training at Cambrian College in the Hotel and Restaurant Management course. For the past seven years he owned and operated a restaurant at the shopping centre in Hornepayne until the mall closed in April and left him looking for other places to relocate. He immediately noticed that the Parthenon Restaurant was up for sale and began working for George and Irene for two months before taking over the reigns on July 1, 2013.
Craig indicates that very little will change on the dinner menu. But he has made some significant changes to the lunch menu and will be introducing breakfast from 7 a.m. to 2 p.m. on Saturdays and Sundays.
Craig's Parthenon will still deliver the same quality of service and food as it always has since Craig operated basically the same kind of restaurant in Hornepayne. He is excited to bring breakfast to the community on the weekends and is looking forward to seeing that service grow over the next couple of months. He also provides catering services and has already done two large weddings since taking over. The private room is still available for small functions. Craig is already starting to look at houses in Valley East since he plans on being part of this community for a long, long time. The web site is www.theparth.com .
If you need any information or reservations, call (705) 897-5752.
The Specialty Market Is Sure To Be A Big Hit Among Local Residents With Special Dietary Needs

Jenn Depatie, Manager of The Specialty Market which just opened up in July in Val Caron, found out that she had gluten intolerance at the age of five. For the past 21 years she has been forced to search for gluten free foods in grocery stores, health food stores, and even at restaurants. She often had to visit up to five stores to find everything she was looking for.

So when Jenn and her mother-in-law, Beth Depatie, began discussing the problem, they decided that the best solution was to open up a store that focussed entirely on foods and ingredients that people with special diets need in order to maintain a healthy and normal quality of life. One night Beth woke up and the name, "The Specialty Market" just came to her out of the blue. Hence, the birth of one of the most unique food outlets in the Greater Sudbury Area.

The Specialty Market carries a wide variety of gluten free foods and ingredients. Jenn will be implementing a fresh bread program so that customers will be able to order gluten free bread and pick it up fresh when it is delivered every week instead of relying on the frozen breads that are found in most stores. The store also carries products for vegan diets, diabetics, people who must watch their salt intake, and there is even a sugar-free candy section. The products are available in bulk or in individual packages that are prepared by the staff of The Specialty Market. Everything from flour, chocolate, salt free spices, gel food colouring, loose leaf tea, flavoured olive oil to gourmet meat rub can be found in the store and Jenn is willing to bring in more products that are requested by her customers. Drop in and have a look for yourself when you have a chance. You will be impressed.
Valley East's Only Motel To Expand to 21 Rooms by Spring 2014
The only active motel in Valley East opened during the summer of 2012 and after a full year of operation and on-going construction things are still on schedule for a full complement of 21 rooms by the Spring of 2014. Currently, nine rooms are available for single and double occupancy at rates of $99 and $109 per night respectively. The motel is being used for weddings, funerals, holiday visitors, and by a number of corporate clients who bring people in and out of the region. Snow mobilers also use the facility during the winter months.
The Sure Inn is located in the former Val Caron Public School building. While the basic structure of the building is strong and solid, it has been completely renovated inside and hosts nine good sized, comfortable rooms. Continental breakfast is included in the rates. The rooms can be rented by the day or by the week. The motel has been approved for a total of 45 rooms, so expansion plans are in the works as the demand warrants. Local residents may want to take a free tour of the rooms to check things out before their out of town guests arrive. You can't beat the convenience of having a motel room close by when you have company staying over for a few days. Just call ahead to make sure that there is a room vacant for you to see.
The phone number is (705) 588-7666.
Hanmer Landmark Being Moved To Make Way For New St. Louis Wings & Ribs Sports Bar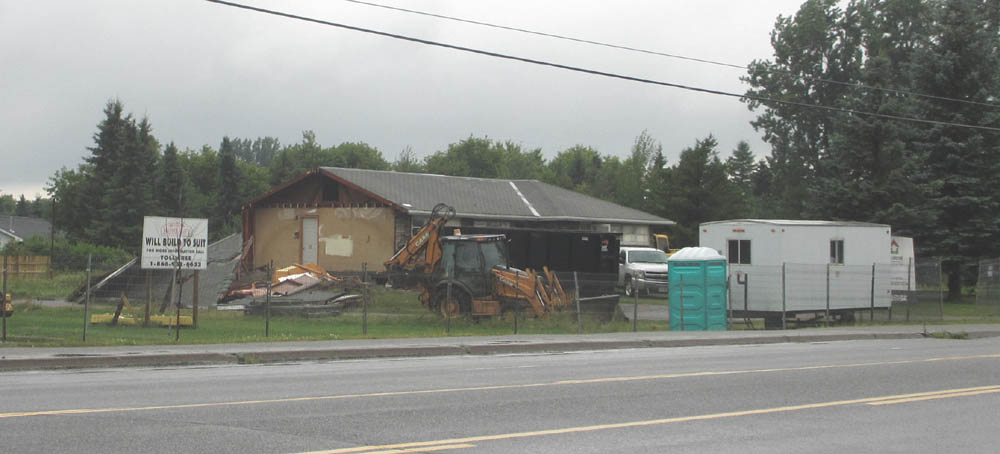 The house located beside the Tim Horton's in Hanmer is being moved to make way for a brand new St. Louis Wings & Ribs Sports Bar which is expected to begin construction some time around the beginning of September. The restaurant is scheduled to open by the end of October or early November if everything goes according to plan. This will be the second St. Louis Wings & Ribs Sports Bar in the Greater Sudbury Area since another one is under construction on Regent Street.
The house, which has become a familiar landmark for local residents, was constructed in 1956. It will be hauled off and moved to a new site in Val Caron. The move is expected to take place some time around August 9 or 10.
The entrance to the new sports bar will be through the Tim Horton's entrance. Traffic lights will be installed next summer to help control the traffic flow at that spot.
A New Era In Golf Arrives In Valley East As Sam Yawney Introduces The Community to Monte Vista Golf Club

Sam Yawney has expanded his Golf Sudbury network with the addition of the golf course in Val Caron this summer. It is not only a new name, the Monte Vista Golf Club, it is also the dawning of a new era for local golfers and indeed the entire community since this will become Golf Sudbury's only year long facility.
Golfers will easily recognize the Yawney trademark for excellence and quality. He owns Timberwolf, Cedar Green, Pine Grove, Stone Hill, and now his new additon to the family, Monte Vista Golf Club at the top of the hill in Val Caron. Monte Vista is spanish for mountain view.
The inside of the building has been completely renovated and refurbished. It includes a two-level banquet hall for private events and business meetings as well as The Summit Restaurant & Banquet Hall, which will offer a full menu all year long.
The General Manager of Monte Vista is Charles Parent, who many will recognize as the Pro Shop Manager for the past four years under the previous ownership. Charles provides the continuity that Sam Yawney was looking for during the initial transition year as he introduces the golf enthusiasts to some remarkable changes to the building and to the operation in general.
Most people in the Valley will also recognize the new Pro Shop Manager, Larry Berrio. Larry has made a name for himself in the entertainment industry as a country singer and will be responsible for not only operating the Pro Shop, but also for assisting with most of the functions of the club and taking care of marketing and promotion. Larry is looking forward to working all year long since it also provides him with an opportunity to maintain his singing career and even put on some performances at The Summit. Larry was born and raised in Valley East and is an avid sportsman. He indicated that Hunter Safety Courses will be held at Monte Vista in the fall and the club will also cater to the snow mobile crowd since the property is right on the main trail.
Larry, Charles and Sam extend a warm invitation to the entire community, whether you golf or not, to stop by and look the place over and to try out The Summit Restaurant. They plan on keeping everyone informed about the events and actitivities that are being held at Monte Vista in order to become an entertainment hub for the community. For more information you can call 705-588-3027.
Curves Moves to Norm's Plaza July 1, 2013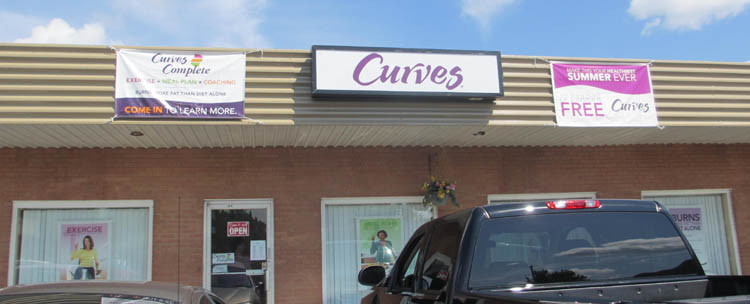 Lesley Wright had been a member of Curves for 8 years when she decided that she loved what the fitness facility did for women so much it was time to buy her own franchise. On July 1, 2013, she moved her four-year old business to Norm's Plaza where she will continue to provide women of all ages with a wonderful balance of diet and exercise that will help them improve their quality of life in all areas.
Curves has been in Valley East for over 12 years. The new location provides visitors with an atmosphere that is brighter and friendlier than ever. Lesley lived in Southern Ontario before moving to the Valley five years ago and she has loved it ever since. She finds the people in the north so friendly and passionate about life. This is why she gets so much satisfaction from providing them with a fitness facility like Curves.
For anyone who has not been to Curves in the past couple of years, Lesley says they are in for a big surprise. "The Curves franchise has become much more standardized recently. Every location must operate exactly the same with the same pictures on the wall, the same product displays and follow the same procedures as all of the others. I like this new standardization. If you belong to one Curves and you move to another city, now you know that the next one you go to will give you the exact same level of service as the one you left."
Lesley is glad to see the increased training that the owners and their staff must go through in order to improve the quality of instruction. "All of the staff are much better trained than ever before. In order to work here you must be trained to a certain standard and you must follow the corporate policies and guidelines. It has meant for a much better quality program for our clients. If you want to drop in or get some more information, just call Lesley at705-698-1965.
Doggy Do's & Spa Treat Your Pets Like Royalty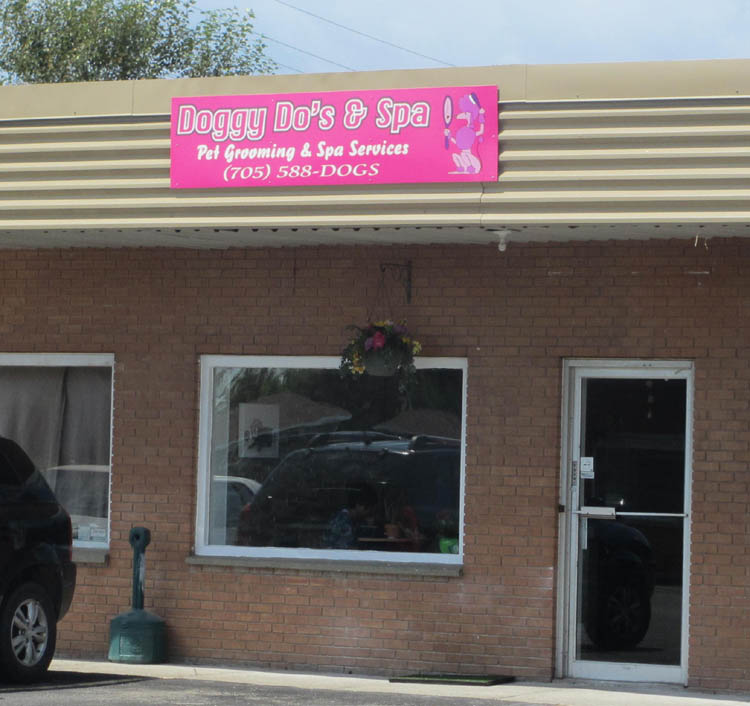 Connie Petrucka has been a dog groomer for over 23 years, working for a variety of companies before opening up her own Pet Grooming and Spa Service, Doggy Do's & Spa.
She had been operating in Hanmer until recently when she moved into a new spot at Norm's Plaza in Val Caron on July 1 where she is more centrally located for her clients.
Connie provides all of the usual services for dogs of all breeds, but she is especially interested in introducing spa services such as nail polishing, feather extension and other procedures which are designed to give your pet a bit of glamour.
She also provides consulting services to dog owners on how to improve your pet's health and ways to implement preventative measures while caring for your dog in between visits.
For example, Connie advises owners of large dogs to brushed their fur regularly, but do not shave them during the summer. She says that while one might think the dog is hot, it is actually the fur that keeps it cool and prevents sunburn or sunstroke. "Too many people see their dog panting and think that they are dying of heat, but actually that is how they cool themselves, so it is normal. Their fur is not keeping them hot. It is keeping them cool.
For more information about what you can do to help your pet, give Connie a call at (705) 588-3647.
Richard Bedard Relocates Family Owned Business To His Home Town: Central Printers Opens In Valley East In June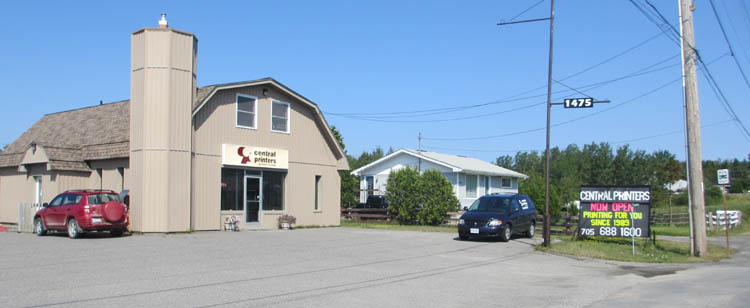 The Valley welcomes Richard Bedard back to his old home town where he lived for over 20 years while raising his children and supporting minor sports, especially hockey. Richard and his father, Hector Bedard, who unfortunately passed away in 2009, founded their popular family owned and operated business, Central Printers & Copy Centre in 1989. They started out on Kelly Lake Road before moving to Lorne Street in Sudbury and have now made their way to Valley East at the bottom of the hill where you enter McCrea Heights. Central Printers opened up in their new location in June and already Manager, Teresa Christie-Lapiere is finding this to be an excellent location. "We are close enough to Sudbury for our current clients and we are starting to meet a lot of people from Valley East who are asking about our services and our pricing." Teresa has over 30 years in the printing industry, having started out with Northern Life when they were in their early years. Central Printers provides basically anything you can think of that is printed on paper and offers city-wide delivery as well. You can call Teresa at 705-688-1600 for more information.
Denis Portelance of ECOWATER SYSTEMS Has Some Good Advice About Drinking Water Around Lakes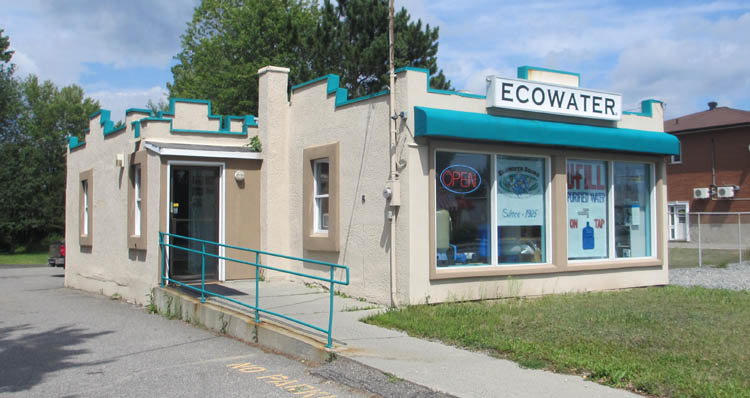 Denis Portelance began working as an agent for Ecowater Systems in 1994, opening up his store in Val Caron in June 1997. He not only provides drinking water to local residents, he installs filtration and drinking water systems for all kinds of residential and commercial developments.
One of the things Denis wants to remind people about this summer is to be more careful about the water they are drinking from local lakes. He says that it is very important to move your footvalve out into deeper water away from shore to reduce the risk of ecoli poisoning. According to Denis, "Any lake where there are septic systems installed around the shores is more than likely to have some level of ecoli, especially around the shoreline."
This summer Denis has spoken to many people about this concern. He says that it doesn't matter how large the lake is, if there are septic field beds near the water there is naturally going to be seepage into the lake. So the closer your footvalve is to the shoreline, the more chance you have of pumping in drinking water that is contaminated.
Ecowater Systems do have an UV Dynamics Filtration system that can be installed which will effectively disinfect the water by removing sediment, chemicals and bacteria. He has installed a lot of them this summer, but he knows that many people are at risk so he advised to drink the lake water with care. Call Ecowater at 705-897-4443 for more information about how to protect your health this summer.
Vic Whissel Continues To Provide A Love For The Game Among Junior Golfers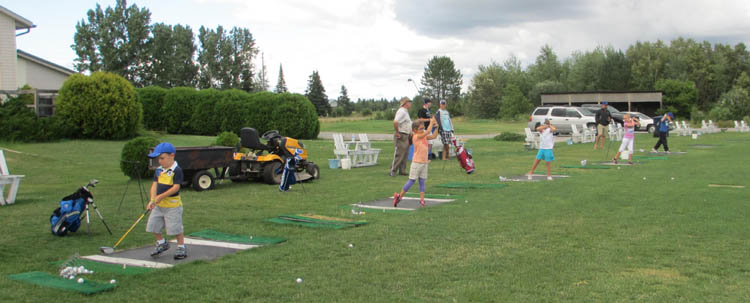 Vic Whissell, Instructor/Owner of the Valley Family Gold Centre and Whistling Winds Golf Course in Blezard Valley has always loved introducing young boys and girls to the sport of golf. He has five groups of five juniors taking lessons at any given time. The group above are completing one of their weekly hour long clinics on the driving range. Vic is seen in the background donning his familiar hat. Each lesson a full one hour and with such a small group, Vic is able to provide individual attention to each of the golfers then allow them to practice their shots by hitting as many balls as they can in the hour. The personalized attention to the basics has resulted in a remarkable improvement on the skill levels of each student. The course consists of five sessions. Each child receives a pop/juice and a chip after the sessions so everyone enjoys the outing. You can call Vic at 705-897-7400 if you want any further information.
Two Valley Residents - Curtis Gudrie and Charles Ketter - Receive Special Awards From Rainbow District School Board

Rainbow District School Board paid tribute to dedicated employees and community partners at the Board meeting held on Wednesday, May 29, 2013 with the presentation of Awards for Outstanding Contribution to the Co-Curricular Program, Community Partnership Awards, Awards for Excellence, the Go Green Globe Award, the Barbara Konarek Memorial Award and the William N. Roman Teacher of the Year Award. Employees with 25 years of service were also recognized.
"With the presentation of these awards, we continue a rich tradition of honouring excellence in Rainbow Schools," said Board Chair Doreen Dewar. "We are proud of our employees and community partners for their commitment. On behalf of the Board, I would like to congratulate all award recipients for their outstanding achievement."
"The contributions of our individual award recipients vary, but they all have one thing in common," said Director of Education Norm Blaseg. "They are dedicated employees and dynamic educational partners who go above and beyond the call of duty to reach minds and touch hearts in our schools and the communities that we serve."
AWARDS FOR OUTSTANDING CONTRIBUTION TO THE CO-CURRICULAR PROGRAM
Curtis Gudrie - Volunteer - Confederation Secondary School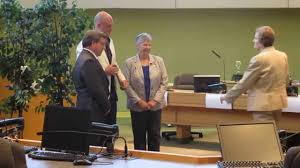 Curtis Gudrie began volunteering with Rainbow Schools soon after his family moved to Sudbury. Over the past eight years, he has coached teams and organized sports camps for students at Pinecrest Public School, Chelmsford Valley District Composite School and Confederation Secondary School. He has been the defensive coordinator for the junior and senior football teams at Confederation Secondary School for the past five years. Under his leadership, the Chargers defense has been ranked among the best in Northern Ontario.
Whether on the basketball court or the football field, Curtis Gudrie has gone the extra mile to get to know the students in his care and be a positive influence in their lives. They can count on Curtis Gudrie to help them with whatever life brings their way. He has been more than just a coach to all. He has been a true friend that is there in both the good times and the bad times. Rainbow District School Board is pleased to honour Curtis Gudrie with an Award for Outstanding Contribution to the Co-Curricular Program.
To view the video presentation for Curtis Gudrie, click on the following link or on the photo above.
http://www.youtube.com/watch?v=TQR2RGI4CuI
Charles Ketter – President - Greater Sudbury Board Basketball Officials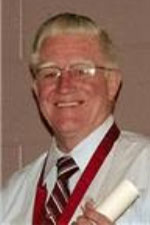 Charles Ketter developed a love for basketball in high school and has been a constant presence on basketball courts across Northern Ontario for the last 57 years. A long-time educator in Sudbury, he coached wherever he taught. He began his officiating career in his hometown as a founding member of the North Bay Officials Association at the age of 18. As the long-time president of the Greater Sudbury Board Basketball Officials, he remains as active as ever.
Charles Ketter has the distinction of having been awarded a lifetime membership by the International Association of Basketball Officials. He is one of only 10 Canadians in the 16,000-member organization. As a champion of basketball, he has officiated at many high school games, sharing his love of the sport with generations of students. For his contributions, Charles Ketter will be inducted into the House of Kin Sudbury Sports Hall of Fame on June 12th. He is a most deserving candidate of a Rainbow District School Board Community Partnership Award.
Northern Ontario 2013 Open Ladies Bowling Champions Coached by Valley East Citizen Services Lead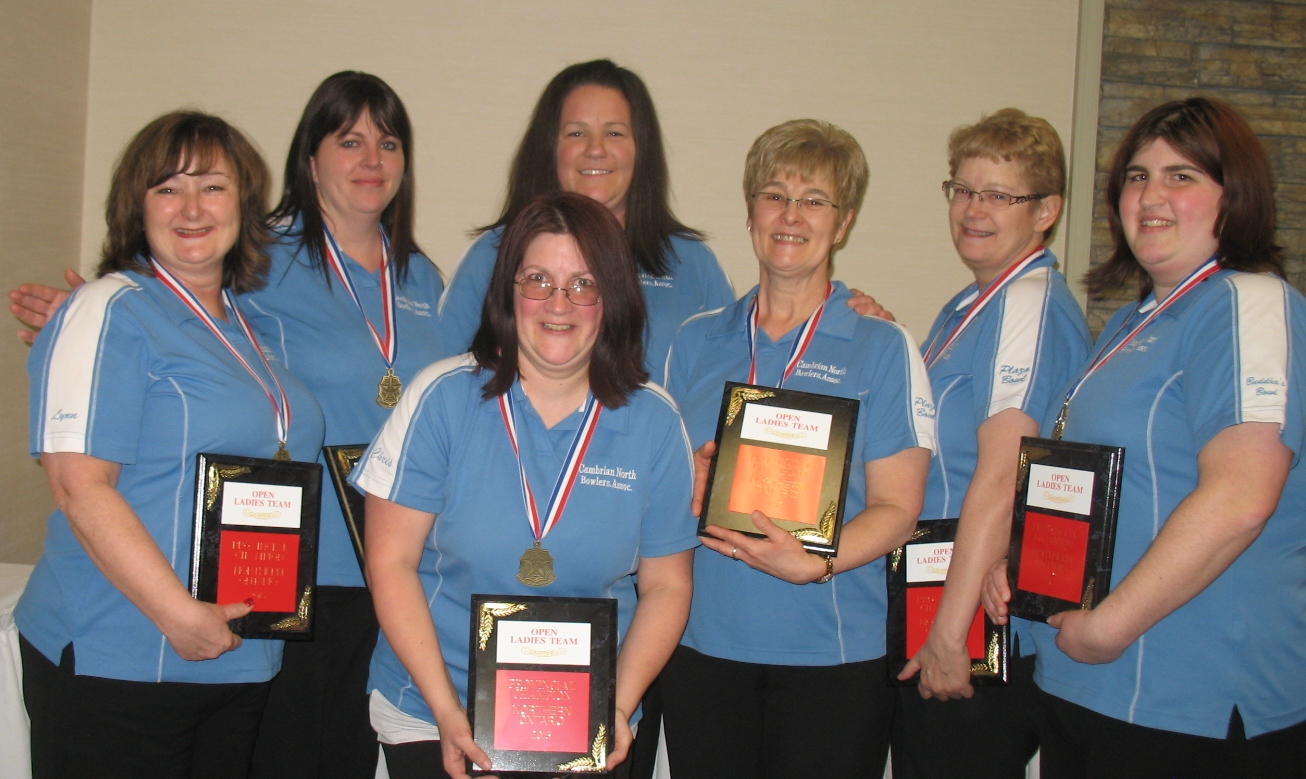 Lynn Imbeau, shown in the photo on the far left, is very proud of the accomplishments of her Ladies team from the City of Greater Sudbury. Lynn, as many of you know, is the person who runs the Valley East Citizen Services Centre / Public Library.

Lynn informs that the Ladies team, after a Provincial round in North Bay, won Gold and are heading to St-John's NFLD for the Canadian Open National Championships May 29th to June 1st, 2013.

Natalie Godin, second from the right, was first place on the All Star Team with an incredible average of 251.

Jeannette Gobeil won 1st place in the Singles stepladder. To her credit, despite the fact that Jeannette could have advanced to the Singles Division at the Nationals, she chose to remain with the team. She is confident that she, and her teammates, will come back with the gold, so this bodes well for the upcoming competition.

All these ladies live and bowl in the City of Greater Sudbury. In the photo we have, from left to right in the back rown; Coach: Lynn Imbeau, Paula McNamara, Jeannette Gobeil, Yvette MacLellan, Kim Goedhuis, Natalie Godin and Chris Godin in the front.
Special Bursary Fund Will Provide Lasting Legacy For Wendy Belanger & The Belanger/Hamilton Family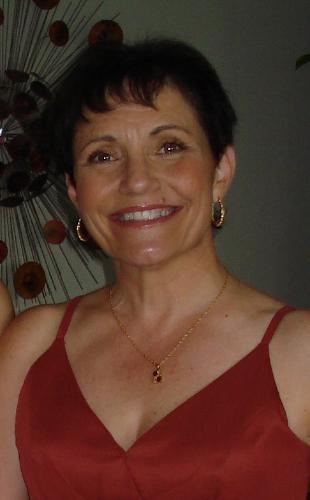 We all want to express our
As Wendy struggled through her battle with cancer she and her family wanted to give something back to the community. A special fund has been created to provide a bursary to students from Confederation Secondary School who display the leadership attributes that the entire Belanger / Hamilton families were known for.
Wendi and Claude, along with their children Bobby and Michelle made a huge impact on the lives of so many people in this community.
Check out the site and if you are interested feel free to make a donation and honour this wonderful lady.
http://www.caringbridge.org/ visit/wendibelanger