WELCOME TO
THE VALLEY EAST TODAY
ONLINE WEEKLY NEWS MAGAZINE
NOVEMBER 28, 2006 ISSUE


Friday December 8 2006, come and celebrate the Feast of the Immaculate Conception presided by Father A. Tremblay at St Mathieu Parish 1608 Pioneer Road, organized by the Grotto committee. Rosary at followed by Mass at
David 522-7878
Tuesday December 12 2006, come and celebrate the Feast of Our Lady of Guadeloupe presided by C. Allaire s.j., organized by the Colombiettes #12047 at La Toussaint Parish 1519 Bellevue Avenue. Rosary at followed by Mass at
The Grotto and Our Lady of Lourdes Shrine committee would like to offer this celebration to thank the many volunteers that come out throughout the year to help us with the events, the gardening and the redevelopment project. Thank you for your generous time and support!

Euchre Tournament Takes Place Every Monday Afternoon At LE CENTRE CLUB AGE d'OR DE LA VALLEE - All Are Welcome!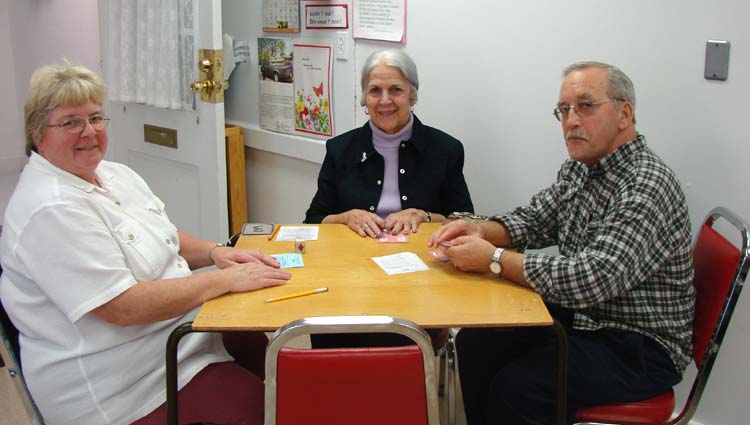 Every Monday afternoon beginning at 12:25 p.m. anywhere from 24 to 32 people gather for an afternoon of friendly competition in the form of euchre. Sue Carr, on the left above, is the Coordinator of the Euchre Tournaments. She is seated with Gerry Lee and Paul Legault. The entry fee is $4 per person, which includes a chance to win lunch the following Monday. You can also enter a 50/50 draw for only $2.00.

The group plays a "Progressive Style Tournament" where everybody is on their own and points are accumulated during the afternoon. It is a great pastime which ends at approximately 3 p.m.

The play is open to the general public, so if you are interested in playing euchre on Monday afternoons, just drop in and see Sue next Monday.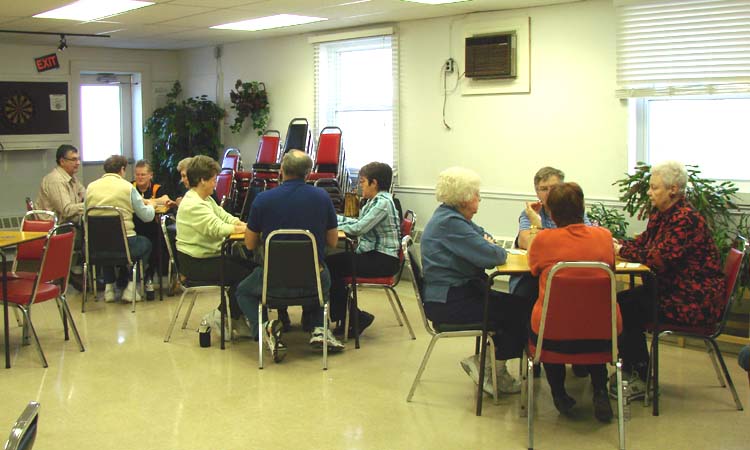 The Valley East Lions Club Is Once Again Selling Tickets On The Ultimate Dream Home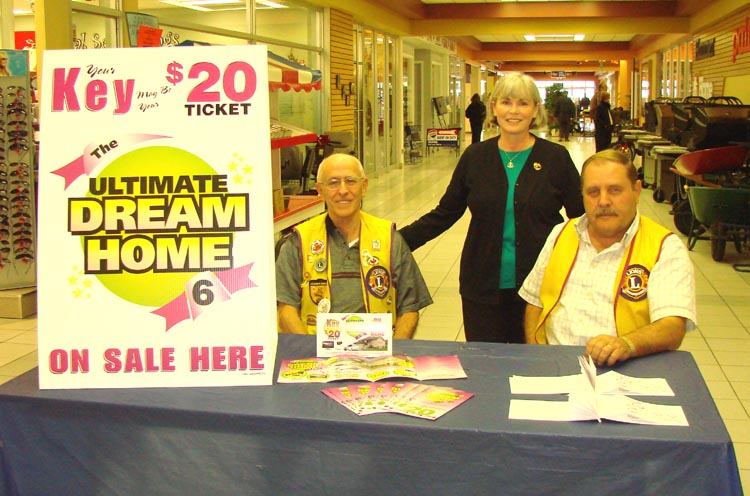 Roger Larivierre, on the left, and Gerry Pope, are Co-Chairs of the Valley East Lions Club Distribution Committee for the selling of the Ultimate Dream Home tickets in Valley East. Helping them out during the "kick-off" was Vickie Pope who supervised the ticket table while her husband, Gerry visited other sites to make sure that they all had their supply of tickets for the day.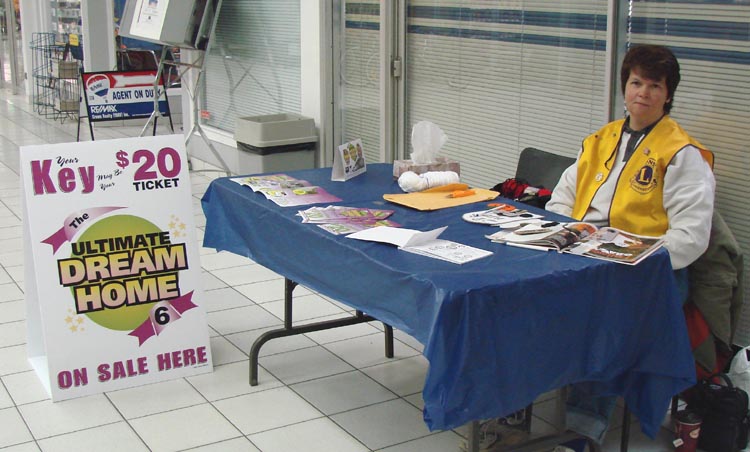 Lion Debbra Christianson, was on hand to look after the Saturday morning shift. The $20 tickets always sell extremely well in Valley East. Many people look forward to the contest every year and often purchase tickets to be given out as Christmas gifts or "stocking stuffers".

Besides buying your tickets at the Hanmer Valley Shopping Centre or Loeb's IGA in Val Caron whenever the Lions are manning their tables, you can also find them available at any time at Neil's Independent Grocers in the Kiost; Mr. Gas in Val Caron; both Caisse Populaire's, and; the McCrea Heights Confectionary.

SUDBURY TRAIL PLAN ASSOCIATION
Snowmobile Trail Permits Available

"Winter is just a few short weeks away so we encourage all snowmobilers to get their snowmobile trail permit early and save some money at the same time" newly elected STP President Gilles Tessier announced today. The Sudbury Trail Plan Association advises the 2006/2007 MTO full season snowmobile trail permit is now available for sale. Permits may be obtained from any one of the 8 local STP member clubs, or through a number of businesses including local dealers. Riders who have previously purchased their previous season trail permit through Sudbury Trail Plan should look for a renewal application form in the latest issue of the STP / PSSD joint publication "Northern Sno Trails."
Full season trail permit prices for 2006/2007 are $180 if purchased on or before December 1st, 2006 and $230 if purchased after December 1st. Trail Permits allow riders access to the 45,000km of trails maintained by over 250 member OFSC clubs. The purchase of a trail permit from Sudbury Trail Plan also includes a subscription to Northern Sno Trails and Ontario Snowmobiler Magazine. Purchase your trail permit before Nov. 1st, and you could win 1 of 3 gas cards worth $1500.00, $1000.00 or $500.00.
"With the French River Bridges in place as well as a number of other changes in the system, snowmobile riders are going to want to make sure they can access our northern trails this season" Tessier adds.
For further information please contact:
Sudbury Trail Plan Association
Gilles Tessier, President
705-693-7669
Get Ready for Snowmobiling Week
The Sudbury Trail Plan Association (STP) announced that the Ontario Federation of Snowmobile Clubs (OFSC) has designated the week of November 25th thru December 1st 2006 as "Get Ready for Snowmobiling Week".
"With the start of the upcoming snowmobile season only a few short weeks away, snowmobilers are reminded that now is the time to perform pre-season inspections and make any necessary repairs to their snowmobiles, trailers, and associated equipment," reports STP President Gilles Tessier. "Time spent now will only increase the enjoyment of their winter excursions and ensure maximum safety for themselves and others".
Recommendations made by OFSC and STP also include checking snowmobile registrations and insurance policies to ensure they are current. Clothing and safety equipment should be inspected and replaced as necessary to ensure proper operation. "Snowmobiling is an off-road activity and as such riders need to recognize and be prepared for any associated risks they may encounter through riding choices they have made," states Tessier.
While riders are preparing their equipment, over 6000 volunteers representing 240 clubs province wide are busy preparing trails. Locally, riders can utilize any of the 1,200 km of local trails maintained by the STP and its eight member clubs as well as the 41,000 km of OFSC Prescribed Trails by purchasing and displaying on their sled a 2006 – 2007 Snowmobile Trail Permit.
"Snowmobile Trail Permits are the most significant source of revenue for snowmobile clubs each season," states Tessier. "Each permit sold allows us to groom trails more frequently thus making the overall riding experience more enjoyable and potentially safer". Permits also identify that only authorized snowmobilers are legally utilizing the land so generously provided to OFSC member clubs by over 15,000 landowners.
Trail Permits are available through the local snowmobile clubs and at over 25 authorized permit outlets throughout the City of Greater Sudbury. Buyers can save $50 by purchasing their Trail Permit on or before December 1st at the same pre-season price of $180 offered last year.
For further information please contact:
Gilles Tessier, President
Sudbury Trail Plan Association
705-693-7669 (SNOW)

Next Blood Donor Clinics Scheduled For December 21 At Knights of Columbus Hall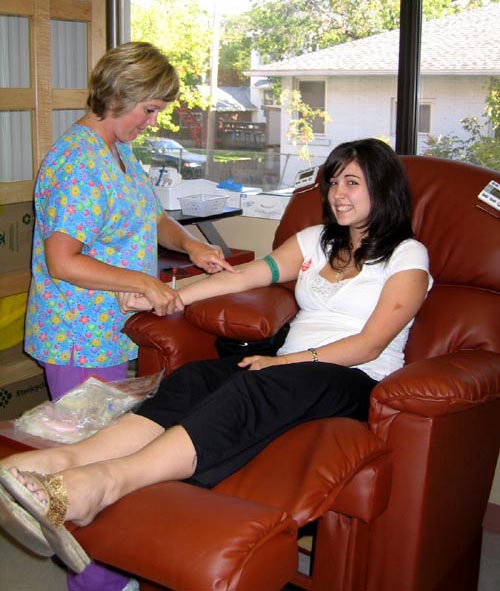 Michelle Blais, Senior Clinic Coordinator, Donor Services for Canadian Blood Services reminds all local residents that monthly clinics are held at the Knights of Columbus Hall on Emily Street every month.

Clinic hours are between 4:00 and 7:00 p.m. on the following dates:

December 21
January 17, 2007
February 21, 2007
March 21, 2007

If you have any questions, please contact Michelle at:
Phone: (705)688-7347
Toll free: (800) 263-3733
email: michelle.blais@bloodservices.ca

Seventeen year old Kelsey Patterson, shown above in the photo, a Grade 12 student at Confederation Secondary School in Val Caron, recently gave blood for the very first time on her 17th birthday. She is shown above with Health Worker, Shiela Gravelle, who gave Kelsey a birthday to remember.

ADULT
BADMINTON

Mixed Doubles

Bishop Alexander Carter School
539 Francis Street, Hanmer

For All Men and Women
16 Years and older

THURSDAYS
8:00 to 9:00 p.m.

$20 Registration Per Year

Contact: Larry at 969-5023 or Vic at 969-7180


Fall and Winter Programming
The Art Gallery of Sudbury on John Street has several very interesting programs for children and adults starting up this fall. Go to the main web site through the above link to see if there is anything of interest that you may wish to take part in and contact the administration at 675-4871.

GREATER SUDBURY PUBLIC LIBRARY
OFFERS A TEEN ADVISORY GROUP
TAG! You're it!
The Greater Sudbury Public Library is looking for teens in grades 7 to 12, who will meet monthly, to join the library's Teen Advisory Group (TAG).
Reasons to consider joining...
1. Look good on college resume
2. Earn Community Service hours
3. Suggest materials for the library
4. Meet new people
5. There's always food at meetings
6. It's fun!
You have the choice of two groups:

Valley East Public Library

4100 Elmview Drive, Hanmer

first Wednesday of the month

4:00 - 5:00 p.m.

Main Public Library

74 MacKenzie Street, Sudbury

last Wednesday of the month

4:00 - 5:00 p.m.
If you are interested, please call Ginette Mallette at
673-1155, extension 205.
Join us for the next meeting.
For more information, please contact:
Ginette Mallette, Children and Teens Programmer
Greater Sudbury Public Library, 673-1155, extension 205

Memories From Monique Grenon
We thank Monique Grenon of Hanmer for sharing some of these old photos that she uncovered from one of her albums. See if you can spot some of your old friends (or ancestors). Click on the link below for more photos.