WELCOME TO
THE VALLEY EAST TODAY
ONLINE WEEKLY NEWS MAGAZINE
NOVEMBER 28, 2006 ISSUE
Have You Visited Our "Humour Section" Yet??? If Not, Check Out The Following Holiday Tips For A Taste Of What's In Store

As publisher of Valley East Today I am always trying to come up with items that will be of general interest to a broad range of readers. Our HUMOUR SECTION is intended to bring you a bit of relief from the stresses of everyday living.

If you haven't had a chance to visit the section in previous issues, please check out the following article, entitled "Holiday Eating Tips". It will give you a sample of what is in store for you when you click on the link to that special section.

Holiday Eating Tips

1. Avoid carrot sticks. Anyone who puts carrots on a holiday buffet table knows nothing of the Christmas spirit. In fact, if you see carrots, leave immediately. Go next door, where they're serving rum balls.

2. Drink as much eggnog as you can. And quickly. Like fine single-malt scotch, it's rare. In fact, it's even rarer than single-malt scotch. You can't find it any other time of year but now. So drink up! Who cares that it has 10,000 calories in every sip? It's not as if you're going to turn into an eggnog-aholic or something. It's a treat. Enjoy it. Have one for me. Have two. It's later than you think. It's Christmas!

3. If something comes with gravy, use it. That's the whole point of gravy. Gravy does not stand alone. Pour it on. Make a volcano out of your mashed potatoes. Fill it with gravy. Eat the volcano. Repeat.

4. As for mashed potatoes, always ask if they're made with skim milk or whole milk. If it's skim, pass. Why bother? It's like buying a sports car with an automatic transmission.

5. Do not have a snack before going to a party in an effort to control your eating. The whole point of going to a Christmas party is to eat other people's food for free. Lots of it. Hello?

6. Under no circumstances should you exercise between now and New Year's. You can do that in January when you have nothing else to do. This is the time for long naps, which you'll need after circling the buffet table while carrying a 10-pound plate of food and that vat of eggnog.

7. If you come across something really good at a buffet table, like frosted Christmas cookies in the shape and size of Santa, position yourself near them and don't budge. Have as many as you can before becoming the centre of attention. They're like a beautiful pair of shoes. If you leave them behind, you're never going to see them again.

8. Same for pies. Apple. Pumpkin. Mincemeat. Have a slice of each. Or, if you don't like mincemeat, have two apples and one pumpkin. Always have three. When else do you get to have more than one dessert?

9. Did someone mention fruitcake? Granted, it's loaded with the mandatory celebratory calories, but avoid it at all cost. I mean, have some standards.

10. One final tip: If you don't feel terrible when you leave the party or get up from the table, you haven't been paying attention. Reread tips; start over, but hurry, January is just around the corner.

Remember this motto to live by:

"Life should NOT be a journey to the grave with the intention of arriving safely in an attractive and well preserved body, but rather to skid in sideways, chocolate in one hand, martini in the other, body thoroughly used up, totally worn out and screaming "WOO HOO what a ride!"




VISIT THE
VALLEY
EAST
TODAY
COMMUNITY
WEB SITE


COMMUNITY
SECTION

Welcome
Our Spirit
Our Schools
Our Churches
Our Food Banks
Our Library
Our Cemetery
Our Playgrounds
Our Sports
Our Recreation
Our People
Sports Complex
Youth Centre
Organizations
Fire Services
Animal Shelter
Hospital

REFERENCE
SECTION

Local Media

The Vision Paper
Toronto Star
TSN Sports
Weather Network
Canada 411
Yellow Pages
Horoscopes
Lotto 649
Student Page
After The Whistle
Ponds & Gardens
Grotto Sudbury
Yahoo Search
Google Canada

Canadian Learning Centre Now Open

In Valley East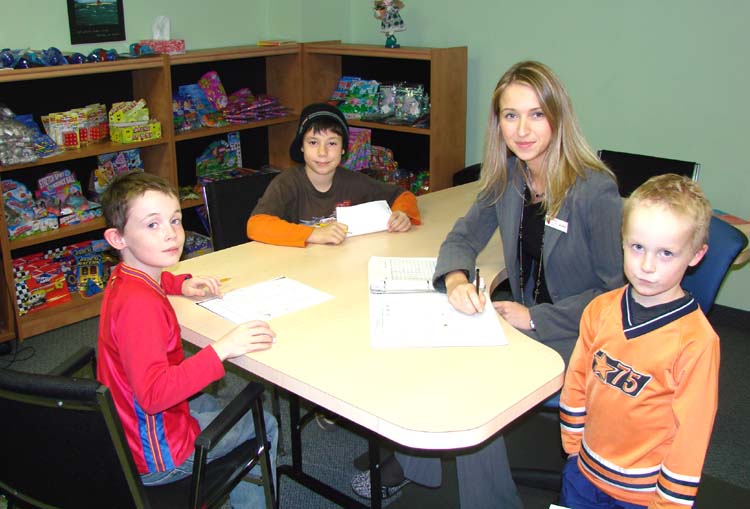 "All knowledge is sacred." That mission statement is something that CEO Satish Verma is very passionate about when he talks to people about the goals of the Canadian Learning Centre. "Our Mission is to make a difference in the lives of students by raising their grades, confidence and self-esteem. Nothing takes precedence over the student here. We are dealing with the future of children and we take it very seriously. If a child doesn't succeed, we don't succeed, and we don't compromise on this."

Maria Garoiu, shown in the photo with three current students, Tyler, Steven and Riley, is Regional Director of the Canadian Learning Centre, which has just opened up its fourth Sudbury location beside the Pizza Hut in Val Therese. The Canadian Learning Centre is an innovative, research-based service designed to help students improve their skills in all grade levels, from primary through college and university, to adults looking for retraining or upgrading. These new skills are then used by the students to help them achieve better results in their formal education programs, thus bridging any gaps that may have developed or even providing some to achieve their goals for academic excellence as they compete for limited spaces in specific university programs.
Verma points out that the Canadian Learning Centre is a supplemental education service providing instruction in both English and French languages. "We work with parents and students to discover areas where there is a lack in fundamental learning skills, focusing on comprehension, reading, writing and mathematics. Once we conduct a very thorough diagnostic assessment, we develop a customized plan for the student to bridge any learning gaps that are identified."
At the present time students from junior kindergarten to university level are receiving personalized programs from qualified instructors who are experts in their fields. The Canadian Learning Centre guarantees that every student will achieve at least a full grade level of improvement in their subject area after just 36 hours of instruction. Parents have been amazed at the difference in their children once they attend a program at the Canadian Learning Centre.
"We place a great deal of importance on providing our students with the skills that will make them more capable in school and more confident in life," Verma explained. "We develop skills which will help students become more successful in their regular classes, whether they are in pre-school or university. We give our students something they will have for the rest of their life – learning skills that they can use to open the doors to discovering their true potential as individuals."
The first step in improving your child's learning skills is to attend the open house on Saturday, December 2, 2006 from to If your child is struggling in school and wants to catch up or get ahead, call the Canadian Learning Centre for a free no-obligation assessment.
CANADIAN LEARNING CENTRE
Hwy. 69N – Beside Pizza Hut
(705) 969-2500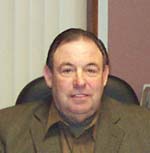 Ron Masciangelo, owner of Masciangelo Motors is proud of his Vehicle Locate Program which has matched so many customers with vehicles that they have been searching for all over the province of Ontario and beyond. You can read about Masciangelo Motors in the Business Section of Valley East Today or you can go directly to the corporate web site at:

Conveniently located at 1440 Falconbridge Road in Sudbury.
Call (705) 521-9999 for more information

Education Travel Group Holds Bake Sale & Penny Table To Raise Funds For Trip To Italy In The Spring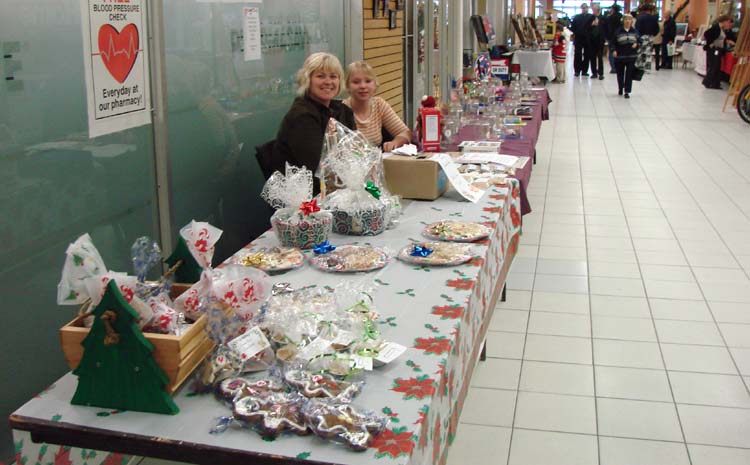 A group of approximately 20 students from Grades 7 through 12 at Marymount Academy are planning an educational trip to Europe during the March Break in the spring of 2007. That means that for the next several months they will be out trying to raise money to pay for the trip. Shandi Charette and her daughter, Kaitlyn ran another successful bake sale and penny table at the Hanmer Valley Shopping Centre to raise some of the money they will need for the trip. Shandi will be one of the parents accompanying the students on the trip, so the Charette family must raise double the amount of others. The Charettes wish to thank everyone from the community who purchased baking and entered the penny table contest.

Toys For Kids and Food For Good Neighbours Being Collected At The Hanmer Valley Shopping Centre This Christmas Season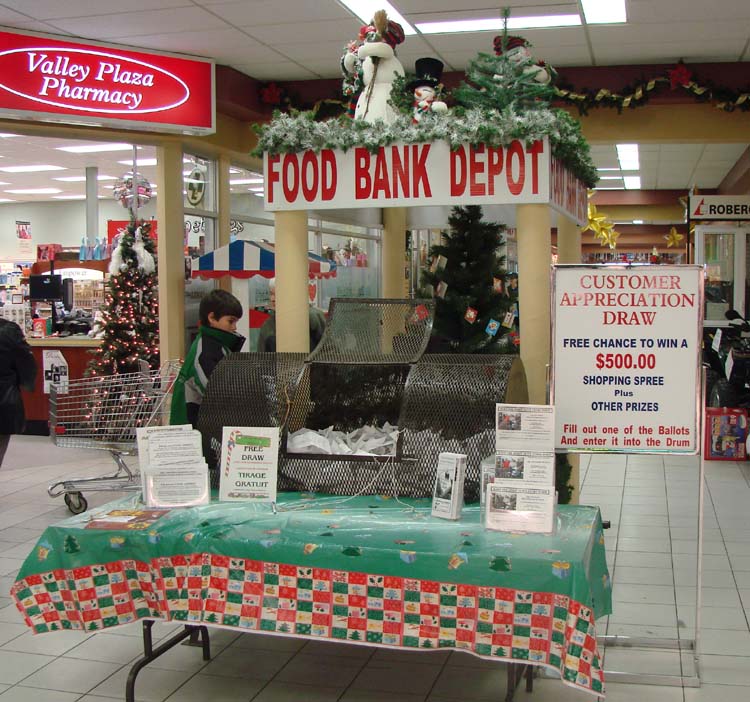 The familiar FOOD BANK DEPOT is in place at the Hanmer Valley Shopping Centre just outside Desjardins' Food Basics. Each year the mall assists the Good Neighbours Food Bank of Hanmer in making Christmas just a bit more special for needy families of the area. The Toys For Kids Gift Tree contains "tags" with ages of boys and girls from families who depend on the Food Bank. Shoppers are encouraged to purchase a suitable gift and then leave it "unwrapped" inside the Food Bank Depot so that a representative of the Good Neighbours Food Bank can pick it up and make sure that it is received by a child in time for Christmas. The depot is also encouraging shoppers to leave items of food which will help stock the shelves of the Food Bank during this important time of the year.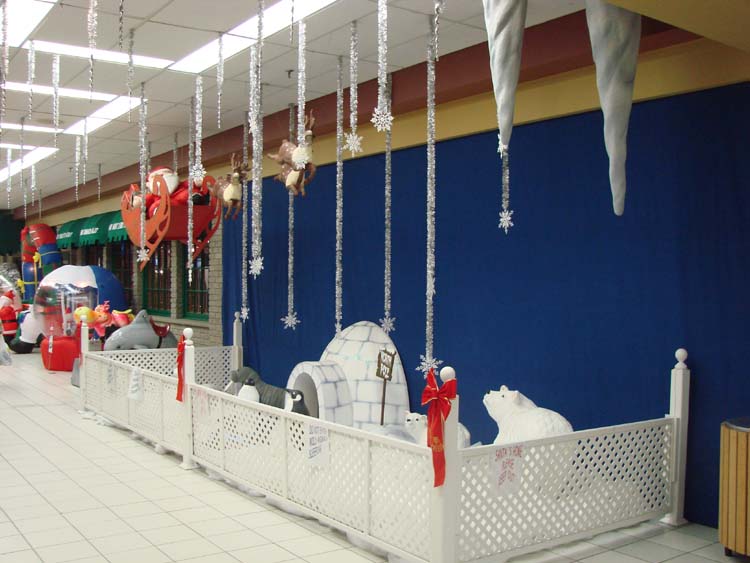 Rayside-Balfour Whitewater Brush & Palette Art Club Puts On Huge Exhibit At the Hanmer Valley Shopping Centre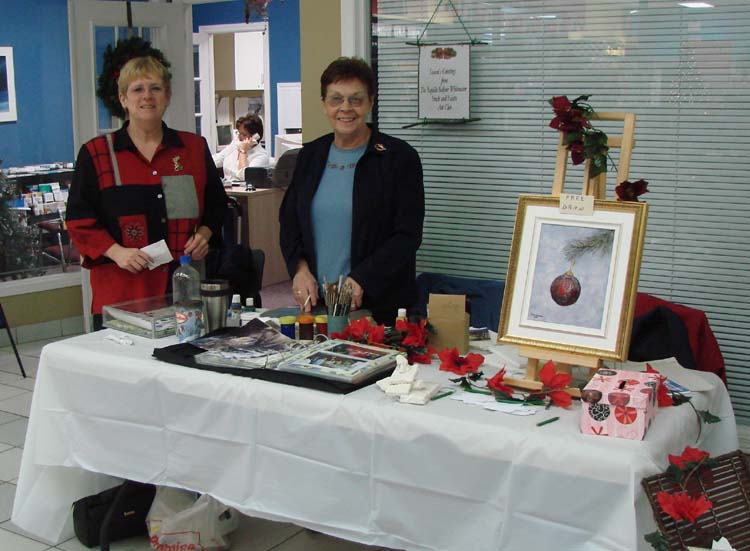 Vikki Girard, on the left, President of the Rayside-Balfour Whitewater Brush & Palette Art Club, and Shelvie Boivin, Treasurer of the Club, are shown taking a break from demonstrating some of the techniques used by Shelvie and other members to whom she has given instruction. The Club conducted their First Annual Valley East Art Exhibit from November 24 to 26 at the Hanmer Valley Shopping Centre in Hanmer.

The club meets every Wednesday and Thursday from 10 a.m. to 2 p.m. at the Club House which is situated in the Azilda Waterfront Park. Every Monday and Wednesday evening members provide lessons to people who are interested in learning more from the gifted artists.

With over 70 active members, the Rayside-Balfour Whitewater Brush & Palette Art Club offers local residents an opportunity to explore a different form of recreation. Membership fees are only $20 per year. Private lessons can be arranged for about $100 for ten weeks of three-hour sessions, therefore, this is something that even inexperienced persons will find enjoyable. Club members hail from all over the Greater Sudbury Area.

The Club conducts one Art Show in June in Rayside-Balfour and has now added the November Valley East Art Show to its annual calendar of events.

For more information on the Rayside-Balfour Whitewater Brush & Palette Art Club, call Vickki at 855-9791.

Anyone interested in finding out more information about the Valley East Art Club is invited to contact Rachel Ranger at 897-5101. The Valley East Art Club meets Mondays at 10:30 a.m. at the Senator Rheal Belisle Centre in Blezard Valley.
FOR MORE PHOTOS OF THE ART EXHIBIT CLICK HERE >>>>

Parents Allowed To Take Their Own Pictures With Santa At the Hanmer Valley Shopping Centre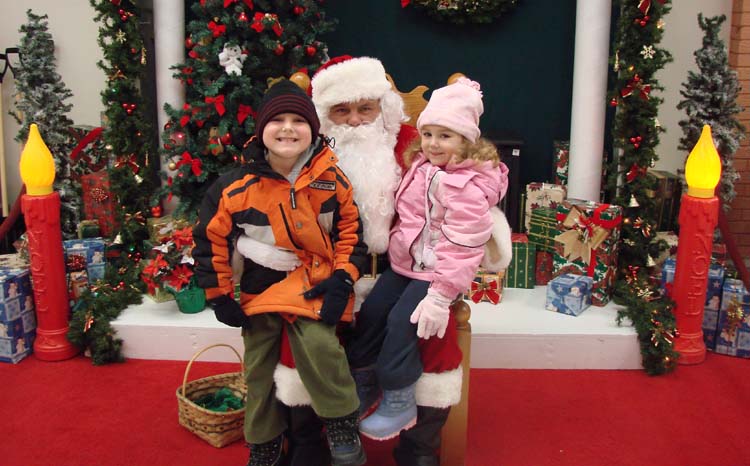 The Hanmer Valley Shopping Centre has once again adopted a very popular policy with parents when it comes to photos with Santa. Last year parents were allowed to take their own photos of their children with Santa and it was extremely well received, especially among parents with more than one child. This year the mall is following the same policy and if the response on the first weekend is any indication, Santa will be seeing "spots in his eyes" as he makes his rounds on Christmas Eve.
"When my own children were young, my wife and I collected pictures of them every year with Santa. But it became more and more costly to pay for photos taken by professionals, and we were not always happy with the way the pictures turned out." explained Robert Kirwan, Director of Marketing & Public Relations for the Hanmer Valley Shopping Centre. "Now, we just tell parents and grandparents to bring their own camera and take as many photos as they wish. Most of them have digital cameras, or they pick up a disposable camera from Hart Department Store for about five dollars and they get all of the pictures they need for their family and friends. Santa will even walk to other places in the mall to pose in different settings if that is the wish of the parents."
SANTA'S HOURS
Fridays from 6 p.m. to 8 p.m.
Saturdays from 10 a.m. to 4 p.m.
Sundays from 12 noon to 4 p.m.
Children will also be able to drop off letters to Santa when they come to visit. Many of these letters will be put on display in the mall. All children will also be given a special treat from Santa when they visit.
Another popular initiative being offered this year is the "Toys For Kids" program whereby shoppers may purchase a gift for a child of a family using the services of the Good Neighbours Food Bank. Details of this program can be found outside of Desjardins' Food Basics.

Raise Awareness About School Bus Safety Is Lifetime Commitment by Adam Ranger's Family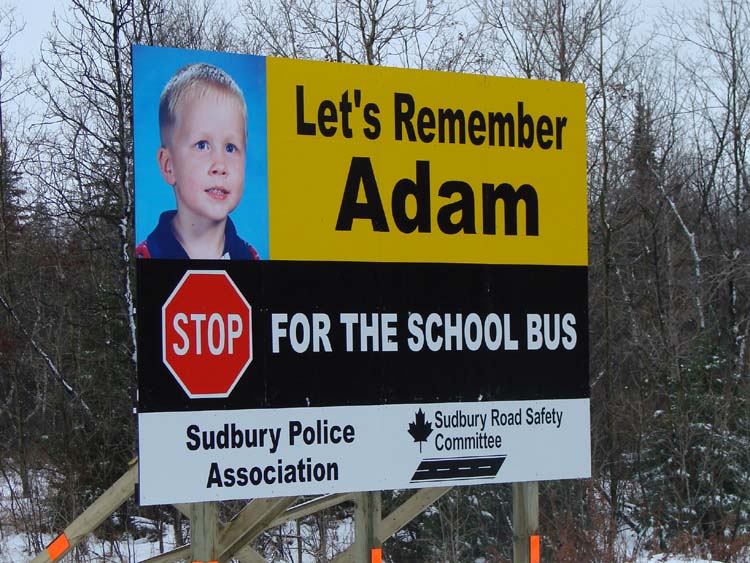 Local residents will notice a large billboard like the one above on Highway 69 North in Val Caron near the Whitson River bridge across from Cecile Street. The awareness campaign, which is being sponsored by the Greater Sudbury Police Services Board and the Sudbury Police Association, is designed to remind everyone about

Adam Ranger, who was five years old when he was hit by a truck after stepping off the school bus in Mattawa. Since

Feb. 11, 2000

, the Ranger family has vowed to increase public awareness about the consequences of illegally passing a stopped school bus.

Just to drive home the importance of the campaign, the same week the sign was unveiled, Riley Richer, a five year old Hanmer boy was hit by a car as he crossed Elmview Drive after getting off his school bus. The driver of the car, Jessica Chiblow, 19, of Hanmer, is facing numerous charges under the Highway Traffic Act. Fortunately, the boy was not seriously injured and was released from the hospital that same night, but it is definitely an experience he will remember for the rest of his life. It could also have had far more devastating results.

The driver of the truck that struck Adam Richer was convicted of criminal negligence causing death and manslaughter.

It is hoped that the signs will make a huge difference in how drivers approach school buses this year. The law states that motorists travelling in both directions must stop when approaching a stopped school bus with its upper red lights flashing. The only exception is on highways with a median, where traffic coming from the opposite direction is not required to stop.

Memories From Monique Grenon
We thank Monique Grenon of Hanmer for sharing some of these old photos that she uncovered from one of her albums. See if you can spot some of your old friends (or ancestors). Click on the link below for more photos.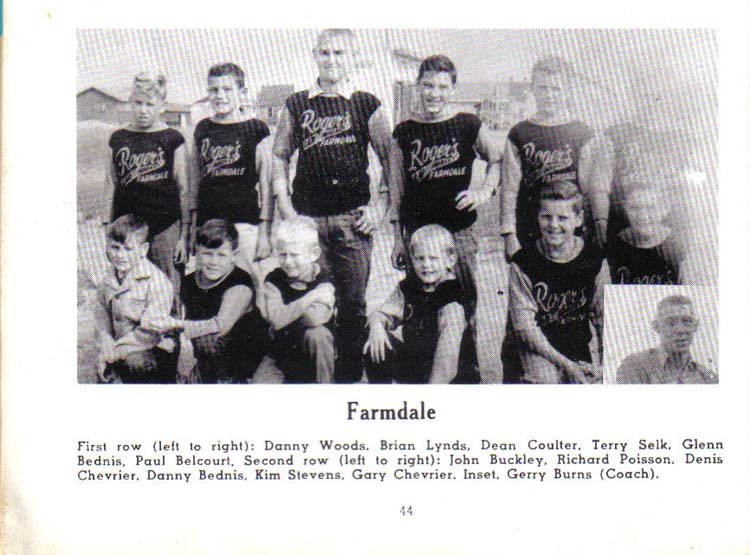 Heatwave Tanning Salon Finds Way To Help Needy Families During Christmas Season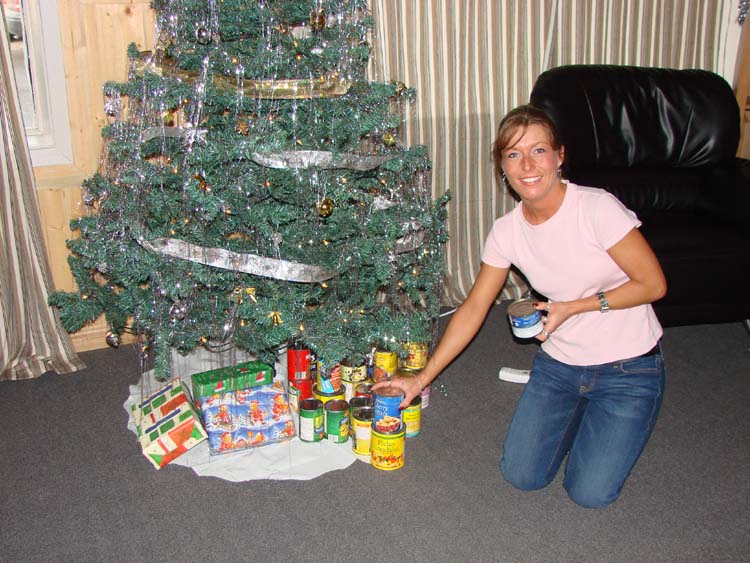 Andrea Guinard, Co-owner of the Heatwave Tanning Salon in Val Caron, places some of the food that has been donated by customers underneath the beautifully decorated tree in the main lobby of their facility. People who bring in a can of food when they purchase tanning packages during the Christmas season will double up on their FREE tanning incentives.

This is the first year that Heatwave Tanning Salon has implemented this worthwhile cause at both locations. All of the food donated in Val Caron will go to the St. Vincent de Paul Food Bank while all of the food donated at their Falconbridge Road location will be given to the Sudbury Food Bank.

If you have any questions, please contact Andrea at 897-4006 or visit their web site at:

Karaoke DJ Monique Grenon invites the entire community to come to CORTINA HANMER in Hanmer for a special Customer Christmas Party on Saturday, December 2, 2006 beginning at 8:00 p.m.

Come out and have some fun and meet your friends, and maybe

sing or just listen to some

Karaoke.

Money will be collected for the MCTV Christmas Telethon during the evening

Diane & her staff wishes everyone a very Merry Christmas and a Happy New Year!


Now You Can Have Access To All Of The Stories and Articles That Were Published in Previous Issues Past Of The Weekly Online News Magazine

by
Robert Kirwan: Publisher of Valley East Today

It gives us great pleasure to maintain a complete archive of previous issues of the Valley East Today Online News Magazine. We understand that there are times when you may have missed a week or would like to return to look over a previous article. Hopefully you will find this archive section useful and will share it with your friends. Everyone associated with Valley East Today is quite proud of the "Living History" we are creating and we know that it is providing a great deal of pleasure and enjoyment for people in the community. Thank you for spending some time with us today. If you have any comments, please do not hesitate to contact me at:

TO VIEW ALL OF THE PREVIOUS ISSUES