WELCOME TO
THE VALLEY EAST TODAY
ONLINE WEEKLY NEWS MAGAZINE
NOVEMBER 21, 2006 ISSUE
2006 Valley East Minor Baseball Champs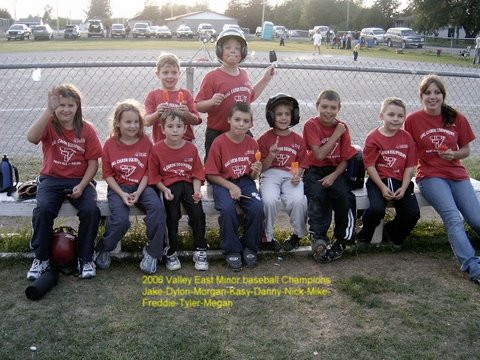 Congratulations to Jake - Dylon - Morgan - Kasy - Danny - Nick - Mike - Freddie - Tyler - Megan on winning their division championship in the Valley East Minor Baseball League.
Valley East's Marty Kirwan Has Become One Of The Most Respected Referees In The Ontario Hockey League
Marty Kirwan first pulled on the stripes in 1989 as an 11 year-old in the Valley East Minor Hockey Association. Today, the 27 year old is beginning his second year as a full-time referee with the Ontario Hockey League and is quickly becoming one of the most respected officials in the circuit. We captured some photos of him during a game played between the Sudbury Wolves and the Belleville Bulls on October 22, 2006. For the record, the Wolves won the game by a score of 3 to 2 in a game which many local fans were calling the best refereed game of the season.

Marty grew up in Val Therese. He attended St. Anne School then attended St. Charles College. He graduated from Laurentian University Sports Administration (Bachelor of Commerce) Program in the spring of 2002. He has his Senior Level 4 Canadian Hockey Association Officials Certificate.

Marty also knows what it is like to play the sport, having competed at the 'AAA' Major PeeWee level before deciding to devote full time to refereeing. After four years off the ice he played a starring role on defense with his high school team while in Grade 13. So Marty knows the game from all sides and uses this knowledge to effectively manage all situations while on the ice as an official.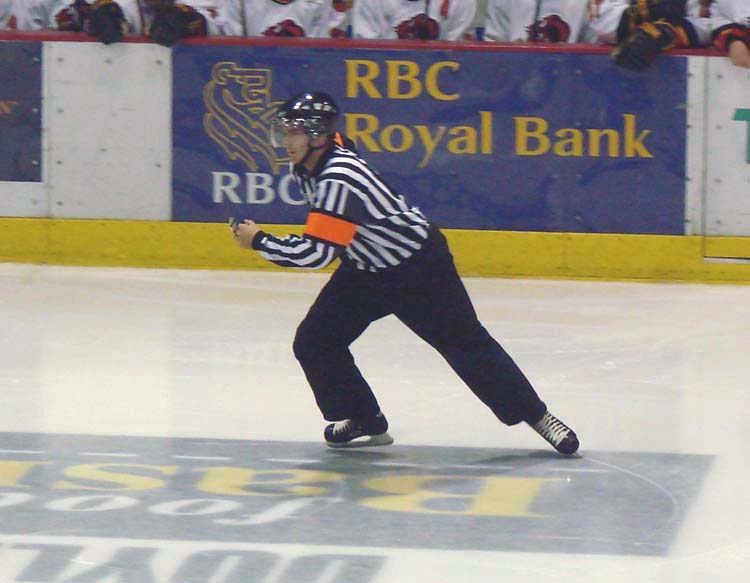 Before being appointed as a full-time referee with the Ontario Hockey League (OHL) at the beginning of the 2005-2006 hockey season, Marty was a well-respected referee in the Northern Ontario Junior "A" Hockey Association (NOJHA) and in the Ontario College (OCAA) League during the 2001-2002 season before he decided to move to the Toronto Area at the beginning of the 2002-2003 season to advance his career on the ice and to manage the family owned marketing business. He was married to Christina (Woodley) in October 2004 and now lives just north of Guelph. He began a career as a police officer with the Peel Regional Police Department in January 2005.
In the spring of 2002 he had the honor to be a Referee in the Ontario "Air Canada Cup Regionals" held in Timmins and other tournaments such as the Big Nickel Major AAA tournament and the high school OFSAA tournament that was held in Sudbury, Ontario.
Marty was also selected as one of the six (6) referees assigned to the do the games at the 2004 World Under 17 Hockey Challenge which is being held in St. John's, Newfoundland from December 28 through January 4. He was only one of two referees from Ontario, with the other four coming from Quebec and out West.
Marty summed up his feelings with the following, "The thing that I love the most about being a hockey official is that it does not seem like work to me. You show up to the rink and you know that for the next two to three hours, you are going to Referee a hockey game that has never taken place before. You never do the same game twice, it always changes."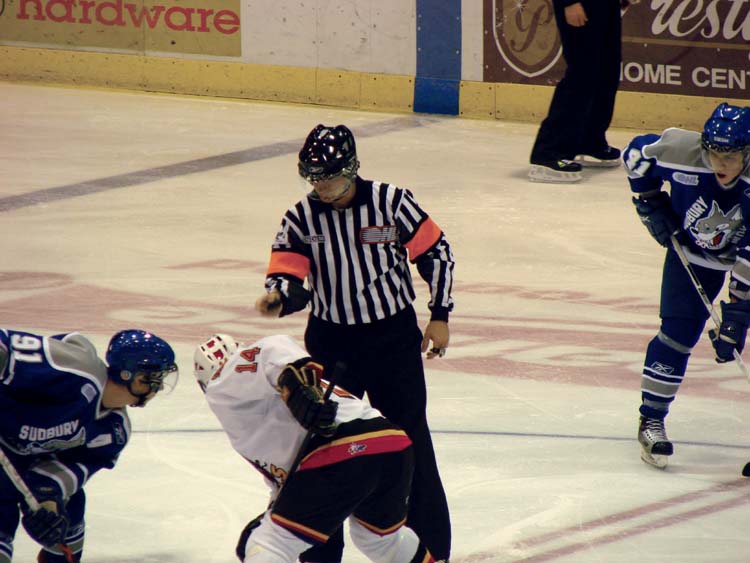 For more photos of Marty in action, CLICK HERE>>>>
Confederation Secondary School Chargers Eliminated In Semi-Finals After A Great Season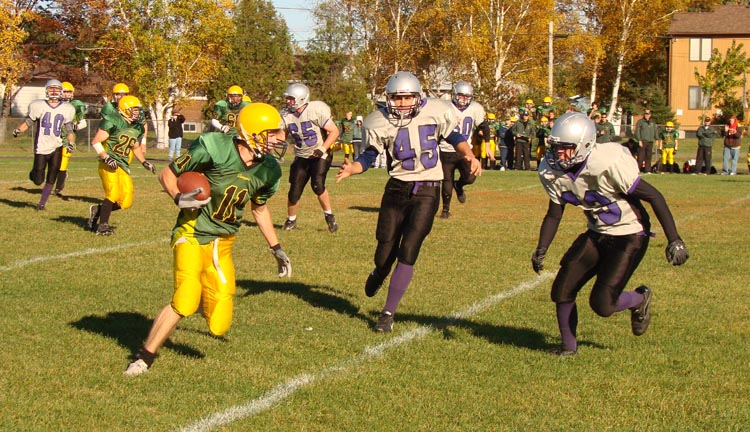 The Confederation Secondary School Football Chargers finished the regular season in 2nd place and then met some pretty tough competition in the semi-finals, losing by a score of 42 to 7 to LoEllen Park.
Despite losing their last two games of the season, the Confederation squad has a lot to be proud of with it's five consecutive wins to start the season. Congratulations to the players and coaching staff.
The complete schedule with scores for the 2006 season for Confederation are listed below:
REGULAR SEASON

Friday, September 15
Confederation 34 - Sudbury Secondary 0
Friday, September 22
Confederation 35 - Lasalle 12
Friday, September 29
Confederation 36 - St. Charles 21
Wednesday, October 4
Confederation 44 - LoEllen 25
Friday, October 13
Confederation 14 - Notre Dame 11
Wednesday, October 18
Confederation 17 - Lockerby 22

PLAYOFFS

Semi-Finals
Friday, October 27
Confederation 7 - LoEllen 42
Finals
Friday, November 3
St. Benedict vs LoEllen
Bishop Alexander Carter Catholic Secondary School In Tough Against Strong Competition During Local Tournament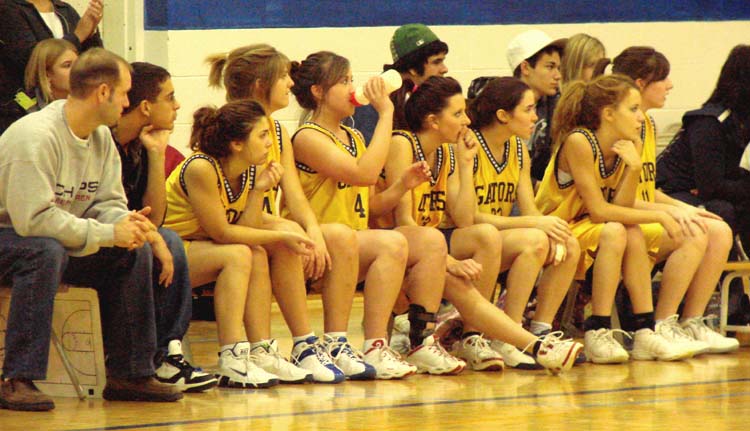 Valley East Progressive Hockey Teams Sporting A New Logo For 2006-2007 Season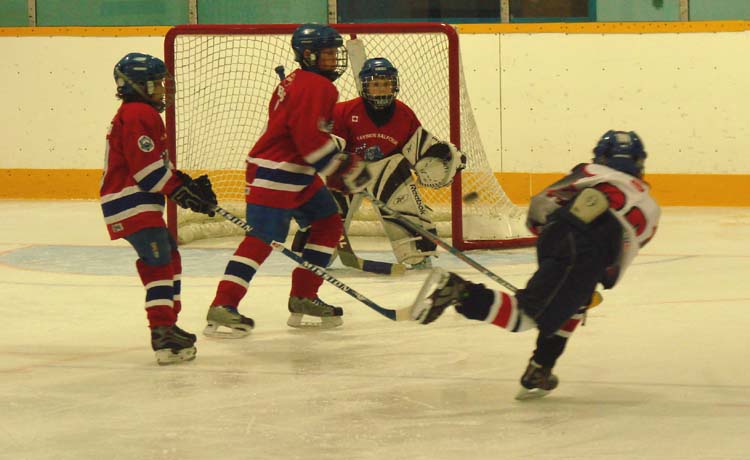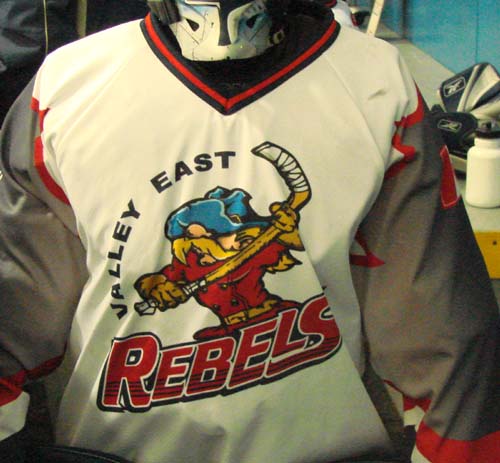 The Valley East Rebels Progressive Hockey Association has unveiled a new sweater and logo for the 2006-2007 hockey season.
Parents and players seem pleased with the new "colours" and design.
If you are interested in finding out more about the Valley East Rebels Association, go to the following link: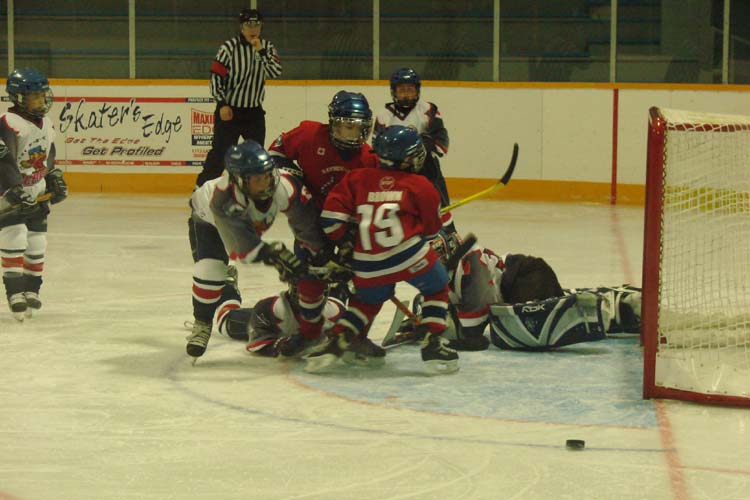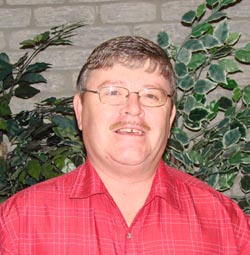 ROGER'S
SPORTS LINE
by Roger Legendre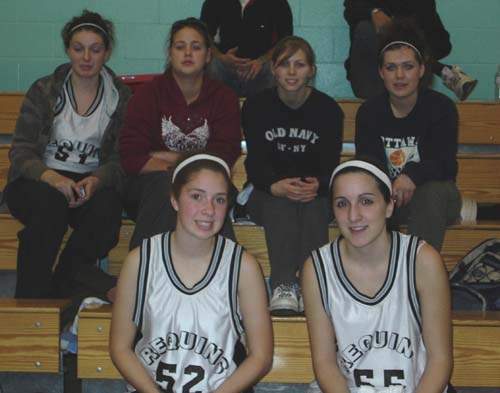 Last week , I spent four wonderful days in Timmins at the annual Franco Ontario Junior/Senior Girls Basketball Tournament being hosted by Ecole Secondaire Theriault.
The ride up 144 is always interesting .In the daytime there doesn't seem to be any problem but you must always be aware of moose coming on to the road and not just listen to music and admire the changing colors of Autumn. If you drive by night (which I avoid doing) it can be quite nerve racking with all the ups, downs and curves.
I arrived in Timmins and the organizer realized he'd forgotten to check if the complimentary rooms for the basketball officials were available .I was stuck waiting for an hour but everything eventually was resolved.
There are young ladies here between the ages of 14 and 17 from all over the province .They come from as far north as Kapuskasing and as far south as Windsor. Nine teams from our Greater Sudbury Region are participating: in the junior division there is Sacre Coeur and l'Horizon both presently at 4-0 in division II; Champlain; McDonald Cartier and College Notre Dame. In the senior division there is: l'Horizon, McDonald Cartier, Champlain and College Notre Dame.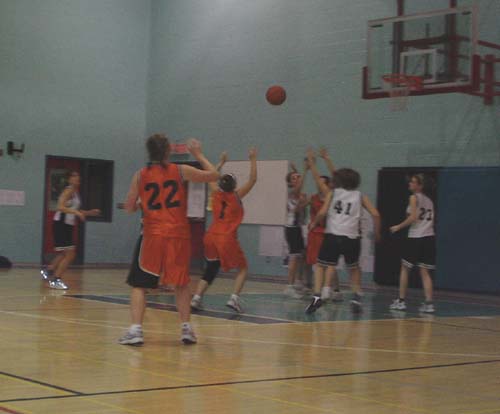 Following round robin action on both Thursday and Friday morning Horizon (some of the girls are shown above) and Sacre Coeur junior teams both go 3-0 in their respective pools and advance to the top four seedlings .
When it came around to the quarter finals the only team from our region to advance was the Aigles from Horizon who easily won that games but were defeated in the semi by Plantagenet from the Ottawa region .In the end the predicted finalists Essor of Windsor and Horizon of Val Caron met instead in the bronze medal game where the Aigles easily handled their opponents by 10 points to capture the bronze medal in the junior division.
In local action, all games this week in football, volleyball and basketball become important with several teams fighting for playoff positions as well as first place.
Starting this coming Friday it's the 4th annual "Air Time "basketball tournament for junior and senior girls. The games with 32 teams participating [ 20 from out of town] gets underway at six sites with three of them being in the Valley [Bishop Alexander Carter, Horizon and Confederation ].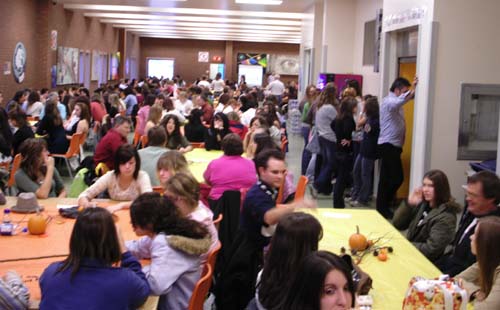 The championship game in the junior category goes Saturday afternoon at Horizon while the senior one will be played at St Charles College. Some 52 games will be played in two days out of those six sites. It should make for some excellent basketball. There is no fee so come out and see some fine young ladies demonstrate their talent in shooting, passing and playmaking.
The photo on the right is from the banquet which was held at the end of the tournament in Timmins.
Have a good week! Stay fit and participates!
by Robert Kirwan

LET'S STOP WASTING SO MUCH ICE TIME

It doesn't matter where you live on this planet, the cost of renting ice for hockey games is skyrocketing. So, if the cost of ice is so expensive, why do we waste so much of it?

Consider the following:

We usually rent 90 minutes of ice time for most hockey games below the midget level;

Out of that 90 minutes, we generally play three 13 minute stop-time periods; or two 15 minute and one 10 minute periods. In any event, we seldom get more than 40 minutes of actual playing time.

The rest of the time is taken up changing players; changing ends; lining up for face-offs; flooding; warm-ups; shaking hands; talking to referees; etc.

In fact, only 45% of the ice time we rent is used to play the game.

In order to reduce the wastage of ice time, we would like to offer a few simple suggestions:

We should revert to straight time instead of stop time;

We should only have one period. It will begin after a five minute warm-up and end with the buzzer at the end of the 90 minute session;

The running time should not be posted. No one will know how much time is left in the game. It will be much like soccer, where people have an idea of approximately how much time is left, but it will be the timekeeper who knows for sure how much time is left;

There will be no intermission; no changing ends; no time-outs; no unnecessary stoppage of play;

We will also only allow changing on the fly or after a goal and enforce the fast-face off rule;

Players will shake hands in the lobby and not on the ice:

Players will also do their stretching in the dressing room and not on the ice.

These are only a few ideas that will help ensure that the ice time we pay for is actually being used for the game. If you have any others, please share them with us.

YOUR COMMENTS WOULD BE APPRECIATED

All Hockey Really Needs Is One More Rule

Hockey fans today spend a great deal of time and energy discussing suggestions on how to improve the game. At this time, I would like to offer food for thought to the discussion by suggesting that if we really want to make major changes to the game of hockey, the best way is to add one more rule to the already tangled mess of rules and regulations which govern this fine sport.

My new rule would be added at the very end of the section of the rule book which deals with penalties. It would simply state:

On ice officials will disregard all of the previous rules and replace them with the following:

Penalties will be issued by a referee for any action committed by a player or team official which, in his opinion, is deemed to be inappropriate under the circumstances.

Read it again before you decide to declare me unfit for further editorials on this site.

When you think about it, much of the anger and frustration which is exhibited by fans, coaches and players stems from the fact that a referee may call one thing one minute and let the same thing go a minute later. What many people do not understand is that a trip is not always a trip, yet the rule for tripping makes no distinction as to when exceptions may occur. Neither does the rule make exceptions for game management or for position on the ice. Yet we all know that if the rule book is applied as written, there would be absolutely no flow to the game and we would definitely have to expand the penalty box area in most arenas.

So what I am suggesting is that we simply toss out all of the playing rules which deal with penalty infractions. That way none of the rules can ever be broken. Instead, we give complete control to the referee to determine what actions should be penalized and leave everything up to his discretion alone. If he calls a penalty, it is because he felt it was an inappropriate action on the part of the player in that instance. And yes, he may have let the very same thing go a few minutes earlier, because in that situation he felt the action was appropriate.

For example, if the referee knows that two players on opposing teams always play rough and tough, loving to intimidate each other, he may allow them to crash and charge, elbow and punch each other until they are blue in the face without giving out any penalties. In this situation, he would determine that if these two goons wanted to beat each other's brains in, then go right ahead. However, if one of the goons took a punch at another player who was simply minding his own business, then a penalty would be issued. Indeed the referee may see fit to issue a minor penalty plus a ten minute misconduct for being a bully. The message would be quite clear. If you want to play that way, then play that way with others who are willing combatants. However, don't you dare use those tactics on players who are here to enjoy the game and want to play fair.

Sound a bit extreme? Well, not if you consider that in this situation the referee would always be right and no one could ever question him about the rule.

When I was a teacher, I only had one rule that my students had to follow. And it was easy to remember.

Inappropriate behaviour will not be tolerated in this classroom and will be dealt with accordingly.

How's that for a rule. Best of all, I told my students that I would be the sole judge of what behaviour was appropriate. And you know what, I had very few discipline problems in the class. If a student who always did her homework and paid attention in class forgot a book in her locker one day, I would allow her to go out to get it. If, however, on that same day another student who was always disruptive and never did his homework forgot his book in his locker, I would refuse to give him permission to retrieve it. Is this fair? In my mind it was. Nevertheless, if by forgetting his book in the locker it would allow him to "goof off" all period, I would order him to go and get it. Fair enough?

Whenever you have a rule, or a bunch of rules as is the case with hockey, you end up with people who try to "bend the rules" or get "around the rules". Then you have to come up with language to fill in the gaps and get rid of the loop-holes. Eventually, someone always finds a way to get around the rule or bend it in some creative way. However, when you sum everything up under the "inappropriate action" umbrella, you force the participants to think before they act. Now a person must say to himself, "If I do this, will it be deemed to be inappropriate? Is this acceptable or not? Will I be punished?"

As a teacher, whenever a student did something which did not meet with my approval, I would ask, "Do you think that what you did or said is appropriate?" Almost without exception, the student would admit that the action was inappropriate and would accept the consequence.

In hockey it would be exactly the same if the discretion was left to the referee. Imagine! No one could question whether or not the referee was right or wrong. The referee could never be wrong. He is the sole judge. All that matters is that in his view, it was inappropriate and should be punished accordingly.

The funny thing is that I don't think we would see much different a game from that which we see today when senior referees are on the ice. Referees use their discretion now. They call the game as they see fit and use their game management skills to the best of their ability.

Yet people in the stands and on the ice get upset and angry when the referee lets the opponents get away with an infraction which is clearly defined in the rule book. What they don't see is that the referee may have allowed the player to get away with a vicious slash to his opponent because that opposing player had speared him on the back of the leg a few seconds earlier. Now that both of them had a chance to get in their "shot", if they leave it at that and skate away, the referee may decide not to call any penalties and let the flow of the game go on. "It's over - let it be."

And so as the upper echelon of hockey administration continue to rub their chins and rack their brains trying to find a solution to bring sanity back into the stands and on the ice, perhaps the answer is as simple as adding one more simple rule.

Until the next time...

CHANGING GOALIES ON THE FLY...ABSURD???
PERHAPS NOT

This is food for thought for all minor hockey goaltenders, parents and coaches.

Who on earth came up with the bright idea of making a young hockey player give up an entire evening just to sit on the bench and watch his team play?

There is no reason why goalies cannot change every 3 or 4 minutes during a game. While players are changing lines, it takes no longer for goalies to change. By changing goalies throughout the game, coaches have an opportunity to give them instructions and encouragement. They also feel part of the team and can talk to their teammates while on the bench. Equipment can be adjusted if needed.

Changing goalies on a regular basis during the game will also force the rest of the players to focus more on the other team, especially if one goaltender is weaker than the other. Teams sometimes play differently in front of different goaltenders. It also reinforces the "team concept" in that wins and losses are shared by the entire team. A shutout becomes a true team accomplishment with both goaltenders involved.

In the older divisions, it is even possible for goaltenders to change on the fly while the play is in the opposite end. As for keeping warm and being prepared, skating back and forth to the bench will take care of that.

For many readers, this may seem like a radical suggestion, but it is no more radical than expecting a player to get fully dressed and sit out an entire game.

I personally tried this while coaching an N.O.H.A. Valley East Minor PeeWee team back around 1990. We had two good goaltenders and I discussed the idea with them and their parents prior to the beginning of the season. The goalies were in favour of it and whenever I come across them today they indicate that it was one of the best years of their hockey careers.

During the course of a period, there is time for each goaltender to get on the ice for two shifts. This means that each plays for half the game. I had a goaltender coach on the bench with me whose responsibility was to make sure that the goalies changed approximately ever 3 minutes. Often this meant changing goalies "on the fly" while the play was in the other end of the rink. The kids had a great time and enjoyed the opportunity to get a drink of water, talk to the other players, and get some important advice from the coach. Our policy was that a goalie change could never be made right after we were scored upon. However, we often made the change after a goalie made a great save. To see their faces as they skated towards the bench listening to the cheers and applause of parents and fans was priceless!

If I ever decide to get behind the bench again, it is something that I would definitely work into my system, regardless of what age category I was coaching.

YOUR COMMENTS WOULD BE APPRECIATED

COMMENT:

Changing goalies on the Fly, what a horrible thought! or is it? I got to experience this when I was Reffing in the Valley East NOHA pee wee division. this coach who will remain nameless "Bob", decided it would be a great way to keep his goal tenders in the game. so every 3 or 4 minutes on the fly his goalie would come to the bench and the other would jump out on to the ice.

"Is there a penalty for too many goalies on the ice? Why on earth would a team decide to do this? The coach is making a joke of the position." I heard comments like this in the lobby after the games. But of all of the games I did for that team that year you know who I never heard complain. The goalies. They really seemed to enjoy playing in every game, and when mistakes where made guess what, you could talk to the goalie on the bench and help make corrections during the game rather than after the period was over. This may be something we should consider more often. Why should kids sit on the bench?

I was recently on your web site at www.afterthewhistle.com In your editorial about hockey and your love of the game and officials you forgot to mention that every official on the ice is someone's child. I am currently still doing games although not in the Valley any more but a little farther north. I get to see new officials just starting out get yelled at, by coaches and irate parents who blame everything on the ref's. You know the teams who have coaches who yell, have parents who yell, have kids on the ice yelling and getting penalties and then the coaches and parents wonder why the kids are so mouthy. Last season I took my son who was 3 to a Bantam A game in Haileybury. We were there to watch a friend's kids play. A couple minutes into the game one parent stands up and starts yelling at the ref. He never sat down again for the entire period, pacing up and down, screaming every chance he had at the officials. My 3 year old who associates all refs with me, asked me why that man was always screaming at me. He couldn't understand. At the end of the period the man came over to talk to us and my son burried his head in my jacket. He was afraid of this man. The man asked why he was afraid of him and my son screamed at him "cause you never stopped yelling at my daddy!" With a strange look on his face the man asked me what he meant. I explained that I was a ref and that he never stopped yelling at them. He laughed and said he was not like that. Well I think he listened because for the next period that man would go to stand up and yell and he would stop himself and sit back down. at the end of the game he came over to see my son and apologized for yelling at me and said that he never realized that he was doing this.

As an official I can give you hundreds of stories about parents coaches and players that would make you wonder why I would want to ref this sport. But it is for the love of the game.

David-Sean Rowell
Account Manager, Personal Banker
New Liskeard, ON
COMMENT:

Two years ago while a goalie coach of 9 and 10 year olds, the head coach told me he was going to change the goalies every five minutes so that I would have a chance to talk with the goalies about good and bad on the ice. He also said that he had seen way to many goalies counting rivets in the roof when not playing. Having played nets all my life I thought he was nuts. In the first game of the year an inexperienced referee told us we could not change the goalies on the whistles. We did not argue but decided to stick to the plan by changing them on the fly. It was an excellent experience because I got to work with both goalies throughout the year. We had so much fun doing this and the kids loved it. It also taught our goalies to read and react to game situations away from our end, pay attention to the time and change accordingly. He also told the goalies not to allow an icing, therefore they had to skate out of their net and play the puck. It taught them skating and puck handling skills early in their development, as well as passing to the D men. Thanks Don, that was a great year.

Les Wilson
Cold Lake, Alberta

COMMENT:

The goalies certainly could do this. We often drive 2 or 3 hours to a game where our son sits if it isn't his turn. Then there are games where the coach will pull the goalie if he is having an "off" game, even though the players in front of him may be causing a lot of the problems. By changing every three minutes or so, both goalies are contributing to the position exactly the same as six defensemen all take turns on defense, or nine forwards all take turns on forward. I think it would be a great thing for helping boost the confidence level of goalies and keeping them involved in all games.

Sharon Kilborn-Keeney of Southern California

After The Whistle Hockey

An informative web site designed to help parents and players better understand the main issues facing the sport of hockey today. Special articles and opinions submitted by readers make for interesting food for thought. For more>>>>>

2006 CHAMPIONS DECLARED IN VALLEY EAST MENS' SLO PITCH LEAGUE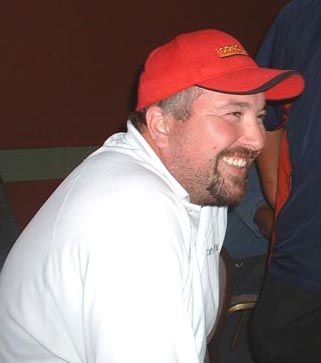 The 2006 Season is over now for the Valley East Men's Slo Pitch League. Team Kaos dominated the league from start to finish, winning the 'A' Championship over Gonga's Grill in three straight games. In fact, even though some games were close, Team Kaos lost only one game all year long.
Other Championship winners included: Neil's Independent/Parmalat in the 'B' Division; Autotech in the 'C' Division; and Optimus Prime in the 'D' Division.

The standings for each of the first and second half of the season, as well as both playoff series results can be found by following the links below.
We want to express our sincere appreciation to Brian Beaupre, shown on the left, for providing this information to us all season long. He has been extremely dependable in delivering the up-to-date stats to Valley East Today in time for our Tuesday publications. We look forward to the summer of 2007 for another great season.
FIRST HALF
FINAL STANDINGS
FINAL STANDINGS &
First Round Playoff Results
SEMI-FINAL SERIES RESULTS
CHAMPIONSHIP SERIES RESULTS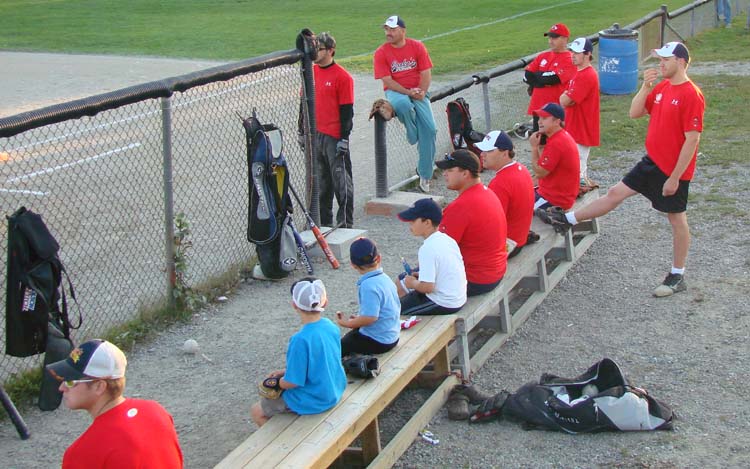 The closest Championship Series of the year was in the Budweiser Division Finals as Auto Tech and Moeric Services had to go to a fifth and deciding game to decide the eventual winner. Moeric took a commanding 2 to 1 lead in the series, but Auto Tech came back with two strong games to eventually win three games to two. The team in the photo is Auto Tech.
T.B.A. Wins Valley East Ladies' Slo-Pitch League & Playoff Championships For Second Year In A Row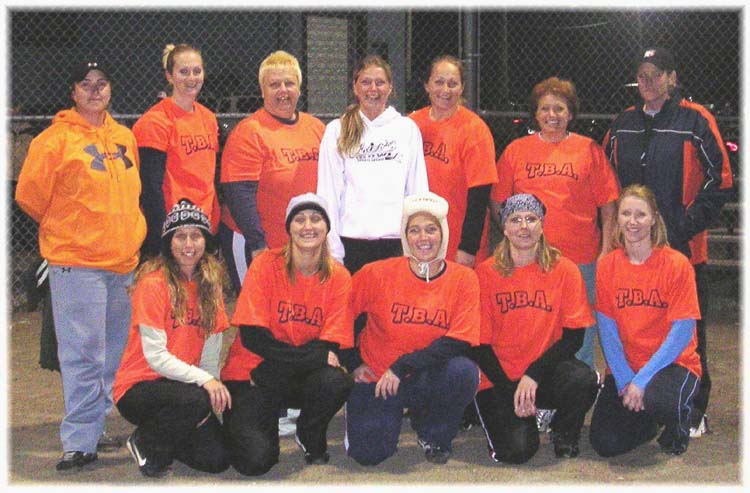 T.B.A. / CORTINA Girls Capture League and Playoff Titles For 2nd Straight Year
The Valley East Ladies' Slo-Pitch League wrapped up the 2006 season with their annual banquet at Buddies' Restaurant on September 30, 2006. For the second year in a row, T.B.A./Cortina captured both League and "A" Playoff Championships. They took the playoff title by defeating Chico's Bowl in the finals.
A new entry in the league, R.L. Construction (The Chemy Girls) took the "A" Consolation title by downing Paula's K-9.
The "B" Champs for 2006 were Northstar Bedding who edged out Gerharts Critters for the title.
The "C" Championships were won by Aimee's Team over Val Caron Equipment.
League organizers felt that this was one of the best seasons ever for the league and could be looked upon as a turning point for Ladies' Slo Pitch in Valley East. With ten teams this summer, it is expected that the number of teams could grow to twelve for 2007.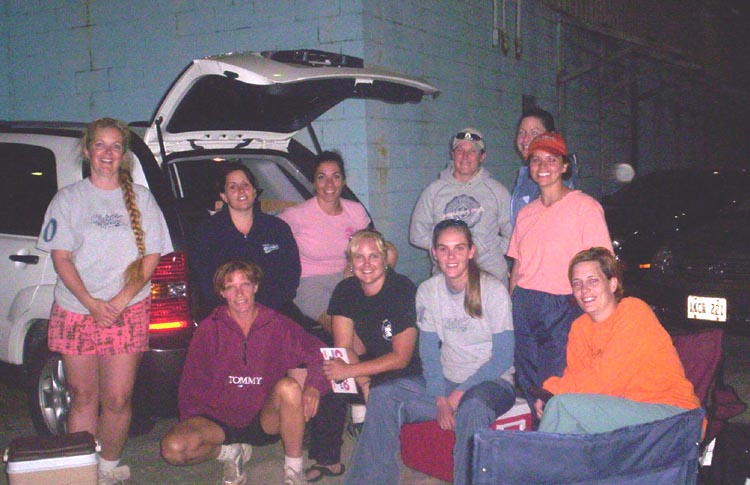 Chico's Comes In As Runners Up In "A" Division Playoffs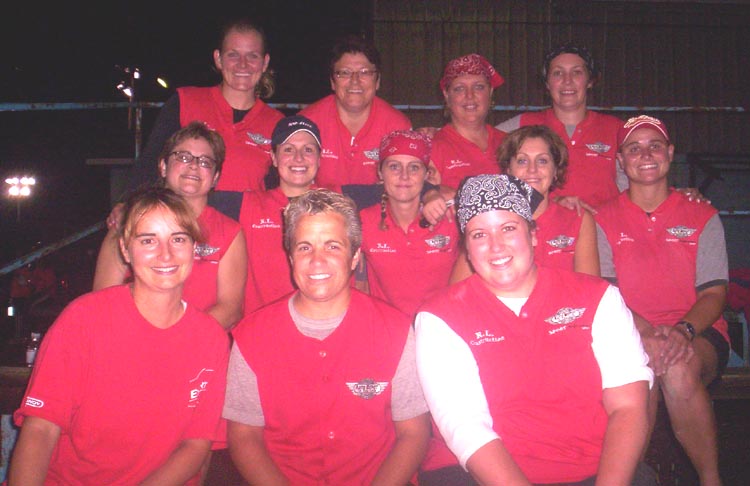 R. L. Construction (The Chemy Girls) Take 3rd Place In "A" Division In First Year Of Play In Valley East League
For more photos....