Parents Allowed To Take Their Own Pictures With Santa At the Hanmer Valley Shopping Centre

The Hanmer Valley Shopping Centre has once again adopted a very popular policy with parents when it comes to photos with Santa. Last year parents were allowed to take their own photos of their children with Santa and it was extremely well received, especially among parents with more than one child. This year the mall is following the same policy and if the response on the first weekend is any indication, Santa will be seeing "spots in his eyes" as he makes his rounds on Christmas Eve.

"When my own children were young, my wife and I collected pictures of them every year with Santa. But it became more and more costly to pay for photos taken by professionals, and we were not always happy with the way the pictures turned out." explained Robert Kirwan, Director of Marketing & Public Relations for the Hanmer Valley Shopping Centre. "Now, we just tell parents and grandparents to bring their own camera and take as many photos as they wish. Most of them have digital cameras, or they pick up a disposable camera from Hart Department Store for about five dollars and they get all of the pictures they need for their family and friends. Santa will even walk to other places in the mall to pose in different settings if that is the wish of the parents."

SANTA'S HOURS

Fridays from 6 p.m. to 8 p.m.

Saturdays from 10 a.m. to 4 p.m.

Sundays from 12 noon to 4 p.m.

Children will also be able to drop off letters to Santa when they come to visit. Many of these letters will be put on display in the mall. All children will also be given a special treat from Santa when they visit.

Another popular initiative being offered this year is the "Toys For Kids" program whereby shoppers may purchase a gift for a child of a family using the services of the Good Neighbours Food Bank. Details of this program can be found outside of Desjardins' Food Basics.




VISIT THE
VALLEY
EAST
TODAY
COMMUNITY
WEB SITE


COMMUNITY
SECTION

Welcome
Our Spirit
Our Schools
Our Churches
Our Food Banks
Our Library
Our Cemetery
Our Playgrounds
Our Sports
Our Recreation
Our People
Sports Complex
Youth Centre
Organizations
Fire Services
Animal Shelter
Hospital

REFERENCE
SECTION

Local Media

The Vision Paper
Toronto Star
TSN Sports
Weather Network
Canada 411
Yellow Pages
Horoscopes
Lotto 649
Student Page
After The Whistle
Ponds & Gardens
Grotto Sudbury
Yahoo Search
Google Canada

SPECIAL NOTICE

This week we have TWO FULL pages of new stories and features for our readers. The first page is found on this home page, and the other can be found by linking to PAGE TWO below:
3rd Annual Spaghetti Dinner At Bishop Alexander Carter A Huge Success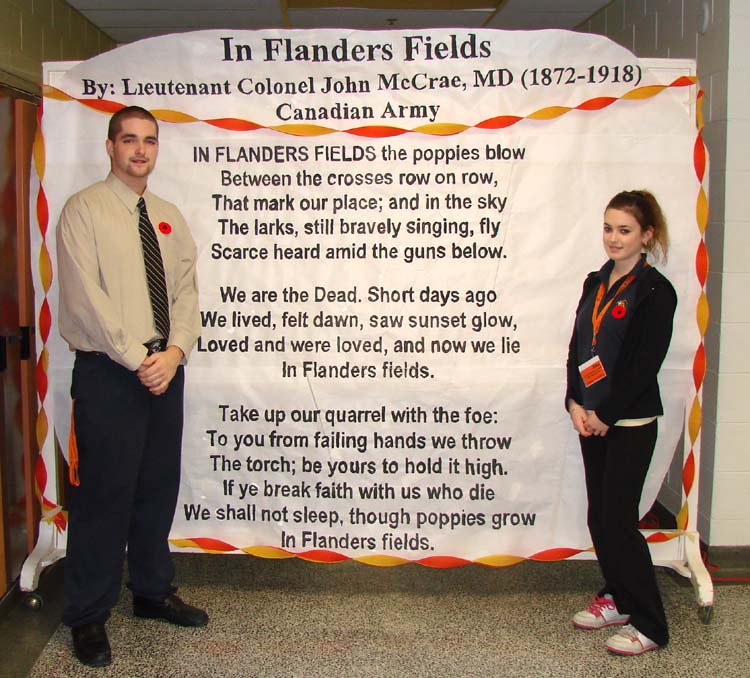 Eric Spence, President of the Bishop Alexander Carter Catholic Secondary School Student Council and Lindsey Whiteside, a member of the Grade 12 Student Leadership Class, were on hand to welcome visitors to the 3rd Annual Spaghetti Dinner which was held on Thursday, November 9, 2006. The theme of the Spaghetti Dinner was "Remembrance Day" in honour of the heroes who have lost their lives in recent conflicts around the world. The dinner was sponsored by the Grade 12 Leadership Class to raise funds for the sports program at the school. Approximately 400 people attended the event. All of the food was donated by Desjardins' Food Basics and all of the desserts were donated by M & M Meat Shop in Val Caron.

Eric Spence is currently in Grade 12 and is planning on attending Brock University next September where he will take Business Management and Corporate Law. Lindsay will be attending the Dental Hygeine Program at Cambrian College in Sudbury.

For more photos of the people who helped make this event such a huge success, click the link below.
For More Photos Click Here >>>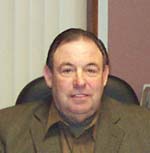 Ron Masciangelo, owner of Masciangelo Motors is proud of his Vehicle Locate Program which has matched so many customers with vehicles that they have been searching for all over the province of Ontario and beyond. You can read about Masciangelo Motors in the Business Section of Valley East Today or you can go directly to the corporate web site at:

Conveniently located at 1440 Falconbridge Road in Sudbury.
Call (705) 521-9999 for more information

Cindy Farley Wins October Customer Appreciation Contest at Hanmer Valley Shopping Centre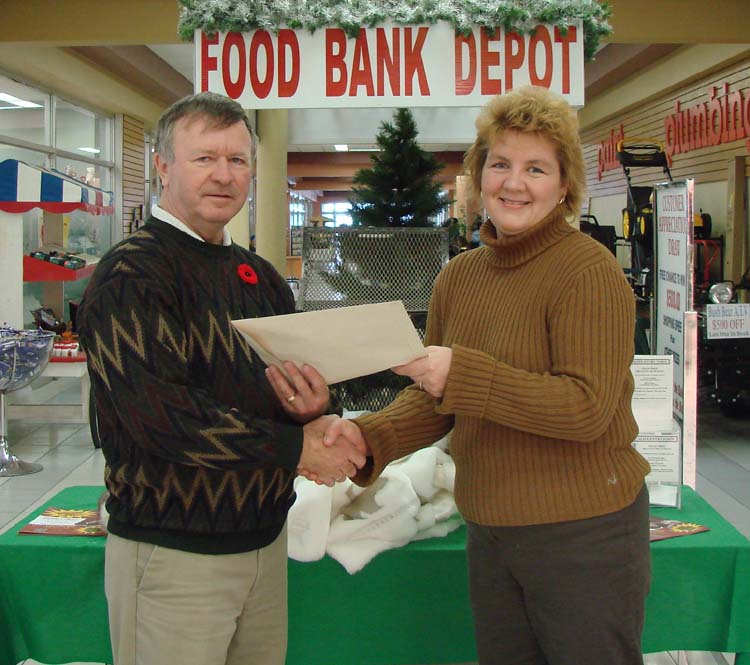 Cindy Farley, a resident of Hanmer for the past twelve years, accepts the prize package worth over $1500 from Robert Kirwan, Director of Marketing & Public Relations for the Hanmer Valley Shopping Centre. With four young children to look after, Cindy indicated that the gift certificates prize donations would come in very handy, especially with Christmas approaching quickly.

Toys For Kids and Food For Good Neighbours Being Collected At The Hanmer Valley Shopping Centre This Christmas Season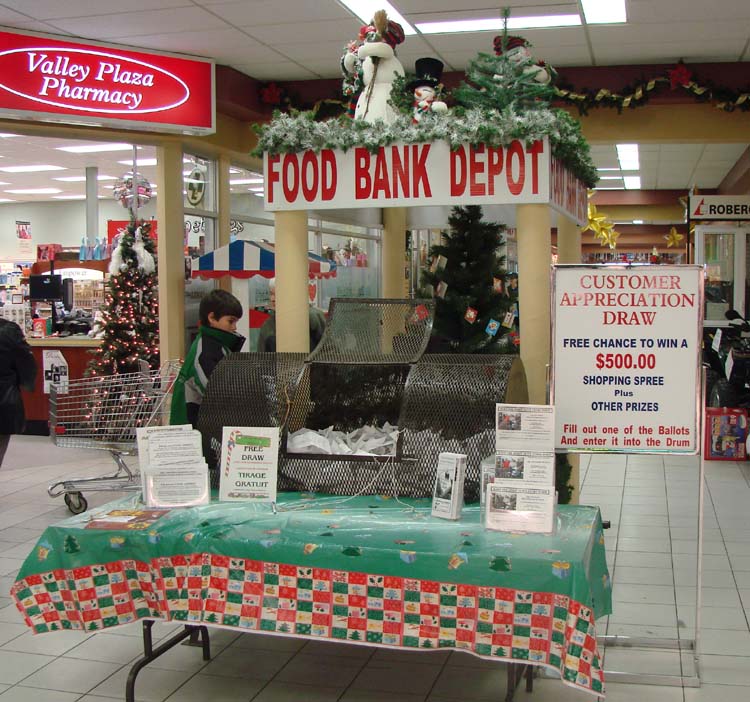 The familiar FOOD BANK DEPOT is in place at the Hanmer Valley Shopping Centre just outside Desjardins' Food Basics. Each year the mall assists the Good Neighbours Food Bank of Hanmer in making Christmas just a bit more special for needy families of the area. The Toys For Kids Gift Tree contains "tags" with ages of boys and girls from families who depend on the Food Bank. Shoppers are encouraged to purchase a suitable gift and then leave it "unwrapped" inside the Food Bank Depot so that a representative of the Good Neighbours Food Bank can pick it up and make sure that it is received by a child in time for Christmas. The depot is also encouraging shoppers to leave items of food which will help stock the shelves of the Food Bank during this important time of the year.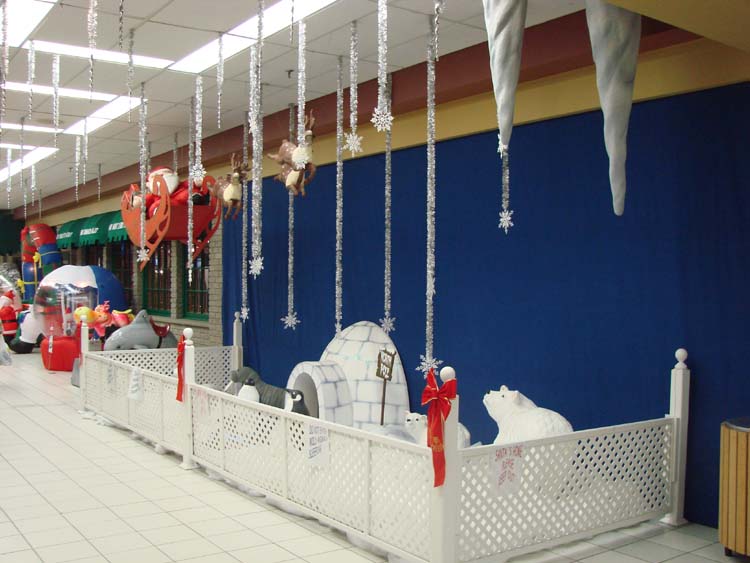 St. Kevin's Christmas Tea & Bazaar One Of The Major Events Of The Year In Valley East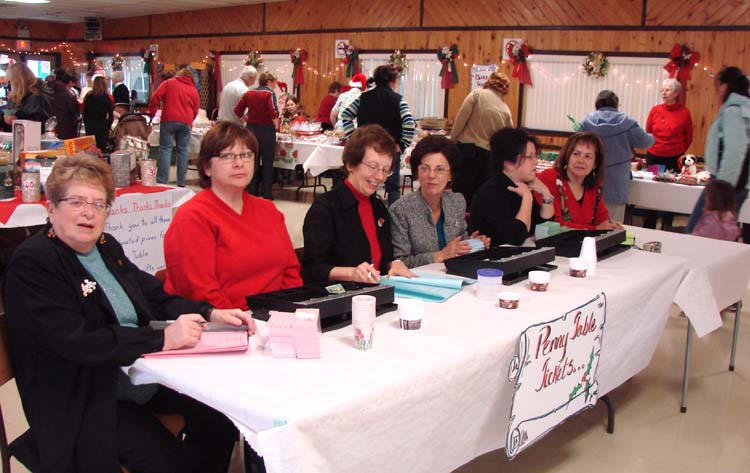 The St. Kevin's Parish C.W.L. held their Annual Christmas Tea & Bazaar on November 12, 2006 at the Centennial Arena. Hundreds of local residents turned out for another afternoon of refreshments, crafts, baking, penny table, raffles, etc. and just some good 'old-fashioned' community spirit. With 80 different items on the Penny Table, the ladies in the photo above were kept very busy selling tickets as the visitors arrived.

For more photos of the people who attended this special event, follow the link below:
FOR MORE PHOTOS CLICK HERE>>>>

Local Residents Give Vote of Confidence To Incumbents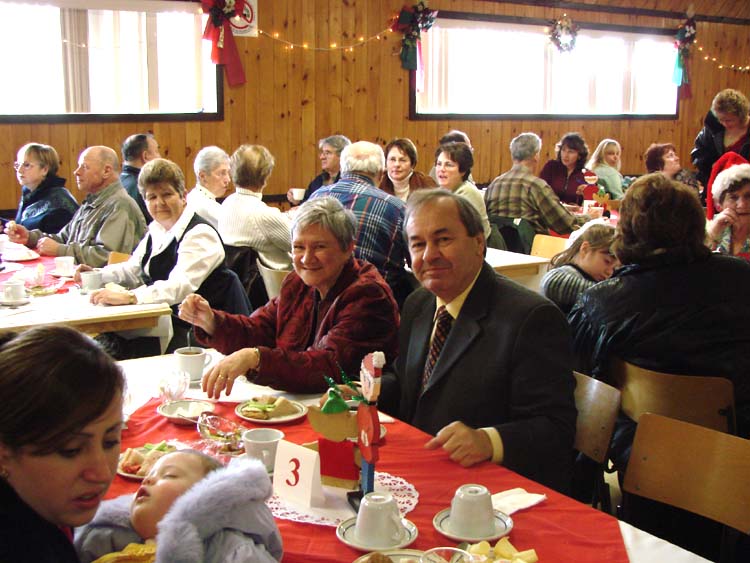 John Rodriguez enjoyed a break from his rigorous campaign to take in the St. Kevin's Christmas Tea & Bazaar the day before residents of the City of Greater Sudbury went to the polls on November 13 to elect him to serve as Mayor for the next four years. Rodriguez is shown here with his wife, Bertilla, who is President of the St. Kevin's CWL. John and Bertilla live in Hanmer, so he becomes the first Mayor from the "outlying area" to run the city.
Despite all of the rhetoric about the poor job that was done during the past three years by City Council, residents of Valley East and Capreol must have been fairly satisfied with the level of service they received since all three incumbents were given a clear vote of confidence by the public by being returned to office in Wards 5, 6 and 7.
For Ward 5, Ron Dupuis defeated Louise Portelance.

For Ward 6, Andre Rivest defeated Robert Kirwan and Henri Lagrandeur.

For Ward 7, Russ Thompson defeated Dave Kilgour.

All in all, a total of five new faces, including the Mayor, will be at City Council for the next four years. Eight incumbents will be returning, including a core of councillors from the former city of Sudbury which consist of: Janet Gasparini, Doug Craig, Ted Callaghan, and Frances Caldarelli. Two of the newcomers, Evelyn Dutrisac and Joscelyne Landry-Altmann will bring the number of women on Council to four. Wards 1 & 2 will have new councilors in Joe Cimino and Jacques Barbeau. Claude Berthiaume of Ward 3 rounds out the council.

A total of 4754 people cast ballots in Ward 6, for a participation rate of approximately 45%. In Ward 5, close to 40% of the voters turned out to cast 3982 ballots for their Councillors. The city wide participation rate of 43% was virtually unchanged from that of 2003.
A large number of residents spent time at the revision tables because of errors or omissions on the voters' list. There were numerous complaints of people not receiving voter cards; people being left off the voters' list all together; children who have moved away from home still being on the voters' list; and examples of people being on the voters' list more than once and in more than one Ward. During peak hours, the line up at the revision tables grew increasingly long and made the process annoying for voters. Several even decided to forget the whole matter and simply left without voting. Many concluded that for the 2010 elections it would be wise to consider a full scale enumeration process in order to ensure an accurate voters' list.

Raise Awareness About School Bus Safety Is Lifetime Commitment by Adam Ranger's Family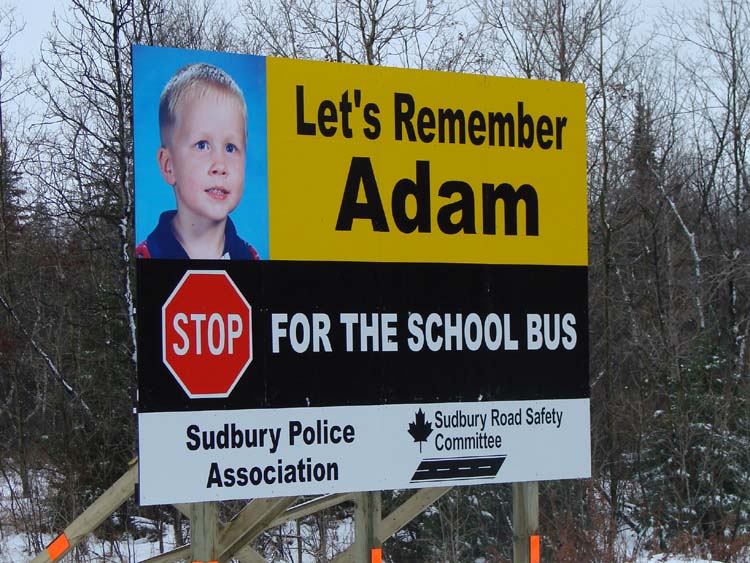 Local residents will notice a large billboard like the one above on Highway 69 North in Val Caron near the Whitson River bridge across from Cecile Street. The awareness campaign, which is being sponsored by the Greater Sudbury Police Services Board and the Sudbury Police Association, is designed to remind everyone about

Adam Ranger, who was five years old when he was hit by a truck after stepping off the school bus in Mattawa. Since

Feb. 11, 2000

, the Ranger family has vowed to increase public awareness about the consequences of illegally passing a stopped school bus.

Just to drive home the importance of the campaign, the same week the sign was unveiled, Riley Richer, a five year old Hanmer boy was hit by a car as he crossed Elmview Drive after getting off his school bus. The driver of the car, Jessica Chiblow, 19, of Hanmer, is facing numerous charges under the Highway Traffic Act. Fortunately, the boy was not seriously injured and was released from the hospital that same night, but it is definitely an experience he will remember for the rest of his life. It could also have had far more devastating results.

The driver of the truck that struck Adam Richer was convicted of criminal negligence causing death and manslaughter.

It is hoped that the signs will make a huge difference in how drivers approach school buses this year. The law states that motorists travelling in both directions must stop when approaching a stopped school bus with its upper red lights flashing. The only exception is on highways with a median, where traffic coming from the opposite direction is not required to stop.

Memories From Monique Grenon
We thank Monique Grenon of Hanmer for sharing some of these old photos that she uncovered from one of her albums. See if you can spot some of your old friends (or ancestors). Click on the link below for more photos.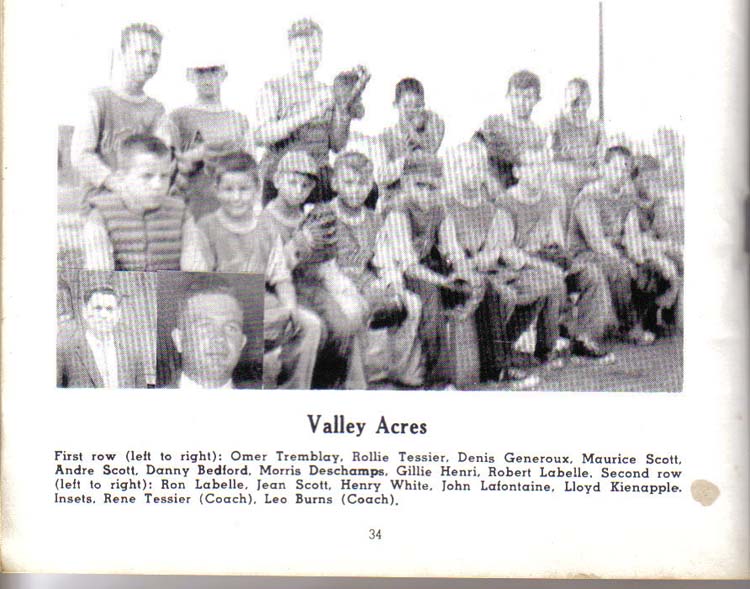 Community Living Greater Sudbury Providing Public Awareness About Family Home Program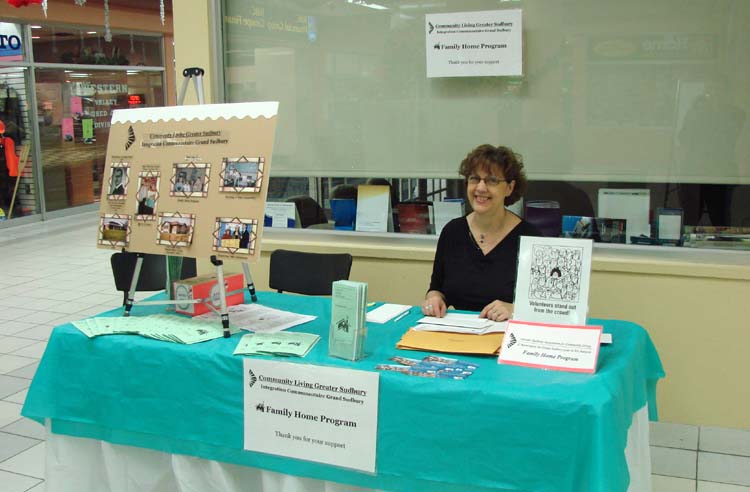 Dorice Dusty was on hand at the Hanmer Valley Shopping Centre in November providing visitors with information about the Family Home Program operated by Community Living Greater Sudbury.

WHAT IS THE FAMILY HOME PROGRAM?

There are many individuals with a developmental challenge capable of thriving in a home setting.

There are also many sensitive and caring families, couples and individuals within our community who would happily welcome the opportunity to share their hearts and their homes.

Our goal is to locate, match-up and then assist both parties in getting together to function as a Family Home: one that embodies the true family spirit.

For some individuals, Family Home will become a permanent address. For others, it may serve as a stepping stone to a relatively independent life within the community.

Above all, Family Home can provide a place to develop positive relationships, enhance social and life skills as well as allow them the opportunity to become a more active member of the community.

SUPPORT SYSTEMS

Individuals and families are supported by a team of caseworkers who ensure that specialized services are coordinated. They also ensure that individuals are able to make the transition to community living while receiving the care and service required.

All homesharers receive day supports. Hours may be flexible depending on individual needs and program availability. Respite support is available to assist with the individual needs of all involved.

Family Home Providers receive remuneration for the responsibility they've undertaken. Financial assistance is also available for the homesharers to help them out with recreational activities, clothing and special devices that enhance their functional level in the home and community.

Formal training programs and on-going support from caseworkers is also offered to Family Home Providers. These supports help sustain a healthy long-term bond.
IF YOU ARE INTERESTED IN PROVIDING RESPITE CARE OR BECOMING A FAMILY HOME PROVIDER PLEASE CALL
671-7181


Now You Can Have Access To All Of The Stories and Articles That Were Published in Previous Issues Past Of The Weekly Online News Magazine

by
Robert Kirwan: Publisher of Valley East Today

It gives us great pleasure to maintain a complete archive of previous issues of the Valley East Today Online News Magazine. We understand that there are times when you may have missed a week or would like to return to look over a previous article. Hopefully you will find this archive section useful and will share it with your friends. Everyone associated with Valley East Today is quite proud of the "Living History" we are creating and we know that it is providing a great deal of pleasure and enjoyment for people in the community. Thank you for spending some time with us today. If you have any comments, please do not hesitate to contact me at:

TO VIEW ALL OF THE PREVIOUS ISSUES